11 Best Vitamin C Masks For Skin That Glows From Within
Achieve the radiant skin of your dreams with the most potent, natural antioxidant. Vitamin C is a natural antioxidant that keeps sun damage at bay. The best vitamin C mask will not only shield you from the Sun but will also rejuvenate you! Masks are great for hydrating the skin, but that's about it. Your skin needs some protection from the day's struggle. Despite our efforts to avoid them, we are continually exposed to pollutants, chemicals, and the Sun's radiation. There is no doubt that skin care products with vitamin C are effective and beneficial. They do not allow free radicals to damage your skin.
The antioxidants it contains offer protection and anti-aging properties to make the skin look younger. Here, we're going to talk about vitamin C masks that will give your skin the glow you've always wanted. Keeping your skin moisturized and nourished, these masks will also leave you feeling refreshed all day. Make sure your skin looks healthy and radiant from within by using the 11 best vitamin C masks. Check them out!
11 Best Vitamin C Masks For Bright And Fresh Skin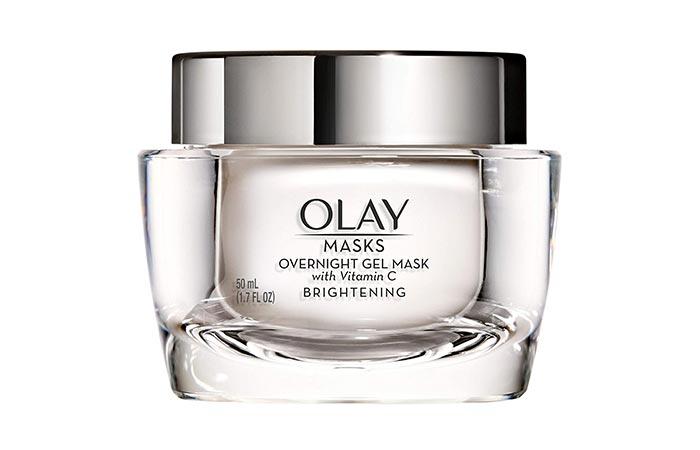 Ever seen a skincare product play magic tricks on your skin? If not, this gel mask will blow your mind as it imparts fantastic visible results. It makes your skin bright and keeps it hydrated for 24 hours, while getting rid of an uneven skin tone. This product can be applied with a moisturizer or alone before you hit the bed and you will wake up to fresh and clear skin. It penetrates 10 levels deep and is infused with vitamin B3, vitamin C, and pro-vitamin B5 along with other essential nutrients such as hyaluronic acid and orange flower extracts that prevent your skin from looking dull and dehydrated. Dr. Patricia Gaile Espinosa, MD, Philippine Dermatological Society, explains, "Provitamin B5 protects the epidermal skin barrier by maintaining skin hydration. This helps produce a smoother and softer skin."
Pros
Non-comedogenic
Offers skin rejuvenation
Doesn't clog pores
Non-greasy
Lightweight
Oil-free
Cons
Price at the time of publication: $10.97
Exfoliate your skin with one of the greatest masks that can help you clean your skin instantly, leaving it smooth and pure. This mask helps you get rid of your dead skin cells, oil, and impurities trapped in your skin. A vitamin C-infused mask, it brightens your skin and also provides sun protection, while offering antioxidizing properties. It is best suited for combination skin and helps to even out your skin tone. It is infused with ingredients like honey, aloe vera, pumpkin, vitamin A, meadowfoam seed oil, cinnamon bark powder, apple and pineapple fruit extracts among others that help support your skin's vitality and protect its moisture barrier. "Meadowfoam seed oil is a good moisturizer for the skin. It locks in moisture, keeping the skin hydrated, soft and supple. This is also non-comedogenic so it can be safe for use by those with acne-prone skin," explains Dr. Patricia Gaile Espinosa. Uplift your skin with this non-comedogenic product that also gives your skin a collagen boost! Watch this video to view the tester's experience with this product.
Pros
Non-GMO
Gluten-free
Cruelty-free
Vegan
Pleasant fragrance
Provides environmental protection
Cons
May not be suitable for extremely sensitive skin
Price at the time of publication: $11.59
All of us dream of clear skin, but it seems like it's a dream that will never come true. But, with this mask, your dreams can now turn into reality. This vitamin C facial mask eliminates accumulated excess oil from your skin to reveal clean and healthy skin. It is formulated with dermatologically-approved ingredients such as vitamin C and bentonite clay that work actively to cleanse and purify the skin. The mask contains 3.5% sulfur that has antibacterial and keratolytic properties and minimizes pores. It also boasts a Color Signal Technology, wherein the mask changes color to indicate that it's working. It helps dry up your acne breakouts and gets rid of blackheads, blemishes, and whiteheads.
Pros
Reduces the appearance of wrinkles and fine lines
Absorbs excess oil
Revives skin's complexion
Dries instantly
Suitable for teens
Cons
It may not be effective for those with severe acne issues.
Price at the time of publication: $13.06
For an instant glow and even skin tone, you can trust this product to do the trick. The strengthening properties of the product allow you to improve the texture and health of your skin. It also helps in reducing blemishes and prevents the occurrence of breakouts. It also works actively to fade dark spots and reduce the appearance of scars. This clay mask contains Australian white clay, aloe vera, turmeric, castor seed oil, bergamot fruit oil, and vitamin C, ensuring that your skin stays hydrated, soft, and free of damage. No animal testing is done in the making of this product. Click here to check out a detailed personal review of this product and view the reviewer's experience.
Pros
Cruelty-free
Vegan
Suitable for all skin types
Prevents hyperpigmentation
Easy to apply
No parabens, gluten, allergens, and phthalates
Cons
Price at the time of publication: $41.99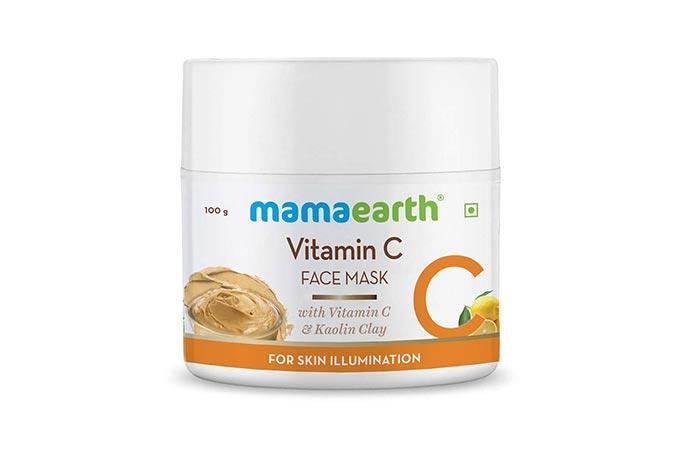 The Mamaearth Vitamin C Face Mask promotes even skin tone, provides your skin a bright and natural glow and keeps it hydrated, while also fighting the signs of aging. This vitamin C brightening mask protects your skin from pollution, dirt, and other environmental factors. Infused with turmeric and kaolin clay, it reveals spotless and brighter-looking skin. Not only does this mask firm the skin, it also exfoliates it thoroughly and helps prevent melanin production to ensure even-toned skin. The product is dermatologist-tested and is not tested on animals.
Pros
Suitable for all skin types
Dermatologically-tested
No dyes and preservatives
Paraben-free
Sulfate-free
Cons
It may take a long time see visible results.
Price at the time of publication: $423
The AZURE Vitamin C & Collagen Moisturizing Facial Sheet Mask is enriched with the goodness of vitamin C, collagen, hyaluronic acid, vitamin B5, and castor oil that helps in reducing fine lines, wrinkles and dark spots. It is beneficial for dry, oily, and combination skin types. Add a simple massage while applying the sheet mask for a moisturized and rejuvenated skin. The AZURE facial sheet mask comprises natural ingredients while being hypoallergenic, sustainable, and eco-friendly.
Pros
Hypoallergenic
Suitable for every skin type
Ensures oil control
Eco-friendly
Paraben-free
Non-GMO
Vegan
Cruelty-free
Cons
None
Price at the time of publication: $11.47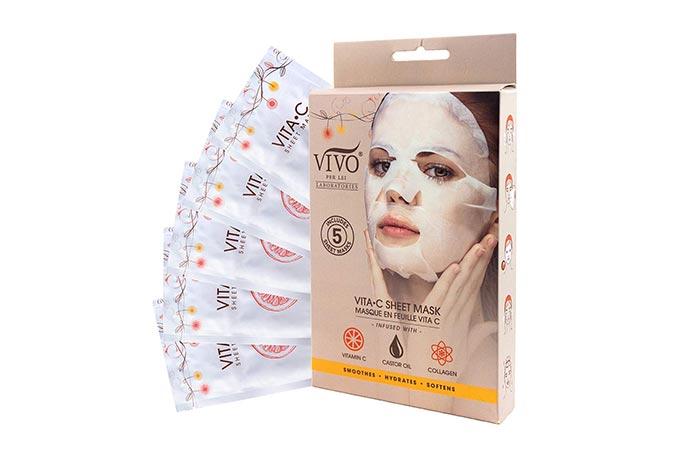 Try this nutrient-rich mask that nourishes and replenishes your skin and beautifies it with a glow. The mask is infused with vitamin C, collagen, and castor oil that provides moisturization and makes your skin soft and hydrated. It helps reduce the appearance of fine lines, wrinkles, and acne scars. It also helps your skin lock in and absorb its mineral-rich formula. This travel-ready sheet mask protects dried-out skin against sun damage and prevents it from sagging.
Pros
Reduces dark spots
Increases collagen production
Boosts elasticity
Long-lasting results
Cons
Some may find it slightly slippery.
Price at the time of publication: $31.99
An effective and nourishing mask is all you need to get glowing skin instantly. This creamy mask is made of AHA and vitamin C from fruits like orange and grapefruit. It is infused with Japanese beauty berries that improves the moisture level of your skin and provides protection from the sun as it also consists of titanium dioxide. The cream offers anti-aging benefits and the antioxidizing power of the product helps in removing dead skin cells and debris. The mask is infused with green tea, algae, Japanese Angelica root, and rice that further enhance the effectiveness of the hydrating mask on your skin. It is dermatologically tested and not tested on animals.
Pros
Reduces appearance of dark spots
Suitable for acne-prone skin
Pore minimization
Brightens the skin
Phthalate and paraben-free
Cruelty-free
Non-comedogenic
Cons
Price at the time of publication: $70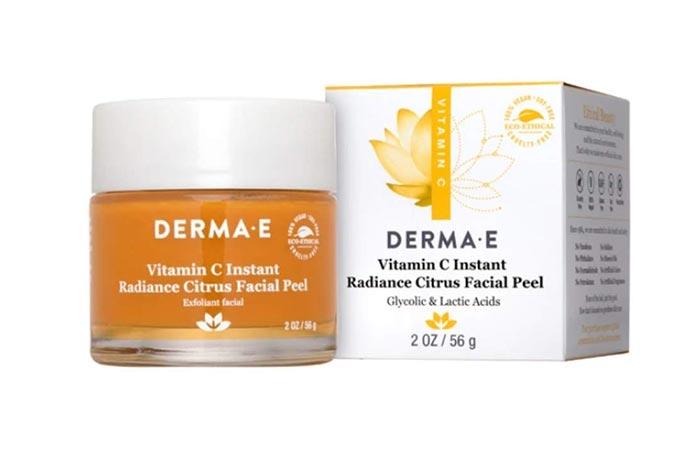 Improve the appearance of dark spots, discoloration, and uneven skin tone with this vitamin-C rich facial peel that allows your skin to glow from within. The skin-brightening face mask has anti-aging properties and helps you look younger. It also boosts the production of collagen and removes accumulated dead skin cells from your face. The mask is infused with alpha hydroxy acid, vitamin C, glycolic acid, and citrus fruit peel puree that help your skin look replenished and smooth. The formula gets easily absorbed into the skin, ensuring that you receive the benefits of the nourishing ingredients used in the mask. It is dermatologist-recommended, clinically verified, and has proven efficacy. This video offers a deeper insight into the functions and effects of the product discussed.
Pros
Instant results
Easy to apply and remove
Lifts the skin
Smooth complexion
Vegan
Cruelty-free
No GMO, gluten, or soy added
Cons
As it contains alpha hydroxy acid, it may increase the skin's sensitivity to the sun.
Price at the time of publication: $17.99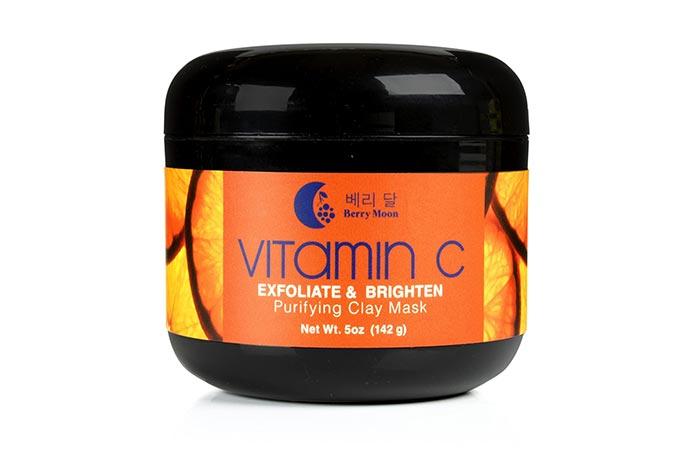 It's time to look younger and improve your skin's texture with a face mask that purifies and brightens your skin. The mask is infused with vitamin C, aloe vera juice, sunflower oil, and argan oil, to name a few. The nourishing mask helps balance your skin tone and keeps it moisturized as it is also infused with vitamin E and hyaluronic acid. It is ideal for those with combination, oily, and normal skin and works towards making your skin  radiant. This exfoliating mask also improves the appearance of pores and blemishes.
Pros
Paraben-free
Mineral oil-free
Exfoliation
Vegan
Cruelty-free
Cons
Some may find it slightly greasy
Price at the time of publication: $14.99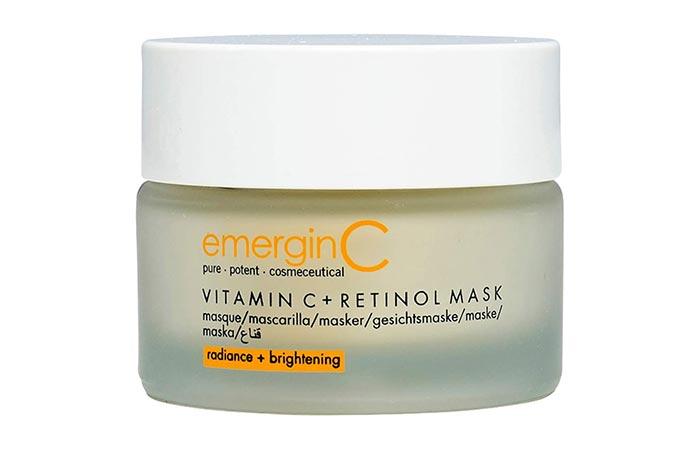 A nourishing mask infused with aloe vera, vitamin C, shea butter, green tea, coconut oil, coconut butter and olive fruit oil, it keeps your skin happy and healthy. The retinol-infused mask removes dead skin cells and is ideal for making your skin bright. It helps to even out your skin tone and keeps it hydrated too. The mask reduces the appearance of fine lines and wrinkles and improves the texture of your skin. The anti-oxidizing property of the mask allows it to fight against free radicals that can damage your skin.
Pros
Paraben-free
No synthetic fragrance
Helps with skin cell renewal
Cruelty-free
No synthetic testing
Instant results
Cons
Might not be suitable for very sensitive or redness-prone skin.
Price at the time of publication: $49
How To Choose The Best Vitamin C Mask For Your Skin
Here are a few things you must consider before buying a clinically backed skincare vitamin C mask:
Concentration
The concentration of vitamin C present in the mask should depend on your skin type. If you have normal or an oily skin, you must look for a mask with the most potent vitamin C, i.e., L-ascorbic acid. These are most beneficial when used for someone with oily skin. If you have sensitive or dry skin, you must look for a less irritating form of vitamin C. The water-soluble, magnesium ascorbyl phosphate would be the most suitable option for such skin types.
pH
If you have normal skin, the mask should have a low pH of around 3.5 to ensure optimal absorption. One must look for a higher pH value for sensitive skin and look for a mask with a pH of 5-6. Since it's the skin's natural pH, it will not cause any irritation and can be used safely by someone with sensitive skin.
Ingredients to avoid
You must look for the quality when it comes to skincare. The ingredients you are looking for should be infused in the mask in the right amount, and there should be no harmful ingredients like paraben, sulfate, phthalate etc. present in it. If these conditions fall in place, then you must purchase it.
What Are The Advantages Of Using Vitamin C Masks
Here are some of the benefits of using vitamin C masks:
Reduces the appearance of fine lines and wrinkles
Promotes collagen production
Helps in healing wounds
Protects the skin against sun damage
Aids in preventing hyperpigmentation
Evens out skin tone
Helps in making your skin glow
Fights against free radicals and protects the skin from damage
Provides hydration and moisturization
Exfoliates the skin
You now know how vital vitamin C is, not just for your health but for your skin too. Choosing the right skin care product can surely give you the results you need or even more than you expected. Look for a mask that suits your skin type and does not cause any damage. Try the 11 best vitamin C masks to give your skin the most amazing experience. These masks will help you eliminate all your worries and fatigue and give you fresh and glowing skin. These masks are natural and promise to replenish your skin with a long-lasting effect!
Why Trust StyleCraze?
The author, Krati Darak, is a skin care and beauty enthusiast. She shares tips for choosing the best vitamin C face mask in her buying guide and explains how to consider concentration, pH, and ingredients parameters for a better experience. After extensive research and reviewing numerous online user feedback, she compiled the top products list. These products will make you feel refreshed and nourish, moisturize, and protect your skin.
Frequently Asked Questions
Is vitamin C face mask good for acne?
Vitamin C has anti-inflammatory properties and can reduce swelling and redness of the acne and blemishes on your face. It fights against free-radicals and protects your skin from getting damaged by external factors that can cause acne.
Can I use a vitamin C mask every day?
Using a sheet mask every day can be fine, but it depends on your skin and its response to the ingredients. Most of the vitamin C masks show instant results, so applying it only once a day can be sufficient. It is better to avoid the daily application of the product has artificial dyes or fragrances.
How long does it take for vitamin C to work on your face?
Vitamin C takes about one to three months to show visible results.
Do I need a moisturizer after using a vitamin C face mask?
Yes, it is necessary to apply a moisturizer after using a vitamin C face mask as it helps nourish the skin and keep it hydrated.
Should I wash off a vitamin C mask?
If you are using a sheet mask, then no. Simply, remove the mask and massage the leftover essence on your face. However, if it is a clay or cream mask then you must wash it off with cold water.
Recommended Articles