The 8 Best Soaps For Feminine Hygiene To Help You Feel Fresh
Bid adieu to the uncomfortable rashes with these products to maintain skin cleanliness everywhere you go.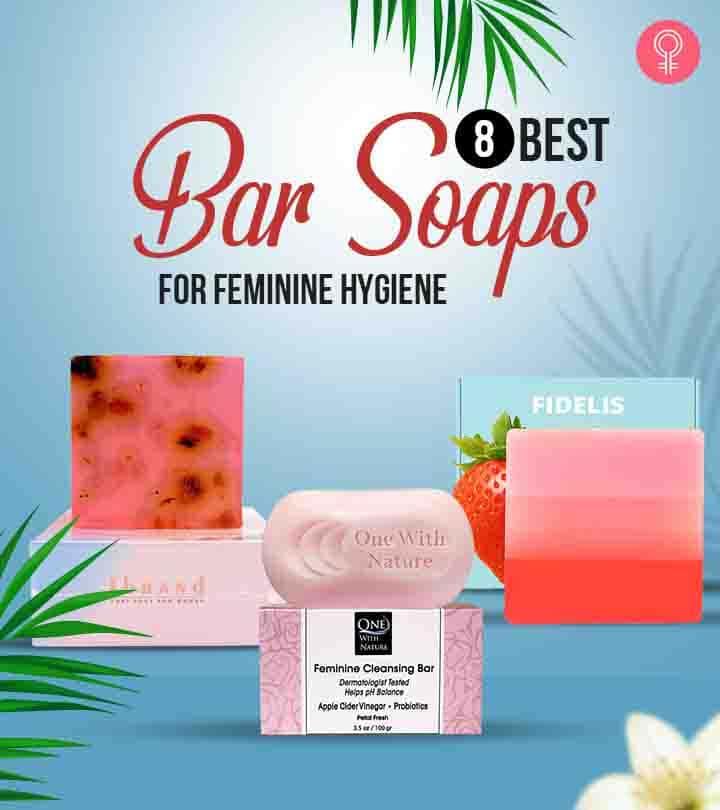 The vagina is a self-cleaning organ and has a pH ranging between 3.8 and 4.5 that helps prevent bacterial growth. Though it does not need to be cleaned, other sensitive skin surrounding it, including the vulva, clitoris, and the opening of the urethra, can be cleaned. The best bar soaps for feminine hygiene can effectively clean your intimate areas and maintain the right pH balance. This can preserve the moisture and the natural vaginal microbiome. Continue reading and check out our list of the best bar soaps for feminine hygiene.
8 Best Bar Soaps For Feminine Hygiene
Note: We strongly recommend doing a patch test before using the products to avoid allergic reactions.
The Samgem Ibrand Yoni Soap For Women is a herbal vagina cleansing and tightening soap. It purifies and softens the skin by protecting it from yeast and bacteria. This 100% natural handmade soap is enriched with moisturizing shea butter and jojoba oil. It contains vitamin A-rich rosehip oil to nourish, restore, and offer soft and smooth skin. This pH-balanced soap replenishes your sensitive vaginal area and reduces inflammations and irritations.
Key Ingredients:  Rose petals, Rosehip oil, and Rose oil 
Pros
Hypoallergenic
Dermatologist-tested
pH-balanced
Paraben-free
Sulfate-free
Alcohol-free
Glycerin-free
Cruelty-free
Cold-pressed ingredients
Cons
This is a pH-balanced product that nourishes and hydrates your skin. One With Nature Feminine Cleansing Bar contains apple cider vinegar and probiotics to protect the delicate skin in your intimate area. It also contains oatmeal extract to calm inflammations and kaolin clay for detoxification.
Key Ingredients:
Pros
Dermatologist-tested
Suits sensitive skin
pH balanced
Gentle
Cons
The Fidelis Yoni Soap Bar treats your delicate area with the best natural ingredients. It is enriched with strawberry fruit, cocoa butter, shea butter, and glycerine to nourish your skin. It has a pH-balanced formula to prevent irritation and shield the vagina from yeast and bacterial infection. This rich fruity soap leaves your private parts with an incredible smell.
Key Ingredient: Strawberry extracts
Pros
Natural ingredients
Nice fragrance
pH-balanced
Vegan
Gentle
Cruelty-free
Cons
This soap is formulated with organic ingredients like olive oil, glycerin and shea butter to condition your skin. The Natural Terrasil Vaginal Cleansing Bar has activated minerals to relieve symptoms of yeast infections, itching, etc. It offers effective results and improved vaginal health by eliminating odor and restoring its pH balance.
Key Ingredients: Shea butter, Glycerine, and Olive oil
Pros
Natural ingredients
Anti-fungal
Soothing
pH-balanced
Cruely-free
Cons
The Dorlene Virginity Herbal Bikini Soap is enriched with curcuma comosa, ginkgo extract, coconut oil, and palm oil to maintain the natural microbiological flora in the female genital tract and prevent odor. Its ingredients promote blood circulation to repair and tighten vaginal muscles. The gentle formula prevents yeast infection to keep the sensitive area clean, healthy, and firm.
Key Ingredients: Curcuma comosa, Ginkgo extract, Coconut oil, and Palm oil
Pros
Gentle
Reduces odor
Value for money
Cons
The Samgems Yoni Soap bar has anti-inflammatory and detoxifying properties. It is formulated with olive oil, shea butter, and avocado oil to retain skin's moisture level. Rose oil, ylangylang essential oil, and rosebud extracts in the soap ensure that the delicate skin stays fresh and healthy. This gynecologist-tested formula has a pH of 4.5 and is free from harmful chemicals.
Key Ingredients: Olive oil, Shea butter, Avocado oil, Rose oil, Ylangylang essential oil, and Rose bud
Pros
Dermatologist-tested
Gynecologist-approved
pH-balanced
Paraben-free
Glycerine-free
Alcohol-free
Sulfate-free
Cruelty-free
Cons
The Femme Vibe Bar is an all-natural soap with hydrating features. It is enriched with olive oil, shea butter, avocado oil, cucumber extract, and essential oils of rose, ylangylang, and lavender to maintain the pH balance of the delicate area. The active ingredients detoxify the sensitive area with soothing and healing properties. Enjoy ultimate care and improve your hygiene by using this skin sensitive cleanser.
Key Ingredients: Olive oil, Shea butter, Avocado, Rose, Ylangylang, Cucumber extract, and Lavender oil
Pros
Cons
This 100% natural formula does not contain any harmful chemicals that can irritate your private areas. The True Reflectionz Yoni Soap is infused with a natural rose aroma to eliminate odor from the sensitive area. Its active ingredients give nourishing relief from vaginal itchiness and keep your skin smooth and gentle. This organic formula improves blood circulation to tighten the vaginal muscles.
Key Ingredient: Rose extract
Pros
Natural ingredients
Affordable
Cons
None
It is equally important to keep your private parts clean as you keep the rest of your body. But the vaginal region is sensitive; hence these specially made soaps help to balance its pH level. Here is a guide to use them.
How To Use A Bar Soap For Feminine Hygiene
Rub the soap in your hand with water.
Apply it all over your vaginal area.
Clean the area with your fingers under running water or shower.
Wipe the area dry with a separate towel or tissue.
Ready to invest in a soap for your private parts? Read the given key pointers to make the right and safe decision.
What To Look For When Buying Bar Soap For Feminine Hygiene?
Ingredients: The ideal soap for feminine hygiene should be free of harsh ingredients. Make sure that the product does not contain any artificial color, fragrance, or harsh chemicals like sulfates, parabens, alcohol, and synthetic preservatives.
Right pH Balance: The normal pH balance of the vagina is around 3.8-4.5. The correct pH balance in the soap will eliminate abnormal smells and maintain the area's moisture barrier.
The vulvar area is an extremely sensitive area due to the high concentration of sweat glands, hair follicles, and increased blood vessels; hence avoid some ingredients before you buy a feminine hygiene soap bar. Keep reading to know in detail.
Which Ingredients Should I Avoid?
Avoid ingredients like:
Parabens
Phthalates
Perfumes or synthetic fragrances
Sulfates
Alcohol
Essential oils (if you are allergic to them)
Why Trust StyleCraze?
Shiboli Chakraborti is a certified skin care coach who loves to review different skin care products. After thorough research, she has provided a detailed list of the best soap for feminine hygiene in this post. She went through numerous reviews and feedback on multiple forums and brand websites to help you pick the best soap for feminine hygiene that does not contain any harmful chemicals. The products listed in this post detoxify the sensitive area with soothing and healing properties.
Frequently Asked Questions
What are the most trusted bar soap brands for feminine hygiene?
Some of the most trusted bar soap for feminine hygiene brands are Queen V, Rosa, Rapid Relief, Femme, Caswell-Massey, One with Nature, Samgems, Dial, Cetaphil, Basis, Vanicream, and Dorlene.
Is Dove soap good for your vag? Is Dove soap bar pH balanced?
No, Dove soap is meant for the body and not for the private parts.
Can you use Dial soap on your vag?
No. Dial soap is not suited for intimate care.
Is it ok to use scented products for vag?
No. Never use scented products in intimate areas as they may irritate the delicate skin.
What is the main purpose of feminine wash?
The main purpose of feminine wash is to maintain the pH levels of the intimate parts. It should be used on the genitals and never inside the vagina. Feminine wash helps prevent bacterial or fungal infections and keeps itchiness, dryness, and irritation at bay.
What kind of soap should you use down there?
Unscented, mild, and colorless soaps with a pH of 3.8-4.5 should be used down there.
Can you use feminine wash while on your period?
Yes, you can use a mild feminine wash while on your period, but ensure to wash only the external parts of your intimate area.
Recommended Articles