9 Anti-Aging Serums For Combination Skin To Use All Year Round
Slow down signs of aging with gentle, non-greasy, and hydrating products for your skin.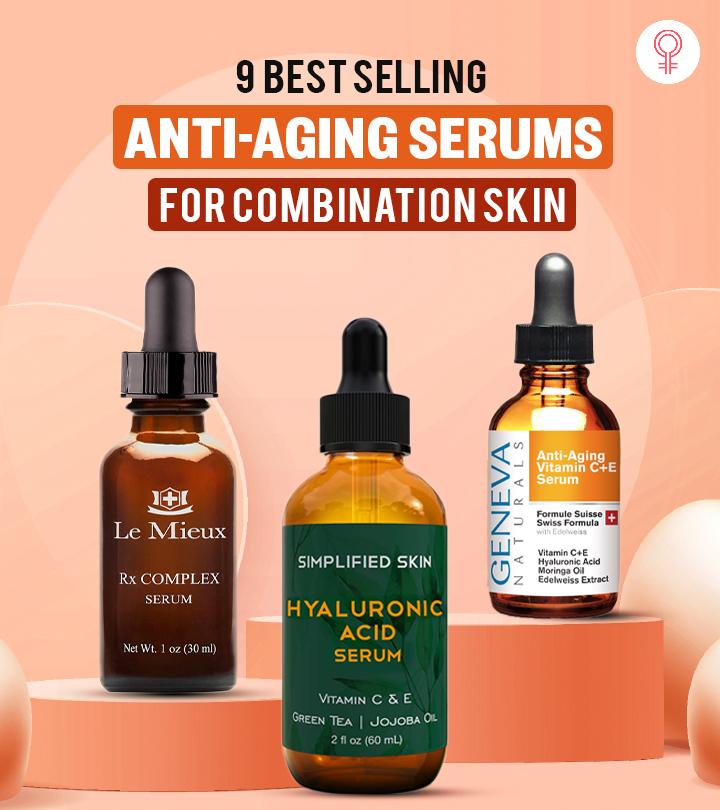 With a new product hitting the shelves every other day, your search for the best anti-aging serum for combination skin is bound to take longer. We would like to chip in and make your search easier before you get any older and your fine lines and wrinkles get worse. This article gives you a glimpse of 9 amazing serums that fight against premature aging and offer you a youthful look. Keep scrolling!
9 Bestselling Anti-Aging Serums For Combination Skin Of 2023
The Hyaluronic Acid Pure Serum from Dr. Song is an anti-aging skin treatment to reduce wrinkles, fine lines, dark spots, and blemishes and restore a youthful glow to the face. Pure hyaluronic acid penetrates the skin's pores to deeply moisturize irritated and dry skin and make it healthy, firm, soft, clear, and plump. This serum reduces pore size and discoloration, lightens dark spots, and smoothens the skin tone. The clinical strength formula is made of all-natural ingredients that give the skin a healthy glow.
Key Ingredients: Hyaluronic acid
Pros
Gentle
Non-drying
Pore minimization
Oil control
Paraben-free
Oil-free
Dye-free
Filler-free
No harsh fragrances
Vegan
Cons
Price at the time of publication: $10.97
The TruSkin Vitamin C Facial Serum is infused with natural ingredients to make your skin brighter without damage. The serum contains vitamin E, hyaluronic acid, witch hazel, and aloe vera that keep your skin hydrated and protected from damage. These also help to improve skin tone and soothe skin inflammation. The serum is rich in antioxidants and eliminates dullness and early signs of aging. It boosts collagen protein in the skin, which increases skin elasticity. The serum is effective at getting rid of wrinkles, fine lines, and dark spots and thus improves your appearance. Its gentle formula also helps reduce minor itching, thereby making it suitable for sensitive skin as well. A patch test is recommended before committing to the product.
Key Ingredients: Vitamin C, Vitamin E, Aloe Vera, Hyaluronic Acid, Jojoba Oil
Pros
Brightens skin tone
Skin-friendly ingredients
Protects the skin
Fights dark spots
Clinically tested
Paraben-free
Sulfate-free
Cruelty-free
Vegan
Cons
None
Price at the time of publication: $38.99
The Elizabeth Mott Vitamin C Anti-Aging Serum is designed to reduce the appearance of fine lines and wrinkles while also brightening and evening out the skin tone. The serum contains a high concentration of vitamin C, known for its antioxidant properties and ability to stimulate collagen production. It can even help improve the overall health and appearance of the skin, making it look brighter, smoother, and more youthful. The cica in the formula soothes your skin and helps you achieve radiant skin. The serum also contains other skin-benefitting ingredients like sodium hyaluronate and vitamin E that provide premium and long-lasting moisturizing benefits. You can see visible results with continued use. No animal testing to determine the product's efficacy.
Key Ingredients: Hyaluronic acid, Vitamin C, and Vitamin E
Pros
Cruelty-free
Vegan
Paraben-free
Easy to apply
Nourishing and skin-brightening formula
Non-irritating
Suitable for all skin types
Cons
None

Price at the time of publication: $19.99
The anti-aging serum from GENEVA NATURALS is a deeply penetrating formula that fights aging signs and restores firmness. It is enriched with hyaluronic acid, vitamins C and E, moringa oil, and edelweiss extract.
Moringa oil neutralizes the harmful effects of pollutants, prevents wrinkles, slows premature aging, and provides environmental protection. Aloe vera and edelweiss flower have anti-inflammatory properties. Vitamin E protects the skin from cell mutation and has anti-inflammatory properties, while vitamin C lightens eye bags, puffy under-eyes, and dark circles.
Key Ingredients: Vitamin C, Hyaluronic acid, Moringa oil, and Edelweiss extract
Pros
Sulfate-free
Paraben-free
Phthalate-free
Eco-friendly
Synthetic color-free
Fragrance-free
Cruelty-free
Cons
Price at the time of publication: $24.95
The MP MintPear Rosehip night serum is a 100% pure organic product with anti-aging and anti-inflammatory properties. It contains pure botanical extracts like rosehip seed oil, carrot seed oil, passion fruit seed oil, pomegranate seed oil, tomato seed oil, watercress seed oil, red raspberry seed oil, jojoba oil, calendula oil, and lavender essential oil.
These ingredients are pure sources of vitamins A, B, C, and E, fatty acids, beta-carotene, and UV protection. This serum boosts collagen elastin production in the skin. It also reduces blackheads, adult acne, rosacea, and eczema and makes the skin brighter, healthier, and youthful-looking.
Key Ingredients: Rosehip seed oil, Jojoba oil, Pomegranate seed oil, Carrot seed oil, Red raspberry seed oil, Maraca oil, Tomato seed oil, Watercress seed oil, Calendula Oil, and Lavender essential oil
Pros
Cruelty-free
Chemical-free
Filler-free
GMO-free
Paraben-free
Artificial preservative-free
Sulfate-free
Phthalate-free
No synthetic perfumes and colors
Vegan
Cons
None
Price at the time of publication: $34.0
This clinically-tested serum insta natural is powered with hyaluronic acid, argan oil, citrus stem cells, and vitamin C. It targets the signs of aging and reduces fine lines and wrinkles. The DMAE serum contains a citrus stem complex that firms and lifts the skin. Argan oil strengthens the skin's natural moisture barrier, while vitamin C and hyaluronic acid provide ultra-hydration, nutrition, and even the complexion. Use this serum daily to get plumper skin with a youthful glow and smooth texture. The product offers visible results when used. Also, no animal testing has been conducted to determine the product's efficacy.
Key Ingredients: Argan oil, Hyaluronic acid, Vitamin C, and Citrus stem cells
Pros
Prevents skin damage from free radicals
Paraben-free
SLS/SLES-free
Mineral oil-free
Formaldehyde-free
Synthetic dye-free
Petroleum-free
Polyethylene glycol-free
DEA/MEA/TEA-free
Preservative-free
Cruelty-free
Allergy tested
Cons
Price at the time of publication: $17.97
This facial serum from PAULA'S CHOICE is a clinically backed skincare product that contains a triple action formula including retinol, bakuchiol extract, and peptides. The 0.3% retinol fights aging signs and improves skin texture, while 2% plant-derived bakuchiol aids retinol's anti-aging benefits and targets fine lines. The peptides in this clinically-tested product stimulate collagen to improve skin elasticity and firmness and protect the moisture barrier. This potent formula combats discoloration, hyperpigmentation, and age spots and imparts a healthy, fresh, and youthful glow.
Key Ingredients: Retinol, Bakuchiol extract, Peptides, and Vitamin C
Pros
Lightweight
Skin brightening
Protects from sun damage
Fragrance-free
Paraben-free
Cruelty-free
100% recyclable
Cons
Price at the time of publication: $62.0
AZURE Hyaluronic Acid & Retinol Anti-Aging Facial Serum helps improve skin texture, reduces dark spots, hydrates the skin, and makes it radiant. This serum combines the goodness of hyaluronic acid and retinol that targets aging skin and plumps the skin. It is lightweight and non-greasy and nourishes the skin, making it ideal for combination skin. This serum can also be used as a facial massage oil with your gua sha for a radiant appearance. The product has not been tested on animals.
Key Ingredients: Hyaluronic acid, Retinol, Collagen, Aloe vera, Vitamin B5
Pros
Vegan
Cruelty-free
No parabens
No phthalates
No GMOs
Non-greasy
Suitable for all skin types
Cons
None

Price at the time of publication: $12.99
The Le Mieux Rx Complex Serum is a potent blend of six potent peptides, four concentrated moisturizing agents, and the most stable form of vitamin C. It combats aging signs, rough texture, and dark patches and ensures optimum moisturization. This all-in-one complexion enhancer replenishes dehydrated skin and reduces uneven skin tone, dullness, and wrinkles. The hyaluronic acid in the serum provides a rich, creamy base compared to other water-based serums. Apply 3 to 5 drops in the morning and at night for visible results.
Key ingredients: Peptides, Moisturizing agents, and Vitamin C
Pros
Good for skin rejuvenation
Skin firming
Promotes cellular renewal
Sulfate-free
Paraben-free
Cruelty-free
Cons
Price at the time of publication: $69.95
Why Trust StyleCraze?
Shiboli Chakraborti, the writer of this article, is a certified skin care coach with a penchant for finding excellent skin care products that answer all your skin concerns. She suggests using these anti-aging serums to prevent any early signs of aging like fine lines and wrinkles in combination skin type. She perused many review forums and handpicked these products after extensive research. She recommends these products as they have key ingredients that prevent and protect your skin from aging prematurely.
Frequently Asked Questions
Can we apply an anti-aging serum before or after acne gel treatment?
Apply anti-aging serum after applying acne gel treatment. The rule of thumb for visible results is to cleanse your skin, apply the gel treatment, and go for the serum.
When should we start using anti-aging serums for combination skin?
Start using anti-aging serums on combination skin from your mid-20s. Opt for ones with glycolic acid or salicylic acid for mild exfoliation benefits and fewer acne problems.
What ingredients in an anti-aging serum should we avoid for combination skin?
Avoid oxybenzone, alcohol, parabens, formaldehyde, and phthalates in anti-aging serums for combination skin.
Which serum is the best for anti-aging and skin-brightening benefits in combination skin?
The Dr Song Hyaluronic Acid Pure Serum is the best for wrinkle reduction, anti-aging, and skin brightening. The formula imparts a healthy glow while combating premature aging signs.
Is a niacinamide serum good for combination skin?
Yes, a niacinamide serum that contains up to 10% niacinamide is good for combination skin.
Recommended Articles