9 Bestselling Acrylic Liquid Monomers For Nails
Long-lasting, affordable, and professional-quality liquid monomers for your nails.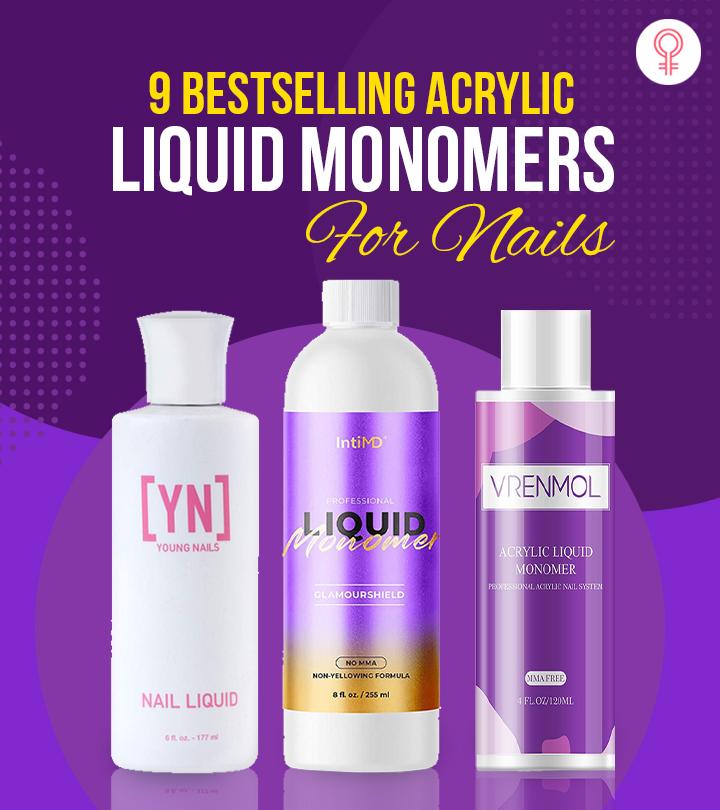 Nobody likes spending hours working on a manicure that lasts a few days before chipping off. The best acrylic liquid monomers are designed to give you a perfect look for a more extended period, so even if you use clip-on nails and have them set on the nail bed, they will stay on your nail without ruining the polish. They also block UV rays and won't turn yellow with exposure to the sun. We have just what you need if you are looking for the best acrylic liquid monomers. Here are the 9 highest rated acrylic liquid monomers to always keep your nails insta ready.
9 Best Acrylic Liquid Monomer For Nails
This premium-quality liquid monomer by Saviland is the real deal. It comes in a large 120 ml container and is ideal for professional use. The advanced formula is infused with EME and is made of non-toxic ingredients.
Unlike other liquid monomers, it has a lesser odor and does not need a nail lamp to solidify. The superior non-yellowing formula stabilizes the color of your nail polish and ensures long wear. It provides maximum adhesion and does not damage your natural nails. This liquid monomer is compatible with any acrylic powder and gives you optimal color clarity and finesse.
Pros
Professional quality
Durable
Doesn't peel
Value for money
MMA-free
Cons
Takes time to remove
Strong smell
This FDA-approved monomer from Tachibelle is free of harsh elements like MMA, which can have a pungent scent. It is equipped with advanced UV stabilizers that prevent your nails from becoming dull and chapping. The formula holds nail color impeccably and boosts color clarity. It seals in your nail plate perfectly and gives a shiny finish, even without using a primer. The formula is created by professional nail technicians and is ideal for sensitive skin.
Pros
MMA-free
Long-lasting wear
Affordable
Created by nail technicians
Cons
If you are a beginner in nail art, this liquid monomer by Morovan is the ideal choice for you! It can be used for 3D nail carving, nail extensions, and even as an adhesive for rhinestones. This liquid monomer is infused with ethyl methacrylate and is clear and smooth to work with. Its non-yellowing formula provides optimal color quality and helps your design stay put for a longer time. It does not need a UV or LED lamp to set, does not dry up quickly, and is easy to work with. This nail monomer comes in a sturdy non-spillage box for safe and convenient use.
Pros
Non-brittle
Good flexibility
Easy to use
Cons
Strong odor
Less quantity
This premium-quality liquid monomer by Mia Secret is formulated with strict quality control and environmentally safe ingredients. It is curated with an advanced EMA and non-yellowing formula, which gives superior adhesion and long-lasting wear. It enhances the quality of your nail color and also prevents discoloration.
Pros
Ideal for beginners
Affordable
Easy to use
Cons
Takes very long to dry.
May cause allergic reaction.
This premium-quality acrylic liquid monomer by IntiMD delivers a professional quality finish and is easy to work with. It comes in a handy 8-ounce bottle and is super long-lasting. The non-MMA formula is maneuverable, prevents yellowing, and provides optimal adhesion.
This liquid monomer gives you a strong base and a polished surface that delivers a glossy color payoff, which stays put for a long time. The high-grade formula prevents your nail from lifting, provides a seamless finish, and is easy to remove. It is also non-toxic and formulated in an FDA facility.
Pros
Gentle on cuticles
MMA-free
Non-toxic
Quick-drying
Cons
None
This professional acrylic liquid by Modelones is infused with a state-of-art formula for a stunning finish. It provides excellent adhesion, prevents your nail color from fading and yellowing, and ensures superior color clarity. Unlike regular monomers, it has a lesser odor, making it comfortable to use. Once applied, your manicure can last for up to 2-3 weeks. This versatile product can be used for nail carving, acrylic nails, and nail extensions.
Pros
No primer needed
Easy to work with
Chip-resistant
Self-leveling
Flexible
Non-blistering
Bubble-free
Cons
Design a perfect-looking manicure with this high-quality acrylic monomer by Karlash New York. It has a maximum strength formula that bonds perfectly with your natural nail plate and ensures your extensions stay intact for a long time.
This unique blend does not contain MMA. You do not need to use a primer before application, as this acrylic monomer alone provides an impeccable shine. It is formulated with advanced UV stabilizers, ensuring vibrant colors that last for weeks. The formula enhances color clarity and prevents dullness and yellowing.
Pros
Affordable
MMA-free
No primer needed
Recommended by nail technicians
Cons
May cause clumping in the brush.
Get a salon-quality nail makeover from the comfort of your home with this acrylic liquid monomer by Young Nails. It provides a firm and self-leveling application for finesse. The formula is MMA-free and non-yellowing. It provides a strong adhesive base to work with. The nail liquid has a flawless consistency, is mess-free, and keeps your natural nails protected at all times.
Pros
Affordable
Low odor
MMA-free
Easy to use
Long-lasting wear
Cons
This acrylic liquid monomer by Vrenmol gives your nails a quality finish and a glossy effect without the need for a primer. The formula is non-toxic, MMA-free, safe to use, and does not damage your nails.
It provides maximum strength and ensures a strong addition to your natural nail plates. This acrylic liquid monomer does not need an LED lamp to cure and is ideal for beginners as it doesn't dry up instantly. It prevents yellowing, chipping, dulling, and provides optimal color clarity and long-lasting wear. It is compatible with all leading acrylic powders and gives you professional-quality results.
Pros
Smooth texture
Easy to work with
MMA-free
Non-toxic
Cons
Why Trust Stylecraze?
Baishali Bhattacharya is a seasoned writer and certified image & consultant who has been writing product reviews for years, intending to bring readers the best in makeup and fashion. She understands and keeps up with trends to compile lists of products that can help people look and feel their best. In this post, Baishali writes about the best acrylic liquid monomers for nails designed to give you the perfect nail-painted look while blocking UV rays and protecting your nail bed. She has extensively researched each option and listed them based on quality, effectiveness, and consumer reviews across multiple e-commerce sites.
Frequently Asked Questions
What is an acrylic monomer liquid?
Acrylic monomer liquid is combined with acrylic powders to provide strong and long-lasting nails. The common ingredients in acrylic monomer liquid are ethyl methacrylate, triethylene glycol dimethacrylate, and dimethylamylamine.
Is acrylic liquid the same as monomer?
Yes, the liquid component in acrylic nails is called monomer. The odor in acrylic nails is from the monomer in the acrylic liquid.
Can you use water instead of acrylic monomer?
No, you cannot use water instead of acrylic monomer. To achieve strong acrylic nails, the acrylic powder is combined with acrylic liquid. So, not using any one of them can make your nails turn brittle.
Can I use nail polish remover instead of monomer?
No, nail polish removers usually contain acetone that can break down acrylic nails. Therefore, avoid using nail polish remover to keep your acrylic nails long-lasting.
Can I make acrylic liquid at home?
Yes, you can make acrylic liquid at home. All you have to do is mix 3/4 teaspoon of washable or non-toxic glue and 1/4 teaspoon of water in an empty nail polish bottle.
What is the liquid that goes with acrylic powder?
A monomer liquid goes perfectly with acrylic powder. This liquid combines with the powder to offer a puffy consistency that forms strong acrylic nails.
Recommended Articles