10 Best Nail Primers Of 2023 For The Perfect Polish
Keep your manicures and decorative nail arts secured with long-lasting nail primers.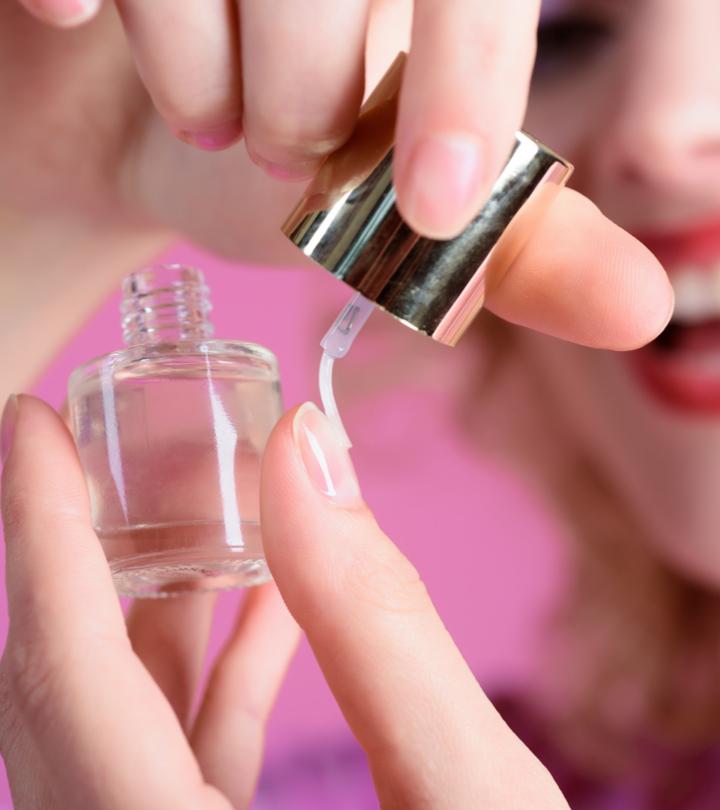 If you are a manicure lover, you very well know that nothing beats the importance of using the best nail primer to keep your nails safe and protected. Manicures are great relaxing sessions that doll up our nails and hands while decorating them with beautiful nail arts and designs. Today, acrylic and gel manicures are all the hype as they add both strength and length to your natural nails. They can be shaped and sized as you desire and can last for as long as 6-8 weeks. However, before you begin to get yourself acrylic nails, your nails must be strong, smooth, and thoroughly clean to help you get the best results.
This is where you need the magic of nail primers. It treats the surface of your nails to prep them up for acrylics and other nail polish coats to adhere to the nails better. Nail primer removes oil and grease traces from your nail surface if applied correctly. It also balances the pH of your nails, ensuring your manicure stays longer. Nail primers can also be applied on your regular or gel nail polish to prevent chipping or peeling. However, nail primers are most recommended if you are getting an acrylic manicure. If you want to get an acrylic manicure sometime soon, go through our list of the 10 best nail primers to achieve a smooth and long-lasting finish.
10 Super Effective Nail Primers For A Long-lasting Manicure
Show your nails some love and prep them carefully before your manicure with Modelones nail primer, which works best to bond your natural nails with gel nail polish. The primer works to reduce the oiliness from your nails and provides you with the ideal base for a smooth and easy gel polish application. It increases adherence, and air dries quickly while preventing air bubbles from forming during your next coats so that you're left with a dazzling manicure that lasts long and is not easy to lift. Check out this video for a detailed review of the product.
Pros
 Best with gel polish
 Works on acrylics and artificial nails
 Reduces oiliness
 Increases adherence
 Dries quickly
 Prevents air bubbles
 Manicure lasts longer
 Polish will not lift easily
Cons
 May not work with press on nails
Price at the time of publication: $5.99
This protein bond primer gives your nails a non-acidic adherence without using corrosive chemicals. And has a proprietary polymer that helps bond the nail polish to your keratin nail structure. The protein bond primer forms an extra sticky nail surface allowing the polish to stick easily and last longer. Two coats of the primer can be used with acrylics, regular polish, and hard gel, while for regular gel polishes, you can apply the primer just on your nail tips.
Pros
 Non-acidic
 Non-corrosive primer
 Extra sticky surface
 Manicure lasts longer
 Polish will not lift easily
 Can be used with regular, gel, and acrylics
Cons
Price at the time of publication: $12.95
Before a manicure, it's good to prep your nails, and one way you can do it is with Aimeili's nail bond primer. It gets your nails prepared for strong adhesion so that when you apply UV/LED gel nails, builder gel, acrylic powder, or dipping powder, your manicure will be long-lasting with minor chipping. You don't need a UV or LED lamp during the application of the quick-drying primer, and it helps stop your nail art from lifting or breaking, leaving you with a perfect manicure. Take a look at this video to learn more about the product.
Pros
 Increases adherence
 Dries quickly
 Prevents air bubbles
 Manicure lasts longer
 Polish will not lift easily
 No UV/LED lamp needed
Cons
Price at the time of publication: $6.99
The No Lift Nails Nail Primer works wonders with UV gels and gel nail paints. It prevents the nail polishes from fading or getting unnecessarily lifted while strengthening your nails. The primer adds shine to your natural nails while making sure that your manicured acrylic nails stay on for more than three weeks without lifting or breaking.
Pros
Quick-drying formula
Adds shine
Chip-free
Offers maximum adhesion
Ideal for UV gel nails
Cons
None
Price at the time of publication: $14.6
If you're in the mood for a long-lasting manicure and are considering either doing a hard gel manicure or getting acrylics done, you must prep your nails with the Gelish ProBond acid-free nail primer. This primer is a brush-on primer, which is non-acidic and helps increase adhesion so much that it acts like "double-sided tape". You can use this for a smooth application and help make your hard gel or acrylic nails last much longer!
Pros
 Increases adherence
 Non-acidic
 Used for hard gel or acrylics
 Smooth application
 Manicure lasts longer
Cons
 There may be lifting faster than expected
Price at the time of publication: $12.44
Tired of your oily nail plates getting in the way of your perfect gel manicure? Don't worry about that with Morovan's acid-free primer, which reduces nail oil and helps create a sticky surface for maximum adhesion so that you can get a smooth and successful gel manicure! It is used to bond your natural nails to UV gel nails; air dries fast and helps prevent lifting and chipping of your nails. It also changes the pH of your nails and helps prevent air bubbles for a longer-lasting manicure.
Pros
 Increases adherence
 Non-acidic
 Used for UV gel nails
 Changes nail pH
 Reduces oiliness/grease of nail plates
 Helps prevent lifting
 Reduces chipping
 Manicure lasts longer
Cons
 Only works with UV gel nails
Price at the time of publication: $5.99
Suppose you've been facing issues with a burning sensation during the application of nail primers. In that case, you can consider switching to Mia Secret's acid-free nail primer formulated with XTRABOND that does not burn your natural nails. The nail primer is acid-free and works to dehydrate your natural nails by reducing oiliness and grease so that there is greater adhesion and your acrylics or UV gel nails stay on longer and go on smoother. Watch this YouTuber's honest review to get a better idea about the product and its features.
Pros
 No burning sensation
 Acid-free
 Increases adherence
 Reduces oiliness/grease of nail plates
 Helps prevent lifting
 Works with acrylics and UV gel
 Manicure lasts longer
Cons
 May smell slightly strong
Price at the time of publication: $16.49
It's always a pain when our nails start to lift a few days after a fresh manicure, but with a LED/UV bonder, you can prep and prime your nails perfectly to keep them as secure as possible. Suitable for LED/UV gel nails, this bonder nail primer gives you strong adhesion and a longer-lasting hold which helps keep your manicure on for as long as possible. The odorless primer is non-acidic, and you can cure your nails using a UV or LED lamp for best results.
Pros
 Acid-free
 Increases adherence
 Helps prevent lifting
 Works with LED/UV gel
 Odorless
 Manicure lasts longer
 Cured using UV/LED lamp
Cons
Price at the time of publication: $14.98
If your nail extensions are lifting more often than you'd have liked, avoid it next time by using the Apres acid-free gel manicure which is formulated to remove the oiliness and greasiness on your natural nails so that your gel manicure can last longer. Its non-acidic formula minimizes damage to your nails and you can flaunt your manicure for a good amount of time without any concerns of it lifting and chipping.
Pros
 Acid-free
 Increases adherence
 Helps prevent lifting
 Manicure lasts longer
 Reduces oiliness/grease of nail plates
 Used for gel nails
Cons
 Can only be used for gel nail application
Price at the time of publication: $12.5
Achieve flawlessly manicured nails with the ohora Pro Nail Primer. It creates a thin, transparent layer over your nails to reduce dullness and damage which is often caused by semi-cured gel nail strips. The nourishing formula of this primer contains six amino acids that strengthen your nails and make them healthier. It also contains a unique two-step water-lock system that seals in moisture in your nails while protecting the nail beds.
Pros
Moisturizing formula
Strengthens nails
Manicure lasts longer
Increases adherence
Durable
Time-saving
Vegan
Cruelty-free
Cons
None
Price at the time of publication: $16
So, this is our list of the 10 best nail primers that you can pick from before your next salon or home manicure! If you need help choosing the perfect one for you, then here are a few things you can keep in mind before your purchase.
What To Look For In A Nail Primer
Oil reduction: Not all primers are made the same when it comes to adhesion strength. Some are stronger than others. If you're looking for an even more effective way to keep your extensions on, you should look to see if they have oil reduction properties. This makes your nail much cleaner and smoother before applying for the best results.
 Acidity: Some nail primers aren't acid-free. While it isn't too bad, people with sensitive nails can't be tolerated, which may get damaged during application. So if you're worried about the sensitivity of your natural nails, look for a non-acidic nail primer.
 Odor: While it's difficult to avoid odor when it comes to our nails completely, some noses may be more sensitive than others. If you fall in the category of having a strong sense of smell, you can check for a primer with minimal odor.
Why Trust StyleCraze?
The author of this article, Chaitra Krishnan is a makeup enthusiast who loves trying out different products. She has curated a list of the best nail primers after carefully researching and browsing through online reviews and user feedback. Her list is perfect for those obsessed with manicure sessions and nail arts. Not only do these nail primers help your manicure last longer, but they also dry quickly and do not damage your cuticles.
Frequently Asked Questions
Is Nail Primer The Same As A Nail Base Coat?
While both nail primers and base coats are used to make your nail polish last longer, they are not the same. A nail primer is usually used before the application of acrylic, gel or artificial nails while a base coat is more commonly used with regular nail polish. Base coats form a layer of protection over your nails to keep them healthy while primers are used to strengthen the hold for extensions.
Does Nail Primer Prevent Fungus?
A nail primer will keep nail extensions and polish down securely, so the chances of new fungal infections will be lower, however primer will not cure fungus that's already there.
How Long Does Nail Primer Last
Nail primers have an indefinite shelf life as long as you do not let them dry out.
When Do You Apply Nail Primer?
You ideally should apply nail primer before getting acrylics or a gel manicure so that they last longer and stay on more securely.
Is acrylic primer and nail primer the same?
Yes. Nail primers or acrylic primers improve the adhesive potency of the polishes, remove excess oils from the nail surface, and prevent the nails from chipping.
What goes first, nail primer or bonder?
Apply the bond enhancer before a primer to improve the adhesive power of the polishes and balance the pH level of the nails.
Which type of nail primers are the most often used?
Acid-free primers are the most commonly used primers. They are non-corrosive formulas that provide excellent adhesion to the polishes.
Why does nail primer make nails feel like they are burning?
Nail primers contain acids that might burn and irritate the skin around the nails. In addition, the corrosive acids weaken the nails.
Recommended Articles