10 Best UV Gel Nail Polishes Of 2022 For Elegant And Glossy Nails
Give yourself a glossy finish and colorful nails right at home without spending big bucks. There is nothing more annoying and frustrating than getting an expensive professional manicure that ultimately gets chipped off when you plan to cook or do some work. If you have also faced this issue, the best UV gel nail polish can be your answer to a long-lasting manicure. Initially, it might seem a little challenging, but getting a UV gel manicure is not as hard as it looks.
Nowadays, there are a variety of UV gel nail kits that will make your manicure experience much more enjoyable and easy. A gel manicure includes a gel-based nail polish that is hardened with the help of ultraviolet light, and the result is glossy and chip-proof nails. A good gel-based nail color lasts for at least 3-4 weeks. You can also dry some UV-free gel-based nail colors without the help of a UV lamp.
Nowadays, multiple brands of UV gel nail polishes are available on the market. With so many options to choose from, it might be a little overwhelming for you to pick one. In this article, we have rounded up a list of the best UV gel nail polishes that you can try. Keep reading!
10 Best UV Gel Nail Polishes Of 2022 For Long-Lasting Manicures
Ready for that beautiful UV gel manicure at home? This UV gel nail polish promises you 21 days of high gloss wear without nicking, chipping, or smudging. Just apply a thin layer of the polish and dry it under a UV or LED lamp. Made with eco-friendly ingredients, this vegan UV gel nail polish has just a slight non-toxic smell, which in the case of a gel nail polish is unavoidable, but the good news is that it disappears after it dries. Both the coats go on easily and cure in no time with a high shine and rock hard finish. You can use other polishes between the base and top coat like a sandwich and explore a wealth of possibilities in creativity. If you want to know more about the benefits of this product, check out this quick review on YouTube.
Pros
Long lasting
Easy application
Mild smell
Eco-friendly ingredients
Cons
A skin test is necessary before applying to avoid allergies
Variety is the spice of life and this product comes in a set of 6 nude gray colors, which come on like polish, wear like a gel with a mirror shine for upto 2 weeks, and can be removed in minutes. Made of environment-friendly ingredients like purified water, mineral pigments, and natural resins, these UV gel nail polish colors have a mild smell, and are non-toxic. It takes just about a minute to dry under a LED light and 2 to 4 minutes under a UV light. The nail color has a life of 3 years after it's opened and comes with a smooth brush for easy application. These nail art colors are popular for all the right reasons and give full rein to your creativity.
Pros
High gloss
Natural ingredients
Long shelf life
Cons
Some may find its texture too thick
This 21 piece soak off UV gel nail polish set comes in an extensive palette of shades so that you can try out different looks. You can try a range of nail designs on natural nails, UV/LED gel nails, false nails, or acrylic nails with this professional gel nail polish set. Made of natural resins, these polishes are safe to use, have a very mild smell, and give a smooth and shining finish. This set contains 17 pure color gel polishes, 3 glitter gel polishes, a base coat, a glossy top coat, and a matte top coat. These gel nail lacquers are highly pigmented with a good tenacity and are easy to apply and remove. It offers flawless coverage and wears up to 21 days while its built-in brush fits every nail size for a streak-free application.
Pros
Versatile
Long lasting
Easy application
Mild smell
Great for gifting
Cons
The nail color might wrinkle while curing in some cases
As its name suggests, this unique nail polish changes color like a chameleon when exposed to changes in temperature. The higher the environment or body temperature, the more obvious the color change will be. Easy to apply, long lasting, and simple to remove, this gel nail polish gives your nails a platinum grade finish. It's not prone to chipping, nicking, or smudging and can last upto 3 weeks. Made with natural, non-toxic ingredients, it has a good tenacity and a very mild smell. This long lasting UV gel nail polish is suitable for natural nails, UV gel nails, false nails, acrylic nails, and nail tips. Definitely worth a try!
Pros
Easy application
Long lasting
Easy to remove
Mild smell
Non-toxic ingredients
Cons
Might peel off in some cases
If you want to look both professional and chic, do try out this product. What you get are 22 color gel nail polishes, 2 base coats, 2 no-wipe glossy top coats, and 1 matte top coat, so that you have a color for every occasion. This versatile, high quality UV gel nail polish kit provides an excellent manicured look and adds to your wow factor. It's long lasting and has good tenacity, is easy to apply, and lasts between 14 to 21 days, which means you are not stuck with chipped nails in a couple of days. It has a glossy finish, is made with healthy ingredients, is non-toxic, and has a very mild smell, so it's a win-win situation. What more could you ask for! Here is the Ab Gel nail polish review video for help.
Pros
High gloss
Easy application
Healthy ingredients
Mild smell
Cons
If you have dreamt of perfectly manicured nails, this might be just your answer! This UV gel nail polish kit comes with a base coat and a no-wipe glossy top coat. The base coat helps your manicure look even, smooth, and flawless and makes the gel more long lasting, and the nails stronger. The glossy top coat seals and protects your manicure with a hard, shiny, chip-resistant finish. This product causes no harm to the body or skin as it's made of natural resins and has good tenacity. It's compatible with all brands and is suitable for natural nails, UV gel nails, artificial nails, acrylic nails, and nail tips, so get ready to put your expertise to test. 
Pros
Fast drying
Long lasting
Mild smell
Natural ingredients
Cons
May dry up under direct sunlight
If you have been craving for impeccably shiny nails, this is just for you. This rich colored UV gel nail polish is made of natural resin which is harmless, and other non-toxic, environmentally-friendly ingredients. With an impressive tenacity, this nail polish stays on for up to 3 weeks while saving your perfectly-done nail color from chipping or nicking. Pick a base and a top coat for that perfect finish and cure it under a UV or LED light for up to 2 minutes. It has a very mild smell and its beautiful color makes it an ideal gift item. Dress up your nails so that they look their prettiest best! 
Pros
Healthy ingredients
Long lasting
Easy application
Comes in a 12 ml bottle
Cons
Some may find its odor strong
It's time to practice nail art with a whole range of colors with this soak-off UV gel nail polish that comes in a pack of 6 colors in a range of blues. They are made from non-toxic ingredients that make them safe and odorless. They contain no harsh ingredients or adhesives, thus saving your nails from damage. With proper application, this nail polish can last up to 2 to 3 weeks with a brilliant shine, and no chipping or smudging. All you need to dry this nail polish is a UV or LED lamp, and using a base and top coat adds perfection to the polish. This matte UV gel nail polish will bring you an exquisite nail art experience right at the comfort of your home. Check out the review video for Tomicca gel nail polish for a closer look.
Pros
Made from natural resins
Non-toxic
Long lasting
Easy to apply
Mild smell
Environment-friendly
Cons
Some may find the texture too thick
This gorgeous, glossy, glitter effect UV gel nail polish is suitable for DIY nail art at home, and is used by both professionals and beginners. The darker the light, the brighter is the micro-diamond, hybrid colloidal starlight that shines at your fingertips. Highly pigmented, it's easy to apply for perfect shiny nails. The gel polish requires drying under a UV light for 90 to 120 seconds or a LED lamp for 30 to 60 seconds. This iridescent UV gel nail polish is made of natural resin, has a non-toxic formula, low odor, and causes no harm to your skin and nails. With proper application, it lasts for at least 2 to 3 weeks, is color resistant, and flexible. It's suitable for natural nails, UV gel nails, false nails, acrylic nails, and nail tips, so get ready to sparkle.
Pros
Diamond glitter
Reflective sparkle
Healthy ingredients
Easy to apply
Long lasting
Low smell
Cons
Requires several layers for full coverage
If you want that extra oomph in your manicure, this glitter UV gel nail polish comes in a set of 6 well selected colors including a white glitter platinum gel polish. It's a highly pigmented, odorless gel which is easy to apply because of its smooth brush. Certified by SGS, it's free of toxins and the brand focuses on using premium raw material to keep the product safe and eco-friendly. It just takes a few minutes to dry under a UV or LED light,  and this soak-off shellac nail polish is also convenient to remove. As it is long lasting, your hands will look as if you have just walked out of a nail spa for upto 3 weeks. 
Pros
Odorless
Long lasting
Eco-friendly
Easy to apply and remove
Cons
Now that you have been through our review of the 10 best UV gel nail polishes, let us give you a few pointers on what you should look out for while choosing one for yourself.
How To Choose UV Gel Nail Polish
Depending on your skin tone, specific colors help you flaunt your hands and also make them look younger. For an olive to medium skin tone, all colors work just fine except gold and rust colors. Dark burgundy, wine, blues, purples, pinks, and nudes work great. For tanned skin tones, you can wear shades like fuchsia, orange, green, and red. For lighter skin tones use reds, pastels, peach, and purple shades. 
Avoid toxic gel ingredients
There are toxic ingredients such as formaldehyde, toluene, and dibutyl phthalate that are present in almost all nail polishes. In high doses, these ingredients can cause inflammation and disturb liver and thyroid function. Check the ingredients label on your polish bottle to avoid them and opt for nail gels that don't contain these elements in their formula.
Gel manicures contain polymers that have to be cured under a UV or LED lamp for them to become dry and hard. This curing process should not take more than 1 to 3 minutes under a UV or LED light. UV lamps cure almost any gel polishes whereas LED lamps cure only those gel nail polishes that are specifically compatible with the process of LED light curing.
A gel nail polish should comfortably last for up to 2 to 3 weeks, and if you are very careful, they can even last you 4 weeks. Do keep that in mind while choosing one for yourself. 
It is recommended to check that gel nail polish is non-toxic, has no odor, and is environment-friendly. It should be sourced from natural resin, and be safe to use. It should also have good coverage, proper viscosity for easy application, and should ideally allow instant curing by UV or LED light. And a good quality UV gel can be easily removed by acetone.
Gel polishes are cured by light, so it's important that the bottles are coated to prevent them from getting affected by light.
Now that you know what to look for in a good UV gel nail polish, it's important that you know how to use it to its best effect so that you always have dazzling nails.
How To Use UV Gel Nail Polish 
Step 1- To get the best results, your nails need to be washed, scrubbed, cleaned, and dried. File your nails into the shape you want with a 180/240 grit file. Use an orangewood stick or metal cuticle pusher to gently push back your cuticles. Buff your nails with a buffing block to remove the shine. Wipe your nails properly, making sure you get into all the corners and even under the edge, removing all the dust. 
Step 2- Apply a thin base coat and aim for an even coverage. Cap the free edge as it prevents chipping due to wear and tear. Place your hand inside the UV lamp and cure for 2 minutes, and for 1 minute with an LED light. Once the base coat is cured, it will still be sticky. Do not let anything but your gel color touch it at this point, as anything else will ruin the final finish.
Step 3- Paint on your first layer of polish and ensure that you don't get any polish on your skin. Try to leave a 1 mm gap between your skin and the edge of your nails. Cap the edge of your nails with the polish just like you did with the base coat. Cure in the lamp for 1 minute with a LED light and 2 minutes with a UV lamp. Repeat step 3, applying a second coat of color. The color layers will also feel sticky when cured, and this helps the layers to bond together.    
Step 4- Once the second layer of color is cured, it's good to apply a layer of top coat. Apply over the entire nail, capping the free edge of the nail and cure for 1 minute in a LED light and 2 minutes under a UV lamp. A top coat is important to seal and protect your nails and also gives that long lasting shine. Make sure that you check to see that it cures without a sticky layer. Some top coats may need to be wiped off with isopropyl alcohol after curing.
Knowing how to remove a UV gel nail polish properly and efficiently is as important as knowing how to apply it, especially, when the temptation to rip, pick, or peel it off is almost universal. When you do that, you also rip off layers of the nail bed, which leaves them prone to breaking and peeling. So, here are a few tips on how to go about that task. 
How To Remove UV Gel Polish 
Take a nail file and start by carefully filing away the top coat seal.
Now comes the step that will really test your patience. Place a cotton ball soaked in acetone on each nail, and wrap the tip of your finger in foil so that the cotton ball is held in place. Let your nails soak for about 10 to 15 minutes, or even longer, if the polish doesn't easily slide off.
If the polish doesn't slide off easily, grab a fresh cotton ball soaked in acetone and place it on the nail for a few more minutes. Once all the polish is off, moisturize your nail beds with oil or cuticle serum.
There are a lot of over-the-counter gel removal options available but the frustrating part is that you can't know how well they work till you get home. They are essentially an acetone soaked sponge in a jar and you just need to stick your finger in the jar and twist, implying that the nail color would magically come off. This can be risky as it doesn't always work and might involve a waste of time, energy, and money.
You can also fill a large bowl with hot water and place a smaller bowl inside it, basically creating a double boiler. Pour an acetone nail polish remover into it, soak your nails in it for about 10 minutes and use an orange stick to push off what's left of the polish.
If you want to be creative with your nail arts, UV gel nail polishes are the way to go! These gel nail polishes can help in achieving manicures that are long-lasting. UV gel nail paints can offer you glossy nails without the added burden of chipping or smudging. These nail polishes can be applied easily and are mostly made with eco-friendly materials like purified water, pigments from minerals and natural resins. However, people with sensitive skin can avoid using the UV gel nail polishes that haven't been tested by dermatologists. It is also better to avoid nail paints that aren't pigmented well yet have extremely thick consistencies. You should also look out for UV gel nail paints that glide effortlessly.
Why Trust StyleCraze?
Chaitra Krishnan, the author, is a beauty and makeup enthusiast, who loves experimenting with new looks and trends. After carefully going through several makeup and beauty forums and websites, she has chosen nothing short of the best UV nail polishes for you. These nail paints last long, have quick-drying formulas, and are easy to remove. The author has also included the steps of applying gel nail paints and ways to make it last longer.
Frequently Asked Questions
Is UV gel nail polish bad for your nails?
Though gel nail polishes look beautiful and are long-lasting, they can be tough on your nails. Extended use can cause brittleness of nails, as well as peeling and cracking.
Do you need UV light for gel polish?
Whenever you buy a gel polish, make sure to read the label and see whether the polish requires a UV light or LED lamp to cure. If the polish doesn't specifically state that it's a non-UV polish, it will need a UV light or LED lamp.
Is UV or LED better for gel nails?
The difference between an LED and a UV nail lamp is the type of radiation that their bulbs emit. LED lamps can cure a gel nail polish faster than a UV light, but not all gel polishes can be cured by an LED lamp. Also, LED lamps tend to be longer lasting while UV lamps need their bulb to be replaced more often.
How long does UV gel nail polish last?
On an average, gel nail polish lasts upto 2 to 3 weeks, and in some cases it can even go for up to 4 weeks. This is because a gel nail polish is completely different from a regular nail polish and needs a UV or LED light to cure it and form a hard layer.
What's the difference between UV gel polish and nail polish?
The basic difference between the two is that a UV gel polish needs a UV or LED lamp in order to dry down, whereas, a regular nail polish can dry up naturally.
Will UV gel nail polishes ruin my natural nails?
There is a possibility that gel manicures may cause your nails to become brittle. It may cause premature aging in the hand area. This is why you need to take very good care of your nails with cuticle care products and protein-enriched base coats to keep your nails healthy.
What is a soak-off UV gel nail polish?
A soak-off UV gel nail polish requires 30-60 seconds under an LED lamp to cure or 2 minutes under any other traditional UV lamp. It can be removed by soaking your nails in acetone.
The following two tabs change content below.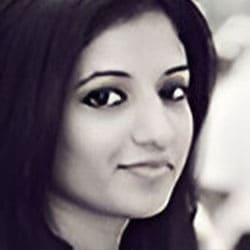 Chaitra has a triple main bachelor's degree in journalism, communicative English, and economics from St. Aloysius College, Mangalore, and a...
more