13 Best Manicure Kits To Get Salon-Worthy Nails At Home – 2022
Maintain your nails professionally at affordable rates and keep them from breaking.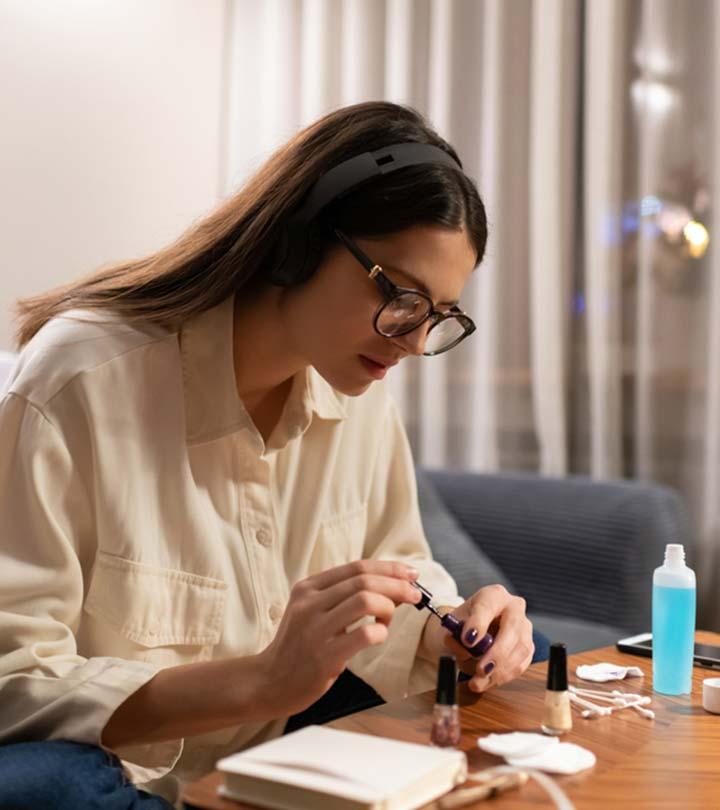 The best manicure kits for women are a blessing as they help you maintain your nails without burning a hole in your pocket. We can collectively agree that running to the salon every time you need to do your nails is not practical. And most of us do not have enough time to get help from professionals. However, chipped nails and worn-off nail polish can make our hands look unclean.
A manicure kit comes with various tools, gels, massage items, and creams that can make your hands look healthy. They help you keep your nails neat and well-groomed and give them a beautiful look. We agree that going through this process at home can be difficult. But with practice, you can easily master this skill and take care of your nails from the comfort of your home.
Manicure kits are cost-effective alternatives to salons and save a lot of time and money for the users.
The market is flooded with endless options, and spotting the right and suitable manicure kit can be an ordeal. That is why we have put together a list of the best-rated manicure sets available online. So, if you wanted to know how to get salon-like nails at home, you have landed on the right page. Swipe up to explore!
13 Best Manicure Kits for Women (Review) in 2022
Give your nails the perfect shape with a ZIZZON nail clipping kit. This set includes all essential accessories, such as a nail clipper, toenail clipper, multi-purpose scissor, and cuticle trimmer. It is a perfect set to ensure professional quality manicures and pedicures at your home. This set includes an eyebrow tweezer blackhead needle, a cuticle trimmer,  and a V-shaped push stick. These tools help get rid of unwanted dead cells and irritating blackheads.
This 12-piece set also comes with an ear pick to eliminate the accumulated earwax. All products are made from high-quality stainless steel. The case is designed with a rose gold surface for a glamorous and luxurious feel. The kit is portable, durable, and can be a perfect gift for your lady this New Year's or Christmas eve.
Pros
Sharp stainless steel
Travel-friendly
Sturdy and durable
Luxurious carry case
Budget-friendly
Cons
None
Price at the time of publication: $11.98
The Anself 10-in-1 stainless steel mani-pedi set meets all your manicure needs The tools are sterilized to avoid the risk of infections, and if you maintain them well, they won't rust even after several years of use. Furthermore, the set comes in a stylish PU leather case, which is easy to carry while traveling. This versatile mani-pedi kit includes essential tools for hand care, foot care, and facial care. It comprises fingernail and toenail clippers, a cuticle trimmer, a tweezer, a pair of beauty scissors, a nail file, a push stick, and an ear pick.
Pros
Easy to carry
10 mani-pedi and facial tools in a set
Portable compact leather case
Easy to clean and durable
Cons
May not come with an instruction guide
Price at the time of publication: $22.27
This 18-piece manicure kit has all the essential tools you need from fingernail and toenail tools to a facial-care kit. This all-black toolset comes packed in an elegant black leather travel case for easy portability. Just like any other high-grade mani-pedi set, it includes nail clippers, a nail file, tweezers, scissors, cuticle nippers, an ear pick, and acne removal tools. But that's not all! This multi-functional set also comes equipped with a nail cleaning knife, three types of callus removers, and a cuspidal. If you are tired of heading to the salon now and then for a complete manicure, then pampering yourself with an ESARORA grooming kit at home, is the way to go.
Pros
Contains manicure, pedicure, and facial care tools
Portable synthetic leather case
Made of surgical grade stainless steel that is abrasion-resistant
Cons
The straps of the bag tend to loosen soon
Price at the time of publication: $17.99
Having your own manicure set is the perfect way to keep your hands and nails clean and shiny,whenever you want. When you have an electric manicure set, it makes your work much more comfortable and enjoyable. The one-touch selection system makes it easy to operate, and the detachable LED illuminates hard-to-see areas in your nails. The kit consists of milling cutters, callus removers, nail shaping discs, nail polishing cones, and a detachable protective cover (collects dead skin and nail residue). Now you can file, shape, buff, and clean your nails at your convenience. Check out the detailed review of the product in this video.
Pros
Electric mani-pedi set for easy usage
Can be rotated clockwise and counterclockwise
Equipped with LED
10-Speed motor that allows you to adjust the speed to your liking
Cons
Does not come with a charger
Expensive
Price at the time of publication: $48.24
Known for their specialization in designing a wide range of beauty tools, FAMILIFE has launched a manicure-pedicure set that has everything you need for the professional manicure set. The kit has 11 instruments, which include heavy stainless steel nail clippers, cuticle nippers and trimmers, cuticle and nail polish pusher, tweezers, scissors, nail file, and ear pick. All the tools are sturdy, sharp, and durable. The product comes with a classy gift box and leather case, which makes it the best gift item as well.
Pros
Portable leather case with an internal flap
Includes gift box
Sturdy and long-lasting
Cons
Maybe too sharp. Keep away from kids
Tweezers tend to be thicker than usual
Price at the time of publication: $26.99
If you like to keep your nails well-maintained at all times without spending too much money, this 12-in-1 manicure and pedicure kit will be ideal for you. In the last ten years, Keiby Citom has specialized in making the best quality manicure tools, making a name for itself in the beauty industry. Durable, super sharp, and pretty, this professional set contains all the tools you need for a session of manicure, pedicure, shaping eyebrows, removing acne, ear cleaning, and exfoliating hands and feet. All the pieces are made from the finest quality stainless steel and come in a fancy and easy-to-use compact case.
Pros
Comes with a beautiful gift case
Durable and lasts a lifetime
Material is hard and sharp
Budget-friendly
Cons
May not include a manual explaining how to use each tool
Price at the time of publication: $26.99
3 Swords Germany's grooming kit, manufactured in Solingen, Germany, is known for creating the best steel products in the world. So, rest assured the brand won't let you down in any way. Made from nickel-plated stainless steel, this kit includes eight tools, which comprises, nail and cuticle scissors, nail clippers, tweezers, glass nail file, sapphire nail file (for fine and coarse coating), and a nail pusher or cleaner. The kit comes in a leather case, available in an array of colors and designs, so there is something for everyone. No doubt, this product is classy and practical and will last you decades, if not longer.
Pros
Hand-crafted
Comes with a 'Fingernail and Toenail Care' guide
Includes a microfiber cleaning cloth
Tools are nickel-plated, protecting them against corrosion
The leather case is available in different colors
Cons
Scissors and clippers could be too sharp
Price at the time of publication: $34.95
Utopia has all that you need to get a professional manicure done at home. In this set, you get fingernail and toenail clippers, peeling knives, cuticle trimmers, a toenail nipper, a nail file, a V-shaped push stick, eyebrow tweezers, a multi-purpose scissor, a blackhead needle with loop remover and an ear pick. A total of 16 tools in one single kit! The black matt finish gives the tools a sophisticated appearance and makes them stand out. The kit comes with a leather case, making it a perfect travel kit or gift. Watch this video of the product for more information.
Pros
Made from high-quality stainless steel makes it durable
Lightweight and portable
Suitable for both men and women
Cons
Tools are sharp and have pointed edges, so keep away from children
May not come with an instruction guide
Price at the time of publication: $11.99
Here's another all-inclusive professional manicure kit for women by Keiby Citom, which is a must-buy for all those who tend to do your nails a lot at home. This set has all the essential instruments for not just hand and fingernail care, but also foot and facial care. All the tools are made out of stainless steel, thereby making them sharp and durable. The non-slip natural rubber-coated surface layer provides a better grip while using. This kit additionally includes a mini nail clipper for kids, an acne bowl needle, and a spiral ear spoon. They are available in three different colors and come in a water ripple PU leather texture case.
Pros
Available in three colors
The surface of the tools are coated with natural rubber that provides excellent grip
Suitable for both men and women
It includes a mini nail clipper for kids
Cons
Take great care while using the tools as they are sharp
Price at the time of publication: $16.99
Do you like to experiment with nail art? Have you been looking for a premium quality manicure set to do that? Here's one product that we swear by – Litchi's manicure and pedicure set. It comes equipped with nine different attachments – round-head nail file, dust brush, large coarse grinding disc, bullet bit to smoothen calluses, nail buffer, cuticle pusher, a water tub to soak your fingers, a built-in fan to dry your nail polish, and a main station to store all the accessories. This 13-in-1 electric manicure set will give you the nail care experience that you have been looking for. It is the best home manicure set.
Pros
Completely electric with a rechargeable handheld unit
Multifunctional with nine easy-to-use and interchangeable types of equipment
Compact and easy to store
Equipped with a nail bathtub and a fan
Cons
Does not come with scissors and clippers
Price at the time of publication: $39.99
This 10-piece manicure and pedicure kit is affordable and well-made with its orange and black color scheme, and matt finish ergonomic design. The kit comprises straight edge nail clippers, multi-purpose scissors, slanted edge clippers, tweezers, a nail file, a scraping tool, a cuticle stick, a V-shaped push stick, a needle, and a loop blackhead remover, and an ear pick – it has all the right tools that you would need for a well-groomed look.
Pros
Gender-neutral design
Sharp tools for precision
Sturdy and durable
Compact – easily fits into your pocket
Cons
Tools could be a little too sharp for your liking
Price at the time of publication: $14.89
Once you get your hands on this compact and convenient mani-pedi and facial care kit, you can have your own grooming salon, anytime and anywhere you want. This 6-piece kit, handcrafted in Japan, is made out of stainless steel material. It includes toenail and fingernail clippers, nostril scissors, nail nipper, nail file, and a slant tweezer. It comes in a black leather zippered case that gives the kit a classy look. Though a bit on the expensive side, you won't regret investing in this product.
Pros
Easy-to-use tools
The compact leather case makes the kit easy to carry while traveling
Unisex product
Handcrafted
Cons
Price at the time of publication: $105
This cute and petite nail-care set is perfect for times when you have an uneven broken nail or hangnail that you immediately need to remove. Ideal for home and on-the-go use, this 4-piece manicure kit can be conveniently carried in your handbag or pant-pocket without being noticed. The kit includes a fingernail clipper, a nail file, cuticle trimmer, and hangnail nipper, and a 2-in-1 cuticle pusher and nail cleaner.
Pros
Easy to carry and easy to maintain
Made of high-quality stainless steel ensures the tools are strong and durable
Affordable
Cons
This set does not include tweezers
Price at the time of publication: $19.29
Buying Guide For Manicure Kit
How To Choose The Best Manicure Kit?
As the Internet is flooded with many manicure kits these days, one might have a tough time choosing the right one. When looking for a manicure kit, you need to ensure that the tools are multifunctional and made of the right materials. Not just that, investing in a good manicure set will ensure your tools are organized and are easily accessible.
It is essential that you go through the points given below before you purchase a manicure kit for yourself.
If you want to prevent your grooming tools from being corroded and want them to last longer, make sure they are made of stainless steel, carbon steel, or nickel-plated steel.
The kit should contain all the tools that you need, if not too many, at least basic ones like a nail clipper, a nail file, a nail cuticle trimmer and pusher, nail scissors, and tweezers.
Look for a kit that comes with a compact case, making it easy to pack and carry when travelling.
Last but not least, it is essential to know how to use the products. A kit that comes with a 'How To Use' guide is a bonus.
How Do You Use A Manicure Kit?
Now that you have bought yourself a manicure kit, the next step is to figure out how to use the tools. There is nothing worse than using the wrong tools to groom your nails, but don't fret! Doing a manicure at home is not rocket science. You have to know the use of each tool and learn how and when to use them.
Follow this step-by-step guide on how to use a manicure kit and get neat and beautiful nails at home!
Wash your hands with soap and water, and clean your nails thoroughly with a nail brush.
Use a nail clipper to trim your nails to the desired length and shape them the way you prefer.
Next, use a cuticle stick to push back cuticles gently. In case they appear to be thick and are difficult to push back, use a cuticle trimmer and cut them slowly and carefully.
Now, your nails are ready to be filed. Use an emery board or a nail file, and always work in one direction while filing. If you file back and forth, you can increase the risk of damaging your nails.
Wash your nails to remove the dust.
Dab your hands and nails dry with a clean tissue paper. Use a moisturizing cream for your hands and cuticle oil for your nails, and massage well.
Now your nails are ready for a fresh coating of nail paint. Don't forget to let it dry.
So, have you come across a manicure kit in this list that you would like to buy? Let us know in the comments below.
Why Trust Stylecraze
Chaitra Krishnan is a makeup enthusiast who loves to manicure her nails at home. She prefers using at-home manicure kits because they are easy to use and affordable. After thoroughly going through various online reviews, she has curated this list featuring the best ones for her readers. According to her, these at-home manicure kits will keep your nails neat and well-groomed and give them a beautiful look.
Frequently Asked Questions
How can I get quality salon-like nails at home?
•  Pour a few drops of makeup remover on a cotton pad and rub the nails. Then, wash your hands with soap and water.
•  Clip the nails evenly. Then, file them correctly to achieve your desired shape. At last, buff the nail with a nail buffer to achieve a smoother surface.
•  Push back the cuticles gently with a cuticle stick.
•  Exfoliate the hands with a gentle scrub.
•  Moisturize the hand with hand cream and use cuticle oil to nourish the cuticles.
•  Apply a base coat to your nails to make them chip-resistant.
•  Apply the first coat of nail polish to the nails. Try to obtain the maximum coverage.
•  Wait for a few minutes, then apply another thin coat of the polish.
•  Finally, apply a top coat to the nails to prevent the colors from wearing off.
•  Dip a q-tip in makeup remover and clean the edges of the nails.
How can I sterilize/clean my manicure kit at home?
•  Wash your hands and wear gloves.
•  Discard all the single-use tools.
•  Keep a brush in a bowl and pour 70% to 90% isopropyl alcohol.
•  Let the brush soak entirely.
•  Pour antibacterial soap on the brush and use it to clean all the manicure tools separately.
•  Place all the tools in a bowl and pour isopropyl alcohol into the bowl. Keep the tools submerged for 30 minutes.
•  Take the tools out and pat them dry with paper towels.
What tools are used to make the nails shiny?
Nail buffers remove the dead skin cells from the nails and smoothen the texture. As a result, they make your nails shine.
Is Vaseline good for nails?
Yes. Vaseline heals nails' cracks, retains nail moisture, and maintains the smooth texture of the nails.
What are the little scissors in manicure kits for?
The scissors in manicure kits help in trimming and shaping the nails.
What is the healthiest manicure for your nails?
A basic manicure with organic nail polishes is the healthiest for the nails. Organic polishes contain nutritional vitamins that nourish dry nails and aid their growth.
Recommended Articles