13‌ ‌Best‌ ‌Phthalate-Free‌ ‌Shampoos‌ ‌Of‌ ‌2023 ‌That‌ ‌You‌ ‌Must‌ ‌Try‌
Volumize and nourish your hair to get healthy locks and style them your way!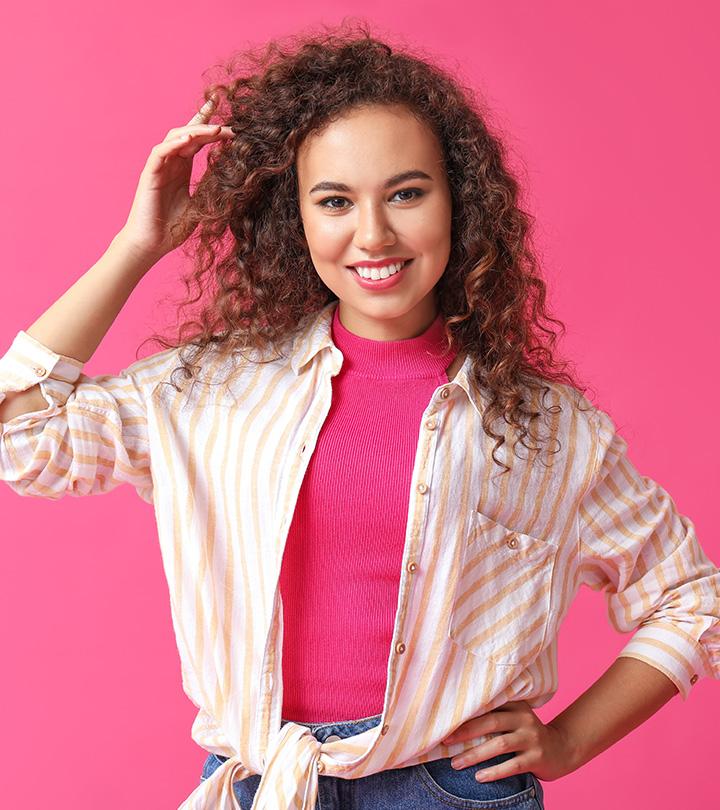 Phthalate-free shampoos are taking over the market fast and for good reasons. Manufacturers will tell you that phthalates are used to preserve the fragrance and color used in the product. But they also hamper your hormonal balance, so much that pregnant women are advised to keep away from this ingredient. Interestingly, people are also choosing products that are fragrance- and color-free as well. Unfortunately, these ingredients tend to cause allergic reactions and make the skin sensitive. Hence, the use of phthalates is rendered moot. In this article, we have listed the 13 best phthalate-free shampoos, based on positive reviews and specialist-approved formulations, that will help you take a step up in your hair care routine. Take a peek.
What Is A Phthalate-free Shampoo?
Since phthalates can affect the fertility rate, they are best to avoid regardless of pregnancy. A phthalate-free shampoo is free from added fragrances and artificial colors, which is a plus if you prefer fragrance-free shampoos anyway. However, if you enjoy a whiff of aroma while showering, some brands are swapping phthalates with clinically-tested and refreshing essential oils to make those baths heavenly for you.
So, if you are looking for a phthalate-free cleanser that is also good for your hair, we have some great options for you. Here's our list of the 13 best phthalate-free shampoos of 2023!
13 Best Phthalate-free Shampoos Of 2023 For Clean And Healthy Hair
On lazy days, the Amika Perk Up Dry Shampoo will have your hair ready to flaunt in minutes! Spray on and enjoy freshly shampooed hair as it adds volume and absorbs all the dirt and oil. The phthalate-free hair cleanser uses rice starch instead of the unhealthy aluminum starch to clean and rejuvenate the scalp. Suitable for keratin-treated, Brazilian-treated, and color-treated hair, the talc-free formula also contains sea buckthorn berry to hydrate and improve elasticity. It is made of clinically examined and confirmed ingredients that instantly refresh the hair and scalp, just after one wash. A safe and clean option, this phthalate-free dry shampoo does not use gluten, parabens, sulfates, mineral oil, and GMOs. You may check this video for a better understanding of this product from the reviewer's experience.
Pros
Vegan
Cruelty-free
Superfine mist
Cooling
Deodorizing
Suitable for all hair types and textures
Cons
Slightly expensive
May leave a residue if sprayed too close
Lackluster or dull hair? This phthalate-free clarifying shampoo provides restorative care as it eliminates dullness of the hair and adds to its shine! Packed with zesty lemon oil and all the skin-loving ingredients, it will clear the oil build-ups and add an enviable sheen to your mane. Greasiness is the root cause of dull hair, but not if you have this medley of natural ingredients as your cleanser. The organic shampoo also contains aloe vera, vitamin E, quinoa protein, resin extract, calendula, and chamomile for nourishing benefits. Besides, it brightens and eliminates dullness with essential oils of lime, orange peel, grapefruit, cedarwood, and babassu oil. This video review will help you learn more about the product.
Pros
Vegan
SLS-free
pH-balanced
Cruelty-free
EWG-certified
Biodegradable formula
Cons
May not produce rich suds
A moisturizing boost, but in the form of a cleanser! The double benefits of this phthalate-free shampoo will reinforce your dry, brittle, and damaged hair. It has enriching shea butter for intense moisture treatment and honey, yogurt, baobab oil, coconut oil, and mafura seed oil too. Cleaning and strengthening your hair, this moisturizing cleanser is free from parabens, sulfates, mineral oil, propylene glycol, petroleum, and more.
Pros
Color-safe
Cruelty-free
Ultra-hydrating
Fair-trade ingredients
Works best for all hair types and textures
Cons
Hair may turn greasy quicker
For those with sensitive skin, scalp and nose, this soothing environment-friendly shampoo can be a game-changer. A gentle cleanser with natural and healthy ingredients, it'll reinforce your scalp and fortify strands without irritating your nose. Synthetic fragrance- and phthalate-free, this blend contains nourishing ingredients like aloe vera, sage leaf extract, brown algae extract, pro-vitamin B5, and chamomile for cleaning, soothing, and hydrating benefits. And given it's healthy, there are no harsh chemicals such as parabens, sulfates, GMOs, petrolatum, or artificial colors. This video of the tester's experience will help you make an informed decision about your purchase.
Pros
Non-stripping
Adds shine
Balances sensitivity
Increases manageability
Cruelty-free
Cons
Slightly runny
Not ideal if you need rich suds
Let's volumize those curls and waves, shall we?! Shampoo bars are back in trend, and this one is good for curly hair and the planet (no plastic bottle FYI!). Infused with ultra-nourishing ingredients such as African dates and pro-vitamin B5, it'll volumize and define your curls and waves with every wash and control frizzy hair. Suitable for lifeless, fine, and thin hair, the soap bar will last as long as (or even more) than a 16oz shampoo bottle. Free from parabens, phthalates, silicone, and sulfates, it contains hair-loving ingredients instead and is safe for color-treated hair. It has coconut oil, rice protein, and aromas of essential oils such as lime peel, ginger root, lemon peel, orange peel, and grapefruit peel for a nourishing and refreshing experience.
Pros
Vegan
Color-safe
Cruelty-free
Frizz control
Zesty scent
Weightless formula
Cons
Hair may turn greasy quicker
Don't give up on your damaged hair yet! This coconut oil and ylang-ylang shampoo is packed with hope and love to restore your gorgeous mane. The formula comes with nourishing ingredients like virgin coconut oil for hydrating and boosting moisture, and ylang-ylang flower oil that adds a hint of freshness with its jasmine-like scent. While cleaning thoroughly and gently, the shampoo works on repairing, nourishing, and preventing split-ends. A sulfate-free and phthalate-free shampoo, it smoothes strands to reduce damage and friction. Ethically and sustainably sourced, the product is free from toxic ingredients such as parabens, dyes, and silicone.
Pros
Vegan
Color-safe
Cruelty-free
93% naturally derived
Visibly healthy-looking hair
100% recycled bottles
Cons
May not produce rich suds
Indulge in this heavenly blend of coconut oil and aloe vera for your hair. Sometimes you have to beat oil with oil, and this creamy coconut shampoo with tropical and fruit essences will effortlessly eliminate dirt and excess sebum. It cleanses and nourishes intensely with quinoa protein, chamomile, calendula, camellia, and aloe vera without stripping the natural oil. And the scent— refreshingly zesty with lemon peel oil! Besides this, it's free from parabens, sulfates, perfumes, phthalates, gluten, GMOs, and more.
Pros
Vegan
Cruelty-free
Non-drying
EWG-certified
Recycled bottles
Artificial fragrance-free
Suitable for oily and dull hair
Cons
Not suitable for dry hair
The enriching and gentle formula of this hair cleanser will make you look forward to hair wash days! A weightless indulgence for your scalp, hair, and mood, it has ultra-nourishing, therapeutic, and hair-strengthening ingredients. The phthalate-free cleanser cleans and moisturizes with coconut oil, rice bran oil, quinoa, shea butter, and avocado oil. And as for the refreshing scent, it has pumpkin seed oil and orange peel oil to uplift your hair and mood. Besides this, it also contains antioxidant-rich green tea, cucumber, eucalyptus, and mango fruit extracts for nourishing and anti-aging benefits. Want more? It's free from gluten, parabens, silicones, and sulfates!
Pros
Cruelty-free
Restores vibrancy
Volumizing formula
Recyclable packaging
Ideal for dry, normal, and oily hair
Works best for thin and medium hair
Cons
No frizz, no flyaways, only smooth and silky hair! Sounds too good to be true? This phthalate-free shampoo will control the unruliest frizzes with its botanical and gardenia blend. Be it humidity or dryness, this shampoo guarantees a healthy hair wash with ingredients such as papaya, pineapple, ginger root, quinoa seed, and aloe vera. Just what you need for sleek, smooth, and salon-styled hair, it also ensures 66% split-end repair and frizz control in the first use itself! Free from parabens, sulfates, and artificial colors, give this ultra-soothing shampoo a try if you haven't already!
Pros
Cruelty-free
pH-balanced
Manageable hair
Fresh gardenia scent
Plant-based ingredients
Cons
Hair may turn slightly greasy
For breakage-prone, unmanageable, frizzy, and coarse hair, this volumizing shampoo will be pure indulgence. Infused with oils of sunflower seed, safflower seed, rosehip, grape seed, and grapefruit peel, it moisturizes the scalp, strengthens strands, and promotes hair growth. In addition, it prevents split-ends, breakage and ensures frizz control too. Leaving your hair soft and manageable, the formula contains seaweed, soybean, sweet clover, wild pansy, and apricot extracts. Besides this, it has ivy, willow bark, chamomile, camellia, cupuacu seed butter, and passionflower extracts for nourishing benefits. A must-try moisture-boosting shampoo, it's also free from silicones, parabens, phthalates, SLS, salts, gluten, and synthetic fragrances.
Pros
Vegan
Cruelty-free
Color-safe
UV protection
Improves elasticity
Award-winning shampoo
Works best for dry, fine, and thick hair
Cons
Slightly expensive
Not ideal if you are sensitive to smell
Believe us when we say this phthalate-free shampoo is crafted with authentic and drinkable beer! A brew good for your hair and for your taste (if you are a beer lover), it's packed with amino acids, hops, malt, and roasted barley. The shampoo will cleanse thoroughly, add volume and body while protecting each strand. In addition, it reinforces cuticles, enhances shine, and reduces dandruff and scalp irritation. The scalp-soothing blend also repairs, moisturizes, and has shown proven efficacy in stimulating deep hair growth, with the help of botanical ingredients such as fennel seed, acai berry, sunflower seed, aloe vera, and goji berry. With the aromatic fusion of beer, caramel, and spicy mahogany, your tresses will always smell resistible after every wash. And bonus— it's free from parabens and sulfates!
Pros
Vegan
Rich suds
Cruelty-free
Silky-soft hair
Color-safe ingredients
Protection from environmental stressors
Cons
Not ideal if you are sensitive to smell
Here's an option that won't irritate your nose but reduce your scalp irritation instead! Whether you are dealing with frizzes, flyaways, or damage due to chlorinated water, this phthalate-free shampoo will repair and restore. A gentle cleanser that cleans without stripping natural oils, the formula has cucumber extracts to soothe, hydrate, and add sheen to your lackluster tresses. This hair care product is suitable for all hair types and sensitive scalps. It is also free from harsh chemicals such as parabens, sulfates, petrolatum, alcohol, artificial colors, gluten, preservatives, and more.
Pros
Oil-free
Non-greasy
Allergen-free
Fragrance-free
Improves texture
Volumizing shampoo
Cons
Hair may need conditioning after shampoo
Say goodbye to itchy scalp, dandruff, flakes, and excess sebum with this medicated cleanser. The shampoo penetrates to eliminate the root cause of dandruff and itchiness. It is infused with the dermatologist-tested ingredient, zinc pyrithione, clinically-proven to decrease scalp flaking and reduce scalp irritation and hair breakage. A fantastic choice, if you have greasy hair and scalp, this phthalate-free and moisturizing shampoo, will cleanse unwanted oil and dirt and soothe the scalp. For nourishing, it contains natural ingredients like coconut, safflower seed oil, garlic bulb extract, apple fruit extract, camellia leaf extract, and Brazil nut seed oil. It also moisturizes with corn mint leaf oil, fennel oil, babassu oil, and guarantees to reduce breakage by 30%! And lest we forget, it'll uplift your showering experience with the heavenly and refreshing scent of mint, sage, vanilla, tangerine, and lavender.
Pros
Vegan
Color-safe
Dye-free
Cruelty-free
Paraben-free
Sulfate-free
Safe for chemically-treated hair
Cons
*The prices provided in this article are based on the latest available information. However, they may vary due to changes in pricing by the seller and/or promotional offers.
Cleanse your hair with love, not chemicals, this 2023! Those were the 13 best phthalate-free shampoos of 2023 to choose from. However, if you are still confused, we have some shopping tips for you in our buying guide below.
How To Choose The Best Shampoo Without Phthalates?
When choosing phthalate-free hair products, look out for the following features before buying:
Fragrance-free:
Since phthalates are preservatives included under fragrances at times, it's best to choose a fragrance-free shampoo, especially if you are planning or are pregnant.
Hair type:
The shampoo should be suitable for your hair type to deliver desired results. If you have oily scalp or hair, avoid oil-based shampoos as they may quicken greasiness or leave build-ups. And for dry hair, oil-based shampoos are great for moisturizing but make sure it cleans thoroughly to remove the flakes and dirt build-ups that may lead to dandruff or irritation.
Lathering intensity:
One of the drawbacks of chemical-free shampoos is the lathering bit. Although several brands are using healthier options instead of sulfates to produce rich suds, the intensity may differ from brand to brand. So, to avoid disappointment, check the comments and reviews for lathering intensity before buying.
Ingredients to avoid:
Besides phthalates, check the shampoo label to see if the product is free from other harsh chemicals to avoid scalp irritation. For the best and safe experience, avoid shampoos with parabens, gluten, sulfates, mineral oil, silicones, alcohol, and more and look to brands that are expert-recommended.
Why Trust StyleCraze?
Kirtana Divakar is a hair care aficionado who conducts extensive research on hair care products to recommend the best ones. Since phthalate is known to induce hormonal imbalances and affect hair quality, she has compiled this list of the best phthalate-free shampoos. This list was prepared after thoroughly researching the shampoos' components, effects on the hair, and user reviews. Kirtana has also included a buying guide and offered tips on choosing the right product for your hair.
Frequently Asked Questions
What do phthalates do to your hair?
Phthalates are chemical substances that can contribute to hair loss. They might disrupt the hormonal function that affects your hair cycle, leading to thinning, breakage, and hair fall.
Why is phthalate-free important?
Phthalates are harmful to you, animals, and the planet. They alter your hormone levels and may lead to serious health issues, like infertility, cognitive development, and cancer. They also increase the risk of cardiovascular disease and diabetes. Hence, it is better to use phthalate-free products.
What does it mean for a product to be phthalate-free?
Non-phthalates are essentially plasticizers that are free of phthalates. Very limited exposure to phthalates is harmless, but a high exposure has potentially negative impacts on our health. Hence, many consumers are switching to phthalate-free skin and hair care products.
How can you limit exposure to phthalates?
These are methods that limit exposure to phthalate sources:
• Handwashing regularly
• Avoiding plastic containers
• Avoiding eatables that are wrapped in plastic bags or covers
• Avoiding microwaving food items
• Limiting the intake of nutrition supplements that contain phthalates
• Reducing the use of cosmetics products containing phthalates
How do I know if a product contains phthalates?
An easy way to recognize phthalates plasticizers is by checking the number 3 inside the universal recycling symbol at the bottom of the molded products such as bottles, clothing, plastic toys, food wraps, and beverage storage containers.