13 Best Sulfate-Free Shampoo Bars Of 2023
Ditch those plastic shampoo bottles and pick the bars to keep your hair and scalp healthy.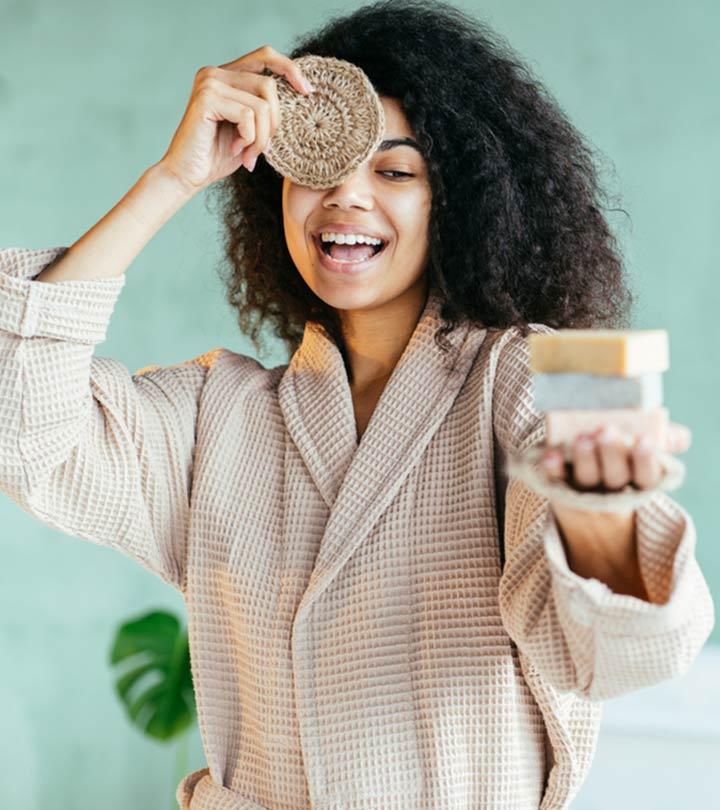 You are part of the green and clean revolution if you are actively looking for the best sulfate-free shampoo bar. This serves two important purposes: one, with a shampoo bar, you don't generate or consume plastic bottles, and two, you ditch one of the most harmful preservatives that go into beauty products. Sulfates are not only bad for the environment as it finds their way to the water bodies, but also disrupts hormone production in women.
Look for SLS (sodium lauryl sulfate) and SLES (sodium laureth sulfate) when going through the ingredients listed on the labels of haircare products and keep them back on the shelf. This is one way to go about choosing sulfate-free shampoos. Alternatively, you can explore our list of the 13 top sulfate-free shampoos available as bars on the market, right here!
Top Picks
Top 13 Sulfate-Free Shampoo Bars
Pros
Suitable for all skin types
Mild and clean peppermint fragrance
Free of synthetic oils and preservatives
Handmade and hand-cut, ensuring safety and quality control
Cons
May cause post-wash waxiness on your hair
Price at the time of publication: $11.49
Pros
Can be used by men and women
Doesn't contain harsh detergents
Silicone and paraben-free product
Gently cleanses without stripping your hair of its natural protective oils
Cons
Price at the time of publication: $10.0
Pros
Travel-friendly
Soothes the scalp
Restores hair's natural luster
Can be used on the face and body
Mildly scented with sweet orange and lemongrass
Cons
Price at the time of publication: $14.99
Pros
Makes hair shiny and lush
Color-safe and silicone-free
Cruelty-free, vegan, and gluten-free
Formulated to be used on all hair types
Cons
Price at the time of publication: $11.7
Pros
Vegan
Cruelty-free product
Carefully handmade in small batches
Paraben and sulfate-free formula
Packaged in 100% recycled carton paper
Cons
May leave residue after wash
Price at the time of publication: $7.99
Pros
Moisturizes dry hair
Works well on curly hair
100% safe product for colored hair
Helps maintain normal or oily hair
Cruelty, phthalate, and paraben-free
Cons
Might have an unpleasant smell
Price at the time of publication: $9.99
Pros
Promotes hair growth
Eco-friendly and zero waste packaging
Cruelty-free and silicone-free product
Apple cider vinegar balances ph of hair and scalp
Cons
Price at the time of publication: $14.95
Pros
Chemical-free
Budget-friendly
TSA-approved product
Suitable for everyday use
Reduces itchiness, dryness, and flaky scalp
Cons
Might create tangles in curly hair if rubbed directly
Price at the time of publication: $7.95
Pros
Travel-friendly
100% vegan
Cost-effective
Sulfate-free
Suitable for men and women
Cons
May lead to product build-up on hair sometimes
Price at the time of publication: $6.58
Addicted to Soap Natural Shampoo Bar is formulated with natural ingredients and is therefore suitable for sensitive skin. This shampoo bar for curly hair is free from harsh chemicals and contains a variety of oils like virgin coconut and tea tree oils that are beneficial for your hair. It will not only rinse your hair clean without leaving any residue but also leave a refreshing peppermint scent.
Pros
Budget-friendly
Coconut oil softens hair
Does not weigh hair down
Packed in biodegradable plastic wrap that decomposes naturally
Cons
Some people may find the smell too strong.
Price at the time of publication: $6.99
Pros
Cruelty-free
Lathers well on wet hair
Sulfate and gluten-free product
Comes in an eco-friendly and biodegradable packaging
Cons
Might smell unpleasant for some
Price at the time of publication: $9.95
Pros
Safe for colored hair
Works well for dull hair
Leaves hair feeling soft
Has a gentle and sweet fragrance
Utilizes plant-based foaming technology
Cons
May make hair slightly frizzy for some
Price at the time of publication: $8.9
Pros
Hydrates hair
Preservative and cruelty-free
Hand-cut and made in smaller batches
Effective in treating dry scalps
Cons
Price at the time of publication: $12.5
With a wide variety of shampoo bars available in the market choosing the right one may seem like a daunting task. Worry no more! The following pointers will help you choose the best shampoo bar for yourself.
Types Of Shampoo Bars
There are 3 main types of shampoo bars
Cold-pressed: This process of making soaps and shampoo bars is followed by many major companies manufacturing SLS-free shampoo bars. Cold-pressed bars typically contain nourishing oils that condition your hair but may cause oil build-up. Thus, users may require to rinse their hair with a clarifying agent post-use.
Solid surfactant: These soaps lather the best due to the presence of SLS but are avoided by a vast majority of people due to irritation.
Glycerin-based: These soaps contain natural glycerin, which has a lower pH level to keep hair and scalp moisture-balanced.
Shampoo bars are easy to use and are long-lasting as compared to shampoos. Shampoos are made with almost 80% water and are therefore easily perishable, while shampoo bars are more concentrated and will last you for many days.
Shampoo bars are travel-friendly as well as eco-friendly as they eliminate the use of bulky plastic bottles.
Most shampoo bars do not contain any artificial ingredients such as preservatives and detergents that affect the natural pH value of your hair.
Laura Dale, licensed cosmetologist, says, "Shampoo bars are a great option for those looking to reduce their plastic waste and minimize their carbon footprint. My tips for using shampoo bars are to make sure to thoroughly rinse your hair to prevent any residue that could weigh it down, and to look for bars that contain nourishing ingredients like shea butter and argan oil to moisturize the hair and scalp."
How To Use Sulfate-Free Shampoo Bars
The following is a step by step guide to using shampoo bars:
Step 1: Wet your hair well and also wet the shampoo bar.
Step 2: Rub the shampoo bar on your scalp in the direction of your hair growth.
Step 3: Lather it using your fingers in a circular motion.
Step 4: Distribute the lather from the roots to the tips of your hair.
Step 5: Wash out the soap from your hair and repeat the entire process if required.
Step 6: Towel dry your hair without using any hair dryers.
Step 7: Apply hair serum and let your hair dry naturally.
Why Trust Stylecraze?
Our writer, Kirtana Divakar, is a hair care expert and reviews products of the same category. She has conducted detailed research to list the best sulfate-free shampoo bars and briefly described why they stand out from the other products in the market. The list includes shampoo bars suitable for most hair types, made of good ingredients, and ones that nourish the scalp. In addition, Kirtana described the pros and cons of each shampoo bar to help you make an informed decision.
Frequently Asked Questions
Are shampoo bars better for your hair?
Shampoo bars help retain your hair's natural oils and maintain its pH value, keeping it healthy.
Can sulfate-free shampoo bars cause hair loss?
No, sulfate-free shampoo bars are safe to use and do not cause hair loss.
How long does it take for hair to adjust to a shampoo bar?
The adjustment period depends on the amount of damage that your hair has and can vary from a few days to up to a month for a few people.
Do shampoo bars make hair greasy?
While adjusting to shampoo bars, your hair might feel greasy and heavy as it might take time to restore the natural oils lost.
Do you need a conditioner after using a shampoo bar?
A shampoo bar doesn't typically strip the hair of its natural oils and thus doesn't require a conditioner post use.
Does sulfate-free shampoo make a difference?
Sulfate-free shampoo is a good alternative to your regular shampoo, especially for those who are allergic to sulfate and experience an itchy scalp.