7 Best Recommended Beer Shampoos Of 2023
For shiny, soft, hydrated locks that grab the eye and limelight no matter where you go.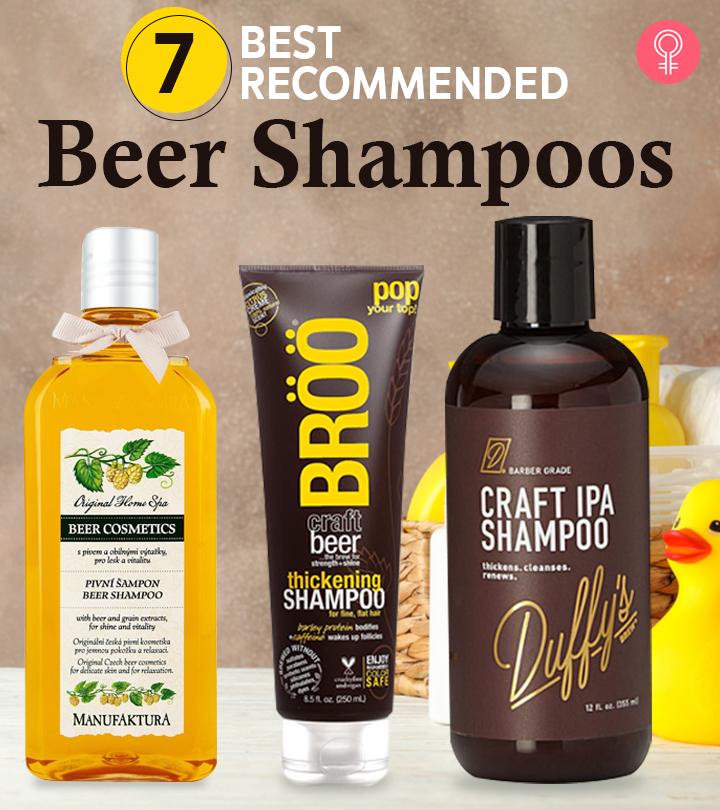 There is no ingredient left to experiment with within the haircare industry. Well, that's not true, as the best beer shampoos of 2023 are doing the rounds now. It is the trending ingredient to tame and treat your hair. And what does beer consist of? It is a mix of remnants of roasted barley, vitamin B, proteins, minerals, plus amino acids that can add the much-needed nutrition and protection that your hair craves. The following list of the 7 best-recommended beer shampoos will help you narrow down your search.
What Is Beer Shampoo?
Beer shampoo is a hair cleanser loaded with silica, phosphorus, vitamin B complex, and iron. These ingredients provide nourishment, strength, revitalization, renewed growth, and luster to the hair. Beer shampoo is a popular product used by celebrities to maintain their glamorous hair.
If this has piqued your interest, take a look at the 7 best beer shampoos for women.
7 Best And Safe Beer Shampoos For Women
The CRAZY SKIN Beers Shampoo cleanses and refreshes the scalp and hair. It contains German beer yeast rich in vitamin B, other vitamins, and amino acids to nourish the hair and impart a natural shine. This shampoo is enriched with biotin, selenium, and plant-protein that promote fuller and thicker hair growth. The coconut-derived cleansers gently clear the scalp of dirt and buildup, while the 17 natural extracts make this beer shampoo a perfect anti-hair loss remedy. This shampoo is chemical-free and has a pH of 5.5 to protect the scalp and hair.
Active Ingredients: Beer yeast extract, Biotin, and Panthenol
Pros
Gentle
pH-balanced
Refreshing scent
Paraben-free
Silicone-free
Contains EWG Green Grade ingredients
Cons
None

Price at the time of publication: $15.3
This thickening shampoo is formulated with craft beer, which is rich in barley protein, vitamin B, and minerals that strengthen the hair and impart a refreshing shine. Caffeine awakens and rejuvenates the hair follicles, while the wheat soy and amino acids add volume and gloss to the hair. This vegan product smells of vanilla cream and natural citrus. It is color-safe and free of sulfates, silicones, parabens, artificial fragrances, and other chemicals. Go ahead and check out this YouTuber's video for more details about the product.
Active Ingredients: Craft beer, Soy, Wheat amino acids 
Pros
SLS-free
Silicone-free
Phthalate-free
Paraben-free
Dye-free
Vegan
Cruelty-free
Cons
Price at the time of publication: $16.99
The Craft IPA Shampoo by Duffy's Brew is enriched with natural amino acids, malt, roasted barley, and hops to restore hair health and boost volume. The roasted barley and malt protect the hair strands and add volume by infusing them with vitamin B, protein, and minerals. Hops and yeast are antiseptics that alleviate dandruff and scalp irritation.
Aloe vera moisturizes the hair, while gogi repairs damaged cuticles. Acai stimulates and reenergizes hair follicles, while fennel seals in moisture to protect the hair from further damage. The sunflower extracts smooth the hair for a natural silky, shiny texture. This product comes with a subtle caramel, spiced mahogany, and a bold beer aroma and is free of sulfates, phthalates, and parabens.
Active Ingredients: Roasted barley, Malt, Hops, and Yeast 
Pros
Paraben-free
Sulfate-free
Phthalate-free
Vegan
Cruelty-free
Cons
Price at the time of publication: $18.95
The LOGONA beer shampoo is a strengthening and volumizing formula that leaves your hair healthy and lustrous. This German product is a gentle cleanser specially formulated for sensitive and fine hair. Beer fortifies the hair follicles, while the organic honey and plant extracts boost hair volume without added weight. The antiseptic and anti-inflammatory properties of honey soothe scalp dryness and irritation. 
Active Ingredients: Beer and Bio-honey 
Pros
Mild
Cruelty-free
Silicone-free
Cons
Price at the time of publication: $48.37
The MANUFAKTURA Beer Shampoo is formulated with authentic Czech beer and natural ingredients. It contains panthenol, peat, and lanolin that add natural strength to hair and impart shine. The nutritious grain extracts protect the hair from environmental damage, while hop soothes the scalp and promotes hair growth. This lightweight shampoo with a bitter-sweet fragrance can be used as a daily cleanser. 
Active Ingredients: Czech beer and Grain extracts 
Pros
Adds shine
Gentle
Lightweight
Smells good
Cons
Price at the time of publication: $19.95
The GUHL Intensiv Kraftigung Shampoo is specially formulated for thin, fine, and weak hair. It is fortified with German beer extracts, which strengthen and nourish weak hair follicles. The vitamins in the shampoo repair hair damage from the roots, add shine, and alleviate infections. This intensive formula contains yeast, which prevents further breakage of weak hair, and malt, which makes the hair look thicker and fuller.
Active Ingredients: Yeast and Malt
Pros
Smells good
Suitable for thin hair
Value for money
Cons
Price at the time of publication: $9.99
The Milva Beer shampoo is an excellent cleanser that keeps the hair from becoming greasy. Beer is rich in organic acids, vitamins, and amino acids that nourish, soften, and smoothen the hair. The synergistic powers of hop and barm extracts rejuvenate the scalp and help the hair regain its natural shine and vitality. This shampoo also reduces hair fall and encourages shinier, denser hair growth.
Active Ingredients: Beer, Hop, and Barm
Pros
Smells good
Anti-hair fall
Value for money
Cons
Price at the time of publication: $1.94
Beer is not just an alcoholic beverage but a powerhouse of ingredients that are good for the hair and skin. Here are some advantages of using beer.
What Are The Advantages Of Using Beer Shampoo?
Nourishment And Growth: Beer is full of essential minerals and vitamins that provide nutrition and shine and enhance hair growth.
Conditioner: Silica, one of the components of beer, acts as a conditioner and makes the hair soft and silky. Hence, extra conditioning is not required after you wash your hair.
No More Flat Hair: Beer draws out excess oil from the scalp, preventing the hair from looking oily, flat, and limp.
Cleanser: Beer contains 4%-6% alcohol, which makes it a good antiseptic and cleanser. It keeps the hair squeaky clean and treats dandruff issues.
Why Trust StyleCraze?
The author of this article, Shiboli Chakraborti, is a hair care enthusiast. She has curated this list of the best beer hair shampoos after conducting thorough research. She has tried some shampoos herself and checked product details and user reviews to pick the top-rated products for the list. The shampoos included in the list are safe for the hair and effective.
Frequently Asked Questions
Is beer shampoo safe?
Yes, beer shampoo is safe for use up to 2-3 times a week.
Can I use beer shampoo daily?
No, beer shampoo should not be used daily as it usually contain SLS, which can damage your hair if used every day.
Can beer help hair growth?
Yes, beer is loaded with minerals and vitamins that boost hair growth and strength.
Are there any side effects of beer shampoo?
No. The nutrients in beer help to give you healthy, incredibly soft, robust, and strong hair. It also contains other natural substances that are much less damaging than the extensive list of added chemicals in generic shampoos.
Does beer change hair color?
Yes, beer lightens hair due to its acidic properties.
Does beer make your hair curly?
No, beer does not make your hair curly. But if you have curly hair, beer helps improves the elasticity of the hair which gives you lovely and defined curls.
Recommended Articles