9 Best Olive Oils For The Skin
These lightweight olive oils keep your skin soft, happy, and hydrated.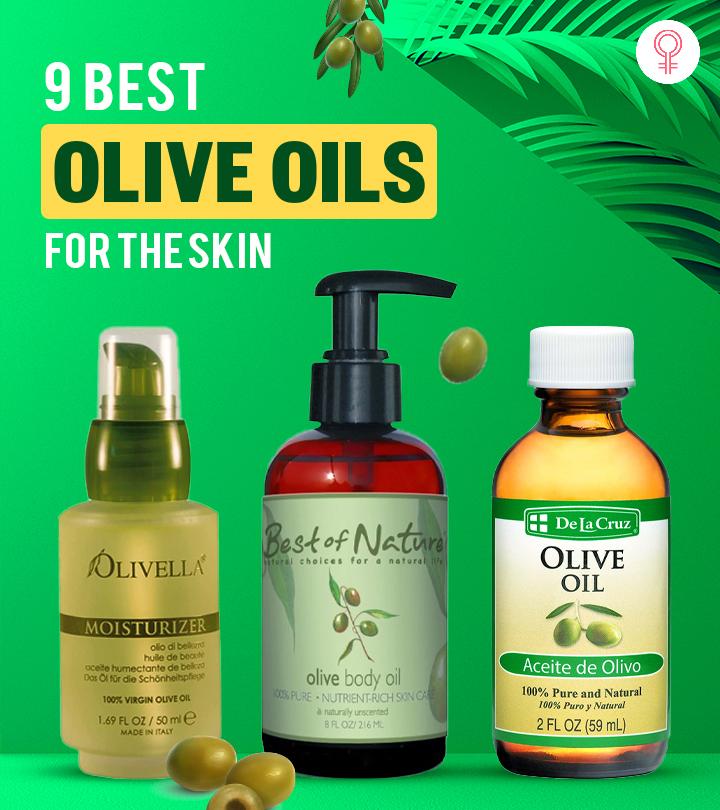 If you are fed up with using market remedies for your dry and damaged skin, switch to the best olive oil for skin. Olive oil is a natural remedy to take care of your skin and keep it healthy. It is enriched with anti-inflammatory and antioxidant properties that reduce the risk of oxidative damage. It is also effective at soothing sunburns and decreasing acne. Check out the 9 best olive oils to get glowing skin.
What Is Olive Oil?
It has boiling and melting points 299 °C (570 °F) and -6°C (21 °F), respectively, and solidifies at around 4 °C (39 °F). The primary color of olive oil is green, but it changes to pale yellow and golden-green as it oxidizes. Apart from cooking, this oil is also beneficial for the skin. It contains squalene and polyphenols that maintain skin elasticity and boost cell regeneration (1).
Let's now look at the 9 best olive oils for the skin that you can buy online.
9 Best Olive Oils For The Skin
The Dream Body Olive Oil helps moisturize your skin and protects it against severe weather conditions. The non-greasy formula soothes and softens the skin instantly. This body oil is free of preservatives, parabens, lanolin, gluten, fragrance, irritants, and dyes.
Pros
Non-greasy
Suitable for sensitive skin
Paraben-free
Gluten-free
Lanolin-free
Fragrance-free
Natural emollient
No irritants
Dye-free
Cons
Price at the time of publication: $28
The Olivella Moisturizer Virgin Olive Oil rejuvenates your skin and retains its natural humidity. It contains a high concentration of vitamins, natural antioxidants, and essential fatty acids. These ingredients nourish the skin, fight oxidative damage, and enhance skin elasticity. This olive oil is made from the finest organically grown olive plants in Italy. It is hypoallergenic and does not leave any oily residue.
Pros
Hypoallergenic
Vegan
Reduces redness and inflammation
Nourishing and hydrating
Cruelty-free
Gluten-free
Dye-free
Paraben-free
No additives
Suitable for all skin types
Cons
Price at the time of publication: $16.69
The Olive Body Oil from Best of Nature is an excellent skin moisturizer. It helps smoothen your skin and prevents premature aging. It also works as an eye makeup remover and helps in nail and cuticle care. This oil helps shed dead skin cells and maintains the sebum production of your skin. It soothes inflammation and regenerates your skin.
Pros
Works as a makeup remover
Protects against environmental damage
Fragrance-free
Strengthens nails and cuticles
Long-lasting
Cons
Price at the time of publication: $48.95
The DHC Olive Virgin Oil is rich in vitamins, minerals, and antioxidants that fight free radicals and nourish your skin. It supports the skin's natural moisture barrier without irritating or clogging the pores. This olive oil is lightweight, non-greasy, and suitable for all skin types.
Pros
Lightweight
Enhances skin radiance
No artificial color
Evens out skin tone
Suitable for all skin types
Paraben-free
Phthalate-free
Mineral oil-free
Fragrance-free
Cons
Price at the time of publication: $23.49
This organic olive oil is sourced from Italy and Spain. It is supplied in the natural and unrefined state to ensure maximum nutrient retention. This olive oil is rich in vitamins E and A and essential fatty acids that prevent premature aging. It penetrates your skin and provides a shield of moisture to keep it smooth and supple. This product comes with an attached dropper that enables easy application. It smoothens wrinkles without being greasy or irritating the skin. This product also works as a natural makeup remover and helps treat dry, cracked feet.
Pros
Easy to apply
Non-irritating
Non-greasy
Lightweight
Helps with acne-prone skin
Absorbs quickly into the skin
Cons
Unpleasant smell
Expensive
Price at the time of publication: $21.99
The difeelOlive Oil is suitable for aromatherapy to soothe your body, mind, heart, and spirit. It relieves inflammation and moisturizes the skin. This olive oil helps treat burns, sprains, bruises, and insect bites and reduces itchiness and skin irritation. It also acts as a hair heat protectant and cuticle oil.
Pros
100% pure essential oil
Aromatherapy properties
Improves skin texture
Unscented
Value for money
Cons
None
Price at the time of publication: $6.49
The BELLA B Organic Olive Oil helps minimize the appearance of scars and stretch marks. It brightens your skin and maintains skin elasticity. This oil boosts collagen production of your skin and makes it firm. It is packed with safflower seed, avocado, jojoba, and aloe vera oils. You can apply this oil to your belly during pregnancy to keep the skin moist and healthy.
Pros
Mineral oil-free
Paraben-free
Pleasant smell
Conditions dry hair and scalp
Suitable for all skin types
Safe during pregnancy
Cons
Price at the time of publication: $11.99
The De La Cruz Olive Oil helps nourish and moisturize your skin. It can be used to remove faux lashes without pulling your natural lashes. Olive oil removes makeup without clogging your pores. This product is free of GMOs, fragrance, preservatives, and artificial colors.
Pros
Preservative-free
No artificial colors
Strengthens and nourishes lashes
Fragrance-free
Non-GMO ingredients
Cons
Price at the time of publication: $16.9
The Jaloma Olive Oil acts as a facial cleanser and massage oil that keeps the skin moisturized. It helps eliminate excess oil from the pores and can also be used for tanning. This olive oil contains all-natural ingredients that do not irritate the skin. This product also helps condition the hair.
Pros
Non-irritating
Safe for sensitive skin
Long-lasting
Value for money
Cons
None
Price at the time of publication: $7.49
Olive oil is beneficial for the skin in several ways. Dr. M. Khawar Nazir, Dermatologist, says, "I prefer natural moisturizers like olive oil which not only heal our skin against many rashes but also make our skin look beautiful." Learn more about its benefits in the next section.
Benefits Of Olive Oil ForThe Skin
Olive oil has antioxidant properties and prevents oxidative damage. It is enriched with oleic acid and squalene, which reduce premature aging and combat free radicals.
It contains fat-soluble vitamins A, D, E, and K, which are beneficial for the skin. Anecdotal evidence suggests that topical application of vitamin E can treat severe skin issues like psoriasis and eczema.
It has antibacterial properties (2). This can help treat minor skin infections.
Olive oil helps hydrate your skin and boosts skin elasticity. It also makes your skin supple and radiant and promotes a healthy complexion.
Olive oil is a natural moisturizer for the skin. Scroll down to know more about its usage.
How To Apply Olive Oil For The Skin
Olive oil can be used as a facial moisturizer. Mix a few drops of olive oil with your favorite moisturizer. Apply it evenly on your damp face and enjoy maximum nourishment.
If that stubborn mascara is clinging to your lashes, remove it easily with olive oil. Dab a few drops of olive oil on a cotton pad and wipe your face clean with it.
Olive oil can be used in DIY face masks. Mix turmeric with olive oil and create an anti-inflammatory mask for your skin. Gently rub this oily mixture onto your skin and leave it on for 5-10 minutes. Rinse your face with cold water. However, do not go overboard with the turmeric, as it might dye your skin.
Keep the following points in mind while using olive oil for the skin:
Opt for organic and premium grade olive oil only to avoid any skin sensitivity.
Just 1-2 drops of olive oil per day is sufficient. An excessive application may clog the pores and cause breakouts.
If the product is not available in a glass bottle, purchase one with an eye dropper. An eye dropper glass dispenser is easy to use and enables mess-free oil application.
Now that you are aware of the benefits of using olive oil for the skin, consider these factors before buying one.
How To Buy The Best Olive Oil For The Skin €" Buying Guide
Extra virgin olive oil provides the maximum benefits to your skin and overall health. It is obtained from the first cold press of olives. Choose extra virgin olive oil, especially if you have sensitive skin. For some added fragrance, olive oil mixed with other essential oils is ideal.
Natural and pure olive oil is rich in saturated and unsaturated fats. Avoid products labeled as "low fat" or "light." Lightweight olive oil is refined and treated with heat. Hence, it loses the properties that are beneficial for the skin. Refinement and heat also strip the natural odor of the oil.
Do not buy olive oil that is stored in a plastic bottle. Exposure to heat and light might make the olive oil less effective and rancid. Therefore, choose a product that comes in an opaque or dark-colored glass bottle.
A popular myth about olive oil is that the darker and greener the oil, the higher the quality. However, exposure to light and heat can change the color and quality of olive oil. It can become rancid and lose its nutritional value. The color of extra virgin olive oil can be either grassy green or golden yellow.
Here are a few tips that can help you make the ideal choice while buying olive oil for the skin.
Tips To Consider When Buying Olive Oil For The Skin
First Cold-Pressed Label Is Irrelevant
The term "first cold-pressed" is widely used on olive oil products. However, check for the extra virgin oil label before anything else. This is the only pressing you must consider. Extra virgin olive oil means no heat processing or refinement in temperatures lower than 80.
Original Extra Virgin Olive Oil Will Not Improve WithAge
Unlike wines, olive oil does not improve with age. The shelf life of extra virgin olive oil depends on its quality and storage conditions. Pure olive oil might have a pungent odor. This indicates that the product is of high quality.
Buy From Certified Original Retailers
Not every store will have good quality olive oil. So, be careful about where you get it from. You can consider reputed online sellers to hold of an original product.
Why Trust StyleCraze?
The author, Oyendrila Kanjilal, is a certified skin care coach who loves trying out skin care products for maintaining good skin health. The list has been carefully chosen and reviewed by her to help the readers pick the best olive oils, and it includes some of her favorites. Using olive oil for skin is extremely beneficial as it is enriched with anti-inflammatory and antioxidant properties.
Frequently Asked Questions
Can I use olive oil every day on my skin?
Yes, you can use olive oil daily as it provides antibacterial protection to the skin.
Can I use olive oil on my face every night?
Yes. If you have clear skin without any breakouts, you can use olive oil overnight.
Does olive oil darken the skin?
No, olive oil does not darken the skin. Instead, it is known for boosting skin cell regeneration and improving pigmentation, fine lines, and wrinkles.
Can olive oil remove dark spots?
No, olive oil is not adequate for removing dark spots.
Which is better, coconut oil or olive oil for the skin?
Although olive oil has antioxidant properties, coconut oil provides microbial protection, reduces infections, and acts as a moisturizer.
Sources