17 Best Lipsticks For Dry Lips (2021 Reviews)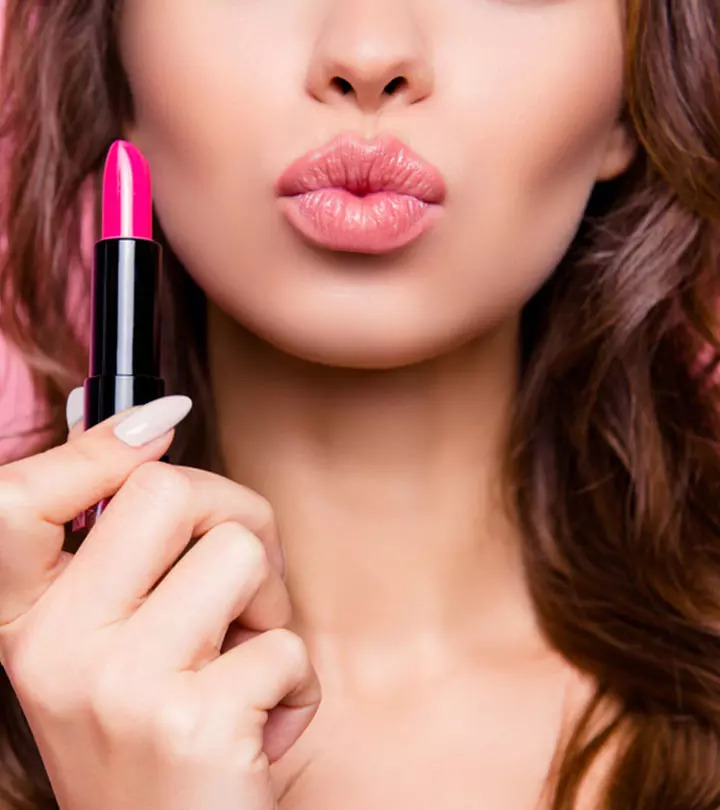 A lipstick that doubles up as a lip balm, no way! Well, it's true, and that's what the beauty universe has in store for you this summer, a plethora of your favourite hydrating lipsticks and you are not going to regret it! Lip balms are BAE, no doubt, but no way can they pull off the enviable sass that a lipstick adds to your OOTD.
But with summer upon us and chapped lips making a comeback, those ungrateful and dry lipstick are a no-no. They crack, chip off, worse, latch on to cups faster than on to your lips! This summer, give your lips a luscious range that hydrates, colors, and provides coverage for long hours.
Bringing you a collection of the best lipsticks and dry lip products out there! Check out the 17 best hydrating lipsticks to brighten up your summer selfies this year! Read on to know more.
17 Best Hydrating Lipsticks For Summer
Bloom wherever you go with Milani Color Statement Lipstick – Natural Rose! Whether you are running late or fishing for something glam for your smile, one swipe of Natural Rose will make your look pop instantly! Fancy an enviable matt finish? This long-wear lipstick is an easy glide all thanks to its smooth and creamy formula. Infused with the goodness of vitamins A and C, it guarantees to keep lips hydrated all day long. Suitable for all skin tones, its nourishing and highly pigmented texture will make you come back for another.
Pros:
It contains vitamin A and C
Cruelty-free
Long-wear lipstick
Smooth and creamy formula
Suits all skin tones
Cons:
Some may not prefer the matt finish
Similar Products:
In the world of vodkas and tequilas, pick Divine Wine. Sensational, wild, and with a drop of honey nectar makes this velvety glide an excellent pick. The ultra-hydrating formula of Maybelline Color Sensational Matte Lipstick gives an intense, bold, and matt finish that can last up to 24 hours.
Pros:
Highly-pigmented color
Velvety, smooth, and matt finish
Ultra-hydrating formula with honey nectar
Last up to 24 hours
Cons:
It's not transfer-resistant
Similar Products:
When gloss meets balm, magic happens! A crossover like no other, bringing together the creaminess of a gloss and the enriching qualities of shea butter, jojoba oil, and kendi oil in a crayon, it is nothing but the best of both worlds in a stick. The unique, lip-friendly formula moisturizes unconditionally, is easy-to-apply and feels no less than a hydrating balm! Lightweight and nourishing like a dry lip based moisturizer, prep up your summer lips with Burt's Bees.
Pros:
It has a creamy texture
Hydrating and nourishing
Free from flavor or fragrance
Dry lip-friendly formula
Cons:
Similar Products:
[ Also Try – Lakme Enrich Lip Crayon For Smooth Matte Finish ]
Let the world call it overindulgence, but Coosa 12 colors Nude Matte Liquid Lipstick Set is the real MVP that every woman must add to her summer beauty essentials. It is non-sticky, water-resistant, long-lasting, waterproof, and non-fading, basically everything a woman wants from a lipstick. Plus, all these flattering shades! Get your hands on one of the best waterproof makeup products this summer. Easy to dab on flaky lips, and with a creamy texture, don't give these nudes a miss!
Pros:
It has a rich, silky, and velvety texture
Non-sticky and transfer-resistant
Waterproof and long-lasting
It does not fade or meltdown
Easy-to-apply and remove
Cons:
Requires frequent touch to prevent drying
Fragrance is overwhelming
Similar Products:
This twist-up color stick sets one thing straight, it will moisturize your lips unconditionally. Dry lips? Gone in three days! Which means no more overnight lip treatments to deal with. Dermatologist-tested, Neutrogena Moisturesmooth Color Stick is made with fruit extracts, including mango and shea butter that nourish the lips leaving them soft even after taking off.
Pros:
Conditions dry lips in 3 days
Hydrates and moisturizes
Made from fruit extracts including mango and shea butter
Aids in soft lips
Dermatologist-tested
Cons:
Similar Products:
When it's Sephora, it's not a lipstick, it is a glam stick! And this one will moisturize your rough or flaky lips like a hydrating balm. Ultra-matt, nourishing, and with a guarantee of no cakey or patchy feeling, this summer pucker up with highly-pigmented Sephora Collection Rouge Matte Lipstick and watch everyone envy your classic hue.Hailed as one of the best hydrating lipsticks, bless your lips with Sephora this season.
Pros:
Mattifying and moisturizing
A lipstick with no drying formula
No cakey or wrinkled lips
Long-lasting and comforting
Cons:
Not for those who like a glossy finish
Too delicious to be a gloss, its heavenly texture will make you go gaga over it! Doll your lips up in this creamy, smooth, and non-sticky gloss from Nyx Professional Makeup. A subtle shade that never fails, we highly recommend this to all the women out there. Use it alone or apply it on your everyday lipstick to give your pucker up a soft, supple, and voluptuous uplift. Delivering sheer to medium coverage, don't blame us if you are instantly hooked to this sheer lipstick!
Pros:
Sheer and creamy texture
Instantly uplifts dry lips
It can be used as a second coat for a voluptuous uplift
Butter smooth, silky, and non-sticky
Delivers sheer to medium coverage
Cons:
Color on the outside, moisturizing on the inside! Here's a little secret about Ravishing Rose from e.l.f Cosmetic Moisturizing Lipstick – it offers a great color pay-off without compromising on the much-needed TLC, all thanks to the enriching qualities of shea butter, Vitamin A, C and E that provide intense hydration just like a chapstick. Whether your lips are flaky or dry, this one is e.l.fing good for you! It conceals, heals, and moisturizes all day with its smudge-free and highly pigmented luxe formula.
Pros
Highly-pigmented luxe formula
Moisturizing
Long-lasting and smudge-free
Free from parabens and other harsh chemicals
Nourishes the lips with shea butter, vitamin A, C, and E
Vegan-friendly and cruelty-free
Cons:
It's not transfer-resistant
Your makeup may wear off, but Stila's Stay All Day Liquid Matte Lipstick will not! Matte up those lips with this long-lasting, light, and creamy texture that will brace through endless cups and meals. Smile with a healthy sheen as the richness of avocado oil and vitamin E hydrates the lips and makes them look fuller. With no need for last-minute touch-ups, go carefree with Stila up to 12 hours!
Pros:
Lightweight, creamy matt with full coverage
Long-lasting up to 12 hours
It does not fade or melt
Hydrates lips
Cons:
Color up your beautiful smile, the natural way! Brimming with the richness of hyaluronic acid, vitamin E, grapeseed oil, and more, this plant-based formula in lipstick is winning hearts for its super moisturizing power. Giving your lips a gloss-like glow, its non-sticky and seed oil-based pigment feels more like a hydrating balm than a lipstick. Super Moisture Lipstick by True + Luscious is not only free from chemicals, but is weightless and creamy as well.
Pros:
Features a plant-based formula
Weightless and creamy
Provides intense hydration
Vegan-friendly
Chemical-free
Cons:
It melts quickly
Not durable
Deep, dark, and mysterious, Mac Matte Lipstick-Sin is not for the fainthearted!! Its rich, creme formula keeps your lips hydrated and delivers a great color. Suitable for all skin tones and trusted by makeup artists, it's one of the best lipsticks to spill your dollar on. Dangerously sensuous with an intense hydration formula, it's the perfect hue to spice up your look and turn up the heat this season!
Pros:
Long-lasting matt finish
Crème formula keeps the lips hydrated
Long-wear lipstick
For all those who fancy creamy matt lipstick
Suitable for all skin tones
Trusted by makeup artists
Cons:
Not suitable for very dry lips
It is expensive
A feast for the lips and eyes! This east-Asian inspired highly-pigmented lip gloss is an all-in-one nourishing glam stick. Give your lips the runway matt addition to your vanity. This brand offers a varied palette of soft and vibrant shades, so one can't help but feel spoilt for choices! Smudge-free, stain-free, and non-sticky; it lets you pucker up on a date or for those Instagram selfies, confidently.
Pros:
Easy-to-apply matt finish
It does not stick or smudge
Waterproof and long-lasting
Transfer-resistant
Cons:
The stick is not break-resistant
Bobbi Brown, FTW! Crowning lips in the glorious and moisturizing creme texture, this semi-matt finish with a non-drying formula is a perfect go-to this summer. Long-lasting and promising full coverage, make your summer lips look plumper and beautiful with this vegan-friendly lipstick only!
Pros:
Creamy semi-matt finish
Full coverage and long-lasting
Vegan-friendly
No full-drying effect
Cons:
Not suitable for very dry lips
Dries up after few hours
If you are going to pamper your lips, we say you do it naturally. And what's better than Trophy Wife Lipsticks? 100% vegan and made using plant-based wax, castor oil, shea butter, almond oil, and more, there's no room for drying and chapping with these chemical-free lip colors. Bonus, they have a tint of strawberry fragrance and flavor too! Know a sweeter lipstick than this?
Pros:
Made plant-based wax and essential oils
Vegan-friendly and cruelty-free
Infused with strawberry flavor and fragrance
Cons:
Not recommended if you have very dry lips
Revlon Super Lustrous Glass Shine Lipstick is all the bling you need to shine and slay. Blessing your lives with the right amount of sparkle, who needs stars when you have this twinkling on your lips? Flawlessly smooth and sleek, you'll be surprised how moisturizing it is, all thanks to the blend of aloe, hyaluronic acid, and rose quartz that soften the lips from within.
Pros:
Give a smooth, sleek and shiny finish
It has a buttery smooth texture
Moisturizes with blends of Aloe, Hyaluronic acid and Rose quartz
It does not crack or bleed
Cons:
Not recommended for those who like a matt finish
If you fancy fruity fragrances, then you'll love these fruit-pigmented lipsticks made from antioxidant-rich fruits like peaches and strawberries. Free from the unhealthy talc that causes dryness, 100% Pure Cocoa Butter Matte Lipstick assures a brilliant color payoff and long-lasting glow that you need to tackle dry lips this summer. Pocket one today!
Pros:
Fruit-pigmented matt lipstick
Long-lasting color and sheen
Hydrates and moisturizes
Non-drying formula
Cons:
You call it lipstick; we call it perfection. This summer, Loreal Paris Color Riche Lipstick is raising the temperature with its bold shades and beating the heat with its deep moisturizing texture. Flawless and flaunt-worthy, get your pouting game on for one swipe of this Omega-3, and vitamin E rich satin color will make people swoon, wherever you go!
 Pros:
Bold, bright, and satin finish
Hydrating lipstick with Omega-3, vitamin E, and argan oil
Makes lips soft and supple
Cons:
Requires frequent touch-ups
How To Choose Lipstick For Dry Lips
If you are going through a 'rough lips' phase, then choosing the right lipstick becomes a big deal. Ideally, you should stick to a glossy or crème stick as the velvety and moisturizing blend will keep your lips from looking chapped and wrinkled. Also, alcohol-based lipsticks are to be avoided because of their highly-concentrated wax consistency and the full-drying effect. And matt? Though people with dry lips tend to avoid matt lipsticks, few brands are busting the myth by making them creamy and moisturizing! And this summer, few of them have successfully made it to our list of best hydrating lipsticks. Find them below!
How To Apply Lipstick On Dry Lips
If your lips are parched and chapped, we suggest that you apply lip balm first. Rub your lips against each other and then glide one of your favourite hydrating lipsticks, preferably with the one that has a dry lip friendly formula. This should do the trick and keep your flaky lips hydrated.
Pucker up with the perfect hue this summer with your favourite hydrating lipsticks and kiss those flaky lips goodbye! Make this summer all about indulgence and let your lips do the talking with the 17 best hydrating lipsticks that we have for you. Let us know which one you are swiping 'right on' this summer? Have a suggestion or feedback about this article? Share it in the comments below!
Expert's Answers For Readers' Questions
Does lipstick cause dry lips?
Yes, some of them do. Lipsticks that contain alcohol tend to dry out the lips because of more wax and less oil formula. Hence, glossy and crème lipsticks are the best alternative.
Is matt lipstick good for dry lips?
Not really. If you have dry lips, ideally you should opt for glossy or crème lipstick as the moisturizing and hydrating blend conditions lips and prevents them from drying. However, nowadays there are few brands like Sephora that are infusing matt lipsticks with moisturizing oils to make matt suitable for all.
Recommended Articles: