7 Best Sunscreens That Do Not Stain The Clothes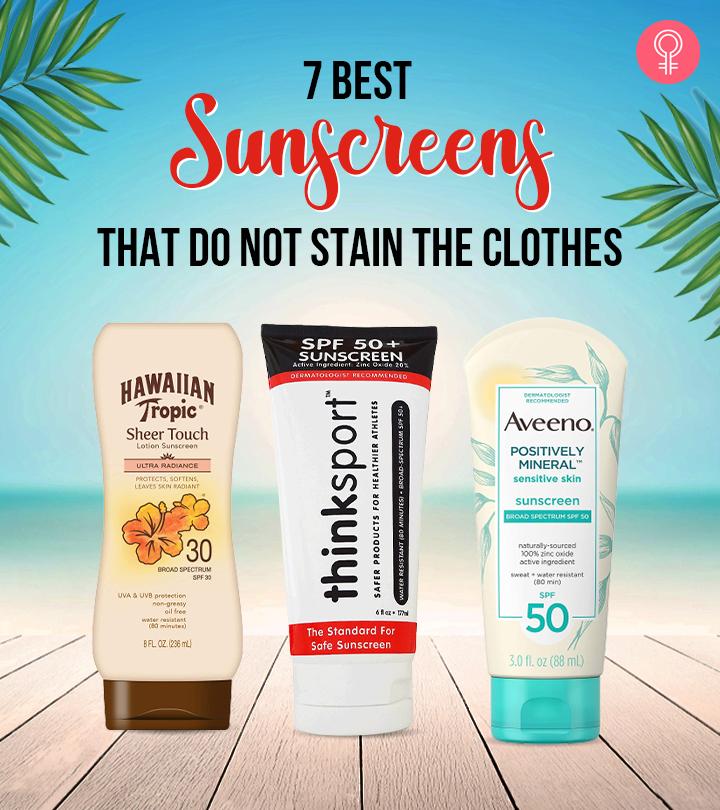 Sunscreens are indeed saviors as they protect your delicate skin from the harmful UVA and UVB rays, which cause issues like wrinkles, fine lines, pigmentation, and blemishes. If you are used to reapplying sunscreen every two hours to keep your skin problem-free, you are certainly on the right track. But if you skip using sunscreen just because it stains your clothes, you might need to rethink.
Well, we understand how embarrassing it is to reach your office or college with stained clothes, but there is always some alternative to keep you going. With non-staining sunscreens in place, you can keep your skin protected without any worries. We have rounded up a list of the 7 best sunscreens that do not stain your clothes and suit every skin type. Keep scrolling for more information!
7 Best Recommended Non-Staining Sunscreens
The Neutrogena Ultra Sheer Dry-Touch Sunscreen is equipped withHelioplex Technology and SPF45 to offer broad-spectrum protection to your skin from UVA and UVB rays. This oil-free sunscreen is trusted by dermatologists and is non-comedogenic, which makes it an ideal choice for those with oily or sensitive skin types. The new and improved formula is oxybenzone-free and helps in reducing the risk of cancer and sunburns when used as suggested. The Dry Touch Technology ensures that the sunscreen glides easily on the skin without feeling greasy. This lightweight sunscreen is non-comedogenic, absorbed quickly, and water-resistant for up to 80 minutes.
Pros
Comes in spray and stick forms
For daily use
Spreads easily
Lightweight
Quickly absorbed
Water-resistant
Travel-friendly
Dermatologist-tested
Oxybenzone-free
PABA-free
Cons
Leaves white cast.
Not sweatproof
This Sheer Touch Lotion Sunscreen from Hawaiian Tropic has broad-spectrum SPF30 to protect the skin from damaging UV rays. The luxurious and non-greasy formula includes shea butter and mango fruit extract to leave your skin moisturized and radiant. It features a tropical scent derived from a combination of passionflower, mango, guava, coconut, and plumeria that offers a beachy feel. This non-staining sunscreen provides up to 80 minutes of water resistance and is enriched with skin-nourishing antioxidants like vitamins C and E.
Pros
Nourishing formula
Tropical fragrance
Water-resistant
Dermatologically tested
Reef-safe
Oxybenzone-free
Octinoxate-free
Oil-free
Cons
May cause itching.
Leaves a white residue.
BLUE LIZARD's Australian Sunscreen is specially crafted for sensitive skin types. Its mild yet effective formula contains zinc oxide and titanium dioxide that act like tiny mirrors to reflect harsh UV rays away from the skin and prevent them from entering. This broad-spectrum sunscreen is equipped with SPF30, is dermatologically recommended, and offers water resistance for up to 40 minutes. The bottle turns blue to indicate the need to apply sunscreen when you are out in the harsh sun.
Pros
Mineral-based formula
Unscented
Water-resistant
Dermatologist-recommended
Reef-safe
Paraben-free
Fragrance-free
Cons
Thinksport SPF 50+ is an avobenzone-free sunscreen that offers broad-spectrum UVA and UVB protection. It uses a non-nano zinc oxide formulation with an average particle size of >100microns to provide the desired protection from the sun. Its non-greasy formula is absorbed instantly without leaving any obtrusive smell and provides up to 80 minutes of water resistance.
Pros
Non-oily
No chemical absorbers
Paraben-free
Phthalate-free
PABA-free
Oxybenzone-free
1,4 dioxane-free
Cruelty-free
Cons
Leaves a white cast.
Not easy to apply.
TheUltra Sport Sunscreen Lotion from Banana Boat has a clinically proven formula with broad-spectrum SPF 50+ to provide adequate UVA and UVB protection. It is specially crafted for outdoor and sports enthusiasts and has a breathable formula that provides up to 80 minutes of water resistance. It won't run into your eyes, never feels greasy, and keeps you active and protected.
Pros
Lightweight
Sweat-resistant
Water-resistant
Non-greasy
Breathable
Reef-friendly
Suitable for kids
Pleasant scent
No burning sensation
Cons
Aveeno's Positively Mineral Sensitive Skin Sunscreen is non-irritating and zinc oxide-based. Its hypoallergenic formula is gentle on sensitive skin and is equipped with broad-spectrum SPF 50 and oats to nourish and protect the skin. The ultralight texture of the sunscreen provides a sheer, matte finish that remains oil-free. This sunscreen gets absorbed quickly and offers up to 80 minutes of sweat and water resistance.
Pros
Lightweight
Sweat-resistant
Water-resistant
Oil-free
Non-irritating
Hypoallergenic
Non-comedogenic
For daily use
Dermatologically approved
Fragrance-free
Paraben-free
Phthalate-free
Dye-free
Cons
May cause a burning sensation.
Does not spread easily.
The Certified Natural Sunscreen from Raw Elements is suitable for both the face and body. It has non-nano zinc oxide and broad-spectrum SPF30 to protect the skin against harsh and damaging UVA and UVB rays. The potent formula is ideal for all age groups as it is gentle on the skin due to being 95% organic. This sunscreen is ideal for daily use, moisturizes the skin, and doesn't sting the eyes. It is enriched with certified natural ingredients like antioxidants, minerals, and vitamins that offer up to 80 minutes of water resistance.
Pros
Suits sensitive skin
Reef-friendly
Gluten-free
Soy-free
Nut-free
Synthetic chemicals-free
GMO-free
Cruelty-free
Cons
Unpleasant smell
Leaves residue
Sticky
Non-staining sunscreens are always a better choice as they not only protect your skin from sun damage but also save your clothes from staining. So, choose a product from our list and bid goodbye to embarrassment.
Frequently Asked Questions
Does sunscreen stain clothes? What is the ingredient in sunscreen that stains clothes?
Yes, some versions of sunscreens can stain clothes due to the presence of avobenzone.
Should you wear sunscreen under your clothes?
Wearing sunscreen under clothes depends upon the material. If it is light cotton with a UPF of around 5, you might need to apply sunscreen.
Areoxybenzone and avobenzone the same?
No, oxybenzone and avobenzone are not the same. While oxybenzone filters both UVA and UVB rays, avobenzone blocks UVA rays.
Recommended Articles