10 Best PABA-Free Sunscreens To Protect Your Skin – Stylecraze
If you love your skin, you will definitely have chemical-free sunscreen in your pouch.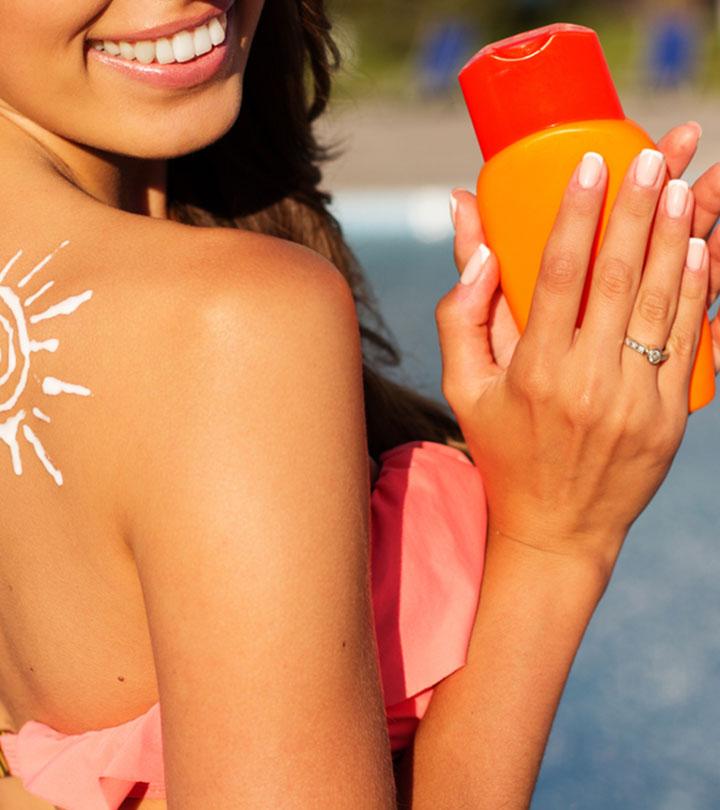 Say hello to PABA-free sunscreen because this is what you need in order to enjoy a chilled beach day out. Summer is all about clicking fun pictures on the beaches, going on those long bike rides, surfing, and putting on colorful dresses and shorts. But it is the sunburn that poses a threat to your skin every time you go outdoors. Although sunblocks and sunscreens that claim to protect your skin from the sun rays are in abundance in the market, what you really need is a protective shield that can not only protect your skin from the harsh rays of the sun but also preserves it long term. And researchers have found out that sunscreens that are PABA-free work wonders if you are looking for that ideal protection. Therefore, knowing the immense significance of these sunscreens, we, in this article, have created a list of the 10 most effective PABA-free sunscreens that you must carry whenever you are out there trying to enjoy the summer heat. All you have to do is scroll down and learn more about how they work. Take this article as a buying guide.
Top Picks
What Is PABA-Free Sunscreen?

A PABA-free sunscreen basically means that the sunscreen you are using has no paba-aminobenzoic acid. Paba-aminobenzoic acid is known to cause skin irritation and even stain clothes. More serious side-effects of exposure to paba-aminobenzoic acid sunscreen include nausea, diarrhoea, vomiting, and loss of appetite. So it's very important you look at the fine print on your sunscreen and skin care products and ensure they are PABA-free!
Keep Your Skin Silky And Healthy With TheTop 10 PABA-Free Sunscreens
Pros
100% mineral sunscreen
Can double up as foundation
No gluten, alcohol, sulphate, dyes or phthalate
Cruelty-free
Cons
Pros
Easy-to-use stick
Lightweight sunscreen
Non-greasy formula
Non-comedogenic
Suitable for all skin types
Cons
Price at the time of publication: $11.85
Pros
Water-resistant
Eco-friendly
Non-toxic
Gluten and dairy-free
Cons
May not be suitable for sensitive skin
Price at the time of publication: $19.39
Pros
Vegan
Eco-friendly
Water-resistant
No fragrance
Great for outdoor sports
Cons
Price at the time of publication: $8.12
Pros
Tear-free and non-allergenic
Suitable for babies under 6 months
Spreads easily
Easily available
Cons
Price at the time of publication: $19.98
Pros
Hypoallergenic
Non-greasy
Suitable for sensitive skin
Deeply hydrating
Cons
May leave a white cast on skin
Not very absorbent
Price at the time of publication: $9.92
Got tennis practice in the afternoons and worried that you'll lose your grip on your tennis racket with all that sunscreen slipping off of your arms? We get it. You need a PABA-free sunscreen that doesn't make you feel slick and slippery, but at the same time protects you from sun burns. Kinesys Oil-Free Clear Active Skin Performance Sunscreen answers your prayers! It's 100% oil-free formula is tailor-made for active sports. You even get up to 80 minutes of water and sweat resistance. Being hypoallergenic and non-comedogenic, makes this PABA-free sunscreen all the more desirable, because it is suitable for sensitive skin. And since it isn't slick on your skin, you can even use it as a firm placeholder under your make-up!
Pros
No fragrance, alcohol, preservatives, gluten, dairy, or sulphites
Suitable for sensitive skin
Ideal for daily use
Easy-to-use pump
Non-comedogenic and hypoallergenic
Cons
May not blend well with makeup
On the oilier side
Price at the time of publication: $24.99
Pros
Value for money
High protection factor
Easy to carry
Perfect for emergency use on-the-go
Cons
May require more than one packet for full-body coverage
Price at the time of publication: $22
Pros
Paraben, gluten, and cruelty-free
Great for beachwear and swimming
Water-resistant
Easy-to-use product
Cons
Not ideal for protection against sun burns
Not suitable for sensitive skin
Price at the time of publication: $21.9
Practicing for that triathlon? Thinking about that long trek way up in the mountains? Like to get that high-intensity training session out in the sun? Then the PABA-free sunscreen you need in your training bag is Coppertone's Sport Face Mineral-Based Sun Protection Sunscreen Lotion. Even though it's a strong cream that keeps your skin well-protected for long intervals in the sun, what we love about this PABA-free sunscreen lotion is that it is breathable and doesn't clog your pores. The mineral-based formula protects your skin from 98% of the sun's harmful UV rays and is water-resistant for up to 80 minutes at a time, which is considerable. And if you're someone who sweats rivers down your face and onto your neck, this PABA-free sunscreen is your best buddy, because it was made for your face. It doesn't slip, leak or get into your eyes, so you can rest easy with a healthy glop of this lotion on your face, while you huff-and-puff outside.
Pros
Suitable for high-intensity outdoor activities
High performance
Free of oxybenzone
Light and breathable
Cons
May leave a white cast on skin
Price at the time of publication: $10.96
Before you run to the store and buy your PABA-free sunscreen, it's important to know a few things. Read our buying guide for more information.
How To Choose A PABA-Free Sunscreen
Before you buy any skin care product, it is crucial that you know your skin type and how it behaves with or without any skincare or cosmetic product. Understand if there are any skin conditions that require medical attention. Always consult your dermatologist if you have any allergies or skin ailments before you buy any skincare or cosmetic products.
For dry skin, look for deeply hydrating and moisturizing PABA-free creams or gels that contain hyaluronic acid, honey, ceramides or glycerin. For oily skin, you want a PABA-free sunscreen that is more water-based or gel-based, which doesn't leave a shiny trail. Look for active ingredients like green tea, tea tree oils or niacinamide.
If you're someone who struggles with sensitive skin, skin allergies and irritation, you need to stay away from para-aminobenzoic acid, oxybenzone, phthalates, fragrances, salicylates, and cinnamates. What you need is a mineral-based sunscreen with ingredients like zinc oxide or titanium oxide, panthenol, allantoin, and madecassoside. Just because you have normal skin, doesn't mean you get slack on finding good skin-friendly PABA-free sunscreens. While most ingredients shouldn't bother you, try organic ingredients for better and healthier skin.
Buying a PABA-free sunscreen isn't just about popping over to the chemist and picking up the first bottle or tube you see. Ask yourself why you want PABA-free sunscreen. Is it for daily wear? Is it for long hours outdoors for work? Are you into outdoor sports? Is it for surfing or just laying on the beach? Each of these activities requires a different degree of protection from the sun and you will see that each product is created meticulously to cater to your needs.
Always, always read the fine print. Look at the ingredients. Make sure there is no paba-aminobenzoic acid listed anywhere. Most PABA-free products have it written where you can see it, but it is always good to know what goes into the mix. There might be other chemical formulas that you specifically are allergic to. So never apply any product on your body without reading what's in it.
Remember, that just buying something off-the-rack and slapping it on your skin before you go out into the sunny beyond isn't enough. Always know what you're exposing your body to. Some days are hotter than others, and you also have to take into account how much direct exposure your body has to the sun everyday. It's so important to keep your skin protected, nourished and fortified against harmful sun rays. But being outdoors doesn't have to be a stressful activity or something you'll regret later. Let the sun shine on, in all its glory, and shine along with it, without any worries. With your PABA-free sunscreen by your side, you know you're gonna have a blast in the sun!
Why Trust StyleCraze?
Kirtana Divakar, the author of this article, is a skin care enthusiast. She loves to explore various skin care products and always comes up with the top list from which readers can easily choose. It is crucial that you invest in a good sunscreen, and if it is PABA-free, you are all set for those sunny pictures. If you are looking for sunscreens devoid of harsh chemicals., these PABA-free sunscreens best serve the purpose.
Frequently Asked Questions
Is paraben-free the same as PABA-free?
While there is some debate on how they interact with one another, no, PABA and parabens are not the same. So PABA-free does not indicate paraben-free.
Can I wear foundation over my PABA-free sunscreen?
Some PABA-free sunscreens can double as BB creams and foundations, but you will have to try them out on your skin to see how well they sit and blend.
Does PABA-free sunscreen work for every skin type?
PABA-free sunscreen is usually suited to most skin types, but some have specific formulas. In the case of any chronic or underlying skin condition, it is always best to consult your dermatologist before trying any skincare products. Always read the fine print before buying anything!
Do sunscreens remove tan?
No, sunscreens do not remove tan from the face or body. There are other sun tan removal products that remove tan and hyperpigmentation.
How long does it take for sunscreens to start working?
It takes 15-25 minutes for a sunscreen to start working on the body and face.
How much SPF should I use on my face?
Use at least SPF 30 and above on your face. Reapply the formula every 2 hours throughout the day.