11 Best Matte Sunscreens Of 2022 To Keep Tanning At Bay
Bid adieu to greasy-looking skin with these truly effective matte finish sunscreens.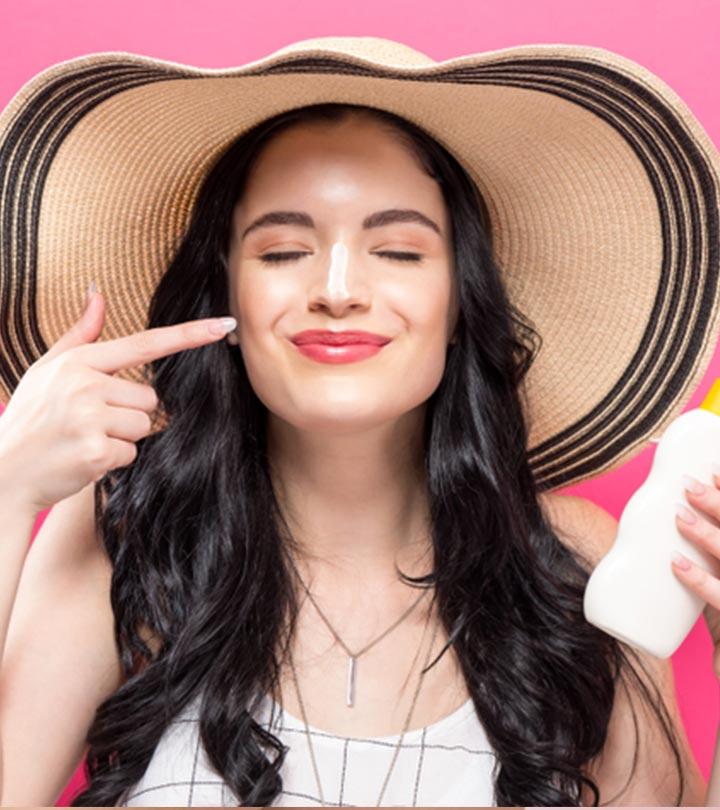 Sunscreens are an essential part of any skin care regimen. They are also highly recommended by dermatologists. But the oily look that sunscreens impart is not suitable for oily skin. Hence, picking up the best matte sunscreen can stop the sun damage without making you look greasy. These types of sunscreens are best suited for acne-prone, sensitive, and oily skin.
Matte sunscreens should be applied before makeup. They do not make your face look shiny. The best part? They also work as a primer! These sunscreens give a flawless look and balance the greasiness on your skin very well. In this article, we have listed the 11 best matte sunscreens. From the compilation, you can choose the one which best suits your skin needs and also get more details about these products. Keep reading to know more!
Top 11 Matte Sunscreens – A Complete Buying Guide
Does your sunscreen make your skin appear oily and sticky? Check out this Neutrogena Ultra Sheer Dry-Touch sunscreen that is absolutely non-greasy and offers a matte finish to your skin. This matte sunscreen is ideal for those who have oily skin as its dry touch formula provides sun protection with SPF 100 without any greasiness left on your skin while giving a smooth finish. Its Helioplex formulation prevents your skin from harmful UV rays that cause sunburns and also helps to reduce the risk of skin cancer. This sunscreen can be used on a regular basis even when you are planning to hit the beach or the pool as it stays resistant to water for up to 8 minutes.
Pros
PABA-free
Lightweight
Fast-absorbing
Non-comedogenic
Dermatologist-recommended
Cons
May not be suitable for sensitive skin type
If you are searching for a sunscreen with broad-spectrum SPF 60, this Anthelios Dry Touch Sunscreen from La Roche-Posay is the right choice! This matte sunscreen for face is 100% oil-free and offers advanced sun protection, especially for acne-prone and oily skin. Regular sunscreens tend to make the face greasy, but this product will give you a matte finish while absorbing pore-clogging oil that a humid environment causes. This sunscreen is formulated with Cell Ox-Shield technology that includes antioxidants and advanced UVA/UVB filters to help minimize the risk of skin aging and cancer. And it is ideal for sensitive skin as the product is allergy-tested. Check out this video to better understand the functions of this product.
Pros
Fragrance-free
Non-comedogenic
Dermatologist-tested
Water-resistant for up to 80 minutes
Free of paraben, octinoxate, and oxybenzone
Cons
It might leave traces of white cast on the skin.
Achieve a non-greasy appearance with this matte sunscreen that comes with SPF 30 and a lightly tinted moisturizing formula to prevent your skin from sunburns. Enriched with antioxidants, this sunscreen is formulated with vitamin C, rosehip seed oil, cocoa seed extract, linseed oil extract, red raspberry seed oil, and prickly pear extract that help fight free radicals and decrease signs of skin aging. Using this product will protect your skin from environmental aggressors and keep it moisturized and hydrated— thanks to flaxseed, shea butter, and plankton extracts that are also infused in this preservative-free formula. You can also use this non-oily matte sunscreen as a BB cream to achieve a natural matte finish and smooth skin without leaving any nano-sized particles on the face. This YouTuber's review will provide a deeper insight into the sunscreen's formulation and functions.
Pros
Reef-safe
Cruelty-free
Lightweight
Fragrance-free
Water-resistant for up to 40 minutes
Cons
May not be suitable for acne-prone skin
Protect your skin from harmful environmental aggressors with this mineral-based sunscreen that provides broad-spectrum SPF 30 protection. It also prevents the signs of skin aging, making this product one of the best wrinkle defense skin moisturizers. Its silky texture leaves you with smooth skin with a soft matte finish. All these benefits are a blessing right from antioxidants and pure mineral zinc oxide that are infused in this matte sunscreen. This formula evens out the skin tone and does not leave traces of white cast on your skin. You can use it daily and apply it 15 minutes before sun exposure for maximum sun protection. Here's a personal review video to help you get a better understanding of
Pros
Cruelty-free
Paraben-free
Fragrance-free matte sunscreen
Soothes skin irritation
Suitable for sensitive skin
Cons
Might not be water-resistant
This broad-spectrum sunscreen prevents your skin from harmful rays of the sun and also reduces wrinkles and fine lines. It provides a sheer matte finish, leaving you with a non-greasy and protective layer that provides UVA/UVB protection to your skin. This product includes chemical and physical ingredients that protect your skin from tanning and decrease the risk of skin cancer. Apply this sunscreen 30 minutes before sun exposure and reapply every 2 hours for better protection.
Pros
Allergy-tested
Non-comedogenic
Dermatologist-tested
Suitable for all skin types
Free of PABA, fragrance, and paraben
Cons
It might feel slightly heavy on the skin
Say bye-bye to the sticky or greasy feeling after you apply sunscreen! Get this matte sunscreen by Banana Boat that provides broad-spectrum SPF 50+ protection. It lets your skin breathe and feel comfortable and hydrated in a balanced manner. This powerful formula absorbs all the excess moisture and gives you a gentle matte finish. With its UVA/UVB protection, this sunscreen is one of the best sun sprays to prevent any risk of skin cancer or early skin aging. For a long-lasting effect, reapply this product every 2 hours and immediately after swimming or sweating.
Pros
Affordable
Easy to apply
Nice fragrance
For everyday use
Water-resistant for up to 80 minutes
Cons
It may not suitable for sensitive skin
This SPF 32 matte sunscreen offers a silky smooth finish without any greasy or shiny appearance. It absorbs quickly, leaving a matte finish while preventing your skin from sunburn. This product provides broad-spectrum UVA/UVB protection to oily skin types and also works great as a matte sunscreen for acne-prone skin. It contains zinc oxide and homosalate that protect against tanning and aging, and rich antioxidants that prevent environmental aggressors from degrading your skin health. These mineral and chemical UV filters provide excellent sun protection with a mattifying effect without leaving a white cast on your skin. This sunscreen is formulated using the micro-sponge technology that helps to absorb the excess surface oil and provide a flawless, oil-free glow.
Pros
Reef-safe
Lightweight
Daily use formula
Non-comedogenic
Works great as a protective primer
Cons
Some may not like the smell
Looking for a good anti-aging matte sunscreen? Try this tinted moisturizer with broad-spectrum UVA/UVB protection that minimizes wrinkles and fine lines. It contains pore-minimizing technology that makes this sunscreen non-comedogenic and suitable for mature skin. This tinted matte sunscreen is fast absorbing and naturally blends on to the skin, leaving it moisturized and non-greasy. It contains 3 peptides and vitamin C that help achieve soft and younger-looking skin. With sheer tint, this sunscreen hydrates your skin and evens the skin tone, giving it a flawless and healthy glow.
Pros
Lightweight
Easy to spread
Suitable for everyday use
Suitable for all skin types
Offers sheer finish
Cons
This SkinCeuticals Physical Matte UV Defense Sunscreen works as a mousse that gives a powder matte finish, leaving you with flawless skin. It can be used before applying makeup as it reduces fine lines, pore appearance, and provides a smooth surface exactly like a face primer. In addition, this 100% physical oil-absorbing base provides broad-spectrum UVA and UVB sun protection that prevents sunburn and tanning for long durations. Apply this matte sunscreen SPF 30 on a cleansed face and dodge the harmful sun rays that can damage your skin.
Pros
Lightweight
Easy to apply
Evens skin tone
Ideal for sensitive skin
Non-acnegenic and non-comedogenic
Cons
Some may not like the smell.
Does your sunscreen provide an invisible matte finish? If not, get this broad-spectrum SPF 35 sunscreen that gives you poreless-looking smooth skin. It blends easily and effortlessly, making it a great primer to use before makeup to avoid a chalky finish. This matte-finish sunscreen contains loquat leaf extract that is enriched with antioxidants to soothe skin, silk extract that helps to retain the natural moisture as it is rich in amino acids, and Japanese wild rose that evens the skin texture and tightens the appearance of pores. Also, this product decreases signs of skin aging and locks in hydration to keep your skin moisturized without making it feel greasy.
Pros
Weightless
Cruelty-free
Non-comedogenic
Dermatologist-tested
Suitable for all skin types
Cons
This mattifying facial sunscreen absorbs quickly onto the face without leaving any oily shine or glow. It provides broad-spectrum UVA and UVB protection and prevents pores from being clogged. This SPF 30 sunscreen is formulated with rice starch to control shine by absorbing excess oil, yellow passion fruit seed extract that protects against free radicals and environmental aggressors, and non-nano zinc oxide that reduces pigmentation and signs of skin aging. This mineral matte sunscreen is suitable for regular use, especially before applying makeup as it works as a protective primer and gives you flawless skin with a soft matte finish.
Pros
Vegan
Cruelty-free
Silicone-free
Non-comedogenic matte sunscreen
Suitable for sensitive skin
Cons
It might not be ideal for extremely dry skin.
Now that we have looked at the 11 best matte sunscreens, here are a few things you need to keep in mind to make a wise decision when you're set out to buy a matte sunscreen.
What To Look For When Buying A Matte Sunscreen?
When you choose a sunscreen, you should always opt for SPF 30 and higher. The best matte sunscreen provides broad-spectrum SPF 30+ protection, and if the number is below that, it will not prevent sunburn or tanning.
You must have noticed that some of the sunscreens feel heavy on the skin, especially when the environment is hot or humid. Therefore, you should wear a weightless sunscreen as it would keep you comfortable in any weather.
Always check the ingredients of any skin care product in order to avoid elements that may not be suitable for your skin type. Sunscreens tend to contain chemicals and preservatives, thus, it is necessary to be aware of the ingredients to avoid any skin reaction or irritation problems.
Sweat can wash off the sunscreen quickly, so try to choose a water and sweat-resistant matte sunscreen that stays on your skin when you go to a pool or a beach.
Matte sunscreens work best when they are fast-absorbing. It eliminates the chances of the appearance of greasiness and oily shine on your skin.
Why Trust StyleCraze?
Kirtana Divakar, the author of this article, has an immense interest in skin care and loves to explore different products used in the skin care regime. After extensive research and many reviews from trusted platforms, she compiled this list of the best matte sunscreens. She adds that these sunscreens are perfect for acne-prone, oily, and sensitive skin. The best part is they are non-greasy and non-comedogenic.
Frequently Asked Questions
Is matte sunscreen good for oily skin?
Matte sunscreen is considered to be good for oily skin as most of the types of matte sunscreens are manufactured keeping in mind this particular skin type. These matte sunscreens absorb the skin's surface oil, leaving it shine-free.
Is matte sunscreen good for dry skin?
Matte sunscreen is also good for dry skin as it is formulated to balance moisture and keep your skin hydrated and smooth.
Related Articles
Best Sunscreens For Oily Skin
Best SPF 50 Sunscreens To Shield Your Face From The Sun
Best Sunscreen Lotions And Creams For Oily Skin
Best Tinted Sunscreens
Best Recommended Sunscreens For Every Skin Type