6 Best Hair Dryer Brushes For Curly Hair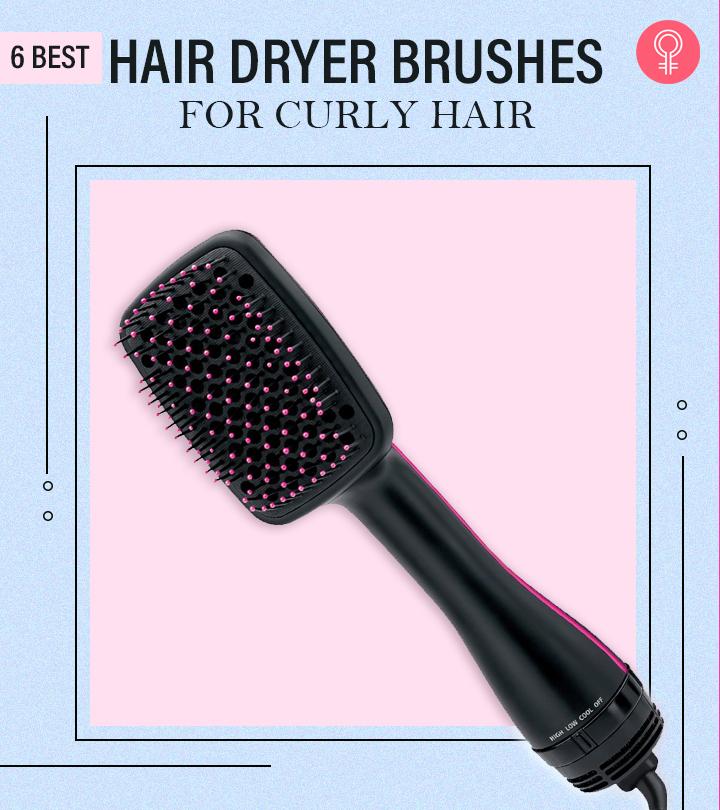 If you are trying to give your curly hair a salon-style makeover, get yourself a hair dryer brush specifically designed for curls. These brushes dry and style your hair effectively and quickly, causing less damage than hot irons or curlers. Their soft bristles gently and easily detangle unruly hair, leaving you with frizz-free, shiny, and voluminous hair. Below is our list of 6 carefully selected hair dryer brushes for curly hairstyle your tresses!
6 Best Hair Dryer BrushesFor Curly Hair
The InfinitiproBy Conair hot airbrush is constructed with advanced ionic and even heat distribution technology to give you a salon-grade styling experience. It has a 1.5-inch barrel that accentuates the curls, adding volume and luster. The large titanium ceramic barrel distributes heat evenly for shinier and fuller hair. The soft bristles of this air brush minimize hair damage while giving you frizz-free, silky smooth locks. It has vents that facilitate airflow from the dryer for quicker drying and styling. Its ball-tipped bristles gently massage the scalp and detangle the hair. The two heat settings and one cool setting of the dryer brush provide high performance.
Specifications
Power: 500 W
Barrel Size:5 inch
Color: Platinum
Dimensions: 2.63 x 11.63 x 5 inches
Weight: 5 pounds
Material: Titanium ceramic
Pros
Anti-frizz
Anti-static bristles
Cool shot button
Cons
Not suitable for very thick hair
The Revlon Salon Hair Dryer and Styler is a one-step solution to your hair-drying and styling problems. The titanium ceramic tool has the power of a blow dryer and the precision of a stylist. It has a large paddle brush head with flexible tangle-free bristles to enable easy detangling. It dries the hair faster with less damage and gives it a smooth texture. The styler is powered with Ionic technology that makes the hair frizz-free, smooth, and lustrous. The 6 feet-long swivel cord allows you to maneuver this dryer comfortably.
Specifications
Power: 1100 W
Color: Black & pink
Dimensions: 4.1×11.5×10.25 inches
Weight: 43 pound
Material: Plastic
Pros
Large paddle
Flexible pad
Quick results
Tangle-free bristles
Anti-frizz
Ergonomic design handle
Cons
Dare to be bold with the Revlon Hot AirKit – it is a four-piece set to style, curl, and volumize your hair. It consists of 1- and 1.5-inches thermal brush attachments with Release Button for an easy switch. The two brushes are for volumizing hair and achieving soft curls. It also includes a blower and a concentrator for precise drying. There are 3 heat and speed settings to provide versatile styling to all hair types. This dryer is powered with advanced ionic technology and triple ceramic coating to reduce frizz and heat damage, while making your hair shiny and healthy. Remember to towel dry hair to remove excess water and comb or brush to untangle before using this tool. 
Specifications
Power: 1200 W
Color: Red and black
Dimensions: 2.6×5.7×15.3 inches
Weight: 57 pound
Material: Ceramic
Pros
Tangle-free swivel cord
Cool tip
4-piece kit
3-year warranty
Cons
The Aima Beauty One-Step Hair Dryer is a 4-in-1 kit combining the functions of a blow dryer brush, hair curler, and hair straightener. The brush has a ceramic coating that protects the hair from excess heat damage by evenly distributing the heat. The ion technology releases negative ions that moisturize, condition, and nourish the hair shafts. The oval brush makes it easier to reach the scalp to lift, detangle, and volumize the hair. It has nylon ball tips on the bristles that offer gentle massaging. The diamond-shaped patented body and handle design provide comfortable and easy use. The dryer has bottom airflow vents, 3 temperature modes, and 2 air-speed settings to offer you control over the drying and styling process.
Specifications
Power: 1100 W
Color: Blue
Dimensions: 14.5×4.7×3.7 inches
Weight: 55 pounds
Material: Ceramic
Pros
Lightweight
Anti-scalding top
Ergonomic design handle
Tangle-free swivel cord
Cons
The Aykerr Hot Air Brush includes six attachments that make all kinds of styles possible. The attachments include 1 hot air brush, 2 curling brushes, 1 hairdryer, 1 air comb, 1air handle, and 1 pair of gloves. This contraption works as a hairdryer, hair straightener, curler, comb, and massager. The interchangeable brush heads consist of tufted bristles and nylon needles which detangle hair gently. The brush features negative ion technology and ceramic coating that work in tandem to hydrate, repair, dry, and style your hair. It offers silky smooth, frizz-free, and lustrous hair.
Specifications
Power: 1000W
Color: Grey and pink
Dimensions: 12.8×10.2×3.07 inches
Weight: 73 pound
Material: Ceramic
Pros
Easy to use
Includes heat-protection gloves
Anti-static
360° swivel cord
Cons
The Sinperne Hair Dryer Brush is a 6-in-1kit of three brush-heads with a blow dryer. The hot air brush dries, straightens, styles, curls, and volumizes with ease. It is powered with negative ions to help reduce static and frizz. Its nylon pins and tangle-free tufted bristles ease detangling of the hair. Its ceramic coating provides constant temperature control and even heat distribution to prevent heat damage. This dryer is low on noise and has a 360° swivel cord, making it easy to maneuver and convenient to use.
Specifications
Power: 1000 W
Color: Green
Dimensions: 11.85×8.7×3.15 inches
Weight: 25 pound
Material: Nylon and Ceramic
Pros
Nylon pin
ALCI safety plug
Anti-scalding head
Ergonomic handle
Cons
None
Curly hair needs special attention, and a regular dryer does more harm than good. Our recommended list of the 6 best hair dryer brushes for curly hair can give you a salon-like experience at home. So, click on the link and make your purchase today.
Recommended Articles