6 Best Hair Dryer Brushes For Curly Hair
Detangle your locks easily and keep frizz away with the right tools at hand.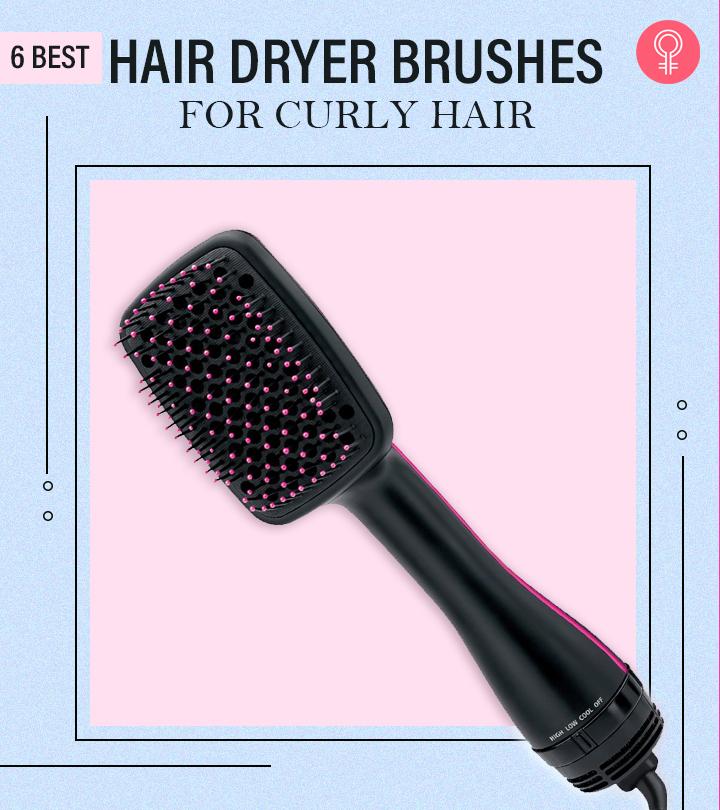 If you have been searching for the best hair dryer brush for curly hair, we have some good news! Curly hair needs more pampering than fine hair, and when running to the salon is not an option, getting yourself the perfect hair drier brush will give you a professional salon finish right at home. These brushes are designed with soft bristles that detangle curls and style your hair effectively. It is an excellent relief from curlers and hot irons that do long-lasting damage to your hair. Here is our list of the 6 best hair brush driers that keep your curly tresses shiny, frizz-free, and voluminous.
6 Best Hair Dryer BrushesFor Curly Hair
The InfinitiproBy Conair hot airbrush is constructed with advanced ionic and even heat distribution technology to give you a salon-grade styling experience. It has a 1.5-inch barrel that accentuates the curls, adding volume and luster. The large titanium ceramic barrel distributes heat evenly for shinier and fuller hair. The soft bristles of this air brush minimize hair damage while giving you frizz-free, silky smooth locks. It has vents that facilitate airflow from the dryer for quicker drying and styling. Its ball-tipped bristles gently massage the scalp and detangle the hair. The two heat settings and one cool setting of the dryer brush provide high performance. If you want to know more about the results, take a look at this review on YouTube.
Specifications
Power: 500 W
Barrel Size:5 inch
Color: Platinum
Dimensions: 2.63 x 11.63 x 5 inches
Weight: 5 pounds
Material: Titanium ceramic
Pros
Anti-frizz
Anti-static bristles
Cool shot button
Cons
Not suitable for very thick hair
Price at the time of publication: $39.99
The Revlon Salon Hair Dryer and Styler is a one-step solution to your hair-drying and styling problems. The titanium ceramic tool has the power of a blow dryer and the precision of a stylist. It has a large paddle brush head with flexible tangle-free bristles to enable easy detangling. It dries the hair faster with less damage and gives it a smooth texture. The styler is powered with Ionic technology that makes the hair frizz-free, smooth, and lustrous. The 6 feet-long swivel cord allows you to maneuver this dryer comfortably. You can check this YouTube video for more information about the product.
Specifications
Power: 1100 W
Color: Black & pink
Dimensions: 4.1×11.5×10.25 inches
Weight: 43 pound
Material: Plastic
Pros
Large paddle
Flexible pad
Quick results
Tangle-free bristles
Anti-frizz
Ergonomic design handle
Cons
Price at the time of publication: $44.99
Dare to be bold with the Revlon Hot AirKit – it is a four-piece set to style, curl, and volumize your hair. It consists of 1- and 1.5-inches thermal brush attachments with Release Button for an easy switch. The two brushes are for volumizing hair and achieving soft curls. It also includes a blower and a concentrator for precise drying. There are 3 heat and speed settings to provide versatile styling to all hair types. This dryer is powered with advanced ionic technology and triple ceramic coating to reduce frizz and heat damage, while making your hair shiny and healthy. Remember to towel dry hair to remove excess water and comb or brush to untangle before using this tool. If you are still unsure about purchasing, you can check out a review of this product on YouTube.  
Specifications
Power: 1200 W
Color: Red and black
Dimensions: 2.6×5.7×15.3 inches
Weight: 57 pound
Material: Ceramic
Pros
Tangle-free swivel cord
Cool tip
4-piece kit
3-year warranty
Cons
Price at the time of publication: $24.74
The FoxyBae blowout hair dryer brush is a professional-grade hair volumizer. The brush is designed with boar and nylon dual bristles, which are delicate on the hair. The bristles offer natural conditioning to the hair, improving its texture. This styling tool is a 75mm hair brush made of ceramic material. The tourmaline-infused ceramic combines negative ions with infrared properties and delivers it to the hair strands. It heats evenly and enables water molecules to penetrate the hair shafts. As a result, it further locks in moisture, strengthens brittle hair, removes frizz, and offers a soft and healthy shine.
This electric device comes in an attractive black and rose gold color. It has three rotating speed and heat settings that you can easily customize to your needs. The all-in-one brush detangles hair, dries it, and styles it, all in just a few minutes! This single tool at home makes your hair look voluminous, lustrous, and76 salon-styled.
Pros
Salon grade AC motor
Dual bristles
Adjustable speed settings
360º swivel cord
Cons
Size may be too big to hold comfortably
Price at the time of publication: $73.5
The AOSUYOU Blow Dryer Brush comes with four attachments that make all kinds of styling effortlessly possible. It releases negative ions that reduce frizz and condition and nourish the hair, revealing smooth, silky, and shiny hair. The brush's nylon pin and tufted bristles leave the hair detangled, easily manageable, and knot-free minus any split ends. It is a perfect combination of Hair Dryer, Massage Comb, Hair Strengthener, and Hair Curler, making it your go-to option at all times.
Specifications
 Power: 1000W
 Color: Black and pink
 Dimensions: 13×3×3 inches
 Weight: 640 g
 Material: Ceramic
Pros
 Lightweight
 4-in-1
 Travel-friendly
 Easy to use
Cons
 May not be suitable for short hair
Price at the time of publication: $30.99
The Sinperne Hair Dryer Brush is a 6-in-1kit of three brush-heads with a blow dryer. The hot air brush dries, straightens, styles, curls, and volumizes with ease. It is powered with negative ions to help reduce static and frizz. Its nylon pins and tangle-free tufted bristles ease detangling of the hair. Its ceramic coating provides constant temperature control and even heat distribution to prevent heat damage. This dryer is low on noise and has a 360° swivel cord, making it easy to maneuver and convenient to use.
Specifications
Power: 1000 W
Color: Green
Dimensions: 11.85×8.7×3.15 inches
Weight: 25 pound
Material: Nylon and Ceramic
Pros
Nylon pin
ALCI safety plug
Anti-scalding head
Ergonomic handle
Cons
None
Price at the time of publication: $48.99
Curly hair can be difficult to maintain without the right tools and techniques. But, even though it takes time and effort, smooth and manageable curls look oh-so-gorgeous! The market is filled with hair styling tools, and hair dryer brushes are one such essential must-haves to maintain curly hair. Here are a few factors to consider while you invest in the best hair dryer brushes to maintain curly hair.
How To Select The Best Hair Dryer Brushes For Curly Hair
Curly hair tends to get coarse and frizzy quickly. Thus, while buying a hair dryer brush make sure it has soft bristles with anti-frizz and anti-static features. Flexible bristles tend to be smooth on the hair strands and do not damage the roots. It is best to use hair dryers with nylon bristles and tufted brushes of oval shape. They help to detangle the hair strands and make them look voluminous. Hair brushes with ball-shaped soft nylon bristles are also great for massaging the scalp.
People with curly hair often complain of dryness. Hair dryer brushes with negative ion technology are a great option to combat hair dryness. It helps to lock the moisture around the hair roots and keeps them hydrated for a long time. Brushes with even heat distribution ensure that hair strands are not overheated. This protects the hair follicles and prevents the roots from damage.
Hair dryer brushes with multiple heat and cool settings provide a greater range of options to select from. They offer multiple styling options and ensure tangle-free hair. Cool settings on dryer brushes for curly hair ensures a cool shot option and helps to dry and define the curls in a short time.
Modern hair dryer brushes come with a huge variety of important features. The ideal ones should be portable, ergonomic in design, and lightweight. Look for even heat distribution capacity to ensure protection against frequent overheating and hair damage. The brush handle must be intuitively designed to facilitate ease of use and comfortable styling.
Look for materials such as nylon or ceramic to ensure durability of the brushes. Invest in low-noise or noise-free products with a tangle-free swivel cord. Many hair dryer brushes come with a 2 or 3-year warranty which is a great thing to ensure value for money.
Why Trust StyleCraze?
Shiboli Chakraborti, the author, is passionate about hair care. Her expertise and experience helps her to find the best products for her readers. For this article, she read through hundreds of user reviews and online product feedback and compiled this list of the top hair dryer brushes for curly hair. These are made of soft bristles that detangle and style your hair without the risk of long-term damage.
Frequently Asked Questions
How do you use a curly hair brush?
Here are the steps to brush your curls without ruining them.
• Brush the curly hair when it is damp. You may use hair butter, leave-in conditioner, or curl-defining creams to keep your hair smooth and hydrated.
• Detangle your curls thoroughly using any detangler product and a wide-toothed comb.
• Start combing from the bottom to reduce tug stands that result in hair loss.
• Avoid brushing the same area of the hair frequently, as it loosens the curls.
Does brushing curly hair damage it?
Yes. Curly hair is often prone to damage like split ends and breakage. Therefore it is better to brush when it is wet to prevent frizz.
How often should curly hair be brushed?
It is better to brush your hair when washing your strands to maintain the integrity and texture of curly hair.
Is it good to brush curly hair?
No. It is better to detangle curly hair with your fingers instead of a brush to prevent damage and breakage.
Recommended Articles