10 Best (Soft And Hard) Bonnet Hair Dryers Of 2023 – Reviews And Buying Guide
For the extra TLC that your tresses deserve so that you can channel your inner Disney princess!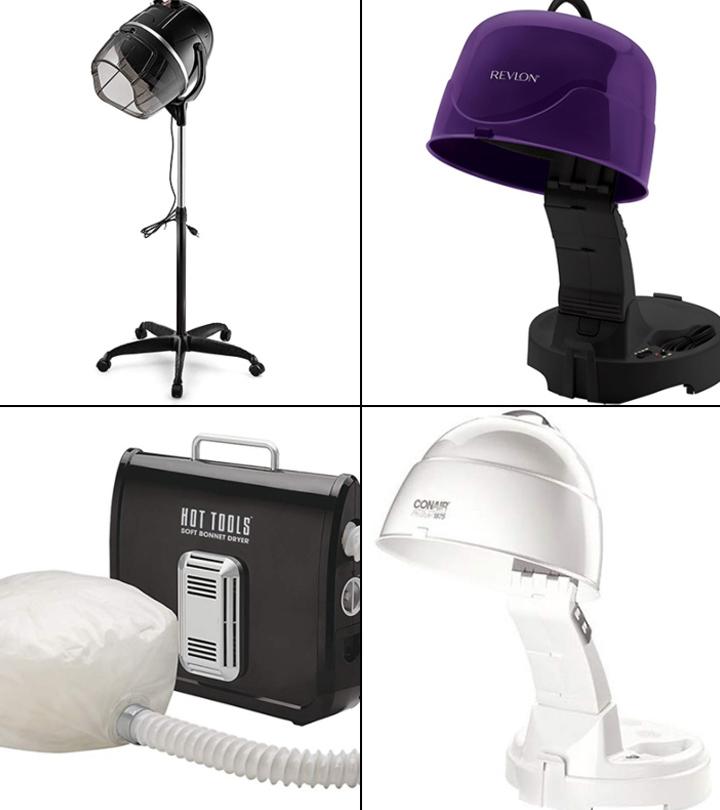 If you're tired of regular hairdryers that do not offer equal heating, it may be time to take a look at some of the best bonnet hair dryers in the market. What differentiates them from old-school dryers is that they come in a hodded form to dry your hair evenly. They also give you those beautiful curls after using your rollers or spa treatment. So if you want to save yourself from all that arm work and tangled chords, the bonnet dryer will take care of all that for you. What's more, these hair dryers can be a fantastic way to relax and read a magazine while your hair gets some love. Check out our list of bonnet hair dryers for more information. Scroll down to check them out!
What Is A Bonnet Hair Dryer?
A bonnet hair dryer has a hood that goes around your head and blows hot air to dry the whole head of hair in a short duration. It distributes the heat all over your hair evenly and helps you create luscious curls in no time. It protects the definition of your curls and tames unmanageable tresses. Besides drying, it can also be used for deep conditioning, roller styling, and hair conditioning treatments.
First, let's check out the top 5 soft bonnet hair dryers. 
10 Best (Soft And Hard) Bonnet Hair Dryers
Best Soft Bonnet Hair Dryers
If you want to enhance the texture of your gorgeous hair right in the comfort of your home, check out this best-selling bonnet hairdryer. Named after the renowned American professional boxer Laila Ali, this bonnet dryer has been on top of the best-selling chart for the longest time.
It is an ionic soft bonnet hair dryer that uses ion infused airflow to dry your hair quickly.
It is perfect for drying roller sets, textured hair, and braids.
It is a great product for processing chemical and conditioning treatments.
The ionic technology helps retain moisture to prevent breakage and split ends. It promotes silky, shiny, and healthier-looking hair.
The device comes with 3 heat and speed settings so that you can dry and style your hair simultaneously. Once done, you can use the cool setting that releases cool air to set the style in place.
If you want a voluminous style, the bonnet can easily accommodate jumbo rollers so that you can achieve wavy, voluptuous, and loose curls.
The bonnet comes with a travel-friendly compact storage case that holds the entire device.
Pros
Easy to use
Dries hair quickly
Suitable for dry and damaged hair
Convenient packaging
Cons
None 
Rating
4.6/5
Price at the time of publication: $69.99
Here is another popular bonnet hair dryer on the market that is reasonably priced and great at styling and drying your hair.
If you are on a budget and looking for a good bonnet dryer, this is your product. Conair Soft Bonnet Hair Dryer uses gentle airflow to dry your hair quickly.
It features 4 heat and speed settings, including a cool setting, for maximum styling versatility.
This device is perfect for styling, drying, and hot conditioning your hair.
The device comes with an extra-long and flexible hose with an 'easy lock' feature.
A bonus hot-air vent brush attachment is also included for volumizing your locks.
A compact, travel-friendly storage case with a handle is also provided.
The 6-foot long cord allows flexible styling.
The extra-large bonnet can accommodate jumbo rollers easily.
Pros
6-foot long cord
Portable
Conditions dry and damaged hair
Reasonably priced
Cons
Not durable 
Rating
4.5/5
Price at the time of publication: $39.99
Whether you have coily hair or loose beachy waves, Andis Bonnet Dryer will do the work for you! It uses ionic technology to dry your hair quickly and with less frizz and damage.
It is perfect for setting styles and creating voluminous hair at a low heat setting.
The extra-large bonnet is designed to accommodate large rollers.
It works well for chemical and conditioning hair treatments as well.
The device uses 60 Hz frequency and 125 volts to give you silky, shiny, and healthy locks.
It features 2 speed and 2 heat settings for flexible styling and drying.
The unit has a 40-inch long flexible hose for convenient styling.
You also get a compact storage case with this device.
Pros
Distributes heat evenly
Great for hot conditioning treatments
Dries hair quickly
Bonnet fits perfectly on the head
Cons
Not durable 
Rating
4.5/5
Price at the time of publication: $39.99
Are you looking for a high end, professional-grade soft bonnet dryer that gives you gorgeous tresses in the comfort of your home? Try the Hot Tools Soft Bonnet Dryer!
It is built with two motors to dry your hair as quickly as possible.
It distributes heat evenly for quick drying and styling.
This salon-quality bonnet hair dryer uses ionic technology that conditions your hair to make it smoother, shinier, and healthier.
It also features a cool-shot setting that helps you set your finished hairstyle for lasting results.
The bonnet is useful for processing intense conditioning treatments.
The heat and speed can be set to low, medium, or high to allow you to style your tresses with precision and control.
A 6-feet long cord is also included for free range of movement during styling.
Pros
Provides long-lasting hold
Great to use with jumbo rollers
Reduces frizz
Durable
Cons
The hose length is short 
Rating
4.4/5
Price at the time of publication: $59.99
Proven quality, attractive design, and user-friendly –that is how you define Gold N' Hot Professional Ionic Soft Bonnet Dryer.
It delivers negative ions that help maintain a neutral charge on your hair's surface, leaving it looking soft, silky, and conditioned.
It is built with 4 heat settings for ultimate styling.
It helps reduce frizz and static in your hair while adding intense shine to each strand.
The unit includes a long flexible hose attached to an adjustable bonnet with a jumbo-size drawstring. It provides ample space for comfortable placement of bonnet over rollers of all sizes.
You even get a storage case with a retractable handle and separate compartments for the bonnet and cord.
Pros
Light and travel-friendly
Easy to use
Dries hair quickly
Cons
Expensive 
Rating
4.3/5
Price at the time of publication: $49.0
Now, let's check out the top 5 hard bonnet hair dryers on the market right now.
Best Hard Bonnet Hair Dryers
If you want to avoid carrying heavy hair dryers, the Conair Pro Style Bonnet Hair Dryer is the perfect product for you. It is lightweight and portable and comes with multiple professional features.
It provides even heat distribution for a salon-finish look.
It includes 2 heat and speed settings for controlled styling.
The extra-large hood accommodates jumbo rollers.
The device is equipped with variable airflow settings for versatile styling.
The storage case comes with a foldable handle for easy portability.
The unit has a 6-foot long cord.
Pros
Durable
Easy to use
Adjustable height
Dries hair quickly
Cons
None 
Rating
4.7/5
Price at the time of publication: $47.74
This portable hair dryer is lightweight and economical. It comes with multiple professional functions and features.
It dries your hair quickly, leaving it smooth, silky, soft, and frizz-free.
It can be used to set perms, process hair dye, and other hair treatments.
It is made of a dual-looped, stainless-steel heating element that provides fast, quiet, efficient, and even heat.
The hood is made from durable tinted acrylic with a generous opening to accommodate even the largest rollers.
The highlight of this product is that the bonnet swivels on the base and tilts up and down.
The unit comes with adjustable timer and temperature settings with a 60-minute automatic shut-off feature.
Pros
Hinged front visor height with a lock option
Grounded power-cord
Leaves your hair dry and looking fresh
Sturdy base
Durable
Heats up to 75°C
60-minute automatic shut-off feature
Cons
None 
Rating
4.6/5
This professional bonnet hair dryer is a great styling tool for coloring, perming, conditioning, hair-drying, and other hair treatments.
It comes with a swivel hood with a convenient hinged hood door that is large enough to accommodate even jumbo rollers.
The dual-looped, stainless-steel heating element is equipped with an advanced rotary backflow airflow design and a multi-bladed fan for ultra-quiet operation.
The temperature can be adjusted from 0-75°C, with a timing function of 60 minutes.
It is a portable device with wheels for quick and easy movement.
Pros
Adjustable height
Can be used in a salon or at home
The base can be locked in place
Sturdy and lightweight design
20'' hood
Durable
Cons
None 
Rating
4.5/5
Price at the time of publication: $98.59
This bonnet hair dryer emits ions to reduce frizz.
It includes a large round hood that can accommodate even jumbo hair rollers.
It is a collapsible design that makes storage and travel easier for you.
It has 3 temperature settings – low, medium, and high.
It can help you create gorgeous blowouts, big beachy waves, or striking straight locks.
For a perfect hands-free hair-drying experience, try this ionic hard bonnet hairdryer. It features a balanced airflow design to dry your hair quickly and evenly.
The ionic technology helps maintain a neutral charge, leaving your hair smooth, shiny, and static-free.
Pros
Easy to use
Travel-friendly
Durable
Dries hair quickly
Cons
None 
Rating
4.4/5
Price at the time of publication: $49.99
Giantex Bonnet Hair Dryer With Hood has adjustable timing and temperature functions.
The height of this hair bonnet dryer is adjustable too. The tool has wheels on the bottom so that you can carry or move it around easily.
The device is very easy to use and allows you to work with it conveniently.
It is both salon- and home-friendly.
The best thing about this product is that you don't need to change the angle of the bonnet to dry your hair.
Pros
Multiple temperature settings
Dries hair quickly
Durable structure
Very effective
Cons
None 
Rating
4.3/5
Price at the time of publication: $129.99
Now that you know all about the best bonnet hairdryers available on the market, take a look at the buying guide given below to pick the most appropriate product for yourself.
Important Technical Features To Look For In A Bonnet Hair Dryer
1. Timer
This feature is important because the styling time plays a major role in the final look. Typically, 20-25 minutes is enough to get your desired look. Therefore, it is advisable to buy a hairdryer that sets your hair within 20 to 25 minutes. 
2. Heat Settings
The more, the better! Pick a product that offers multiple heat settings. This will prevent you from going too hot, which can damage your hair, or too cold, which takes ages to style or dry your hair completely. 
3. Speed Settings
Consider buying a bonnet hair dryer with variable speeds that you can adjust according to your hair type. If you have fine hair, you don't have to use the "quick speed" mode as it takes lesser time to dry fine hair anyway. This feature is very helpful for people with extremely dry and damaged hair. 
4. Cool Shot Setting
This is also an important feature to consider because it helps lock your curls in place once you are done with drying them. 
5. Wattage
A high wattage dryer will save you a lot of time, especially if you have thick and coarse hair and are always on the run. Ideally, you should use at least an 1800-watt dryer to get good results. You can opt for higher wattage if you have extremely thick and long hair.
6. Technology
Most bonnet hair dryers come with ionic technology. This allows you to banish positive ions and lock the hydration in your hair. This leaves you with smooth and glossy curls. 
Other Features
1. Price
This depends on the brand and the range of features that the product provides. Soft bonnet hair dryers are usually less expensive than hard bonnet dryers. Models manufactured by established name brands will come at a higher price than those made by lesser-known companies. 
2. Brand
It is always important to buy products from a reputed brand that provides warranty and safety instructions. Choose a brand that promises quality.
3. Size
If you are more into styling your hair and curls, pay special attention to the size of the hood. Curling your hair requires rollers. The hood of the dryer should have enough room to accommodate all of your rollers and still leave some space.
4. Portability
If you travel a lot, invest in a portable and lightweight bonnet hairdryer. Soft bonnet hair dryers are more portable than hard bonnet hair dryers. They are easy to carry and use. Soft bonnet dryers are great for frequent travelers. 
Let's talk about all the benefits of using a bonnet hairdryer. 
Benefits Of A Bonnet Hair Dryer
For Hair Drying And Chemical Hair Treatments: Bonnet hair dryers produce professional-grade even heat. They open up your hair cuticle and fill the shaft with nutrients. It is the best device for color-treated, texturized, and natural hair. It ensures to deliver professional results with utmost care.
Hands-Free Experience: Bonnet hair dryers are much easier to use than regular hair dryers. Unlike hand-held hair dryers that can tire out your arms, bonnet hair dryers can do a much better job in transforming your hair while allowing you to sit back and relax.
Great For Hairstyling: With the help of hair rollers and some heat, a bonnet hair dryer can do some crazy miracles to your hair. It saves you time, conditions your hair, and tames those wild locks all at once.
But, here's the most important question…
What Is The Difference Between Soft And Hard Bonnet Hair Dryers?
Although the material differs, most primary mechanics still remain the same.
Hooded dryers are more durable than soft bonnet dryers. Portable soft bonnet dryers do not last for years the way standing/rolling hooded dryers do. Hard bonnet dryers come with multiple heat and speed settings. They even have a longer electrical cord than a soft bonnet dryer.
Soft bonnet dryers are much lighter than hard bonnet dryers. They are less expensive and are much more user-friendly. With soft bonnet dryers, you can move around without sitting still for hours. They cover your entire head and dry your hair more evenly.
Why Trust Stylecraze?
Pooja Karkala is a hair care enthusiast who loves to write comprehensive articles on beauty products. In this post, she talks about bonnet hair dryers and prefers using them over old school ones. She has gone through various reliable online reviews to pick the best ones for her readers. According to her, the best parts about these dryers are that they have even heat distribution features, are easy to use, and last long.
Frequently Asked Questions
How long does it take to dry hair with a bonnet dryer?
It may take around 20-40 minutes, depending on your hair type and length.
Can a hooded dryer damage your hair?
If you dry your hair longer than the recommended time, it may damage your hair.
Does heat make hair color fade?
Excess heat may fade your hair color. If you use a bonnet dryer regularly, there are high chances of your hair color fading quickly. To avoid this, you can use anti-fade hair products that contain an anti-UV complex.
How long does it take to dry hair in rollers?
Depending on the length of your hair, it takes around 20-45 minutes under a hard hat or soft bonnet dryer.
Can you dry curly hair in a bonnet?
Yes, a bonnet can be used to dry curly hair.
How long should a dryer be under a bonnet?
A dryer should be under a bonnet for not more than 20-30 minutes.

Related Articles:
Best Stylish Bonnets For African American Hair
Best Conair Hair Dryers To Buy
Best Jerdon Hair Dryers For Fabulous Blowouts