12 Best Hooded Hair Dryers For African-American Hair
Protect your natural curls and maintain their shape with these trendy hair tools.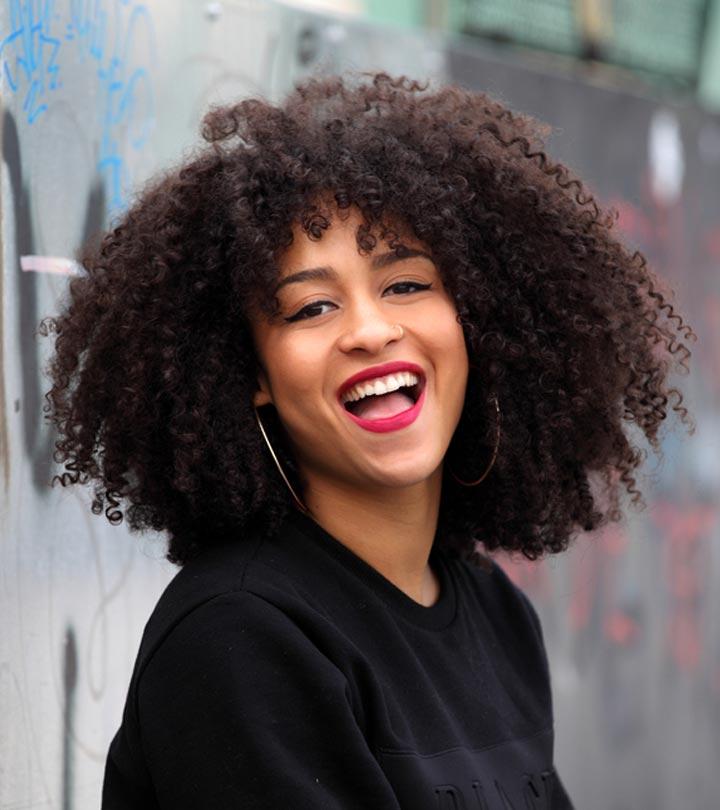 If you have been on an unending quest for the best bonnet hair dryer for natural hair, let us tell you, it's about to end! Your days of searching under every rock for those hairdryers are over! Characteristic of the 1950s, you would have probably seen these hair dryers at your neighborhood salon. What is the hype, and why can't hair care professionals stop using them? Well, the answer is simple. For all you lovelies who have curly hair and struggle with them on a daily basis, bonnet hair dryers are the solution to your curly hair woes. Gone are those days when you struggle with those tangled cords! Convenient and fun, these hair dryers do all the magic while you catch up on some 'me-time'. Once the session is over, behold, soft, bouncy, and thick hair! If you thought you couldn't get them at home, you're wrong! There are at-home bonnet dryers available that save you that trip and pennies to the salon. To help you end your quest, we have made a list of the top bonnet hair dryers out there that can turn your dull and flat hair into that of a diva's! Scroll down for more information!
What Is A Hooded Hair Dryer
A hooded/bonnet hair dryer is a device that can be put on over your head like a hood. It is used for drying hair or for setting pins or roller curls. While they are designed to do what a blow dryer does, a hooded hair dryer functions differently. It is a hands-free tool that regulates and circulates warm air uniformly throughout your hair. However, with this device, it can take a bit longer to dry hair, so it's best used when you have a lot of time in your hands. Furthermore, there are 2 types of hair dryers – soft hooded and hard hat type.
Soft hooded hair dryer: This hair dryer offers full head coverage and can be adjusted based on your hair length. It has a hood that is connected to the central unit via the hose. The central unit transmits hot air to the hood. They are flexible, convenient, and are made for home use.
Hard hat hair dryer: This type is quite popularly used in professional salons, primarily to set styled hair. It works much faster than a soft hooded one and is available in various versions – wall-mounted, tabletop types, and one with a stand.
How To Use A Hooded Dryer
Firstly, wash your hair using shampoo and conditioner and rinse it thoroughly with warm water.
Dry your hair gently with a clean cotton towel. Make sure not to be too vigorous while rubbing your wet hair as this could lead to hair breakage.
Partition your hair into smaller sections for easier and faster drying.
Place the hooded hair dryer on your head. You can sit or stand, depending on the type you use.
Ensure all your hair strands are tucked inside the hood.
Start the drying process and increase the temperature as you go.
Once your hair is completely dried, you can begin to reduce the temperature little by little.
For optimal results, cool your hair before ending the process.
Benefits Of Using A Hooded Dryer
It takes a short amount of time as compared to blow dryers to dry African-American hair.
It helps keep your hair hydrated.
It helps your hair in the better absorption of nutrients.
It emits indirect heat to your hair, which means it cuts down frizz.
It creates shiny, gorgeous curls.
Features To Consider Before Buying A Hooded Dryer For Natural Hair
Given below are a few factors that you should take into account while purchasing a hooded hair dryer.
Size: When buying a hooded hair dryer, the first thing you should look for is the size. If it is not big enough to fit your head, it is of no good. Moreover, the size also depends on the amount of space you have in your house.
Wattage: The wattage may vary based on your hair texture and the type of hair dryer you prefer. Soft hooded hair dryers will ideally come with a wattage range between 500 and 900 W, while the hard hat ones support a wattage ranging between 1000 and 2500 W.
Ionic technology: Pick a hair dryer that features ionic technology. When you use such a hair dryer, upon heating, it releases negative ions that break up the water molecules and dries your hair quickly. It also helps lock in your hair's natural moisture and provides a shiny appearance.
Settings: Look for a hair dryer that has variable heat and speed settings. Thick and coarse hair requires high or medium functions. If you have fine hair, low heat and speed settings are considered ideal. Your hair dryer should also have a cool shot setting that locks in your style and prevents your hair from over-drying.
Timer: A hooded hair dryer with a timer is more convenient to use. You can just set the timer and allow the device to do its thing and give you the desired results.
12 Best Bonnet Hair Dryers For Natural Hair
If you are looking for a hooded hair dryer that is compact and portable, this Collapsible Bonnet Hair Dryer by Conair is the right choice for you. However, don't be fooled by its small size, as it features a hood that is roomy enough to accommodate a set of jumbo rollers. With 1875W of power and the ability to evenly distribute airflow, this hair styling device simplifies and reduces your hair drying time. It also features 2 heat and speed settings that can be adjusted depending on your hair texture. The best part about this hair dryer is that it can be folded down for convenient storage when not in use.
Pros
Varying airflow settings ensures comfortable styling
Uniform distribution of air to dry hair evenly
Height-adjustable stand
Built-in carry handle
Easy to store and travel-friendly
Includes a 6-foot long cord
Cons
The cord tends to heat up quickly
Tends to make too much noise
One of the best soft bonnet hair dryers, this one by Laila Ali, features an ionic technology, which means it produces negative ions that dry hair faster, help retain moisture, and prevent hair damage. It also reduces frizz and leaves you with a shiny and healthy-looking mane. This purple-white styling device includes 3 heat and speed settings that allow you to control the temperature and airflow depending on your hair type, while the cool shot feature helps you lock your hairstyle in place. Plus, the hood interior is suitable for conditioning and chemical treatments. Check out this video on YouTube for a detailed understanding of the product.
Pros
Releases ion-infused airflow
Adjustable heat and speed settings
The cool shot setting sets your hairstyle
Includes a storage case to fit the entire unit
Features a large adjustable hood
It can be used to dry jumbo roller sets and braids
Cons
May not distribute heat evenly
The hose may overheat sometimes
Did you recently buy a blow dryer only to realize that it isn't efficient to dry your thick hair? Well, don't worry; you don't have to stash it away. We bring to you a soft hood hair dryer attachment that can be used with your regular hair dryer. Simply connect the blow dryer to the hose and use it on a low heat setting for best results. It includes an adjustable chin strap and a side fitting drawstring that keeps the hood in place, and the long nylon tube fitting makes it easy for you to move around. It features over 140 ventilation holes for more even distribution of heat and faster drying process. If you want to know more about this product, check out this video on YouTube.
Pros
Features a large hood capacity to fit hair curlers and rollers
Includes a travel case for convenient portability
Patented Non-slip Silicone Hose Collar
Fits all standard hair dryers (up to 2.25″ nozzle)
Hand-washable
Suitable for conditioning treatments
Available in 4 colors/designs
Cons
May take longer to dry hair
May not be durable
If you are looking for an affordable, compact, and easy-to-operate hooded hair dryer, this soft hood hair dryer attachment could be the best option for you. This flexible attachment is connected directly to your handheld hair dryer and is secured with a gripping silicone material that prevents any slip-off while using it. The interior of the hood features strategically placed holes that deliver even heat distribution and gentle and consistent airflow. While the bonnet hood can be adjusted to accommodate any head size and hairstyle, it comes with an optional chin strap and drawstring that keeps the hat in place. Go ahead and check out this YouTuber's video for more details about the product.
Pros
Can be used for drying hair and conditioning treatments
Wide and long hose design ensures comfort
Lightweight and waterproof
Hand-washable material
The hair dryer must be used on low setting
The hood can fit hair accessories, including rollers, clips, and Flexi rods
Includes a storage bag
Cons
Tends to overheat
May not reduce frizz
Are you looking to enjoy a salon-like experience in the comfort of your home? Look no further than this! Salon Sundry hooded hair dryer with a stand comes equipped with all the right functions and features that are required to dry your hair efficiently. Besides, it can also be used for hair treatments such as coloring, hot-perm, and spot-caring. It features a dual-looped stainless steel heating element, a hood made of durable tinted acrylic, and a multi-bladed fan that provides uniform drying without making noise. It also comes with an adjustable timer and different heat and speed options, which allows you to personalize your hair drying process.
Pros
Lends silky-smooth and frizz-free hair
Features 1000W power and temperature that goes up to 165°F
The timer can be set up to 60 minutes
Height-adjustable spring-loaded pedestal base
Includes 5 swivel wheels
Equipped with a hinged front visor that allows cool air inside the hood
Budget-friendly
Cons
If you have long and naturally curly hair and don't prefer large bulky at-home hooded dryers, then why not give Beaute Seoul Hooded Hair Dryer Attachment a try. It is an excellent hair dryer not only used to dry your hair faster (on low setting) but is also designed for deep conditioning treatments and hairstyling sessions using the wrap and roller sets. The hair heating cap has a larger capacity to accommodate any head size and hairstyle, while the side drawstring and chin strap ensures the hood doesn't fall off while in use. It is made of high-quality nylon with PU coating, which makes this hair dryer attachment waterproof and durable.
Pros
The hose collar features a Velcro strap that fits any standard handheld dryer
Adjustable large hooded bonnet
Long and flexible hose
The hood features evenly distributed holes for even and consistent airflow
Lightweight and portable
Comes with a storage bag
Hand-washable
Cons
May take longer to dry thick hair
The chin strap may be too tight for some
If you are looking for a professional hard hat hair dryer, given that you are willing to splurge a little, this bonnet hair dryer by Gold 'N Hot Professional is the perfect choice for you. Ideal for both at-home and salon use, this bonnet dryer features a 1875W powered motor that dries your hair instantly. This black tool comes with an adjustable tube that allows you to choose the height you prefer, while the 5 swivel wheels make it easy to move. What we love the most is that the unit is infused with tourmaline, which helps distribute heat evenly, leaving you with a smooth and manageable mane. Additionally, the bonnet is big enough to accommodate any size rollers.
Pros
Features a removable air intake grille and an adjustable face shield
Equipped with an ionic generator with on and off switch
4 heat settings for versatile styling options
Tourmaline technology
10-feet long cord
Comes with 2 lockable wheels for stability
Removable legs at the base provide a compact storage option
Cons
Expensive
May not be long-lasting
Obtain natural and stylish curly hair like professional salons with Eleganty Soft Bonnet Hood Hairdryer. This hands-free device is powered with air-flow technology that distributes the correct amount of heat air-flow through the internal ventilation holes and dries the hair evenly. It has a long flexible hose with adjustable velcro, and the broad hose allows you to attach any standard hairdryer. This device can be used with hair accessories like Flexi-rods, rollers,curl-formers, or clips. The drawstring and chin strap helps to position and hold the hood securely.
Pros
Soft pouch for convenient storing
Made of waterproof material
Has great drying powder
Provides comfortable fit
One size that fits all – adjustable velcro strap
Cons
Revlon Ionic Hard Bonnet Hair Dryer is an ultra-modern hairstyling tool designed to deliver volume and shine to naturally curly hair. This hands-free device features ionic technology that dries hair faster, reduces frizz, and protects your hair from heat damage to give you silky-smooth hair. It comes equipped with easy-to-control temperature and speed settings for styling flexibility and an ion generator that can be switched on and off based on your preference. This is one of the best hooded hair dryers for home use.
Pros
Gives you shiny and frizz-free hair
3 heat and speed settings
Large round hood
Dries hair quickly and evenly
Can accommodate a set of jumbo rollers
The collapsible design ensures convenient storage
Cons
May overheat when used on the highest setting
Very noisy
Hair drying, conditioning, cold perm heating – this Professional Hooded Hair Bonnet Dryer by Orion Motor tech can get any hair styling or treatment done. Constructed with a heavy-duty stainless steel heating element, this hair drying/styling tool distributes airflow evenly for a faster and damage-free hair drying experience. It features a swivel hood with a hinged door, which is positioned on a stand that can be adjusted based on the height you prefer (4.3′ – 5.1′). Also, it includes a built-in swivel base, which makes the device easy to move.
Pros
Features a built-in timer (60 minutes)
Easy to assemble
1000 W power
Low noise
Adjustable heat setting up to 158°F
Customizable height
Cons
The plastic hood may be fragile
A good hair-do makes one feel confident! And that's why you need this bonnet hair dryer, which will help you achieve manageable and lustrous locks. With 1300W of power, it dries your hair efficiently while the low-noise quality gives you a quiet and peaceful hair drying time. It allows you to take control of how you want to style your hair, thanks to its variable heat setting that can be adjusted by rotating a knob and choosing any temperature you prefer. The hair dryer is easy to assemble and can be disassembled for convenient storage and carrying.
Pros
Features a swivel hood with hinged door
Includes a 60-minute timer
Adjustable temperature from 0°F to 167°F
The base is equipped with swivel casters for easy maneuvering
Height-adjustable stand
Made of durable stainless steel heating element
Cons
A hooded hair dryer that is flexible and powerful – what's not to love? It uses 2500W power, which helps you dry your hair in no time. Additionally, it has all the features that you need to get smooth and voluminous curls – an adjustable temperature setting, 2 speed settings, and a 60-minute timer that makes your hair styling experience more comfortable and convenient. It also includes an ionic feature (on/off switch), which dries your hair faster, leading to less damage and no frizz.
Pros
Features a temperature indicator and 60-minute timer
The hood features a hinged door
Deep visor ensures any foul odor stay inside the hood
The stand can be adjusted to your preferred height
The base comes with swivel wheels
Cons
May not work well if you are using rollers
Have you been searching for the best hooded hair dryers for African-American hair? We hope we have provided you with all the necessary information that might make your selection process easier. While natural tight curls are beautiful, it can be difficult to manage it at times. We searched high and low to put together a list of the 12 best hooded hair dryers. Go through our list and pick the one that best suits you. Have you tried any of these hooded hair dryers? Do share your experience with us!
Why Trust Stylecraze
Kirtana Divakar, the author of this article, is a haircare aficionado. After thorough research and checking user feedback on trusted sources, she prepared a comprehensive list of the best bonnet hair dryers for natural hair. These items are a must-buy as they can transform your dull hair into healthy and gorgeous-looking locks without any hassle.
Frequently Asked Questions
How long does it take for a bonnet hair dryer to dry your hair?
Bonnet hair dryers take roughly 15 to 45 minutes to dry your hair. The time depends on how wet your hair is and the thickness of the hair.
Are bonnet hair dryers safe for all hair types?
Yes, bonnet hair dryers are safe for all hair types. Whether you have curly, straight, or kinky hair, bonnet dryers add bounce and shine, if used the right way.
How high should I adjust the heat settings on my bonnet hair dryer?
There are three temperature settings on your bonnet hair dryer. Set a higher temperature if you wish to dry your hair quickly. However, a higher temperature can turn your hair brittle and dry. So, set it at medium temperature for fast yet safe results.
What is the best-hooded hair dryer for natural hair?
The Eleganty Soft Bonnet Hood Hairdryer is the best product for natural hair. It is powered with air-flow technology that distributes heat evenly. This device is also compatible with rollers, curl-formers, and clips.
What is the best soft bonnet dryer?
The Laila Ali Ionic Soft Bonnet Dryer is the best product. It features ionic technology that helps dry your hair faster. This bonnet hair dryer comes with three heat and speed settings, making it a very convenient device.
Recommended Articles