11 Best Products For Permed Hair As Per Hair Experts – 2023
Invest in the right products to get healthy, frizz-free, and well-defined permed hair.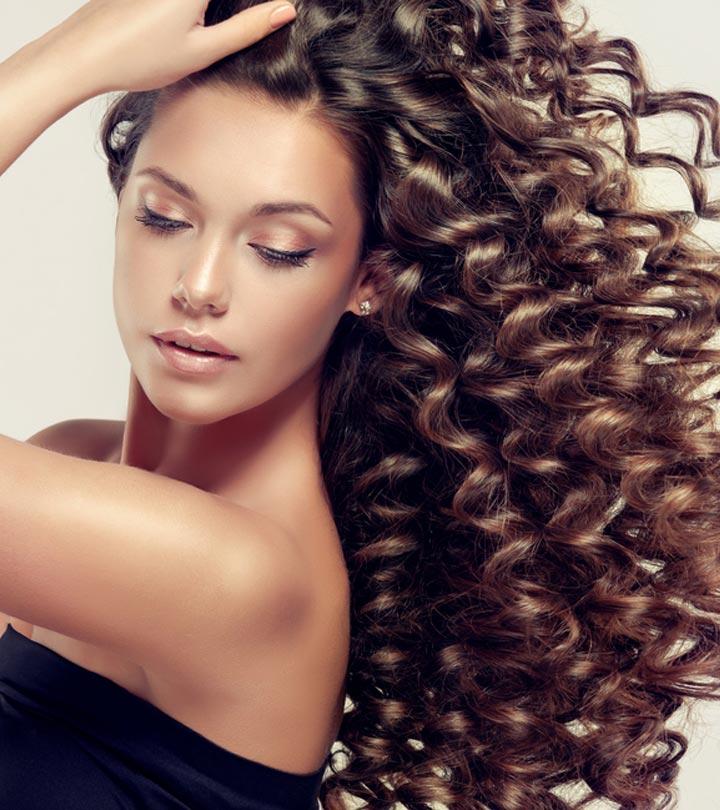 Getting a perm is one half of the challenge; the other half is maintaining it! Once you get a perm, there is no going back, and you are always on the lookout for the best products for permed hair. Honestly, perms aren't for everyone, requires a multitude of things to ensure your tresses are looking and feeling their best. Getting a perm is retiring from the styling game, as you've done all you can, and it's time to lay back and relax. Selecting the right products for permed hair can be quite the task; with so many products, confusion is inevitable. Lucky for you, we've got your back and have got just the right stuff your need. Head to our list now to check it out!
Top 11 Products For Permed Hair To Keep Your Curl
As the name suggests, this is a deep condition hair mask from Arvazallia. It nourishes the roots, repairs the strands, makes hair soft and strengthens them. Argan oil is the key ingredient in this formulation and is renowned for its hydrating property. The natural oils present in this product make it a natural fix for your permed hair. This surely is a great perm hair product as it lacks harsh chemicals. You can expect it to make your hair frizz-free, soft, and silky. People who wish to enjoy healthy permed hair will surely like this product. This video review will help you learn more about the product.
Pros
Paraben-free
No-sulfate
Easy-to-use
Great for bleached and curled hair
Cons
Might end up making your hair greasy if used for a long duration
Price at the time of publication: $12.95
The Bumble and Bumble Surf Spray gives your permed hair an effortless look. This formula makes your hair look salty and windblown, adding volume and texture with just a few spritzes. It contains seaweed extract, kelp extract, and magnesium sulfate, commonly known as Epsom salts. These ingredients help soften the hair, reduce flyaways, and make your hair more manageable. The epsom salts act as natural minerals that impart astringent action. This spray works wonders on fine to medium hair and healthy, moderately coarse hair.
Pros
Lightweight
Increases manageability
Easy to use
Prevents flyaways and static
Paraben-free
Formaldehyde-free
Phthalate-free
Mineral oil-free
Cruelty-free
Cons
Strong and unpleasant fragrance
Price at the time of publication: $27.44
These two hair care products make your hair care easy. The products let you clean and nourish your hair at the same time. In fact, your search for good shampoo for permed hair ends with this shampoo. As wonderful as this sounds, the ingredients work miraculously on curl hair. This combo gently cleanses your hair and leaves hair silky and healthy. With constant use, you can prevent breakage, frizz, split ends eventually improving hair growth. It even handles hair locks wonderfully. This video will help you make an informed decision about your purchase.
Pros
Safe for permed hair
Color safe
Improves hair texture
Moisturizes hair deeply
Cons
Might not work for all types of hair
Price at the time of publication: $15.99
When suffering from damages caused by hair treatments like coloring, bleaching, coloring, toning, and perming, you should opt for good hair care products like this one from JKS International. This is a combination of two products and serves the purpose of a complete hair care kit. The kit needs to be used after following the directions and comes along with an information booklet in three languages, English, Spanish, and French. The kit contains two products, namely bond maker and bond reinforcer. The bond maker needs to be mixed with whichever color or product you are about to use on your hair, followed by shampoo as usual. The next product is used before using a conditioner. This unique duo helps in protecting hair, making them healthy and keeping them free from breakage.
Pros
Cruelty-free
Free from sulfates
Well-tested formula
Quick to use
Cons
Price at the time of publication: $8.45
This is a spray induced with Moroccan argan oil which offers special care to curls. This curl spray adds bounce to your hair and reduces dryness. It adds moisture to your hair and boosts the curls. The texture of this product is that of a smooth serum and can be applied easily. The product enhances style curl shaping, protects hair from UV rays and doesn't really leave any residue after being sprayed. The formula is very light plus it smells amazingly good. With these excellent features, it would not be wrong to say that it is one of the best styling products for permed hair. Watch this video to get a detailed review of the product.
Pros
Perfect for all types of hair
Hydrates curls
Works like a hair revitalizer
Heat protectant
Cons
Price at the time of publication: $37
Get ahead in the game of styling your perms with this perfect curl cream for permed hair. The formula is creamy and adds texture to your hair. It can even be used as a deep conditioner for permed hair. Many people love to use it as a hydrating gel for their hair on a regular basis owing to its conditioning power. This crème formula stands out as one of the best products for permed hair as it is absorbed really well by the hair, adding a classic finish to the hairstyle. The product is great to use for a smooth perming process.
Pros
Excellent finish
Adds sheen
Provides balanced conditioning
Multipurpose use
Cons
Price at the time of publication: $12.9
There are times when going to the salon for any kind of hair treatment becomes difficult and you wish by any means you could get the hair you wanted from the comfort of your home. This product comes handy during such times. This is a pack of 1000 pieces of end papers used for perming your hair. The standard size of every piece is 2.25" x 3.25". These papers are good to use as a roller set with shorter hair length. You can use them all by yourself at home and get salon-like permed hair.
Pros
Affordable product
Very easy-to-use
Apt for natural styling
Comes with a self-dispensing box
Cons
Size might not be apt for all hair
Price at the time of publication: $4.58
The Bumble and Bumble Curl Defining Creme is a rich UV protective cream that enhances your curls without the crunch. This defining cream is perfectly blended with avocado, coconut oils, shea and cocoa butter that keeps your hair hydrated, reduces frizz, and adds shine. The cream is suitable for medium to coarse hair. It also effectively protects your permed hair from damaging sun rays and prevents excess dryness to keep them moisturized.
Pros
 Lightweight
 Provides movement to curls
 Unisex
 Cruelty-free
 Gluten-free
 Hydrates hair
Cons
None
Price at the time of publication: $28.81
If you are someone who is obsessed with high quality hair oils, you must try this product. It is called Bali Secret Hair Vitamin and is a powerhouse of vitamin A, C, E, ProVit B5, and other nutrients. The product is actually a serum and targets split ends and weakened damaged hair. This product has Moroccan argan oil, macadamia, and avocado oil that nourish and moisturize your hair deeply. For those who have dull hair and want to protect their perm, this is undoubtedly the best product for permed hair. The fascinating thing about this product is that it comes in the form of small red capsules which have perfect amounts of oil for the nourishment of your hair.
Pros
Long-lasting hydration
Deep conditioning
Makes hair easier to comb
Suitable for all types of hair
Cons
Might feel greasy when overused
Price at the time of publication: $78.11
People dealing with gray hair can give themselves a fresh perm makeover with this moroccan argan oil kit from One n Only Shiny Silver Perm. It is enriched with the goodness of avocado, macadamia nut oils, vitamins, and B5. This exclusive combination of mineral oils assures deep conditioning and results in beautiful natural curls. The kit also includes an after-perm conditioner that provides intense care and adds soft shine to your hair. Apply the conditioner and spread it evenly with a wide toothed comb to add softness to your hair.
Pros
No bad odor
Self-heating formula
Great for coarse hair
Anti-aging, anti-yellowing formula
Cons
Does not last more than 3 weeks
Price at the time of publication: $12.99
The Aveda Botanical Repair Intensive Strengthening Masque is derived from natural ingredients and is perfect for permed hair as it helps in boosting moisture in chemically treated hair. The plant-derived technologies help prevent hair breakage caused by environmental aggressors and other factors. It deeply conditions, instantly enhancing the texture, feel, and look of your hair. It makes your hair appear healthier, softer, and glossier with a single use. It strengthens your hair's integrity and protects it from damaging factors. The formula best suits all hair textures and gives you lustrous-looking tresses with one use.
Pros
94% naturally derived
Silicone-free
Paraben-free
Mineral oil-free
Synthetic fragrance-free
Vegan
Cruelty-free
Safe for color treated hair
Cons
Price at the time of publication: $44.87
Things To Consider Before Buying Products For Permed Hair
Healthy, bouncy, and voluminous curls look oh-so-gorgeous! Here are factors to consider for maintaining your hair perms and giving them a shiny soft feel.
Avoid Chemicals: Be careful to select hair-care products that are not chemically loaded. Choose products free from paraben, sodium, silicone, and sulfate. This will ensure that your hair roots and strands don't get damaged even after repeated application of the products.
Deep Moisturization: Hair products that offer deep and sustained hydration are great for healthy curls. Opt for products that strengthen your hair roots and strands, give your hair good volume and texture so the perms appear natural. The products should be easy to apply, leave no residue, and be without any synthetic or artificial odor.
Contains Essential Oils: Look for products that contain natural oils and other enriching vitamins. They help keep your hair frizz-free and manageable, and make it softer too. These natural oils also prevent scalp dryness thus giving you stylish and bouncy curls. They prevent hair breakage, reduce split ends, and improve overall growth. These natural oils also remove hair coarseness and make your curls last long.
Multipurpose And Unisex: Choose products that are safe for chemical or color-treated hair. Such products are easy on your hair and can also be used to style your curls in different ways. One must prefer permed hair products that are unisex. This will mean you don't need to buy separate products for every family member.
Formulation: Permed hair can be slightly challenging to maintain. You must stay away from products that leave a greasy, waxy, or tacky feel on the scalp. They will make your curls stickier rather than natural and bouncy. Products that are gentle on your scalp and strands suit best for permed hair. They give it a light and healthy appearance while retaining the natural feel and texture.
How Do You Keep Permed Hair Healthy?
In order to keep permed hair healthy, follow the tips given below-
Keep your hair loose just after the process is done
Protect your hair from the sun.
Choose your hair products carefully. Always opt for the ones formulated for your type of styled hair.
Never miss out on conditioning. This is to ensure your hair gets enough hydration to deal with perming.
Go for regular touch ups to keep your hair healthy.
Try not to use styling tools like curling iron.
How Do I Get Rid Of My Permed Hair?
Keeping permed hair for longer durations can be tough to manage. Sometimes it can even become really boring. In such times follow these tricks to get rid of your permed hair-
Apply a coconut mask as it penetrates the hair shaft and makes your hair straight
Schedule a haircut to get rid of permed hair
You can even ask your stylist to re-perm your hair
Apply a wavy lotion to make your hair straight
Wait and let your hair grow
Why Trust StyleCraze?
The author, Vaishnavi Kothuri, has a deep interest in hair care. She believes in going the distance to get the best products to improve your hair health. After hours of extensive research, she curated a list of the best products for permed hair. She recommends these products after reading through umpteen reviews. These products are affordable, easy to use, and contain no harsh chemicals.
Frequently Asked Questions
Can I sleep on my newly permed hair?
Newly permed hair needs extra care. Not sleeping on your newly permed hair is never an option. You should opt for a silk or satin pillow to prevent absorption of moisture from the cotton pillow. If you can cover your hair with a silk wrap, it is good too.
Can I condition my hair after a perm?
Yes, you can condition your hair after a perm. In fact, it is always a good idea to nourish and condition hair to keep the damages away.
Can I style wet and newly permed hair?
No, styling wet and newly permed hair can lead to hair locks or knot ups which might either hamper your curls or end up your hair in frizzy locks.
Does the perm hurt my hair?
Perming process does not damage your hair but it does weaken the hair strands.
What if I colored my hair, can I get a perm?
Yes, you can perm the hair even if your hair is colored.
How about dyeing the hair after a perm?
Perm is a chemical process in itself. Dyeing your hair just after a perm is a bad idea as it can damage your hair.
How long will it take?
Long-lasting, well-defined curls last for at least six months when taken care properly.
Will my perm get curlier after I wash it?
No your perm will not get curlier after you wash it. Washing permed hair might end up in more natural-looking curls.
How do I keep my perm from frizzing?
In order to keep your perm from frizzing, note your hair type and get products as per your own hair type. It is always considered better to start using such products and maintain a hair care routine to avoid frizz.
Can I put mousse in my hair after a perm?
Yes, you can use mousse in your hair after perming it, but try to opt for an alcohol-free and silicone-free mousse.
Recommended Articles