11 Best Ouidad Hair Care Products – 2023
Give your tresses the care and love they deserve with this amazing hair care line.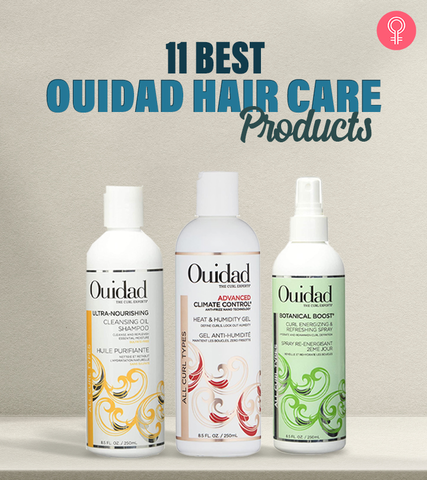 Ouidad is well known for delivering hair products that nourish, moisturize, strengthen, and condition your hair. The best Ouidad hair products can keep your hair soft, shiny, and hydrated. Their products help you nourish the curly tresses and treat over-damaged hair. In addition, these hair care products are also well-known to lock the moisture and keep your hair frizz-free. These products are ideal for coily, tight, wavy, and kinky hair types.
There is a wide range of products available from Ouidad. But picking the most suitable one can be demanding. So, we have curated a list of the 11 best Ouidad hair care products that make your hair voluminous, curl them, and make your hair look gorgeous. Check them out below!
11 Best Ouidad Hair Care Products
Pros
Lightweight
Reduces frizz
Offers UV protection
Paraben-free
Silicon-free
Phthalate-free
Cons
Price at the time of publication: $26.0
The Ouidad Moisture Lock Leave-in Conditioner leaves your kinky and curly hair soft, shiny, and frizz-free, promoting a healthier scalp. It is a lightweight conditioner that moisturizes each strand without leaving it crunchy. It contains botanical extracts like cactus extract, green tea extract, and pro-vitamin B5 that hydrate your hair and seal in moisture. Its lightweight formula does not leave any greasy residue and forms a protective layer for styling and to prevent frizz. This video will help you make an informed decision about your purchase.
Key Ingredients: Cactus extract, Green tea extract, and Pro-vitaminB5
Pros
Offers heat protection
Lightweight
Non-greasy
No residue
Sulfate-free
Cons
None

Price at the time of publication: $26
Perk up your hair with the best product that defines your curls with a salon-like finish. The Ouidad Botanical Boost Curl Energizing & Refreshing Spray is perfect for styled locks. It contains rosehip oil and centella extract, which eliminate dryness and stimulates hair growth. The antioxidant-rich ginseng root and aloe vera in the spray soothe an irritated scalp and hydrate your curls for effortless styling. This energizing spray leaves your curls bouncy and lively with no greasy residue. It can be used on wet or dry hair. Spray it all over your hair to instantly revive curls.
Key Ingredients: Rosehip oil, Centella, Ginseng root, and Aloe vera
Pros
No build-up
Non-sticky
Non-irritating
Long-lasting
Lightweight
Cons
Not suitable for low porosity hair
Price at the time of publication: $18.7
The Ouidad Advanced Climate Control Defrizzing Shampoo fights tangled and frizzy hair in no time. It washes off dirt, grime, and pollutants without losing the definition your natural curls. It is formulated with glycerine, shea butter, and murumuru butter to seal in moisture and repair damaged cuticles. It contains ceramides that smoothen your curls and prevent future damage.  Its anti-frizz nanotechnology forms a protective barrier against frizz. In addition, it has silk protein, which offers anti-breakage and heat protection properties and strengthens and reinforces your locks.
Key Ingredients: Glycerine, Shea butter, Murumuru butter, and Sile ceramide
Pros
Non-drying
Fights frizz
Gentle formula
Cons
Price at the time of publication: $22
A curl-defining styling cream is a holy grail for thin, high-porosity curly hair. The Ouidad Advanced Climate Control Featherlight Styling Cream prevents frizz and makes your curls light and super soft. It is made from a natural blend of meadowfoam seed oil and olive oil to seal in moisture and give long-lasting, frizz-free locks. It contains soybean oil, which is rich in antioxidants, vitamins, and protein, for promoting hair growth while retaining moisture. Its formula has climate control benefits which do not let your kinky and curly hair get weighed down. This non-greasy hair cream gives ultra-light and soft hold to your curls while offering protection against heat damage. Watch this video to get a detailed review of the product.
Key Ingredients: Meadowfoam seed oil, Olive oil, and Soybean oil
Pros
Non-greasy
Offers heat protection
Softens the hair
Prevents frizz
Reduces flyaways
Cons
Price at the time of publication: $20.8
Pros
Long-lasting
Prevents breakage
Versatile
Cons
None

Price at the time of publication: $26
The Ouidad Ultra-Nourishing Cleansing Oil Shampoo has an oil-based moisturizing formula that gently cleanses your hair strands and gives them a healthy, nourishing appearance. Its rich fatty acid and protein blend of ingredients repairs dry and damaged hair, removing build-up from roots without stripping away natural oil. The R3 complex of mafura butter and kalahari melon seeds in the product nourishes your hair, leaving behind well-defined and voluminous curls. It also offers UV shield protection. This chemical-free shampoo goes easily on your hair.
Key Ingredients: Mafura butter and Kalahari melon seeds
Pros
Gentle formula
Lightweight
Color-safe
Cons
Price at the time of publication: $26
Pros
Prevents breakage
Lightweight
Sulfate-free
Cons
None
Price at the time of publication: $38.0
The Ouidad Vitalcurl Soft Defining Mousse has unique ingredients that give lightweight hold and volume to your hair. The Omega 3-6-9 Complex with Japanese camellia, sunflower oil, and chia seeds in the mousse target the driest hair strands and builds a lipid barrier around them. As a result, it helps your hair to quickly regain moisture and elasticity from the roots to the ends. In addition, it gives well-defined and long-lasting curls.
Key Ingredients: Omega 3-6-9 Complex, Chia seed, Japanese camellia oil, and Sunflower oil
Pros
Long-lasting curls
Lightweight
Fights frizz
Cons
The award-winning Ouidad Curl Recovery Melt Down Extreme Repair Mask is a great companion for dry and damaged kinky hair. This mask restores elasticity and makes your curls more manageable, leaving them vibrant and bouncy. It contains marufa butter, kalahari melon seed oil, acai pulp oil, and glycerine. These ingredients penetrate deeply and moisturize each hair strand, making them softer and smoother while strengthening the roots.
It eliminates dryness and detangles your hair while adding a lustrous shine to your ringlets. This hair mask works quickly and leaves its effect for a longer time. Its cream-based formula has an alluring tropical fruity fragrance.
Key Ingredients: Marufa butter, Kalahari melon seed oil, Acai pulp oil, and Glycerine
Pros
Mild fragrance
Leaves no residue
Just a little product required per use
Cons
May irritate sensitive skin
The Ouidad Finishing Mist Setting and Holding Spray leaves your hair soft without weighing it down. Its lightweight formula includes styling polymers, jojoba oil, and hydrolyzed silk that cover your curls while giving long-lasting hold. This non-sticky mist does not flake. Its botanical ingredients like jojoba oil extract and hydrolyzed silk protein prevent breakage and your hair color from fading. It leaves your hair shiny and manageable. You can apply it on wet or dry hair to get defined curls all day.
Key Ingredients: Jojoba oil extract and Hydrolyzed silk protein
Pros
Non-greasy
Non-sticky
Lightweight
Long-lasting
Prevents hair breakage
Cons
None
When it comes to curly hair, finding the right products can be a challenge. With so many brands and formulations on the market, it can be hard to find where to start. Ouidad is one of the leading curl care brands, and its products are loved by curlies all over the world. So, what should you look for in an Ouidad hair care product? Scroll down to know more.
Things To Look For In Ouidad Hair Care Products
Hair Type: Make sure the products you are using are compatible with your specific hair type. Ouidad offers a wide range of products for various hair types, so it is important to find the right one for you. Ouidad's line of curl-specific products includes everything from shampoo and conditioner to styling creams and serums. These products hydrate and define curls, offering you the results of your dreams.
Ingredients: Look for products free of sulfates, silicone, parabens, alcohol, and other harsh chemicals. These ingredients may strip the natural oils from the scalp and damage the hair. Instead, choose products with natural ingredients like shea butter or jojoba oil, which help hydrate and nourish the scalp and hair.
Long-Lasting Results: Opt for a product that will give you long-lasting results. Ouidad's Climate Control line is designed to do just that – help your curls withstand the harsh elements while keeping them looking their best. From heat protectants to curl refreshers, this line has everything you need to keep your curls looking gorgeous day after day.
From gels and creams to shampoos to hair masks – we have covered it all in this list. These Ouidad products are formulated to suit different curl types. Get your hands on some of these amazing Ouidad hair products to refresh and nourish your curls!
Why Trust StyleCraze?
Shiboli Chakraborti is a hair care enthusiast who is passionate about understanding the various hair care brands, their products, and formulations. She has done extensive research to pick the best Ouidad hair care products for you. Gels, cleansers, conditioners, refreshing sprays, and more – choosing any of these moisturizing and nourishing hair products will leave you with smooth, shiny, frizz-free hair and also help strengthen it and protect it from environmental stressors.
Frequently Asked Questions
Do Ouidad hair products work for curly hair only?
Yes, Ouidad hair products are specially made for curly hair. They call themselves "curl experts."
Will Ouidad hair care products cause hair loss?
Ouidad products do not cause baldness or hair fall. All of their products are manufactured with zero parabens and sulfates. Still, if you notice residue build-up on your scalp, discontinue using the product.
Are Ouidad hair products silicone-free?
Some Ouidad hair products are silicone-free, but not all. However, all silicones are not bad for you. Silicone creates a film around the strands that does not go with a regular wash. However, a clarifying shampoo can wash it off.
Is ouidad hair products cruelty-free?
Ouidad has verified its genuine cruelty-free status. They, their distributors, and other third parties do not test finished goods or substances on animals.
Are ouidad hair products vegan?
Ouidad hair products range has both vegan and non-vegan alternatives. You can choose the products according to your lifestyle.
How often should you wash your hair if you have curly hair?
You can wash your curly hair twice weekly to clean and nourish them properly.