10 Best Teal Nail Polishes To Wear In Summer – For All Skin Tones – 2023
Chip-free paints that offer a deep-ocean effect or a summer-sky blue like radiance.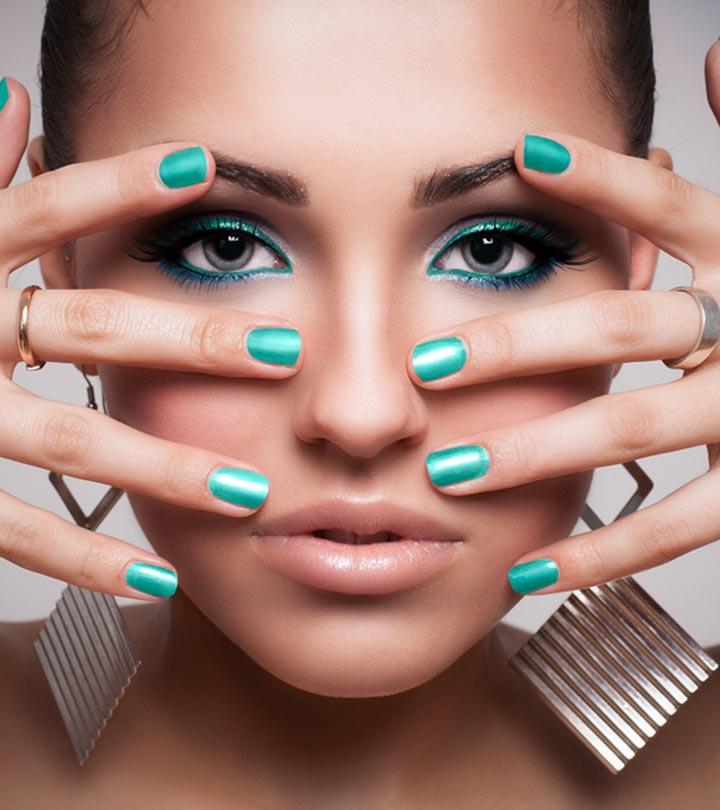 You should go for teal nail polish if you are looking for a nail color that would complement your summer look with floral designs and light cotton clothes. Whether you call it teal, turquoise, or aquamarine, this color will offer you the vibrant deep-ocean effect with a subtle hint of summer-sky blue. It is a versatile nail color that looks good no matter when you wear it. So, whether you wear it to your office every day or rock it on a special date night, teal nail paints can make your look rich. They are available in shimmery, matte, and glittery finishes, and you can easily achieve your desired teal-colored nail look.
The best part is that this nail color compliments almost all skin tones and complexions. If you are ready to try out this new and exciting shade, check out our list of some of the best teal nail colors that are available online. Keep scrolling to find your best match!
What Does Teal Nail Polish Mean?
This summer-perfect color does not just give a bright appealing look but also can help uplift your mood with the calmness of its blues and refreshing effect of its greens. You can experiment and try different teal polishes, based on the finishes they offer. These polishes come in a range of finishes like glossy, matte, and shimmer, and they may even be available in a tinge of metallic colors like gold and silver. So what are you waiting for? Put your reading glasses on and go through our list of the best teal nail polishes that you can try.
Top 10 Teal Nail Polishes To Reveal Your Creative Personality
Get this gorgeous color on your nails that really stands out on any skin tone. This long-wearing teal nail polish shade requires minimal drying time after application and lasts for 2 to 3 weeks. All you need to do is cure it with UV gel and forget all about grinding, filling, imperfect surface, nail cuts and dents. It is color resistant, flexible, and shine-resistant to any test. An FDA-certified product, it is quite safe and you need not shy away from flaunting your fantastic super bright nails this summer.
Pros
Long lasting
FDA-certified
Color-resistant
No grinding or filing
Cons
Some may find the consistency very thick.
Price at the time of publication: $6.99
This teal nail polish redefines the definition of sexy with its shiny and daring color. The rich and long-lasting color gives a smooth feel and high appeal in just one coat. It offers 33% more chip resistance than many conventional nail polishes. It is formulated with base, color, and top coats that helps it last longer. Its 3-in-1 quick-dry formula ensures a gorgeous, streak-free shine. As it dries off in 60 seconds, it makes it easy to apply when you are in a hurry, like when your cab's been waiting downstairs to take you to work.
Pros
Chip-resistant
Full coverage
Dries in 60 seconds
Needs only 1 coat
Long-lasting
Cons
Air bubbles may form upon applying a thick layer.
Price at the time of publication: $7.49
Bless your loved ones with cool and refreshing nails with this teal color nail polish. Made of healthy ingredients like natural resin without any water base, this polish is non-toxic and thick in consistency. It just needs to be cured under a UV/LED lamp to get it all set on your nails. The highly pigmented gel polish is low on scent, anti-lifting, and chip resistant. You may apply 2 coats of the polish for the color to be more opaque and impactful with a matte effect. As a plus, this matte teal nail polish lasts for over 21 days!
Pros
Fast curing
Refreshes your mood
Non-toxic
Lasts longer than 21 days
Environment-friendly
Cons
Price at the time of publication: $17.99
This bright nail polish does what it says. It offers you vibrant nails to make you feel good about yourself. The salon-quality formula gives you 21 days of high gloss wear that you can apply as a polish, and it stays on like gel. The mirror shine finish ensures no chipping or smudging. You just need to shake the bottle well before use and dry it under a UV or LED lamp. But since it contains glitter, the consistency may slightly be thicker than your regular nail polish, but it's totally worth it. Take a look at this video to learn more about the product.
Pros
Glitter finish
Lasts for 21 days
Easy to remove
No chips or smudges
Cons
Some may not like the consistency.
Price at the time of publication: $6.99
If you are looking for a quick, at-home manicure, this beautiful teal nail polish is all you need. It dries off quickly and gives you even finish that lasts for quite long on your nails. Its wear-resistant glossy shine lasts for a week. Its 3-in-1 formula has an in-built base, color, and top coat that glides on smoothly to save you from all the trouble of investing in three different nail paints. So, you need not invest your money and time in buying and applying a separate base, color, and top coat. Enjoy a smooth finish with just one stroke!
Pros
3-in-1 formula
Glossy finish
Smooth application
Dries quickly
Cons
Some may find the consistency thin.
Price at the time of publication: $5.95
You will be the new talk of the town as this light teal nail polish will grab you eyeballs from anyone and everyone. A light green with an evident teal nail polish shade shade of this nail polish can give a serene and magical look and appeal. It goes completely opaque after 2 coats. Cruelty-free and vegan, it is a part of the brand's 'ultra chrome' line of multi chromatic nail polishes. It has been formulated to be applied directly on nails without any base coat. It dries off quickly and offers a beautiful color shifting effect.
Pros
Cruelty-free and vegan
Color shifting effect
Doesn't require a base coat
Completely opaque
Dries quickly
Cons
It would require a couple of coats if you need brighter shade.
Price at the time of publication: $12.5
Compromising on your manicure product may not be a good idea as they do talk a lot about your personality. The color teal, especially portrays open communication and clarity of thought. So, let this nail color speak about your personality. This teal color nail polish offers gel-like finish in an easy 2-step formula. You can use the gel couture along with a top coat for better results for the nail polish to last long. The chip-resistant and fade-resistant recipe makes for a simple home manicure session and offers a beautiful finish that is also easy to remove.
Pros
Long-lasting nail polish
Chip-resistant
Does not fade
Offers even color coverage
Easy removal
No base coat needed
Cons
Some may find the consistency thin.
Price at the time of publication: $7.57
Try on some summery nail polish colors like teal on the canvas of your nails and uplift your mood. Get all creative with this kit of 6 teal nail polish colors. Inspired by ice and snow, this blue teal nail polish will make you happy while making your nail art stand out. It is made of natural resin and hence is non-toxic. Highly pigmented and smooth, it can be customised for a matte or mirror effect. With a proper application with base and top coats, the matte teal nail polish can last for over 2 weeks. It can be an amazing add-on for a great DIY nail art experiment for your lockdown diaries.
Pros
Highly pigmented
Smooth appeal
Easy application
Long lasting
Easy to remove
Cons
The base coat may not dry easily.
Price at the time of publication: $13.99
Make teal your go-to summer color with this nail polish as it is cool and refreshing. If you would like to add some glamor too, this glitter teal nail polish is definitely the right pick. Part of the glam finale collection, this gives a dense green teal micro-glitter finish. It is highly pigmented and long lasting. You may have to apply a no-chip top coat to protect your nails after applying a coat or 2 of the polish depending on your preferred opacity of the color. Up and running in the market since 1998, this nail care brand has become a cult favorite for a reason.
Pros
Highly pigmented
Micro-glitter finish
Long lasting
Dries quickly
Cons
Some may find it too glittery.
Price at the time of publication: $7.6
Break the ice at your new venture with this blue teal nail polish. Paraben-free and made in the USA, it is also a favorite among beauty and skin care professionals. It is safe for use as it is made without the 7 harmful toxins like formaldehyde, DBP, toluene, camphor, triphenyl phosphate, xylene, and ethyl tosylamide. The vegan formula gives a glossy finish with an icy teal shade with grey undertones. It glides smoothly and offers opaque and even coverage that lasts long. For better results, you may apply it with a base and top coats.
Pros
Glossy finish
Cruelty-free and vegan
Non-toxic
Paraben-free
Easy application
Cons
Some may find it slightly streaky.
Price at the time of publication: $9.49
Now that you've gone through plenty of options when looking for a teal nail polish, here's a comprehensive buying guide that we present to you to help you make the right choice.
How To Choose The Right Teal Nail Polish
If you are looking for nail polish for a particular occasion, you may want to check the finishes it provides. Nail paints usually come with matte, shimmer, and glitter finishes. You can pick a combination of these or pick one alone to complement your preference and the theme of the event. Matte finish gives a more formal and toned-down look while shimmer or glitter can be perfect wears for parties or some special events.
Some may find the scent of a nail polish irritating and overpowering. And so, you can look for an odorless formula. Nail polishes may have acetone and hence, when you apply the polish, the acetone evaporates leading to a pungent smell. If a strong smell is something you're avoiding, avoid buying nail polishes with acetone.
Ensure that you read the label of the nail polish carefully when you are picking one. You can look for non-toxic and paraben-free formulas. Stay away from toxins like dibutyl phthalate (DBP), toluene, formaldehyde, formaldehyde resin, camphor, ethyl tosylamide, xylene, or triphenyl phosphate (TPHP). Toxic ingredients in the nail polish can cause hormonal changes, eye irritation, nervous system damage, and other issues.
Recommended Articles