11 Warmest Bathrobes Of 2023 For An Extra Cozy Layer To Lounge In
Get warm, comfortable, lightweight, and stylish bathrobes to upscale your me-time!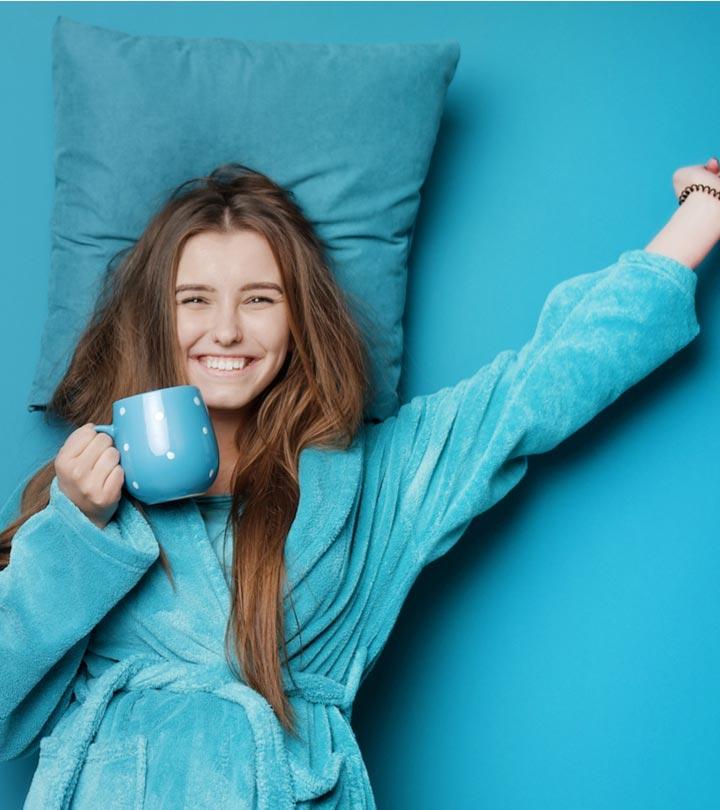 Sure, a towel is enough to wrap yourself after a cozy and warm bath session, but there is something supremely comforting about bathrobes. You can also slip into one after a long day at work. The best warm bathrobes for women can be a great addition to your work-from-home lifestyle. If you are looking for comfort, you should surely invest in a warm and comfortable bathrobe.
Six different fabrics can give you the feeling of warmth after every bath. These fabrics include microfiber, flannel, cashmere, wool, velour, and fleece. You have a myriad of options to choose from, given there are plenty of brands out there making these robes to suit different tastes. This article lists 11 highest-rated warm bathrobes for women that are available online and are worth trying. Keep reading further to explore our top picks and choose one now! What are you waiting for? Dive right in!
The 11 Warmest Robes For A Snug And Comfortable Day Indoors
Adequate rest means for you to be in absolute comfort. This begins with a robe made from coral fleece fabric, which is why one of the warmest women's robes comes from Alexandra del Rossa. Anti-pilling or shedding and crafted without harmful chemical dyes, the warm, plush robe features a cozy hood so your neck and ears aren't out in the cold climate. It also comes with 2 large pockets so you can keep your hands inside for extra comfort. If you choose to fall asleep in it, the robe will not get in the way of deep slumber all through the night even when you twist and turn, thanks to the inner and outer ties.
Pros
 Long-lasting
 Made without chemical dyes
 Hooded fleece bathrobe
 Zero pilling or shedding
 Available in 38 colors
Cons
 Sleeves might be slightly baggy for some
Price at the time of publication: $49.99
Are you a big fan of big collar long warm robes? Well, Richie House's 100% polyester-coral fleece fabric offering comes with an oversized shawl collar that's elegant and supremely plush. The robe is designed with fluffy cuffs at the sleeves, collar, and pockets to break from the monotonous look. It also shows off a self-belt that cinches at the waist to keep you covered and intact. Apart from being anti-pilling, it is also roomy and will replicate the feeling of being wrapped up in the coziest of blankets. You will find yourself completely relaxed in the ultra-soft texture that this robe promises.
Pros
 Spacious and extremely soft
 Made with 100% polyester coral fleece
 Elegant and luxurious design and feel
 Big collar and pockets
 Available in 45 pretty colors
Cons
 It could feel a little weighty to some.
Price at the time of publication: $39.99
We get that warm robes for winter are meant to keep you comfy and snug at best. However, in some cases such as this one here, robes can also be sexy. This warm kimono robe features 3/4 sleeves in a wrap design. There are 2 elegantly placed pockets sewn in to keep your hands warm, while an oblique V-neck flatters your clavicle. The belt is also attached to the robe from the back to erase the worry of losing it. To flatter your silhouette and keep you warm at the same time, the ties are located both inside and out for an even and secure closure.
Pros
 Lightweight
 Not see-through
 Does not overheat
 Soft, breathable fabric
 All-day comfort
 Available in 38 colors
Cons
 Belt area might be slightly higher than the usual waistline
Price at the time of publication: $30.98
The Turquaz ladies' warm robes are made with 100% polyester keeping your comfort in mind. This one is a lightweight fleece that's gentle on the skin and relaxes you while keeping you dry with its impeccable absorbing qualities. It also comes with a waist sash that secures the fit and stays in place. So, if you're on the quest for a soft, luxurious bathrobe that puts your warmth and coziness above everything else, check out this soft warm robe and experience the kind of dreamy, splurge-worthy fluff you have always wanted.
Pros
 100% polyester
 Extremely soft
 Good absorbing properties
 Durable materials
Cons
Price at the time of publication: $59.99
Do not stop your search for the perfect warmest women's robe unless you've tried this fleece-hooded one. Crafted from premium flannel fleece, the soft warm robe feels incredibly fluffy and cozy. The fabric isn't just lightweight but it also promises not to shrink after washing. Full-length with a deep hood to keep the ears and neck warm, it comes with a self-tie closure around the waist with 2 loops to customize your fit. Besides making you feel all snug and homey, this robe is also super-absorbent, breathable, and definitely a wardrobe staple for the whole year.
Pros
 Soft and warm flannel fleece
 Big-hooded bathrobe
 Rich, luxurious texture
 Can be used all year round
 Adjustable belt with 2 loops
 Available in 5 colors
Cons
 Might not be long enough for some
Price at the time of publication: $39.99
Long warm bathrobes are commonly seen with ties or sashes, but this particular warm fleece robe blurs the line between regular PJs and a house-robe as it's designed with a zipper closure. You won't have to worry about your robe coming undone while you sleep or lounge around the house with company. With 2 wide pockets on the side, this thin and oversized robe will do its job of keeping you toasty like a blanket and ensuring zero shedding even as it begins to age. It doesn't even generate static electricity, so it's hard not to feel like you have hit the jackpot with this one.
Pros
 Warm fleece robe
 Comes with a zipper closure
 Has hooded and no-hood variants
 2 deep side pockets
Cons
 Range might not include all plus sizes
Price at the time of publication: $38.99
Skipping on this robe might be the equivalent of skipping out on true comfort because of the high-quality flannel that basically soaks you in. As one of the warmest women's robes, the full-length garment features a huge, furry collar that leaves nothing but your face exposed to the cold. Insanely soft and luxurious, this bathrobe makes for a great gift for your partner or yourself, recreating the feeling of a warm, sunny day in your mind. It's super-light, so you won't feel bogged down and can wear it around the house all day long.
Pros
 Roomy and breathable
 Big fluffy collar and cuffs
 2 deep side pockets
 Lightweight and soft
 Available in 5 colors
Cons
 You might need to size up.
Price at the time of publication: $38.99
Imagine coming home after a long, hectic day to a hot shower and this unbelievably plush housecoat that looks as great as it feels. Made from pure polyester, this cozy warm robe has a minimalistic design with tiny perforations throughout the fabric as well as a thick poofy collar to keep your neck and chest warm. The robe might seem a little too thick and heavy at first glance, but therein lies its charm. In reality, it's lightweight and offers the right amount of warmth for you to depend on it during chilly winter nights.
Pros
 Warm, cozy polyester robe
 Long robe with minimal design
 Comes with attached belt at the back
 Highly absorbent and versatile
 Available in 6 colors
Cons
 Might have a slight chemical odor at first
Price at the time of publication: $32.99
Microfiber women's warm robes are soft and gentle on the skin and actually dry you off like a towel. This one by Artfasion has a premium quality construction that makes it last longer and keep you warm. But there is a key difference between this and the others — this robe is a tad slim, which defines your silhouette and accentuates your curves. With an elegant V-shaped neckline and 2 pockets at the side seams, the bathrobe is a worthy investment in your personal comfort. It also has the fluffiest pair of cuffs we've ever seen. No shedding or pilling is expected since it's a durable piece that won't fade for years.
Pros
 Microfiber fabric
 Slim-fit robe to accentuate curves
 V-neck collared robe
 No shedding or pilling
 Dye does not fade
Cons
Price at the time of publication: $39.99
SeaKanana brings you a long, hooded, and extra-fuzzy bathrobe that will actually make you look forward to winter. Designed to make you feel relaxed (read: lazy), the flannel-polyester robe has a smart button at the top to double-secure you for a full day of coziness, even when you have company. It comes with 2 big patch pockets and 2 sets of belt loops in different waist heights, making it versatile for a variety of sizes. The deep hood with a contrasting color on the inside completes the look, though you definitely will not want to get out of bed, let alone go outside when you're in this comfy robe.
Pros
 Made from flannel polyester
 Contrasting hood design
 Button at the chest
 Shawl collar
 Available in 3 colors
Cons
 Short warm robe might not be suitable for taller women
Price at the time of publication: $21.99
This unique robe by the TowelSelections is made of 100% absorbent and organic cotton. The terry cloth fabric provides a soft and smooth texture while excelling at absorbing water. Use this Turkish bathrobe for your daily showers as it's double-stitched to last better and longer. Paired with a removable sash or tie, you can manually adjust the fit depending on the amount of coverage you need. Neither too thick nor too thin, this lightweight robe will be in your wardrobe for the long run.
Pros
 Machine washable
 Soft and deep hood
 Luxurious Turkish cotton
 Keeps you warm and dry
 Available in 11 colors
Cons
 You might have to size down.
Price at the time of publication: $46.99
These were some of the best warm robes for women that we thought you'd definitely want to give a try. However, choosing the right robe isn't always an easy task, so we have a few tips up our sleeves to help you pick the best bathroom staple.
How To Choose The Warmest Bathrobe
Robes come in many shapes, designs, and purposes. For instance, you might want to buy a robe that is solely meant for post-shower dry offs, or you might want something that is soft and comfortable enough to wear all day and night long. Keep this purpose in mind before making your choice as some fabrics may not be comfy enough for all-day use.
Some robes have synthetic materials that are warm and soft, like fleece or microfiber, while others are combined to create the right amount of warmth. Be sure to test out flannel, fleece, wool, cotton velour, microfiber, etc. to base your decision on whether synthetic or natural materials make your skin feel great.
An average robe comes with a single pocket at least, but not all robes are designed that way. Make sure to check if there are pockets deep enough for your hands or other small items that you'd want to store before buying.
Length is everything for a good robe. It has to serve the purpose of keeping you warm throughout your body. If you are only buying it for post-shower coverups, you can get away with a shorter, knee-length robe. But if you want something that keeps you warm and cozy through winters, go for an ankle-length fit and you'll be set.
Whether it is Turkish cotton, terry fabric, or microfiber, owning the warmest robe is all about what makes you feel like you're drowning in luxury. Long, warm women's robes have only gone up in demand lately, thanks to the quarantine lifestyle, which means there are tons of new designs and materials to choose from now. This might have watered down the selection, but our roundup of the crème de la crème of robes will make it easier for you to pick something timeless that lives up to your need for extreme comfort. Since it's your personal coziness at stake, make sure not to compromise and indulge freely in a robe that lasts long.
Why Trust StyleCraze?
Priyam Gupta, who authored this article, is a fashion aficionado and is often found trying out different fashion items. To help her readers find the best warmest bathrobes, she tried some herself and made a list of the best ones. She also read many product reviews to ensure that the listed ones are safe for use. These listed items have the highest rates and keep you comfortable.
Frequently Asked Questions
What is the warmest material for a robe?
Flannel and wool are the warmest materials that help retain heat and keep you warm after a bath.
Do bathrobes keep you warm?
Yes, bathrobes keep you warm as they cover your body entirely and retain heat effectively with suitable fabric.
Are waffle bathrobes warm?
Yes, waffle bathrobes feature good fabric breathability, which keeps you warm and cool according to the environment.
Is a bathrobe better than a towel to warm?
Yes. The bathrobe covers your body more than a towel, so it is more suitable for heat retention.
What is the softest material for a robe?
Cotton, fleece, and silk are the best materials for manufacturing a soft robe.
Can I use a bathrobe instead of a towel?
Yes, bathrobes are a fantastic alternative to towels, which not only soak all the water but are also fashionable.
Recommended Articles: