The 10 Best Silicone-Free Moisturizers Suitable For All Skin Types
Use gentle, lightweight, and safe silicone-free moisturizers to let your skin shine!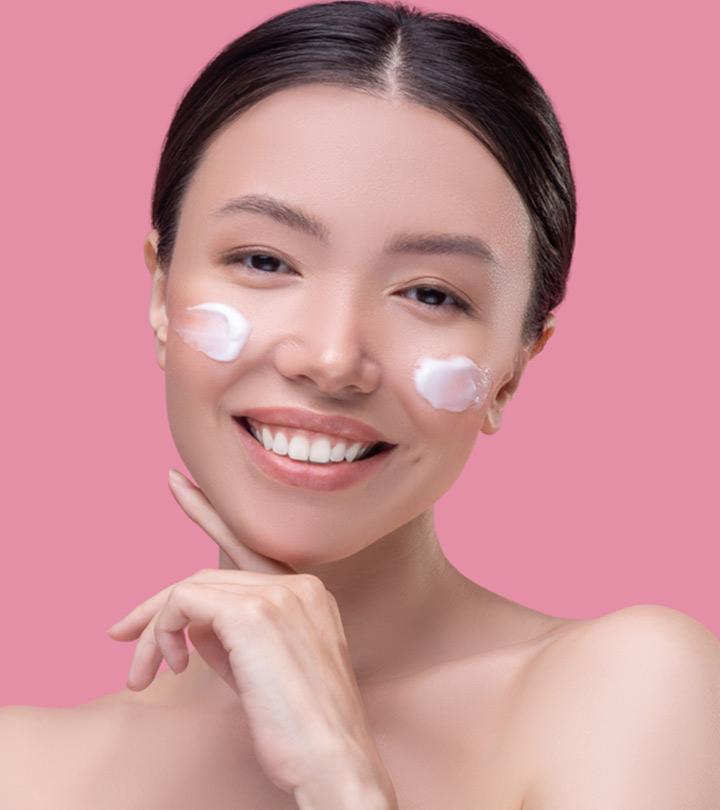 Often, our skin flares up with breakouts and seems greasy after applying a moisturizer. This is because of the silicone present in these formulae. To avoid this, you can switch to silicone-free moisturizers.
Moisturizers are an essential part of our everyday skin care regimen. They keep your skin smooth, healthy, and young. But the relationship between silicone and our skin is complicated. Although it locks in moisture, it also clogs pores, leading to breakouts and acne. If you can relate to this, then you must go through the list of silicone-free moisturizers listed below. We have options available for all skin types – whether you are eyeing a fragrance-free formula, an anti-aging solution, or simply have a very oily or dehydrated skin type, we have got your back. Keep reading to find the 10 best silicone-free moisturizers for all skin types. With this, you can be carefree about having smooth, nourished skin minus the greasiness. Don't wait; get your fave now.
10 Best Silicone-Free Moisturizers For Healthy And Non-Greasy Skin
This anti-aging and fragrance-free silicone-free moisturizer is a godsent formula that deals with crepey skin, loose skin, wrinkles, turkey neck, and fine lines. With the power of 4 benefits, it moisturizes, triple firms, repairs, and lifts, all in one application. The formula is highly potent, advanced, formulated with clinically-researched ingredients such as hyaluronic acid, collagen, and retinol along with natural ingredients like coconut oil, aloe vera gel, jojoba seed oil, and avocado oil that help with dramatic reduction of saggy skin and tightening of aging skin. It also absorbs quickly and is suitable to use during the day before makeup or as a night cream on the neck and decollete areas.
Pros
Improves elasticity
Reduces double chin
Gentle yet deep moisturizing
Stimulates collagen and elastin
Leaves a youthful and radiant glow
Suitable for all skin types
Cruelty-free
Free from paraben, SLS, dyes, and propylene glycol
Cons
Price at the time of publication: $22.48
With this all-natural lotion, consider your full-body moisturizing needs covered. A silicone-free body moisturizer with coconut oil, jojoba seed oil, shea butter, vitamin E, and other organic ingredients, it goes on smoothly, provides long-lasting hydration, and ensures all-day moisture, and doesn't leave behind a trace of greasiness! The formula is incredibly light and leaves the skin soft and supple with every use. The lotion is so gentle that you can use it on sensitive and eczema-affected skin.
Pros
Hypoallergenic formula
Suitable for all skin types
Vegan
Cruelty-free
Gluten-free
Paraben-free
Cons
Some may find the consistency slightly runny
Price at the time of publication: $12.99
White lines (when you scratch) or cracks on the skin are signs of extreme dryness and call for urgent attention and hydration. The Maui Moisture Extra Hydrating + Shea Butter Body Lotion will satiate your skin's thirst with its ultra-moisturizing and creamy blend. Infused with shea butter, aloe vera, and pure coconut water and macadamia oil, this silicone-free moisturizer for dry skin goes on smoothly and pampers dehydrated skin to leave it soft on the outside and supple inside.
Pros
Ultra-hydrating formula
Ensures healthy-looking skin
Sulfate-free
Paraben-free
Vegan
Suitable for all skin types
Cons
May not be the best fit for those with enlarged pores
Damaged and aging skin may cast a dull look and make your skin appear older than your age. However, you can completely change that once you introduce this protein boost by Drunk Elephant formulated with 9 peptides, pygmy water lily, and amino acids. The cream replenishes moisture lost over the course of time and protein to improve firmness, texture, and tone with its ultra-moisturizing formula. Moreover, this silicone-free facial moisturizer tackles sun damage, wrinkles, fine lines and restores the suppleness efficiently. Click this video of Drunk Elephant Protini Polypeptide Cream to know more about the product.
Pros
Gel-cream consistency
Clinically-effective formula
Restores youthful appearance
Ideal to apply during the day and at night
Cruelty-free and suitable for sensitive skin
Free from SLS, alcohol, synthetic ingredients, fragrances, essential oils, and more
Cons
Price at the time of publication: $22
Open pores and sensitive skin are a nightmare combo, don't we know it! But before you give up, try this non-comedogenic silicone-free moisturizer by Olay. Apply it during the day under your makeup and at night for 24-hour hydration. The cream soothes and pampers irritated and inflamed skin and reinforces the skin's natural barrier too. The ultra-hydrating Hungarian water essence includes white tea, cucumber, vitamin B3, and aloe vera to comfort and care for damaged skin.
Pros
Mild and gentle formula
Relieves stress and dryness
Suitable for sensitive skin
Lightweight
Dermatologist-tested
Free from fragrances, parabens, oils, and dyes
Cons
Some may find the consistency too thick
Price at the time of publication: $17
Do you have extremely dry and sensitive skin? If yes, you must get your hands on this silicone-free face moisturizer that ensures 48 hours of intense hydration. With a refreshing and rich blend, the cream penetrates the skin to eliminate dryness and leave a supple and soft glow. Its formula contains pure hyaluronic acid, plant sugars, and Vichy's 15-mineral rich volcanic water to intensely hydrate your skin, strengthen the skin's natural barrier, and prevent moisture loss. And the best part is, it plumps the skin and leaves it radiating like it was never dry ever. Also infused with shea butter, sunflower seed oil, and jojoba seed oil, this rich face cream is dermatologist-tested, allergy-tested, and sensitive skin-tested. Here is the personal review of Vichy Aqualia Thermal Richie-Rich Cream Face Moisturizer
Pros
Replenishes loss moisture
Improves complexion and skin tone
Reduces the appearance of fine lines
Targets and repairs dryness and dullness
Protects from pollution and harmful UV rays
Absorbs quickly, paraben-free, and mineral oil-free
Cons
Formulated especially for dry skin only
Price at the time of publication: $32.0
Be it sun, wind, or air conditioning — nothing can dry your skin out if you incorporate this deeply hydrating miracle product in your skincare routine. With ingredients that dive right in to repair and moisturize your skin and skin cells, the silicone-free moisturizer for acne-prone skin ensures an 8-hour moisture lock with its organic blend. The formula contains aloe vera, vitamin C, and shea butter that improves skin and reduces acne scars, UV damage, and blemishes. Vitamin B5, rose water, vitamin E, and tea tree minimize irritation and inflammation effectively. It also contains ginseng and green tea that prevents greasiness and pore-clogging. Go green for healthy skin with this one!
Pros
Leaves a dewy and healthy glow
Stimulates collagen and improves texture
Vegan, fair-trade, and cruelty-free
Non-comedogenic, gentle, and safe formula
Suitable for acne-prone, oily, sensitive, and dry skin
Free from silicones, parabens, gluten, SLS, sulfates, and more
Cons
May not be best suited for acne-prone skin
Price at the time of publication: $44.98
With hyaluronic acid, squalene, and hydrolyzed rice protein, this could be the most powerful blend to tackle dryness! The formula combines hyaluronic acid with vitamin B5 to moisturize and hydrate intensely. Squalene, derived from sugarcane, fights aging lines and improves the skin's firmness, whereas hydrolyzed rice protein and vitamin E restore the suppleness and repair UV damage. With this double bonanza you can fight aging signs and dryness with this pure plant-based cream.
Pros
Improves elasticity
Leaves a healthy-looking glow
Suitable for all skin types
Lightweight and non-greasy
USDA-certified, cruelty-free, eco-friendly, and paraben-free
Cons
Not suitable if you are sensitive to smell
Price at the time of publication: $18.95
Turn your slumbers into a blissful time for your skin. This silicone-free night moisturizer will not only hydrate your skin overnight but fight aging signs and improve firmness too. Infused with retinol (vitamin A), monk's pepper, and chroNOline™ peptide, this anti-aging and hydrating cream will soothe tired and irritated skin and restore your healthy glow every morning. Enriched with other natural ingredients like aloe leaf juice powder, jojoba seed oil, witch hazel water, and sweet almond oil, the nutrient-rich moisturizer also actively works towards improving skin tone and reducing skin discoloration, fine lines, and wrinkles.
Pros
Cruelty-free
Vegan
Reduces wrinkles and fine lines
EWG-verified and non-irritating formula
Suitable for mature and all skin types
Free from parabens, sulfates, phthalates, artificial fragrances, and more
Cons
Contains phenethyl alcohol, which may not suit all skin types
Price at the time of publication: $34.66
This silicone-free moisturizer should be in every makeup lover's skincare kit. The blend is highly multipurpose! You can use it as a daily moisturizer, as a hydrating primer before makeup, or apply it to improve skin's natural glow. It contains skin-energizing ingredients such as fermented ginger, kombucha, fermented green tea seed oil, and prebiotic. The cream will leave an illuminating and dewy finish on the skin, nourish intensely, and be a great choice to fight dull and dry skin. Check this video to learn more about ELEMIS Superfood Glow Priming Moisturiser.
Pros
Brightens skin
Adds a dewy glow to the skin
Hydrating
Can be used as a makeup primer
Cons
Price at the time of publication: $50
Shine without silicone this season! There you go, those were the 10 best silicone-free moisturizers of 2021 for a non-greasy experience. However, if you are still wondering how to pick the right moisturizer for your skin, you must check our tips in the buying guide below.
Things To Consider Before Buying A Silicone-Free Moisturizer
Look out for the following features before buying the product:
Pick a moisturizer that is suitable for your skin type. Although silicone promotes hydration, hyaluronic acid will do a better job without forming a greasy layer on the skin. Also, hyaluronic acid-based moisturizers are suitable for all skin types, whereas creams with retinol are ideal for mature skin, and water-based creams are great for both dry and oily skin.
It's a given that silicone-free moisturizers would not have silicone, but to be safe, scrutinize the label and look out for silicone or dimethicone (belongs to the silicone family). Besides this, the cream should not have parabens, phthalates, alcohol, sulfates, and other harsh chemicals too.
Non-comedogenic or oil-free
Most of the silicone-free moisturizers may be non-comedogenic or oil-free, but some may have ingredients such as coconut oil, which is comedogenic and may clog pores. So, if you have open pores, look out for the non-comedogenic feature before buying.
Silicone-free moisturizers penetrate the skin, unlike silicone-based creams that stay on top and form a shiny layer. So, for the best experience, you must pick a lightweight, quick-absorbing, and long-lasting formula.
Why Trust StyleCraze?
The author of this article, Vaishnavi Kothuri, is a skin care enthusiast. Her interest in various skin care products and in-depth research of their ingredients make the best compilation from which readers can easily choose. After extensive exploration and going through many genuine customer reviews, this list of the best silicone-free moisturizers was put together. These are not only silicone-free but are also non-comedogenic
Frequently Asked Questions
What is silicone and how is it used in skincare?
Silicone is a chemical ingredient used in creams and lotions to form a layer on the skin to trap moisture and increase hydration. It also helps the product go smoothly over the skin and offers a healthy texture.
What are the advantages and disadvantages of silicone in skin care?
Silicone has its pros and cons. On the bright side, it traps moisture to increase hydration and is used in sunscreens to make your skin waterproof and swea-tproof. However, it can also trap dirt, sweat, and sebum and trigger irritation, acne, or breakouts.
Why is it important to consider using a silicone-free product?
Silicone has no long-term benefits for your skin. All it does is form a layer on the skin that may make your skin appear greasy or overly shiny at times. Hence, it's essential to switch to a silicone-free product as it is non-comedogenic, oil-free, and will prevent breakouts, irritation, and greasiness.
Is silicone bad for oily skin?
Absolutely! Silicone traps dirt, sebum, and impurities in the pores, which will only worsen your skin's condition in the long run. So, if you have combination, oily, or acne-prone skin, it is best to avoid silicone-based skincare products.
Do I keep silicone on my skin or wash it off?
The form of silicone's present in beauty and skin care products doesn't evaporate quickly from the surface of the skin. They can cause irritation and clog the pores. It is better to wash it out of your skin at the end of the day; otherwise, the particles get stuck in the pores.
Does silicone cause break out?
Yes. Silicones create an artificial barrier on the skin's surface that traps comedogenic substances that can flare up the chances of causing breakouts.
Is silicone good for dry skin?
No, silicones are bad for dry skin. They prevent moisture from entering the skin and alter the pH balance of the skin resulting in fine lines and wrinkles.
How do you know if a product has silicone in it?
If the product ingredient list contains cyclopentasiloxane, dimethicone, dimethiconol, amodimethicone, phenyl trimethicone, and cyclomethicone then the product is silicone-based.