11 Best Cordless Hair Straighteners (2023) – Reviews And Buying Guide
Straighten your hair like a pro anytime with the portable, easy-to-use straighteners.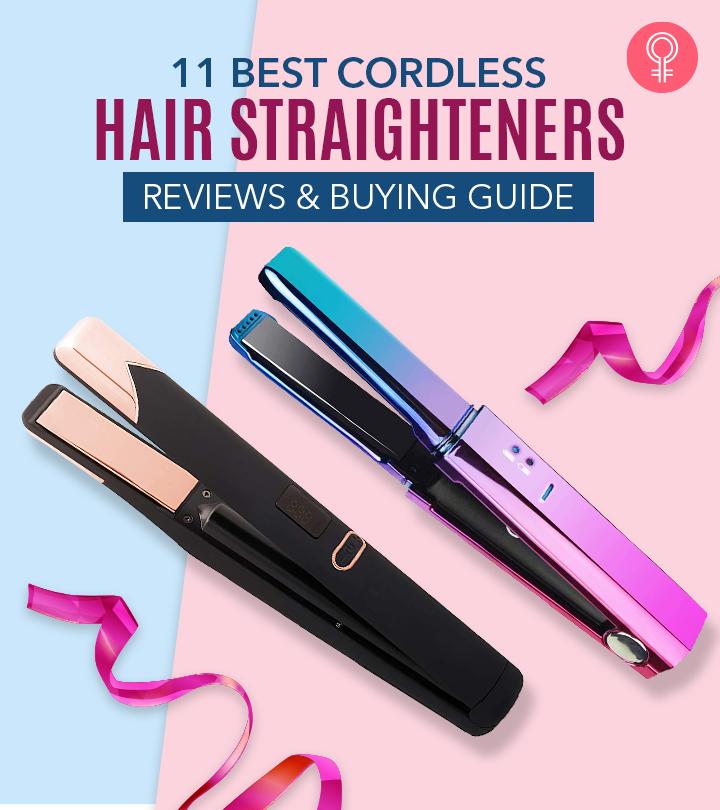 Given the leaps and bounds the beauty industry has made, you shouldn't be standing in front of your plug point for 30 minutes to get your hair straightened. Ideally, you should be using the best cordless hair straightener that is available on the market. It is way safer and more efficient than using the devices of the past. Imagine life without tangling cords and early morning frustrations. Also, with the cordless straightener, you can even straighten your hair on the move. That means, you won't have to freak out seeing that your straightened hair has started to lose its straightness and become frizzy during the course of your day. All you need to do is to get your straightener out and find a quiet corner to create a cute and unique look.
To help you make the best choice, we have gathered the best cordless hair straighteners available now after examining features and reviews in a carefully collected list below.
11 Best Cordless Hair Straighteners Available Right Now
The new Conair Unbound™ Cordless Titanium 1-inch Multi-Styler is made with a revolutionary cordless advanced technology that allows you to create curls and waves by locking the plates into place. You can also straighten your hair with this styler anytime, anywhere. The titanium plates and barrel on this styler glide through your hair to give you polished, salon-quality results. This 1-inch Multi-Styler has 2 lithium ion batteries and a removable USB charging cable. After a single charge, this cordless hair styler can be used for up to 25 minutes, though the run time varies based on the heat setting and hair type. You must charge this appliance fully overnight before you use it the first time. This cordless straightening iron reaches 400° F and is equipped with an auto shut-off feature. The 4 adjustable heat settings allow you to select the desired temperature based on your hair type. The Unbound™ Multi-Styler is perfect for travel and on-the-go styling. This travel hair straightener fits in your handbag or gym bag easily. Watch this video with the tester's experience to know more about the product.
Features
Barrel Size: 1 inch
Material: Titanium plates
Maximum Heat: 400° F
Of Settings: 4 heat settings
Type Of Battery: Rechargeable
LED temperature display
Pros
Easy to use
Portable
Perfect for hairstyle touch-ups
Can creating multiple styles
Reduces frizz
Cons
Not suitable for thick hair
Cannot be used while charging
The Aesty Dual Heater Flat Iron is a premium-looking cordless hair straightener with a ceramic plate material coating that focuses on keeping your hair healthy and shiny at all times. In addition, these ceramic heating plates are highly durable and slide smoothly along your hair without tugging or pulling while offering rapid heat recovery. The live heat control option ensures you are styling your hair at the exact temperature you picked without overheating. This quick heating tool comes with various heat temperature settings, making it easy for you to accordingly style your hair. You can use it for touch-ups at parties or special occasions. In addition, the battery-powered hair straightener comes with a travel storage pouch for easy storage during traveling and gives you the freedom to style your hair anywhere.
Features
Plate: 1.5 inches
Material: Ceramic-coated plates
Maximum Temperature Heat: 410° F
Of Settings: 4 temperature settings
Type Of Battery: Samsung SDI
LED temperature display
Temperature control button
On/off button
Hybrid mode
40 second heating time
Flight Mode Plug
Pros
Compact and adorable design
Heats up quickly
Easy to use
Lightweight
Cons
None

The PRITECH Cordless Hair Straightener has triple-coated ceramic plates with built-in comb teeth that smoothen the hair when straightening it. It is a cordless hair straightener that is suitable for thin and short hair. This mini straightener has an LED display and 3 temperature levels (165°C/185°C/205°C). It is suitable for travel and outdoor use. This mini flat iron has a 2400 mAH lithium battery that is supported with standard USB interface charging. This hair tool takes about 4 hours to charge fully, and its run time is about 20-25 minutes. The wide straightening plates ensure better coverage and quick styling. This video with the tester's experience will give you more insights into the product.
Features
Plate Size: 1.5 inches
Material: Ceramic-coated plates
Maximum Heat: 400° F
Of Settings: 3 temperature settings
Type Of Battery: 2400 mAH lithium battery
LED temperature display
Temperature control button
On/off button
Pros
Affordable
Easy to use
Heats up quickly
Very lightweight
Perfect for traveling
Cons
Inconvenient placement of the on/off button
The TYMO Ring Plus Straightening Brush is an easy-to-use hair straightener with a convenient brush design. It can easily glide through your hair and straighten them in one motion. This hair styling tool has a patented teeth design and a special nano-titanium coating. The temperature range of the straightening hair brush is 250°F to 410°F, making it the ideal choice for all hair types. The LED display on the hairbrush makes it simple to see the temperature. Its integrated double ionic generator technology controls frizz by producing 3 million negative ions and locks in moisture in your hair, enhancing its natural shine and preventing damage.
With TYMO, you can easily achieve soft, silky, and straight hair at home, especially because its thermal insulation frame prevents the straightener from overheating your hair.
Pros
Adjustable heat options
Nano-titanium coated plates
Prevents overheating
Portable
30 minute auto off
Fast heat-up time
LED display
Cons
None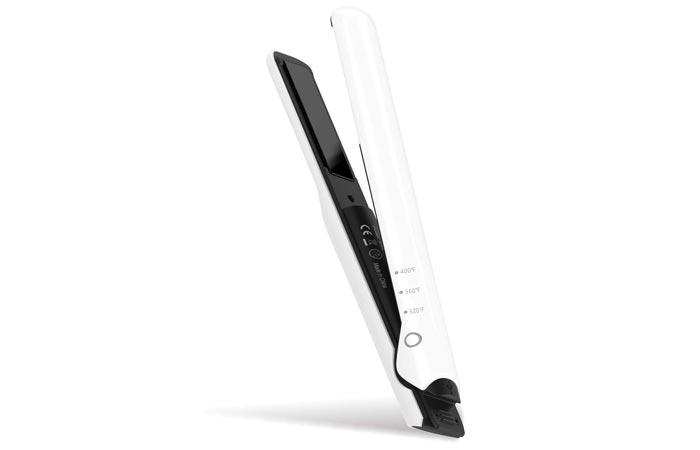 This cordless design tool is one amongst the best mini hair straighteners by Salondepot. It is a rechargeable mini travel flat iron that is compact and convenient for traveling and on-the-go plans. Its ceramic floating plates glide over your hair, resulting in a smooth and polished finish. It comes with a safety lock and is really useful if you cannot wait for it to cool down before keeping it away. It also keeps the straightener from getting switched on by accident. This cordless design mini flat iron does not tug, snag, or pull at your hair. This makes it easier for you to touch-up your straight hair before a big date or even. Ceramic hair irons preserve the hair's natural moisture, which allows it to lay flat, and close the cuticle, which leaves your hair looking shiny and healthy.
Features
Plate Size: 0.6 inch
Material: Ceramic floating plate
Maximum Heat: 400° F
Of Settings: 3 temperature settings
Battery: 4000 mAh battery
LED temperature display
Pros
Sleek design
Long-lasting battery life
Heats up quickly
Safety lock
Great quality
Cons
Takes a long time to fully charge
The Lunata Cordless Flat Iron is a full-sized titanium-plated flat iron that heats up to 450° F. This unique, cord-free styling styling tool is designed to create the perfect straight finish, curls, or waves with ease. The titanium plates glide through the hair smoothly, giving you the silkiest smooth finish that makes you look like you just stepped out of the salon. You can get this flat iron in either a glossy white and rose gold finish or a matte black and rose gold finish, whichever complements your style. To make an informed decision before buying, you can check out this video with the reviewer's experience.
Features
Plate Size: 1 inch
Material: Floating titanium plates
Maximum Heat: 450° F
Of Settings: Digital adjustable temperature range of 200-450° F
Type Of Battery: Lithium ion 5000 mAh battery
Pros
Trendy design with a glossy finish
Long battery life
Great for long hair
Heats up quickly
Cons
KISS Rouge Cordless Flat Iron heats up in seconds and has a lightweight, compact design for hairstyle touch-ups at work, at the gym, or on the go. Stash it in your purse and carry it around the world! This mini straightener charges in 2.5 hours with a USB port. It is also bi-voltage, which means it is perfect for travel. It also has an automatic shut-off feature that shuts it off after 8 minutes.
Features
Barrel Size: 3/4 inch
Material: Titanium plates
Maximum Heat: 420° F
Of Settings: 2 heat settings
Type Of Battery: Rechargeable lithium ion batteries
Automatic shut-off feature
Pros
Minimalist design
Lightweight
Heat protective cap
Fast charging time
Value for money
Automatic shut-off feature
Dual voltage charging
Cons
L'ANGE Hair Flat Iron has rounded edges and floating plates that help you create pin-straight tresses. The hair straightener has tourmaline-infused ceramic plates along with an accessible on and off button to customize your styling session. It also has a rotating dial that adjusts the temperature between 140 °F and 450 °F. This fantastic hair straightener will adapt to all hair types. It is a go-to flat iron for everyday precision styling because of its 9-foot length and flexible cord, which lets you move around freely to achieve the ideal look. With this hair straightener, you can achieve sleek and smooth straightened hair. It also has infrared heat technology, which reduces static for a silky and shiny appearance. All you need to do is choose the right heat setting that best suits your hair texture or type, and you'll be truly amazed by the results.
Pros
Ceramic plates
Even heat distribution
Adjustable temperature
Flexible cord
9 foot long
Easy to use
Cons
There is no automatic off system
The GFI Hair Titanium Straightener is built with safe and advanced technology that offers a far-infrared effect. It makes this portable flat iron transfer moist heat directly to the hair and smoothes out coarse hair without any heat damage. The titanium plates are suitable for all hair types, thick, coarse, or fine. The tool helps you smoothen and straighten your hair and delivers professional performance. With an adjustable digital temperature control of up to 450°F and an innovative turbo heating element, your flat iron will be ready to use in as little as 5 seconds. You can safely hold and use the straightener, thanks to its special 360-degree flexible swivel cord. This portable hair straightener also has an extended cool tip and an auto shut-off function to ensure that no damage occurs if you forget to turn off the switch.
Pros
Snag-free
Automatic shut-off
Cool edge tip
Travel friendly
Adjustable temperature
Cons
The Pursonic Mini Cordless Flat Iron is perfect for travelers and anyone who is always on the go. The micro USB charger makes it a universal hair straightener that can be charged worldwide. This flat iron gives a salon-like finish to color treated hair and can heat up to 392° F with a charging time of 5-6 hours. This hair tool also includes a display that shows both the temperature and battery life.
Features
Barrel Size: 0.75 inch
Material: Titanium plates
Maximum Heat: 392°F
Type Of Battery: Lithium ion batteries
LED temperature display
Pros
Affordable
Heats up quickly
Suitable for all hairtypes
Lightweight
Safety lock feature
Cons
Battery does not last very long
The Conair MiniPRO Cordless Ceramic Flat Iron is powered by a replaceable cartridge. This cordless ThermaCELL flat iron heats up in no time without any cords, plugs, or adapters. This compact flat iron is an ideal traveling companion because the TSA and FAA allow one butane cartridge installed in a device in checked-in or carry-on baggage.
Features
Barrel Size: 3/4 inch
Material: Ceramic plates
Maximum Heat: 419° F
Type Of Battery: ThermaCELL butane cartridge
On/off button
Pros
Easy to use
Affordable
Heats up quickly
No charging required
Perfect for taming flyaways
Cons
Does not get hot enough
Clamp is too loose
*The prices provided in this article are based on the latest available information. However, they may vary due to changes in pricing by the seller and/or promotional offers.
The concept of cordless straighteners is quite new. Cordless straighteners help in tangle-free operation and help make styling a breeze. We tried our best to capture all the important aspects that should be considered before purchasing one. So, consider the points given below to select the best cordless flat iron that is suitable for you.
How To Choose The Best Cordless Flat Iron
You must always consider the total amount of time it takes to fully charge the battery of a cordless hair straightener. This is because you cannot use your cordless flat iron while it is charging. It is also not viable to wait for hours and hours for the battery to charge fully. But, you must always remember that the time a battery needs to gain full power is directly related to its mAh – the more powerful a battery is, the more time it takes to charge. However, this also means that it will last longer per charge.
Cordless flat irons with rechargeable batteries come with mainly two kinds of charging ports – apin or USB. USB charging port is definitely recommended because you can connect it practically anywhere –your laptop, computer, or even your car's charging system. It is the most convenient charging method.
There are two kinds of cordless flat irons that are available in the market:
Butane Cartridge Flat Iron: The butane cartridge or gas chamber that is present in the flat iron provides the required energy for it to heat up. The most convenient thing about these cordless hair straighteners is that you don't have to charge them with electricity for an uninterrupted styling session. These butane cartridges can last up to three to six months before they need to be replaced.
Rechargeable Battery Flat Iron: These types of cordless hair straighteners come with a built-in lithium battery that needs to be recharged with electricity on a fairly regular basis to make sure that the straightener does not abruptly run out of battery and stop working. But, they deliver a fairly good performance and also run for a fairly good amount of time when charged completely.
Plate Construction Material
Flat iron plates are constructed with different types of materials. Some of them are as follows:
Ceramic: It evenly distributes optimal heat throughout the plates and is considered to be safe for your hair as it does not burn your hair and doesn't really cause much hair damage, even at high temperatures.
Titanium: These plates heat up faster, which makes it easier for touching up your hair. It also helps to prolong the battery life of your cordless straightener. But if they are on your hair for too long, they are likely to cause heat damage.
Tourmaline: Tourmaline is a crystalline mineral that is crushed up and coated over the flat iron's plates. This substance is said to make your hair shinier and reduce frizz significantly.
It is always best to choose a wireless flat iron that has multiple heat setting options. This is very useful as you can operate the straightener according to your hair's requirements and even change the heat setting as per your convenience. Another thing that is helpful is a display light that shows you the temperature that you have selected.
This one is a no-brainer. It is obvious that a cordless hair straightener is perfect for traveling or simply carrying around in your purse if you are someone who requires frequent touch-ups. So, a lightweight cordless hair straightener offers a lot of convenience and flexibility. It is what you must look for!
With cordless flat irons, you mostly get what you pay for. So if you want a professional-grade straightener that will last you a long time, spending a few extra bucks won't hurt. But if you are looking for a quick fix and only require a flat iron to touch up and tame stray hair and flyaways, a cheaper flat iron will not disappoint. Before making the purchase, you must look at the warranty of the product. Battery-operated flat irons with at least a one-year warranty is a good option.
Why Trust Stylecraze
The author of this article, Oyendrila Kanjilal, is a certified skin care coach with a keen interest in hair care. She loves to research various hair care products to bring the top list for the readers, making their choice easy. After extensive research and reading many consumer reviews online, she has curated the best cordless hair straighteners list. These straighteners are the best way to straighten your hair without any hassle and are easy to use even on the go.
Frequently Asked Questions
How does a cordless straightener work?
Cordless straighteners are rechargeable heat-styling equipment. They feature different heat settings, allowing you to achieve the best curls for your hair type. These straighteners evenly distribute the heat on the plates and style your hair without damage.
How long does a cordless straightener last?
Cordless straighteners usually last for two to three years.
What is the best cordless travel straightener?
The PRITECH Cordless Hair Straightener is the best travel straightener. The compact design comes with standard USB interface charging, which helps you charge the device on the go.
Is it okay to use a cordless hair straightener every day?
No. Using a cordless hair straightener daily turns your hair dry and brittle. It may cause hair fall and damage the hair shaft. So, use it not more than twice or thrice weekly.
Can you use a cordless straightener while charging?
Yes. You can use a cordless straightener while it is charging unless instructed otherwise.


Recommended Articles