5 Best Cordless Hair Dryers Of 2021 – A Complete Guide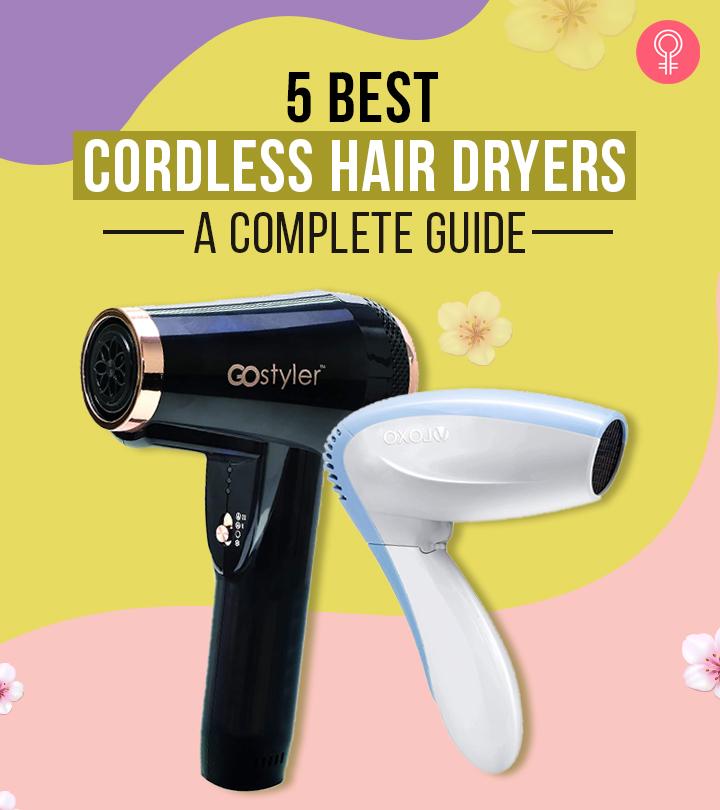 Who among us has not tripped on or gotten tangled in the cord of your hair dryer? The cord limits maneuverability and cause discomfort while drying your hair. You can switch to a hassle-free cordless hair dryer that runs on rechargeable batteries. This also means you can use them anywhere in the world without worrying about the voltage and using different adapters. Since these cordless hair dryers are compact, lightweight, and portable, they are great for outdoor shoots, vacations, and even craft projects!
In this article, we have reviewed the 5 best cordless hairdryers and discussed in detail why you need them over regular hairdryers. We have even covered the drawbacks of using them in certain situations so you can make an informed decision. Scroll down to learn more!
What Is A Cordless Hair Dryer?
Hair dryers that are battery-operated (with rechargeable Lithium batteries) are hassle-free. They do not need a cord or an electric outlet. They make the process of drying and styling your hair quicker and more efficient. These portable, lightweight hair dryers work on low wattage.
Wondering who needs to can benefit from using a cordless hair dryer? Find out in the next section. 
Who Needs A Cordless Hair Dryer?
A cordless hair dryer saves time and effort. It is particularly useful for people who travel often. Cordless hair dryers eliminate the need for voltage adapters in different countries. They are portable and easy to use and carry, making them an excellent travel companion. Cordless hair dryers come in handy when you need to use them outdoors or in places where there is no access to electricity. Thus, they are indispensable during outdoor shoots or during camping trips. Cordless blow dryers are also a boon for elderly people or people with toddlers as they minimize the risk of tripping, strangulation, and injury. They also do not emit electromagnetic frequencies that have the potential to be dangerous. Cordless hair dryers are pretty versatile as they can be used in cramped places or for DIY projects.
Now, let's check out the 5 best cordless hair dryers available right now! 
5 Best Cordless Hair Dryers Currently Available
WHS Cordless Portable Hair Dryer is a compact, lightweight hairdryer, ideal for household and outdoor purposes. It is equipped with a DC motor that heats up fast and provides stable, mild, and gentle heat, distributing it evenly so that it causes no damage. It is a rechargeable dryer that blows both cold and warm hair and is suitable for babies, kids, and small pets.
Key features
Blows both cold and warm air
Easy to use while traveling outdoors
Powered by batteries
Specifications
Product Dimensions: 94 cm x 18.8 cm x 14.48 cm
Charging Time: 3 hours
Working Time: 180 minutes in cold setting, 15 minutes in warm setting
Power: 300 Watt
Battery: LI-ON 22.8V / 5000mAH
Item Weight: 1.76 lbs
Heat Settings: Cold/Warm
Pros
Lightweight
Easy to use and carry
Rechargeable
Ideal for short hair
Safe for babies, kids, and small pets
Cons
Not ideal for thick, long hair
MANLI Cordless Hair Dryer is a lightweight dryer that comes with an intelligent chip control to stop the power automatically when it is overheated. It is very safe for kids as well as adults as it blows only cold air, which protects your hair from heat damage. It comes with a foldable handle and is easy to carry. It has an operational wheel knob to control the speed as per your requirement. 
Key Features
Blows only cold air.
Customizable settings.
Intelligent chip control that turns off the power when it is overheated. 
Specifications
Product Dimensions: 55 x 6.69 x 7.87 inches
Charging Time: 5 hours
Working Time: 35 minutes
Power: 32 watts
Battery: Li-Ion 7.2V / 2000 mAh
Item Weight: 95 lbs
Warranty: Lifetime
Color: Blue 
Pros
Lightweight
Intelligent shut-off feature
Easy to store
Safe for children
Lifetime warranty 
Cons
REDSHORE Cordless Hair Dryer offers both hot and cold air settings to conveniently style your hair. The built-in 5000mah battery provides 3.5-4 hours of cold air usage and a maximum of 20 minutes run time of hot air. The thermal equalization technique and negative ions prevent split ends, lock in moisture to protect your hair from damage. This low-noise machine has a T-shaped design that makes it more appealing in design.
Key Features
Thermal equalization technology
2 air settings
Noise reduction design
Specifications
Product Dimensions: 26 cm x 20.5 cm x 8 cm
Charging Time: 4 hours
Temperature Settings: Hot and Cold
Item Weight: 1 pound
Color: Black
Pros
Lightweight
Sturdy design
Long-lasting charge in cold air mode
Cons
None
UAAR Cordless Hair Dryer is a versatile hair dryer that is lightweight and rechargeable with a detachable battery handle. The wireless, detachable battery handle makes it ideal for travel and outdoor use. The hairdryer has three temperature settings of hot air, warm air, and cold air. The innovative design makes the dryer look study and appealing. The low radiation and low noise make it suitable for babies and children.
Key Features
Low radiation and low noise
Detachable battery handle
Indicators show real-time working status
Specifications
Product Dimensions: 63 inch x 3.94 inch x 1.97 inch
Temperature Settings: Hot/Cold/Warm
Charging Time: 3 hours
Item Weight: 2.7 pounds
Color: White
Pros
Children-safety
Quick charging
Wireless
Lightweight
Cons
Ironwood Banana Cordless Hair Dryer is equipped with a 5000mAh rechargeable battery. The dryer provides a maximum power of 300W and a constant 55 °C thermostat that is gentle and mild, protecting hair from damage. It features the negative ion hair technology with both hot and cold air settings. You can use the cold setting for a maximum of 4 hours and the hot air setting for 15-20 minutes.
Key Features
5000mAh rechargeable battery
2 wind settings
Constant 55 °C temperature to prevent hair damage
360-degree rotatable nozzle
Specifications
Charging Time: 3.5 hours
Weight: 2.64 pounds
Temperature Settings: Hot and Cold
Speed Settings: 2
Pros
Intelligent temperature control
Thermal equalization technology
Easy to use
Cons
None
Those were our picks for the best cordless hair dryers available right now! If you are wondering how or why to choose them over regular hair dryers, check out the next section.
How To Choose The Best Battery Powered Hair Dryer
Power Rating: The most important feature to consider when choosing a battery-powered hair dryer is its power rating. This ensures better blowing power so that your hair dries quicker.
Recharge Time: It is essential to note that the battery does not take a long time to recharge.
Size: Cordless hair dryers that are compact and lightweight are more convenient to use.
Use: If you intend to travel often, then cordless hairdryers are a good option.
Dryer Attachments: Do not compromise on dryer attachments. Look for hair dryers that come with a diffuser and a concentrator so you can style your hair. The multiple nozzles offer styling options. The cool shot button is another feature that you should look out for before purchasing a cordless hair dryer.
Battery: It is better to invest in good-quality batteries that are leakproof for durability.
Price: Consider your budget before investing in a cordless hair dryer. Keep in mind the use, features, and benefits.
Now, let's talk about the key benefits and drawbacks of using a cordless hair dryer. 
What Are The Key Benefits Of A Wireless Hair Dryer?
Cordless hair dryers are convenient and easy to use. They are portable, lightweight, and generally safer to use. They can be used during traveling, outdoor trips, or in cramped places. They also eliminate the risk of injury. They do not generate electromagnetic frequencies which have been known to be dangerous at higher emissions.
What Are The Drawbacks Of Cordless Hair Dryers?
There are a few drawbacks to using these cordless hair dryers. They are not as powerful as the standard hair dryers as they offer weak airflow and lower heat settings. This means it may take longer to dry your hair, especially if it is thick or coarse. The battery life is limited, so they do not last as long as regular hair dryers. There is also the risk of the battery getting overheated, which poses the risk of an injury. 
Although cordless hairdryers cannot completely replace regular hair dryers, they certainly have their advantages. They are perfect for people who travel or camp out a lot. Go ahead and pick one of the cordless hair dryers from our list for a hassle-free experience!
Recommended Articles
The following two tabs change content below.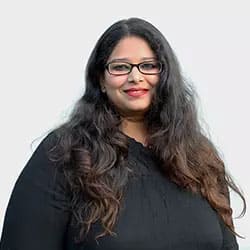 Annie Jangam is a Molecular Biologist with 7 years of research experience in Rice Functional Genomics and Nutrient Signalling with International Publications in Abiotic stress, Nitrogen, and G-protein signaling. She specializes in writing on Health and Wellness. She has been an avid reader since childhood and is passionate about stories that help decipher life and its meaning. She believes in Human Rights for all and that one should "love others like we love ourselves."