9 Best Warm Eyeshadow Palettes That Are Worth Buying In 2022
Subtle, bold, or classy, match your mood and eye makeup with these colorful palettes.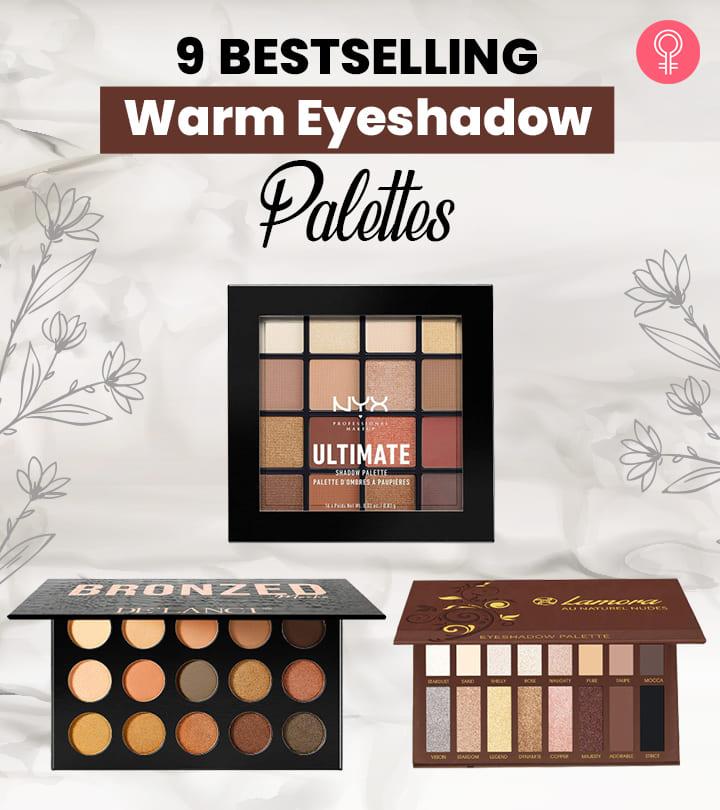 We tend to pay a lot of attention to our eye makeup. Choosing the liners to the best warm eyeshadow palettes, some of us are truly careful.
When it comes to eyeshadow palettes, warm tones are trending and for all the positive reasons. Not only do they upgrade your eye's level of attractiveness, but also highlight the feature. In order to give out that loyal vibes, it is important to have some patience while choosing your warm color tones. Choose one that will not only last all day long but not smudge too soon or easily. Whether it is for a casual date or a blingy disco party, here are 9 bestselling warm eyeshadow palettes that can be your holy grail.
9 Best Warm Eyeshadow Palettes To Invest In
The Lamora Nudes Exposed Eyeshadow Palette offers 16 highly pigmented nude shades created with high-quality ingredients and ultra-micronized, waterproof pigments. The rich nude colors range from bright rose gold to royal dark browns. They are long-lasting, easily blendable, and have a creamy formula. The eyeshadows offer good coverage and give a shimmery naturally dramatic look to the eyes. The velvety-smooth texture of the eyeshadows offers a variety of finishes. They can be used as wet or dry and come in a slim, lightweight, portable box with a magnetic lid. Learn more about the product in this video.
Pros
Richlypigmented
Waterproof
Long-lasting
Blendable
Portable
Affordable
Cons
Contains talc
May irritate the eyes
Price at the time of publication: $12.95
The NYX Professional Makeup Ultimate Eyeshadow Palette contains 16 warm neutral shades that add a pop of muted colour to your eye makeup. The palette is a mix of several shades with different finish types, such as shimmery, satin, metallic, and matte. Each shade is richly pigmented, easily blendable, and long-lasting. You can combine different shades to create beautiful looks. The shades in this eyeshadow palette last all day without creasing or fading.
Pros
Highly pigmented
Multiple finish types
Blendable
Long-lasting
Fade-proof
Crease-free
Easy toapply
Cruelty-free
Cons
Price at the time of publication: $13.76
The Afflano Eyeshadow Palette – Coral Orange has 15 sunset shades of warm and bright yellow, orange, red, and gold. They offer a variety of finishes like matte, holographic glitter, and glimmer. The fall-pressed pigments of these shades shimmer and bring out your makeup. The richly pigmented colors are smooth and soft, giving the eyes a three-dimensional shiny appearance. They blend smoothly and last throughout the day without fading.
Pros
Blendable
Long-lasting
Waterproof
Hypoallergenic
Nickel-free
Lead-free
Cadmium-free
Cons
Stains the eyelids
Not enough coverage
Price at the time of publication: $9.99
The De'Lanci Bronzed Mocha Naked Eyeshadow palette is a set of 15 earthy shades that are easily blendable and have a super long staying power. They enhance the eyes and natural features with a velvety-smooth tinted texture. The shades can be mixed and matched for achieving several creative hues. They glide on easily and brighten the eyes with a dash of color. The palette offers matte-satin and shimmery finishes. The shades are apt for achieving both casual looks and dramatic smokey eyes.
Pros
Blendable
Velvety smooth texture
Long-lasting
Cruelty-free
Travel-friendly
Cons
Chunky glitters
Not well pigmented
Price at the time of publication: $9.99
The Afflano Sultry Earth Eyeshadow Palette is a set of 15 richly pigmented colors that have a matte and shimmery finish. The warm natural metallic bronze shades create excellent smokey eye effects. Just one swipe of the waterproof eyeshadows is enough to get good coverage and create a dramatic look. The long-lasting, velvety formula of the eyeshadows makes them blend easily. The weightless shades are enriched with vitamin E, which keeps the eyelids moisturized.
Pros
Blend easily
Waterproof
Richly pigmented
Good coverage
Long-lasting
Paraben-free
Mineral oil-free
Perfume-free
Phthalate-free
Vegan
Cruelty-free
Cons
None
Price at the time of publication: $9.98
The Find In Beauty Dikalu Coco Venus brings you a set of 35 fall colors for eye makeup. The natural warm bronze huescome in matte and shimmery finishes and are great for creating smokey eyes and other regular eyeshadow looks. The palette includes 23 colors in creamy shimmer shades, 9 matte powders, and 1 each of shimmer, glitter, and sequin finish types. The tints are best suited for autumn and winter makeup. The creamy formula of these eyeshadows blends well and is waterproof and sweat-resistant.
Pros
Richly pigmented
Goes on smooth
Hypoallergenic
Waterproof
Sweat-resistant
Vegan
Cruelty-free
Cons
Price at the time of publication: $11.56
The Professional eyeshadow palette from Seprofe helps you create a variety of looks with the 18 nude shades. The richly pigmented warm chocolate shades have great blendability and give a matte and shimmery finish. The creamy formula consists of premium quality ingredients and has a velvety-smooth texture. The golden and brown colors give the eyes a naturally glamorous appearance. These eyeshadows do not smudge or fade and are suitable for all skin types.
Pros
Smudge-free
Portable
Easy to blend
Waterproof
Vegan
Cruelty-free
Cons
None
The Maybelline New York Gigi Hadid Eyeshadow palette is a collection of six limited-edition shades. The miniature palette has colors that are richly pigmented and melt onto the eyelids. A single sweep is enough to give a dramatic finish to your eyes. The ultra-saturated colors are long-lasting and amp up your eye makeup instantly. The shades are smudge-free and do not fade or crease throughout the day.
Pros
Long-lasting
Smudge-free
Fade-proof
Good coverage
Travel-friendly
Cons
None
Price at the time of publication: $7.66
The CColor Sundown Eyeshadow Palette contains 15 richly pigmented eyeshadow shades, including burnt oranges, warm browns, reds, yellows, and gold. The bronze neutral colors bring out the color of the eyes, whatever the shade. The eyeshadows blend easily and are resistant to water and sweat. This palette has a combination of metallic, matte, and shimmer finish types.
Pros
Suitable for all skin tones
Richly pigmented
Blendable
Waterproof
Sweat-proof
Cons
Price at the time of publication: $12.5
Finding the best eyeshadow palette for your eyes is like discovering the comfiest pair of jeans. It will always be your go-to makeup every time you want a boost of confidence and want to look extra special. With so many big brands offering warm eyeshadow palettes in myriad shades, it is easy to find one that suits your needs and lifestyle. Here are some factors to consider while you make a choice.
How To Select The Best Warm Eyeshadow Palettes
Choose a palette that includes colors that match your skin tone and are easy to pair together. Consider the rest of your makeup that needs to match your eyeshadow and take a stock of the colors that you already have. Warm earthy shades, chocolates, browns, bronzes, fall colors, neutrals and nudes can be mixed and matched with ease.
Eyeshadows come in different finish types to help you create a variety of looks from subtle to dramatic. For a subtle day look, choose a matte finish, while for a birghter evening and night look choose shimmers and metallic finishes that provide dimension and reflect light. Satin, sequin, and glitter are a few other types of finishes found in eyeshadow palettes that add glamor to your eyes.
Highly pigmented and ultra-saturated colors offer great blendability and are long-lasting as well. They require just one swipe to deliver a good color pay-off and give a dramatic finish to your eyes.
The best eyeshadow palettes will have some additional features like being waterproof to withstand sweat and tears. Also look for palettes that offer shades that are easy-to-apply, smudge-resistant, and fade-proof.
Look for hypoallergenic eyeshadows that are free of parabens, talc, lead, nickel, cadmium, phthalates, and artificial fragrances. Look for premium quality products that have a velvety-smooth texture enriched with nourishing ingredients like vitamin E.
Choose the size of your eyeshadow palette depending on the space you have in your makeup bag or on your vanity. If you are minimalistic, choose one that has just a few important shades. This will also be ideal if you travel frequently and like to carry your go-to eyeshadow palette along. If you like to work with a variety of shades and have ample room on your table, then one with a number of shades in multiple finishes will be ideal.
Why Trust StyleCraze?
Shiboli Chakraborti is a certified skincare coach and a makeup enthusiast passionate about reviewing beauty products across various categories. Her understanding of various skin types and how products affect the skin, both in terms of health and appearance, gives her the skills needed to pick out the best makeup products. Utilizing this skillset, after extensive research and thorough exploration of user reviews and swatches, she has shortlisted the best eyeshadow palettes in warm tones. The products listed here have a wide range of excellent warm eyeshadow colors that have a long stay and do not smudge.
Frequently Asked Questions
Do eyeshadow palettes expire?
Yes, like any other makeup, eyeshadows also expire. An eyeshadow could last anywhere between one month to two years, depending on the ingredients.
What eyeshadow colors suit warm skin tones?
Shades of brown, yellow, mustard, olive and gold suit warm skin tones.
What are warm colors for eyeshadow?
Brown, beiges, pink, magenta, and orange are warm colors for eyeshadow.
Which undertones go well with warm eyeshadow?
Undertones of gold and brown colors are the best for warm eyeshadow.
Do warm eyeshadow colors make your eyes pop?
Yes, warm eyeshadow colors give a natural finish to the eyes and make them look highlighted.
Can cool undertones wear warm eyeshadow?
Yes, cool undertones can also wear warm eyeshadow.
Recommended Articles: