10 Best Korean Eyeshadow Palette Of 2023 With Buying Guide
Because it is time to look dreamy just like your favorite K-pop idol.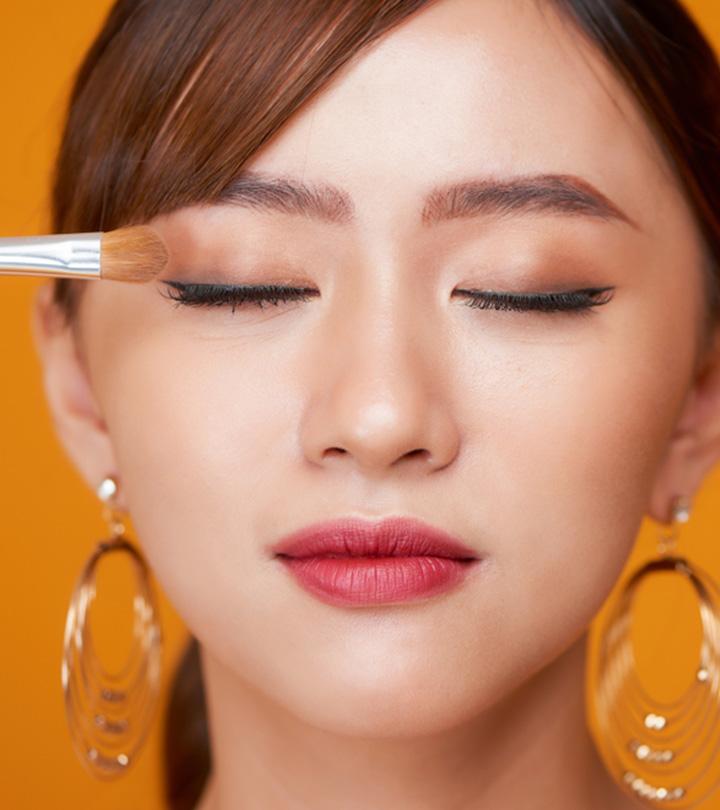 Korean cosmetics are known for their high-quality, unique products and miraculous effects in skincare, healthcare, and makeup as well. No wonder then, if you are here looking for the best Korean eyeshadow palettes. Nudes, neutrals, or dreamy pastels, these eyeshadow palettes make your eyes look soft, fresh, and dewy! With their gorgeous range of shimmery and glittery shade options, they make your eyes look fluttery and ready for that fairytale night anytime! Whether you are on a casual brunch with your friends or on a special date night, a colorful Korean eyeshadow palette is all you need to make your eyes do all the talking! To help you choose the right one from the many available brands and options, we have shortlisted the 10 best Korean eyeshadow palettes to help you get started.
Top Picks
10 Best Korean Eyeshadow Palettes Of 2023 Buying Guide
Price at the time of publication: $17.99
Price at the time of publication: $25.0
Like blush for your eyes! Clio Pro Layering Eye Palette offers a range of baby pinks and pastels in shades so pretty that anyone will fall in love with your eyes. The hues are beautiful, subtle, and ideal for those who love to doll-up their eyes daily before stepping out. Featuring base colors to bright colors including handmade glitter formula, these  sweet colors are no scattering powders like those low-quality palettes in the market but have a silky-smooth premium finish and are ultra-adhesive. Plus, the dual-end application brush you get with the palette is a great add-on.
Price at the time of publication: $29
Price at the time of publication: $24.92
Do you know what makes this eyeshadow palette special? This gorgeous glitter eyeshadow palette has a mix of matte and shimmery colors, perfect for any age, skin type, or tone. These highly pigmented shades are incredibly creamy, smooth, and easy to blend. This nude eyeshadow palette offers soft and buildable coverage for creating smokey or sparkling eyes. Additionally, this palette comes with a two-way eye brush, a top mirror and is a must-try for the eyes!
Price at the time of publication: $10.99
Price at the time of publication: $17.9
Grab onto this mini palette for all your on-the-go makeup adventures. It comes with 5 highly matte shades, 1 glitter shade, and 1 blush shade to cater to all your moods and OOTDs. The different shades are ideal for creating multiple dreamy, natural, and soft looks. The texture is extremely smooth and blendable, while the hues are super pigmented and easy to use. The pastel eyeshadow palette is available in three different coral, petal, and sand patterns to create limitless looks.
Price at the time of publication: $23
With this all-in-one eyeshadow palette, get ready to create new makeup trends this season. This 4-shades eyeshadow palette has matte, shimmery, and glitter shades to get your day-to-night looks easily covered. The soft texture of the shadows glides on the skin to offer a seamless, silky smooth finish. The hues are highly pigmented and adhere well to the skin for a vibrant and classy appearance. This palette is your best friend already if you know how to play with soft and mesmerizing hues.
Price at the time of publication: $32
Price at the time of publication: $18.99
Price at the time of publication: $23
There you go, those are the 10 best Korean eyeshadow palettes of 2023! Check out our buying guide below if you are still unsure of how to pick the suitable one for you:
How To Pick The Best Korean Eyeshadow Palette?
Here are some quick tips:
Texture – Since not all eyeshadows have the same texture, pick the one that you are most comfortable working with. Also, they should blend and build easily and have strong adhesion to last long.
Pigment – The pigment matters. Best-selling Korean eyeshadows mostly have sheer to medium color payoff pigments. So, if you are looking for deep-pigmented shades, you will be disappointed. However, on the bright side, the shimmer and glitter shades are a class apart and the true MVPs of the palette.
Dual-end brush – Pick a palette that has a dual-end brush or an eye shadow stick, so you do not have to shop for one separately.
Suitability – The palette should meet your intended purpose. Look out for features like long-lasting, waterproof, and adopting power for best results.
So, have you selected a palette for yourself yet? Making dewy, dreamy, and sheer eye makeups look glam again, these Korean eyeshadow palettes are totally catching the trend wave. So, what are you waiting for? Join the wave, go pick your ultimate shadow palette from our list of 13 best Korean eyeshadow palettes and get ready to flutter those eyes, Monroe-style. If you have thoughts or suggestions about this article, write to us in the comments below.
Why Trust StyleCraze?
Chaitra Krishnan loves experimenting with makeup products. She wrote this article to bring you a hand-picked list of the best Korean eyeshadow palette. Satiate your need for Korean products by browsing through this list of recommended products. Chaitra poured through many product reviews and recommended these products because of their benefits like color payoff, finish, and many more.
Frequently Asked Questions
Is There A Difference Between Korean Eye Shadows And Western Ones?
Yes, they are different. Western eyeshadows are more matte-based and deep-pigmented, whereas Korean ones are sheer to medium-pigmented and have more shimmer and glitter options. Also, cute eyeshadow palettes!
What Is The Best Korean Eyeshadow Palette For Beginners?
CLIO Pro Layering Eye Palette and W.Lab Pocket Shadow Palette are some of the best Korean eyeshadow palettes for beginners and for daily makeup.
How do you make your eyes look Korean with makeup?
Here are the tips to ace a Korean eye look are-
• Apply a medium brownish shade to your lids as an eyeshadow. Use a darker shade near the eye and on the outer edges of your lashes.
• Line your eyes by slanting it a little towards the end. Extend the line for a maximum of 3 mm inwards.
• Apply a tear drop liner in any shade between gold, cream, and white, below the eyes to give a sparkling illusion.
• Use a pencil liner to draw the waterline of the lashes and coat your lashes with mascara.
• Koreans prefer straight or slightly arched brows. So, keep your brows simple.