10 Best Korean Eyeshadow Palette- Of 2021 Buying Guide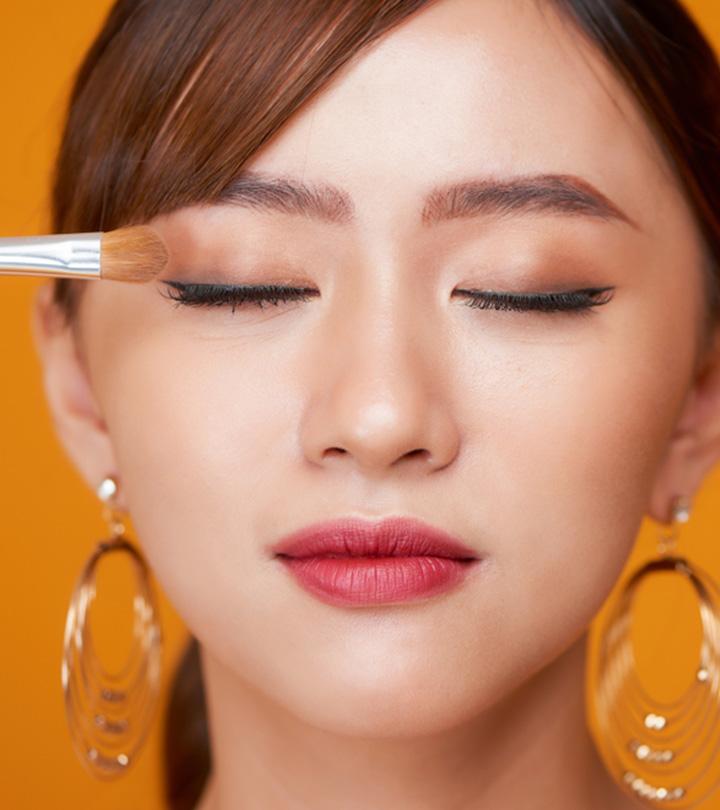 Be it skincare, haircare, or makeup, Korean products are topping trends of all times! And no, we are not surprised. Like take their eyeshadows for instance; never have dewy, dreamy, or natural eye makeups looked as good as they do with Korean eyeshadow palettes. They truly are making nudes, neutrals, and pastels trendy again. And with shimmer and glitter hues adding an extra oomph quotient to the sheer base, the finishes are remarkably flawless, and you can't help but be wowed!
So, whether you are looking for the best Korean palette or a second or third palette, we have filtered some of the best brands to make your shopping experience easier. Are you ready to give your eye makeup an Asian touch now? Here's our list of 10 best Korean eyeshadow palettes of 2021 for you:
10 Best Korean Eyeshadow Palettes Of 2021 Buying Guide
18 shades of beauty, for your eyes only! This nudes-and-neutrals eyeshadow palette with 10 highly-pigmented matte, 4 reflective shades, 2 glitters, 1 pressed pearl, and 1 concealer base is no less than a holy grail for makeup lovers. Infused with natural ingredients like aloe vera, coconut oil, acacia, jojoba oil, and sunflower wax, they feel luxuriously creamy and smooth on application. And the good part doesn't end there; these natural shades have a great stay power too. The reflective ones deliver a stunning duo chromatic finish, the glitter and pressed pearl adds a flawless glow, and the concealer base shade makes them all stand out!
Pros:
Highly-pigmented, intense, and creamy texture
Strong adherence and stay power
Blends and builds easily
Delivering high-shimmer to seamless matt finishing
Lightweight, waterproof, and long-lasting
Fallout-proof
Cruelty-free
Cons:
They made take time to blend
Similar Products:
Coffee lovers, here's a new addiction for you! These "too hot to handle" caffeine-inspired shades are all you need to flaunt those dreamy, steamy, and intense looks with your OOTDs. Wear it daily or to parties, these deep-pigmented matte, shimmer, and glitter hues by Etude House are instant mood-lifters, just like coffee! And the texture? Super silky and soft that you wouldn't mind gliding on an extra shot. Don't believe us? Try this long lasting eyeshadow palette to experience the gorgeousness.
Pros:
Deep-pigmented coffee shades
Silk, soft, and smooth texture
Strong adherence
Long-lasting base to pearl shades
Portable palette
Cons:
Not easy to build
Light pigmented
Similar Products:
Like blush for your eyes! Clio Pro Layering Eye Palette offers a range of baby pinks and pastels in shades so pretty that anyone will fall in love with your eyes. The hues are beautiful, subtle, and ideal for those who love to doll-up their eyes daily before stepping out. Featuring base colors to bright colors including handmade glitter formula, these  sweet colors are no scattering powders like those low-quality palettes in the market but have a silky-smooth premium finish and are ultra-adhesive. Plus, the dual-end application brush you get with the palette is a great add-on.
Pros:
One of a kind base
High color payoff
Ideal for daily wear
Silky smooth and premium finish
Ultra-strong adhesion
Blends easily
Durable palette
Cons:
Similar Products:
This is no palette, it's a juice bar! Staying true to its name, every color shade exudes a touch of fresh, juicy, and cool vibe making them apt for all your day and beach outings. Whether you want to flaunt a natural look with soft peach or raise the heat with fever orange, there are sheer to shimmer hues for all your mood. Deep-pigmented and ideal for gradation, eye edges, or enhancing the lash line, Etude House Play Color Eyes is a perfect palette for those looking to explore summer-spring colors. For best results, use it with an eyeshadow primer!
Pros:
Deep to subtle pigmentation
Soft and creamy texture for a perfect look
Matte, sheer, and shimmer shades
Easy-to-use
Buildable colors
Ideal for beginners
Cons:
Too sheer
Shades may be difficult to blend
Similar Products:
What makes this Korean eyeshadow palette special? Its astonishingly creamy texture can transform your eyes in one stroke! No seriously, the pigments are super intense, sensational, and guarantee a high color payoff. Featuring a range of warm and natural colors in a beautifully-designed palette, Serseul's 4 shimmer and 7 matte hues will amp up any party or evening look instantly. So, if you are looking for a palette to create smokey or sparkling eyes, this palette could be the one for you and also, these shades will last all-day long. A must-try for the eyes!
Pros:
High-performance colors
Creamy texture
Longwear
Deep-pigmented matte and shimmer
Suitable for all skin tones
Easy-to-use
Cute packaging
Cons:
Similar Products:
Looking for an eyeshadow palette for oily skin? 3CE Eye Color Palette is a great option for it promises sebum control. Yep, no more midday touch-ups to worry about! With 9 long-lasting warm shades including matte and shimmer, they deliver sheer to deep color payoffs and are easy to blend too. Portable and travel-sized making it a perfect go-to for those business trips, these creamy and smooth textures are also ideal for daily and party wear.
Pros:
Sebum control eyeshadows
Sheer to deep color payoffs
Creamy texture
Easy-to-blend
Long-lasting
Travel-friendly
Cons:
Shades may not be fade-proof
Expensive
With 18 beautiful warm and cool tone shades – all in one, it's time to let the eyes do the talking! Catering to all your moods and OOTDs, you'll never run out of options to flaunt your stunning eye makeup looks. Ideal to create countless looks from natural, smokey, intense to dreamy, the textures are ultra-soft and creamy too! With sheer to deep matte, reflective, glitter, and shimmer hues that are waterproof, long-lasting, and fallout-proof, don't blame us if your squad can't get enough of your gorgeous eyes.
Pros:
Smooth and velvety texture
Waterproof and fallout-proof
Sheer to deep-pigmented
Blends and builds easily
Long-lasting
Recommended for beginners and professionals
Cons:
With this holographic pastel eyeshadow palette, get ready to make new eye makeup trends this season! The colors are incredibly fresh and vibrant that they'll make your eyes pop instantly. Like applying a touch of spring to your eyelids, if you think you can handle any color with confidence, then this palette inspired by Pantone Spring 2017 colors is a must-try for you. Ultra-creamy and a velvety texture that also nourishes with the infused Macadamia seed oil, you'll instantly feel the premium quality on application. And to let you in on a secret— it is a perfect palette to create the iridescent Mermaid highlight too!
Pros:
Buttery smooth texture
The shades adhere quickly and are long-lasting
Easy to use and blend
Nourishing shades
No fallouts or oxidation
Cons:
Not a fan of bulky palettes? Or looking for a travel-friendly eyeshadow palette? Chica Y Chico One Shot Eye Palette's pocketable size and beautiful eyeshadows will make you want it right away! Not only is the case cute and portable but the vivid shades promise great color payoffs making this palette a travel and makeup kit staple. Packed with matte, shimmer, and glitter hues to meet all your makeup needs, the texture is soft, smooth, long-lasting, and adheres quickly.
Pros:
Sheer to deep-pigmented matte eyeshadow
Travel-friendly and portable design
Smooth and soft texture
Long-lasting shades
Easy to apply and blend
Strong adhesion
Cons:
Lastly, this beautiful palette with base, glitter, and pearl eyeshadows that are infused with various natural flower extracts! Given how Koreans love to add a natural touch to their skincare and makeup, these eyeshadows are formulated to protect the eyes. And can you notice the multiple choices? There's a shade for every mood, look, and occasion in the palette along with a dual-end brush to ensure you get a seamless finish. Velvety smooth texture, non-scattering, and high adopting power, this Korean natural eye makeup is ideal for creating a dreamy or natural look.
Pros:
Made of natural ingredients
Protects eyes
Velvety smooth texture
Non-scattering shades
High adhesion and adopting power
Cons:
There you go, those are the 10 best Korean eyeshadow palettes of 2021! Check out our buying guide below if you are still unsure of how to pick the suitable one for you:
How To Pick The Best Korean Eyeshadow Palette?
Here are some quick tips:
Texture – Since not all eyeshadows have the same texture, pick the one that you are most comfortable working with. Also, they should blend and build easily and have strong adhesion to last long.
Pigment – The pigment matters. Korean eyeshadows mostly have sheer to medium color payoff pigments. So, if you are looking for deep-pigmented shades, you will be disappointed. However, on the bright side, the shimmer and glitter shades are a class apart and the true MVPs of the palette.
Dual-end brush – Pick a palette that has a dual-end brush or an eye shadow stick, so you do not have to shop for one separately.
Suitability – The palette should meet your intended purpose. Look out for features like long-lasting, waterproof, and adopting power for best results.
So, have you selected a palette for yourself yet? Making dewy, dreamy, and sheer eye makeups look glam again, these Korean eyeshadow palettes are totally catching the trend wave. So, what are you waiting for? Join the wave, go pick your ultimate shadow palette from our list of 13 best Korean eyeshadow palettes and get ready to flutter those eyes, Monroe-style. If you have thoughts or suggestions about this article, write to us in the comments below.
Expert's Answers for Readers Questions
Is There A Difference Between Korean Eye Shadows And Western Ones?
Yes, they are different. Western eyeshadows are more matte-based and deep-pigmented, whereas Korean ones are sheer to medium-pigmented and have more shimmer and glitter options. Also, cute eyeshadow palettes!
What Is The Best Korean Eyeshadow Palette For Beginners?
CLIO Pro Layering Eye Palette and W.Lab Pocket Shadow Palette are some of the best Korean eyeshadow palettes for beginners and for daily makeup.