The 13 Best Pigmented Eyeshadows (2022) With A Buying Guide
Be the diva and attract attention with these stunning pigmented eyeshadows in town.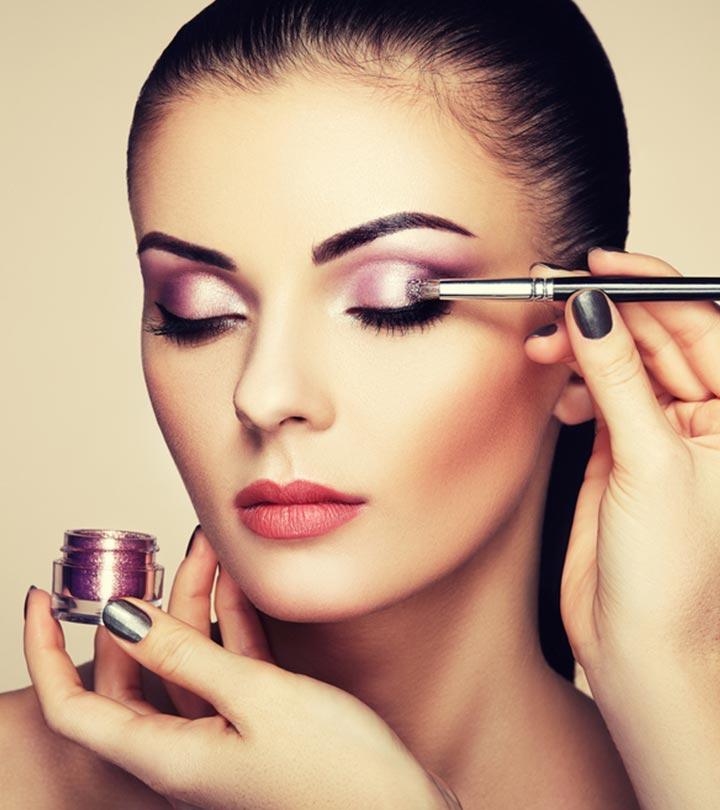 Making an impression at a get-together or that holiday season party is simple. Pick the best pigmented eyeshadow, and you are good to go! The super iconic duo would be bold matte with a bit of shimmer. You can also try those intense, smokey eyes to look nothing less than magical! So, the bottom line is, pigmented eyeshadows are way more important than that blingy dress! All you need to do is blend the color well for the product to pop. Now, let us help you choose those perfect pigmented eyeshadows for you. The market is crowded with endless options, which is why we have curated 13 best options. Now scroll down and pick your right fit! Get that highly pigmented eyeshadow and rock your look like never before!
13 Best Pigmented Eyeshadows of 2022
With 45 highly pigmented eyeshadows, this waterproof makeup palette is everything you need to glam your eye makeup game. If you're eyeing a matte, metallic, or glittery shade, these soft and ultra-smooth eyeshadow shades will blend seamlessly to deliver a sweat-proof finish all day long. The lightweight texture of the vibrant natural colors matches all your moods, whether it's a party night, office day out, or even a casual makeup style. This all-rounder makeup palette is also cruelty-free.
Pros
Soft texture powder
Waterproof
Sweat-proof
Highly pigmented, blendable shades
Suitable for all occasions
Long-lasting
Cons
Might fall off easily
Not all shades are equally pigmented
Flaunt your vibe on your eyes! Claiming to be a palette that understands a woman's eyeshadow needs, these ultra-micronized and premium shades will give your eyes a flawless finish. Prep up to meet some jealous stares with rose gold, dark brown, pastel, and golden hues. These waterproof eyeshadows with their luxuriously pigmented formula are available in matte, shimmery, earthy, and nude shades. Also, the palette may look lush but is affordable! Watch this video to know more about the product.
Pros
Creamy texture
High stay-power and easy-to-blend
Ultra-pigmented powdered shades
Lightweight, portable, and travel-friendly
It can be used wet or dry.
Cons
Weak adhesion
Shades may fade after a few hours
Blend it like a beauty with these stunning nudes. And if you are obsessed with contouring or highlighting, then hold your brushes, for this drugstore eyeshadow palette might thrill up the makeup junkie in you. With easy-to-use transition, dimensional shimmer, and matte shades delivering high color-payoff, you can wear them to work or amp up your day look for a glam night effortlessly.
Pros
Highly-pigmented eyeshadows
Deliver a stunning finish
High stay power and blends easily
Includes double-sided eyeshadow applicator
Sleek magnetic case with mirror
Ideal for natural, smokey, or shimmer looks
Cons
Your eyes are not meant to be ordinary! Go vibrant with burnt orange, rustic red, dusty pinks, or shimmering blues! A must-try for those who are not hesitant to make bold statements, these metallic, duo-chrome, and bold matte stunners are easy to blend and layer too. So, whether you want to use it for stage makeup or make heads turn with ultra-pigmented eyes, these popping colors guarantee intense color-payoffs.
Pros
Velvety and smooth color formula
Fade-proof and crease-proof
Lightweight and long-lasting
Highly-adhesive
Easy-to-use and compact
Cons
Fallouts
They may be a little powdery.
There is no such thing as too many eyeshadows! And we can't agree more. Why settle for fewer options when you can explore a plethora on this holy grail of a palette. With these 54 super-creamy and highly-pigmented shades, you will never run out of options for months. Use them alone or mix them to create unique, multi-dimensional looks. These velvety hues blend effortlessly and are easy to use. It makes for a great gift option as well.
Pros
Cruelty-free
Vegan
Skin-friendly
Hypoallergenic
Highly pigmented
Cons
Some colors are not well pigmented.
Ultra-intense eyes — 24×7! Make a lasting impression with L'oreal Paris Infallible 24hr Shadow from day to dawn. With a unique powder-cream formula that glides effortlessly on the eyes, you'll not only enjoy flaunting the shade but wearing it too. With its deep pigmentation enhancing the entire makeup look, this amber rush hue packs a touch of elegance for brown, green, and blue eyes.
Pros
High pigment eyeshadow
Velvety smooth texture
High color-payoff
No chalky mess
Long-lasting with strong stay-power
Waterproof eyeshadow
Fade-resistant and crease-resistant
Cons
The shade may transfer if applied too much.
How makeup-obsessed are you? Because UCANBE Spotlight Eyeshadow Palette has 40 vibrant colors to explore! With 18 matte and 22 shimmers all in one, there's a hue for all your OOTDs, occasions and moods. And the good thing is you can achieve your desired look in a swipe; they are that effortless and smooth! Also, you don't have to be an expert to blend these classy shades as this most pigmented eyeshadow palette is absolutely beginner-friendly.
Pros
Intensely-pigmented hues
Available in nude and bright colors
Long-lasting and high color-payoff
Easy to blend and use
Cruelty-free product
Versatile and can be worn dry or wet
Ideal for creating daily, natural, and heavy makeup looks.
Cons
The shades may not be buildable.
Give that smokey look the right amount of intensity with this rich, and warm-toned palette. Offering 35 premium and deep-pigmented shades to create perfect drama on your eyes, Morphe Pro Eyeshadow Palette is nothing but affordable luxury. Use it for daily wear or go bold and beyond with some sizzling shimmers and stunning mattes, it's a must-try palette for those who love to put their eyes in the spotlight.
Pros
High-pigment eyeshadow palette
Long wear and easy-to-blend
No-crease and no-smudge
Moisture-resistant and fade-resistant
Recommended for beginners and experts
Ideal for daily wear, intense looks, and night outs.
Cons
Expensive
Shades may chip easily.
No products found.
Matte for the day, shimmer for the night — this palette has your daily day-and-night looks prepped up with 16 striking hues! Are you looking for an eyeshadow palette for professionals? Seal the deal with this sleek and portable palette that'll transform your day-look for the night effortlessly. Also, the kit comes with a primer to ensure the shades last longer, and the eyeshadows are infused with nourishing botanicals too. Now, that is a combo worth trying, right?
Pros
Velvety-smooth and ultra-pigmented eyeshadows
High color pay-off
No-tug experience and blends easily
Created by a celebrity makeup artist for professionals
Ideal for contouring, defining, lining, and eyebrows too.
It can be used with a dry or wet brush.
Cons
Expensive
There may be fallouts.
Redefine your eyes, but also blush, highlight, and contour like an expert with this palette by Shany. With 60 vibrant eyeshadows, 12 contour shades, and 6 blushes in one, it is no less than a heaven for beauty connoisseurs! And did you notice the travel-friendly sleek design? It has a built-in mirror as well to cater to all your on-the-go makeup needs. Use it for daily wear or straight-up go intense and smoky with this palette in your kitty. Your makeup game will never be boring again.
Pros
Nature-based pigmented hues
Long-lasting eyeshadows
Easy to build and blend
Includes two dual-sided foam applicators
Recommended for beginners and experts
The blush pans are suitable for all skin tones.
Cons
Light pigmentation
There may be fallouts.
Bigger the palette, better the choices, right? Ladies, let your eyes speak your vibe with these 252 matte and shimmer hues. Go set those eye makeup trends, mix and match more, and step into the unconquered to create bold looks for your OOTDs. Who needs bling and rings when you have these highly-pigmented colors adding spark to your flirty flutter. Also, you need not be an expert to explore them!
Pros
High-quality and smooth texture
Easy to blend and build
Portable and convenient design
Longwear
Ideal for creating subtle to smokey eyes.
Cons
Fallouts
The shades may fade.
There are 7 colors in a rainbow, but this compact and portable palette has 9! Rich, neon, and technology-produced, watch your eyes transform into red-carpet stunners with these gorgeous and ultra-pigmented hues. Easy to blend with a wet brush, these redefining and striking shades are all you need to make a statement with your eyes. So, if bold and beautiful is your mantra, this compact palette will be a great addition to your makeup kit.
Pros
Bright and smooth neon pigment eyeshadow palette
Skin-friendly and safe formula
Long-lasting and high color pay-off
Strong adhesion and waterproof
Suitable for all skin tones
Cruelty-free and vegan product
Cons
Need some dose of matte magic? Satiate your obsession with this gorgeous palette from BH Cosmetics. Bright, rich, and popping like a carnival, glide them on and watch your eyes glow up instantly. A perfect option for those who want to break away from those deep, intense, and dark shades, here's a super pigmented eyeshadow palette for you that packs a pretty punch and will last all day long.
Pros
Highly pigmented
Waterproof
Easy-to-blend
Suitable for all skin tones
Beginner-friendly
Ideal for day and evening wear.
Cons
Level up your eyeshadow game with 13 best pigmented eyeshadows of 2020! Need more assistance with choosing the best pigmented eyeshadow? Read our buying guide below!
Buying Guide – Best Pigmented Eyeshadow
What Are The Different Types of Eyeshadow Palette?
There are three types of pigmented eyeshadow palettes:
Matte – Matte is a great option if you want to make your eyes pop instantly. They are solid, bright, and easy-to-blend. Also, matte colors let you play around with intensity yet keep the look soft because of their texture.
Shimmer – Shimmer, on the other hand, is for the brave hearts. For those who like the spotlight and want to make heads turn. Given that they reflect light, they are ideal for evening, night, or winter parties.
Matte & Shimmer – The most preferred option since the palette offers choices for both day and night looks. Go matte during the day and add shimmer to transform for a night party, these dual palettes are versatile and explore-worthy.
Tips for Choosing Pigmented Eyeshadow
Need tips to pick the best pigmented eyeshadow? Look out for the following features:
Texture – Unless you want to end up with fallouts and a chalky mess, choose a texture that has a creamier consistency. It provides a stronger adhesion and is easy to blend too.
Pigment – To make your eyes pop, you need highly-pigmented colors. Also, it's not necessary that if a shade looks bright in the palette, it will deliver a high color pay-off. Pick a palette that guarantees vibrancy and ultra-pigmented results.
Long-lasting power – If the shade does not last long, it is a lost cause. Though most of the palettes are fade-resistant, make sure you pick a brand that claims long-lasting pigmentation.
Complements Your Eyes – The perfect eyeshadow can accentuate the pupil color to a whole new level of stunningness! Now, whether you have blue, brown, or green eyes, find out mattes or shimmers that best suit your eyes to make the most of the palette.
Waterproof – Your eyeshadow palette should be waterproof so you don't end up with crying colors while sweating or rain.
Now, let's get those gorgeous eyes, pretty and pigmented. Those are the 13 best pigmented eyeshadows of 2020 that no makeup lover should miss. Still stuck in nudes and neutrals? Break free for a change, and go bold with these popping shades. Bright, vivid, stunning, and intense, get ready to make your eyes flutter to these ultra-pigmented hues today!
Frequently Asked Questions
Which Is The Best Pigmented Eyeshadow?
Loreal Paris Infallible 24hr Shadow is one of the best eyeshadows if you are looking for long stay-power and ultra-pigmentation.
Which Brand Is Best For Eyeshadow?
Morphe Pro Eyeshadow Palette is one of the best brands for eyeshadow as they deliver high color pay-off with no creasing or smudging.
What Are Pigmented Eyeshadows?
Pigmented eyeshadows deliver high color pay-off and can make your eyes pop instantly. They are rich, intense, and ideal to create smokey or bold eye makeup looks.
Which Drugstore Eyeshadow Is The Most Pigmented?
L.A. Girl Beauty Brick Eyeshadow is one of the most pigmented drugstore eyeshadows that you can add to your makeup collection.
Can You Use Eyeshadow as Pigment for Lip Gloss?
Yes, you can. Ultra-pigmented eyeshadows can deliver a stunning color pay-off on the lips and look as good as a lip gloss.
Can You Use Pigmented Eyeshadow On Nails?
Yes, pigmented eyeshadows can be applied to nails. Crush the eyeshadow to a powdery consistency, mix it with clear nail polish and voila! They are ready to apply on the nails.
How To Get The Most Pigment Out Of Eyeshadow?
You can either use a brush with a sponge-like applicator to ensure all the pigment is transferred and blended on the eyes, or use a wet brush. However, before using the wet brush, wring out the excess water so that you don't ruin the eyeshadow pan.
Recommended Articles
Best Eyeshadow Palettes For A Sparkling Night Out
Best Red Eyeshadows That Last All Day
Best Cool-toned Eyeshadow Palettes
Best Selling Warm Eyeshadow Palettes