10 Best Temporary Hair Chalks To Buy In 2023
For a quick and easy hair twist so you can flaunt colorful locks every single day.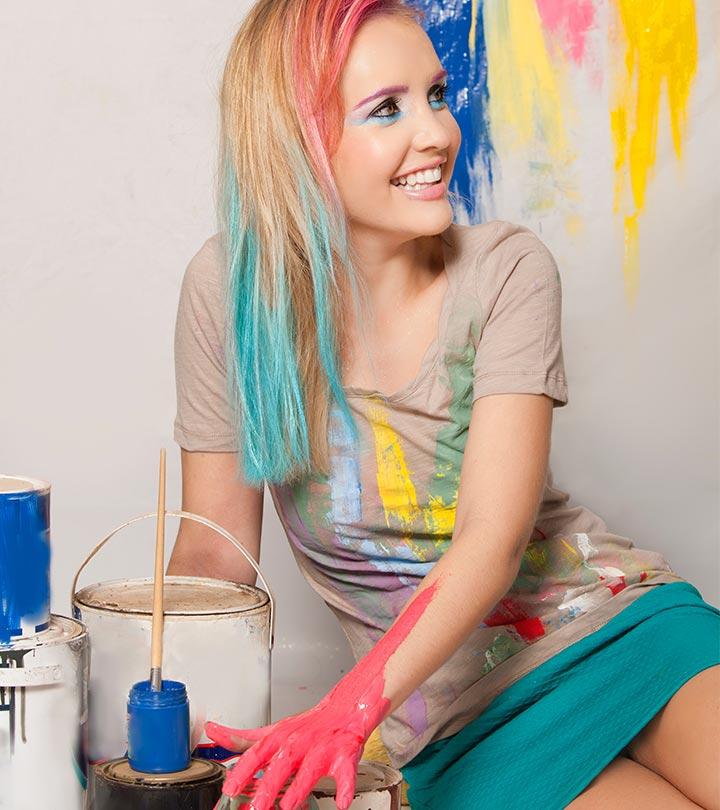 We all enjoy hair colors, but once you know the permanent effect it has on your hair, it's natural to think twice. Do you wish there was some way to highlight your hair without messing up with the hair quality? Well, all thanks to temporary hair chalk, you can flaunt the color you want and wash it away when you are done! Lasting up to 2-10 washes, this product allows you to have all the fun sans the regret. To help you choose the best one, we've rounded the top 10 color chalks. So take a look and get ready to indulge in some creative hair experimentation!
How To Use Hair Chalks
You Will Need
A shampoo
A cup of water
Wide-toothed comb
A straightener ( optional)
Gloves
Preparation
Shampoo and dry your hair before brushing the locks thoroughly.
Wear gloves to avoid staining.
Wet your hair a little for maximum deposition.
Process
Step – 1
Choose your favorite chalk pastel that is free of toxic ingredients like lead and cadmium.
Step – 2
Wet your hair to intensify the chalk's pigment. If you have blonde hair, you can skip this step as your hair color is already lighter.
Step – 3
Take a chunk of hair and use your thumb to glide the chalk along the length of your hair. Ensure to reach out to each hair strand, especially on the inner corners.
Step – 4
Remember to rub the chalk downward to avoid friction or patchiness. Rubbing the chalk to and fro can lead to hair damage. Another step you can include is to twist your hair as you color. This will help you coat your hair evenly.
Step – 5
Brush your hair thoroughly to spread the product evenly. This will blend the color perfectly.
Step – 6
Use hairspray and a straightener (or curling iron) to seal the color and finish the look.
What To Avoid
Do not color your hair with a serum or any other product in your hair.
Use protective clothing and sleep on an old pillowcase to avoid color staining.
Do not try this method on rainy days.
Let's now take a look at the top 10 temporary hair chalks.
Top 10 Temporary Hair Chalks
With GirlZone Hair Chalk Set For Girls, you can say goodbye to boring hairdo and hello to fun and funky hair. These hair chalks are easy to hold like pencils and come in protective plastic casings to keep them from breaking off. They glide through your hair easily and can be used up to 80 times! The kit has five metallic and five other vibrant colors made from non-toxic ingredients that make them ideal for some fun hair transformations without damaging the tresses. Reviewers highly recommend the product for its bright colors that are super-easy to wash. These are ideal for personal styling or as a gift for your loved ones.
Pros
Skin-friendly
Long-lasting
Easy to remove
Easy to apply
Vibrant shades
Cons
If you are looking for a specific shade with high pigmentation, Splat's the best option you can lay your hands on! It imparts a soft color that is easy to blend, brush, curl, or style. The best part is, it can be easily washed out with shampoo. It comes in 10 beautiful shades, with which you can play around by highlighting or adding an ombre look. It glides effortlessly even on the driest parts of your hair and adds just the right amount of color that lasts for a day or two. The kit includes a compact of splat hair chalk and an applicator sponge. Here is an informative video featuring the tester's experience that tells you more about the product.
Pros
Does not damage your hair
Works best on blonde hair
Kid-friendly
Hair-friendly ingredients
Washable formula
Cruelty-free
Cons
Color transfers resulting in staining.
Price at the time of publication: $6.63
These rainbow-themed hair chalks are vibrant and ideal for parties and beach getaways. Mix them all or use them individually to get beautiful layers of hair color. They are non-toxic, non-allergenic, and non-damaging. These water-soluble, non-permanent color chalks last up to three days and are convenient to wash out with a shampoo. They are easily blendable and can be used to create a perfect ombre effect. For more information about a tester's experience of using the product, click on this video.
Pros
Can be mixed with other shades easily
Visible on dark to light hair colors
Long-lasting vibrancy
Non-messy
Easy blending
Cons
Hard to wash out on blonde hair.
Desire Deluxe Girls Gifts Hair Chalk lets you bring all the shades of the rainbow to your tresses. The makeup kit contains ten temporary color pens. They are non-toxic, water-soluble, and easy to wash out. The kit has two glitter shades to make your hair revamping all the more fun. Mix two different colors to create as many vibrant shades as you want. These can be used for cosplays and face painting for halloween, christmas, or parties.
Pros
Does not damage your hair
Highly pigmented
Quick-drying
Easy to apply
Non-toxic
Non-allergic
Cons
Price at the time of publication: $15.99
These unique hair color combs come in six bright colors. The applicator makes it really easy to color each hair strand from root to tip. It helps in even application of color without any patchiness. These hair chalks work well on light brown and blonde hair. If you wish to use them on dark hair, you need to sprinkle some water before brushing. Also, these colors are non-toxic and non-allergenic. The kit is perfect for some creative styling, whether you wish to try some new looks by yourself or experiment with your friends!
Pros
Easy application
Skin-sensitive
Color gets deposited quickly
Does not damage your tresses
Cons
The chalk is a little sticky.
Price at the time of publication: $8.99
Have a color blast with your new set of Fresh Monster Temporary Hair Coloring Chalk. This kit contains 12 amazing shades of colors like teal, orange, dusty blue, purple, etc. These are non-toxic chalks that do not harm your hair. These easy-to-use chalks showcase your creativity for makeovers, parties or just to have fun on a boring day. Reviewers suggest applying this chalk on wet hair for a more vibrant look.
Pros
Vegan
Cruelty-free
Paraben-free
Triclosan-free
Easy to wash out
Easy to carry
Cons
Price at the time of publication: $13.98
The HueLondon Hair Chalk includes ten pens and three shimmery glitter pots. It's a blessing for people with dark hair as these chalks are highly pigmented and can make the color pop. These pens are mess-free and easy to use. Reviewers love that they also come with a wide handle comb and a cute pouch to store all your accessories in one place. Get ready to sport rainbow, unicorn, and mermaid hair with this high-utility kit.
Pros
Non-toxic
Works on all hair colors
Easy to use and wash out
Safe on skin and hair
No-mess application
Highly pigmented
Cons
Price at the time of publication: $21.99
Bring out the artist in you with PURPLE LADYBUG Hair Chalk & Glitter Style Set. With each kit, you get 12 hair chalk pens and an applicator pen to make the makeover process easy and fun. There's also one pot of body glitter that you can use to be the sparkly shine of the party. The soft bristle brush, comb, and applicator wand make the application and removal process a breeze. The desired color may look different based on your original hair color, but the colors still show even on dark hair. Reviewers love the varied shades for creating temporary highlights that instantly spruce up your look.
Pros
Easy to apply
Can be used as a face paint
Additional tools
Easy to remove
Ideal for gifting
Safe and high-quality
Works on all hair colors
Cons
Price at the time of publication: $15.99
Kalolary 10 Color Temporary Hair Color Chalk Comb Set is a pack of 10 vivid colors that give your hair a vibrant look. They come in a unique comb-like design with color-attached chalks for hassle-free application. Each chalk applies well to all hair types from light to dark.
Pros
Easy removal
Non-toxic
Utility design
Safe for all hair types
Value for money
Multipurpose
Cons
The color does not apply evenly
Price at the time of publication: $7.99
As the name suggests, this hair chalk can add some epic pigmented colors to your hair. It includes 12 temporary shades that suit almost all hair colors. It has the consistency of a crayon, which makes it less messy during the dyeing process. If you want full coverage, damp your hair before applying and set the color with a dryer. These are long-lasting and stay vibrant until even the third day.
Pros
Can be twisted to reveal more product
Easy to apply
Safe for skin and hair
Blendable shades
Cons
Can stiffen your hair while washing out.
Price at the time of publication: $14.99
Hair chalks are a great way to trial-run a color before you get it done permanently. It is also a good way to keep kids and teens inclined toward fashion without exposing them to harmful chemicals. Although temporary, they are very fun to work with and allow you to try new colors with professional-grade results every week. We have put together a guide that will help you buy the best hair chalks online. Check it out!
Things To Consider While Buying Temporary Hair Chalks
Ingredients: Hair chalks are usually made up of bentonite, calcium carbonate, mica and color pigments that are usually safe for use. These ingredients only cause allergic reactions in those who are sensitive to hair dye. Avoid ingredients such as lead or cadmium that can cause skin irritation and hair loss.
Hair color: If you have darker hair color like black or brown then you can opt for creamy hair chalks that are easy to apply. But if you have lighter hair color like blonde then you can go for dry hair chalks to prevent staining.
Color Payoff: Some chalks give you a good shade of color with just one swipe while others take a few swipes. However, do also check the reviews to know if the colors transfer or stain. Choose one that has a good balance of both.
Durability: Hair chalk color usually lasts for 2-4 washes. However, different formulas can have different lasting power. If you want to jazz up your look only for a night, choose a formula that washes away easily. If you want your look to last for the weekend, go for long-lasting chalks.
Kid-friendly Kit: If you want hair chalk for kids to style during a play or Halloween or if your kids want these chalks for their night out, make sure that you buy a kin-friendly kit.
Why Trust StyleCraze?
The author of this article, Pooja Karkala, is a haircare aficionado. She loves experimenting with new hair colors and understands the effect it has on your hair. She went through user feedback on reliable forums and curated this list of hair chalks available online. These products are easy to use, washable, and give your air a pop of color without any adverse effects.
Frequently Asked Questions
Does hair chalk stain your pillow?
Yes, your pillow might get stained by your chalk hair dye, especially if it is white or another light hue.
Does hair chalk damage your hair?
No. Hair chalk does not damage the hair as it only deposits color, which washes off with a few rinses.
How do you keep hair chalk from rubbing off?
Apply the chalk to the strands, twisting it in as you move downwards. Allow the color to dry before applying a cool blast of air with your hair dryer. Style as usual and finish with hairspray to keep the color in place.
How do you remove hair chalk from the hair?
Hair chalk usually washes out quickly and easily by washing your hair once or twice with shampoo.
Is hair chalk the same as regular chalk?
No. Hair chalk is made of soft pastels and skin-safe ingredients that do not damage the hair or scalp.
Does hair chalk work better on wet hair or dry hair?
Hair chalk works well on both dry and wet hair. However, damp hair will produce more vibrant color.
Recommended Articles:
Best Color-Depositing Conditioners
Best Root Touch-Ups To Save Your Hair Between Salon Visits
Best Blue Hair Color Products