5 Best Temporary Green-Colored Hairsprays For Women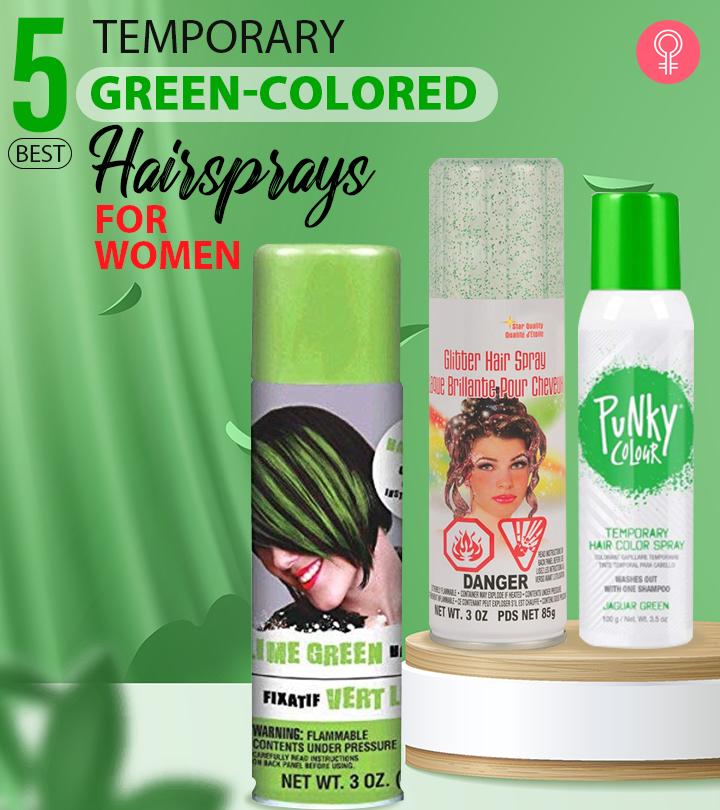 Trying out a new color can seem like a pretty big commitment! Perhaps you just want to stick with your natural color but have some fun occasionally. For some zero commitment and no strings attached makeover, try out a temporary color hairspray. Well, not just any color hairspray but a green one!
Color hairsprays save you a trip to the salon as they are easy to apply, deliver instant results at home, and last until your next shampoo. Try out one from our list of the 5 best green color hairsprays that will brighten up your hair and change your look dramatically. Scroll down!
5 Best Green Hairsprays For Women
The bold jaguar green Punky Color Temporary Hair Color Spray has rich pigments that instantly create highlights and colorful streaks or an all-over dramatic effect, depending on your choice. This mess-free spray washes out easily in one shampoo session. It is crafted from superior grade ammonia-free ingredients to make it safe and irritant-free. The vivid color complements a variety of outfits and can be used for costume parties, holiday events, and festivals. The non-sticky, easy-to-spray product comes in travel-friendly packaging that can be used anywhere to change up your look instantly.
Pros
Non-sticky
Easy to apply
Washes off easily
Quick-drying
Cruelty-free
Travel-friendly
Cons
The lightweight formula of the Amscan Lime Green Hair Spray delivers full coverage and maximum color intensity to all types and lengths of hair. This non-damaging aerosol spray does not contain any bleaches or peroxides and washes out easily with shampoo and water. It can be used to match any costume or show team spirit by matching school colors.
Pros
Easy to use
Full coverage
Washes off easily
Hypoallergenic
Non-toxic
Cons
Chalky texture
Strong fumes while applying
The BTZ Color Bombz Zoner Green Hair Spray is formulated without tints and bleaches that damage the hair. It delivers a high color payoff to give the hair a vivid and vibrant shade of zoner green. The color is easy to wash off with shampoo and does not leave lasting stains on the skin. This explosively cool shade allows the wearer to create fun hairstyles instantly for parties, events, or holidays or just for a new look.
Pros
Richly pigmented
Washes off easily
Easy to use
Quick-drying
Does not leave lasting stains
Cons
The bright green shade of the Unique Hair Spray Temporary Hair Color adds a streak of vibrant color to styled hair or gives full coverage to create a new funky hairstyle. The easy-to-use spray does not leave lasting stains and comes off with warm soapy water. The quick-drying formula does not leave any residue and lasts until the next wash.
Pros
Easy to use
Washes off easily
Vibrant color
Full coverage
Leaves no residue
Quick-drying
Non-sticky
Cons
Unpleasant scent
Dries the hair
Chalky texture
The glow-in-the-dark green Star Quality Glitter Hairspray adds a striking touch to any hairstyle and complements a variety of costumes at events, parties, or Halloween. It gives a subtle or dramatic hue to your hair, depending on the quantity used. This temporary hair color is made of safe ingredients and is easy to wash out with shampoo. It has a lightweight texture that does not weigh the hair down or leave any residue. The formula has a slightly added touch of glitter with the green shade and amps up the vibrancy of any look.
Pros
Easy to use
Washes off easily
Glows in the dark
Lightweight
Leaves no residue
Cons
A temporary color hairspray is a great way to experiment with a new look. If you want to try out a funky color, go with green! Go ahead and choose from the best green color hairsprays listed above and channel your inner Billie Eilish or Hulk, whichever you are in the mood for!
Recommended Articles