13 Best Lip Balms To Treat Cold Sores
Find instant winter-time relief with the much-needed TLC from these lip care brands.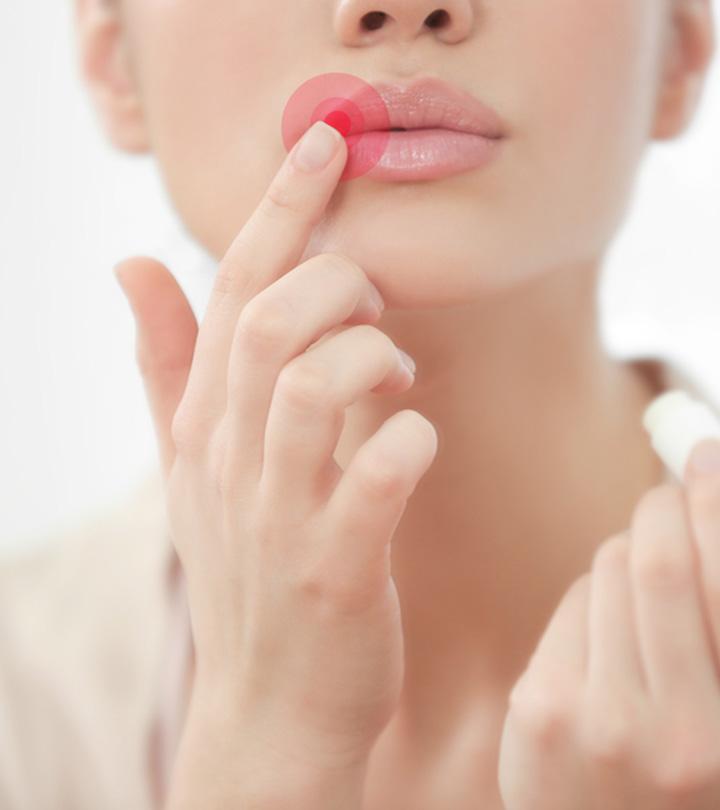 A frequent sign of a viral infection is cold sores, also called fever blisters. These blisters are filled with fluid and are noticed around the lips. The perfect solution to these painful and irritating blisters is using the best lips balms for cold sores. Cold sores are extremely contagious and may become inflammatory. However, using the right lip balms soothes the irritation and gives you some relief.
Scroll down to learn about the best medicated lip balms available online for treating those frustrating cold sores. Keep reading to know more!
13 Best Lip Balms For Cold Sores
The Burt's Bees Medicated Lip Balm is infused with organic butter and natural oil from eucalyptus that relieves pain and itching from fever blisters and cold sores. The 100% natural formula moisturizes and renews your lips. The melting butter makes your lips kissably soft and plump. The refreshing aroma of eucalyptus and methanol is a perfect companion to the soothing and cooling sensation. Click on the video for an honest review of the Burt's Bees Medicated Moisturizing Lip Balm.
Pros
100% natural ingredients
Moistening and softening
Provides a cooling effect
Natural fragrance
Fast-acting
Cons
None
Price at the time of publication: $8.49
The Dr. Dan's Lip Balm is formulated with 1% hydrocortisone that provides relief from dry, chapped lips. This medicated lip balm is a dermatologically-tested formula that offers protection from fever blisters and cold sores. It helps reduce swelling, itching, and redness. The infused natural oils with beeswax protect the hydrating barrier and seal moisture. The lip balm is hypoallergenic and perfect for most skin disorders.
Pros
Hypoallergenic
Suitable for sensitive skin
Reduce irritation
Promotes healing
Cons
May not be suitable for lip eczema
Price at the time of publication: $16.5
The Blistex Medicated Lip Ointment contains four active ingredients that provide relief from pain, itching, lip sores, and blisters. It contains 0.5% camphor, 1.1% dimethicone, 0.625% methanol, and 0.5% phenol that soothe soreness. The antibacterial and antifungal properties of camphor relieve skin irritation and itchiness. The moisturizing and emollient base in the Blistex Lip Ointment alleviates lip cracking and seals hydration. It also heals dry, chapped lips, and improves the overall lip condition. Apply this lip balm five minutes before applying any lip colors. The video will help you to decide if you want to buy Blistex Medicated Lip Ointment.
Pros
Deep penetration
Healsdry, chapped lips
Softens lip cells
Emollient base
Clinically-proven
Elevates lip moisture
Cons
None
Price at the time of publication: $4.0
The Quantum Health Lip Clear Lysine+ Lip Care Ointment reduces healing time. It also alleviates soreness, pain, and redness associated with cold sores and blisters. The soothing, moisturizing, and cooling ingredients are effective in providing quick relief from pain and itching. The innovative science-based formula contains methanol, lysine, calendula, olive oil, propolis, and zinc oxide.
Lysine is a well-researched amino acid that suppresses the activity of arginine, which is a common trigger for the development of cold sores and blisters. Calendula and methanol are calming and soothing ingredients that heal irritated skin. Olive oil provides moisturizing benefits. Zinc oxide inhibits viral replication and promotes rapid healing. This award-winning brand provides instant relief from burning and itching and reduces symptoms after 3 days.
Pros
Provides fast relief
Cuts down healing time
Clinically-proven
Alleviates cold sore outbreaks
Cons
Price at the time of publication: $7.48
The BlistexLip MedexBalm restores moisture balance and relieves sore lips. It is formulated with camphor, methanol, beeswax, lanolin, castor seed oil, organic shea butter, and cocoa seed butter. The nut butter is an excellent emollient that is readily absorbed in the skin and leaves your lips feeling soft, smooth, and plump. The medicated and botanical extracts deliver a noticeable and immediate cooling action from the hot, itching sensation of sore lips. It provides a natural barrier that helps lip cells maintain the moisture balance.
Pros
Provides fast relief
Alleviates dryness
Cooling effect
Maintains moisture balance
Cons
None
Price at the time of publication: $5.25
The DocoShieldLip Balm is designed to give complete relief from cold sores. It is formulated with 10%docosanol, which is an effective antiviral ingredient that protects healthy cells from being affected by the virus. It effectively stops viral cell replication by halting their growth and spread. It contains moisturizing botanical extracts and jojoba oil that seal hydration and keep your lips stay healthy and plump for long. Using this medicated lip balm regularly can prevent cold sore outbreaks. It is smooth in texture and lightly scented. It makes you feel fresh and rejuvenated.
Pros
Highly moisturizing
Can be used daily
Helps prevent virus spread
Cons
Texture could be too waxy
Price at the time of publication: $16.87
Desert Essence is a therapeutic-grade lip balm formulated with eco-harvest tea tree oil, aloe vera, and vitamin E. The comforting and moisturizing botanical extracts soothe soreness and all eviate the redness and inflammation caused by cold sores. The tea tree oil is antibacterial, antimicrobial, and anti-inflammatory. It targets bacteria and hinders their growth, reducing inflammation. The emollient and natural beauty of aloe vera redefines the skin and offers cooling effects. The beeswax softens and protects dry, cracked lips. The cooling flavor of spearmint and peppermint offers further relief from the burning sensation.
Pros
Antimicrobial
Non-GMO
100% vegan
Paraben-free
No added fragrances or colors
TEA/MEA/DEA-free
Cons
Texture could be too grainy
Price at the time of publication: $10.0
The Herpecin-L Lip Balm provides real relief from fever blisters, cold sores, and dry, chapped lips. It is enriched with lysine, vitamin B6, C, and E, and lemon balm. It comes with SPF 30. Lysinehinders the growth of bacteria while the vitamins and lemon balm calm, soothe, cool, and soften chapped lips. The lip balm provides long-lasting relief from cracked lips, cold sores, sun exposure, and fever blisters. It is non-waxy and easy to apply.
Pros
Fast-acting
Natural ingredients
Offers sun protection
Non-waxy formula
Cons
None
Price at the time of publication: $10.0
Dr. Christopher's Cold Sore Relief Lip Balm helps heal lip soreness. It is formulated with golden seal root, garlic bulb, skullcap herb, olive oil, and beeswax. The golden seal root helps reduce inflammation when applied to rashes and ulcers. It also helps reduce infection and itching. The natural antiseptic properties of the balm soothe the tingling sensation and heal blisters and cold sores. Garlic has antibacterial, antifungal, and antiseptic properties that halt bacterial growth and improve blood circulation. The moisturizing benefits of olive oil leave the lips appearing kissably soft, smooth, and plumped.
Pros
Antimicrobial
Hydrating and moisturizing
Natural ingredients
Soothes soreness
Cons
None
Price at the time of publication: $6.0
The Urban ReLeaf Lip Defense Balm is formulated with a gentle and soothing formula that suppresses cold sores and future breakouts. It is made with 100% natural lemon balm and lysine that quickly heal, soothe, and protect the irritated skin. Lysine helps build collagen in the skin. It helps treat cold sores and improves skin elasticity and firmness. Lemon balm is a powerful herbal remedy that possesses antibacterial and anti-inflammatory properties. It has calming, soothing, healing, and tightening properties. Zinc oxide speeds up the healing process. This invigorating, nourishing formula is safe and effective for daily use.
Pros
100% natural ingredients
Heals and soothes lip skin
Suppresses future outbreaks
Acts as a deep moisturizing base
Fast-acting
Cons
Texture could be too gritty
Price at the time of publication: $9.87
The Carmex Cold Daily Care Lip Balm soothes, smoothens, and softens the delicate lip skin. It has octinoxate and oxybenzone, which act as potent sunscreens to protect your lips from environmental aggressors. The moisture shield helps hide redness with a blend of natural minerals. It is a clinically-proven and dermatologically-tested formula to alleviate itch and pain.
Pros
Soothing and protecting
Broad-spectrum sunscreen
Natural minerals
Absorbs easily
Dermatologically-tested
Cons
None
Price at the time of publication: $5.33
The Carmex Classis Lip Balm is a blessing for your lips. Its texture is slightly greasy, but you can use it as a lip mask at night. You will wake up to the softest, most rejuvenated lips! The ingredients help moisturize, hydrate, heal, and protect your lips.
Pros
Works best with just one use
Treats chapped lips
Cons
None
Price at the time of publication: $14.7
The Abreva Lip Care Package contains Cold Sore Cream and Chapstick that keep the lips smooth and healthy. The FDA-approved antiviral cold sore cream contains 10% docosanol, which helps treat a recurring cold sore. It reduces the healing time by penetrating deeply and blocking the virus that causes cold sores. Docosanol also helps mitigate cold sore symptoms, such as pain, tingling, itching, and burning. The chapstick moisturizer keeps the lips healthy-looking and smooth. It is enriched with moisturizing ingredients like aloe and vitamin E. This nourishing balm forms a protective barrier to prevent moisture loss and lip chapping. It comes with SPF 15, which protects your lips from harmful UV rays. This chapstick glides smoothly on your lips, delivering long-lasting relief from dryness.
Pros
FDA-approved
Tasteless
SPF 15
Contains moisturizing ingredients
Long-lasting
Promotes quick healing
Cons
None
Price at the time of publication: $18.22
Applying a lip balm for cold sores moisturizes your lips and relieves you from pain or irritation. However, not all lip balms are created equally. There are many different types, some with more benefits than others. The following buying guide will help you understand how to buy the best lip balms to treat cold sores.
How To Choose The Best Lip Balms To Treat Cold Sores – Buying Guide
To treat cold sores, look for a lip balm made with 100% natural ingredients, including fruit extract or natural oils. It should have no chemicals or preservatives added. Natural ingredients are hypoallergenic, which doesn't harm your lips. Choose a lip balm with a high concentration of active ingredients that provide long-lasting healing and fast relief from cold sores.
A lip balm must provide a smooth application without leaving a greasy residue. A good quality lip balm gets you smooth and soft lips with easy application. When applied to your lips, your lip balm must be easy to use without causing any pain or burning sensation.
Be sure to get a lip balm with long-lasting moisturizing effects. Look for lip balms that offer intense hydration and long-lasting relief against sore lips. A good lip balm shall also prevent sore lips from forming.
Choose a lip balm that provides fast healing and immediate relief. When you apply the balm, the sore will instantly feel better. Getting a lip balm that does the job as fast as possible is essential.
Hydrating and moisturizing
Apart from providing relief, a lip balm should also nourish and moisturize the lips. It will make the lips feel soft during and after. Choose a lip balm with nourishing oils and butter to prevent chapping of the lips.
These are the 13 best lip balms that help soothe cold sores. In the following section, we will understand more about cold sores.
What Is A Cold Sore?
A cold sore or Herpes labialisis a painful blister that is caused by the herpes virus. It is typically formed on one side of the lips. It is a fluid-filled blister that can easily break open when you talk, laugh, or chew. The fluid oozes out and may create a wound as well as a scar (1).
It is important to note the symptoms of cold sores and get them checked as soon as possible. The next section discusses some common symptoms that accompany cold sores. 
What Are The Symptoms Of Cold Sores? 
Painful blisters
Mild fever
Muscle aches
Severe wounds
Tingling and itching
Sore throat
Headache
Swollen lymph nodes
You must be wondering how a lip balm can ease the pain associated with cold sores. We have covered that in the following section.
Why Use Lip Balms For Cold Sores?
Cold sores are highly contagious and can spread easily. Lip balms are the easiest, cheapest, and travel-friendly options that can be used along with proper medication. The natural formula with active ingredients helps soften, hydrate, and nourish the chapped, painful lips. These blisters can cause pain while healing. Using lip balms is a faster way to heal chapped lips as they offer a soothing and cooling sensation.
Why Trust StyleCraze?
The author, Oyendrila Kanjilal, is a certified skin care coach and loves to provide well-researched articles for her readers. She conducts her research online by checking various user feedback and reviews to provide you with the list of the best lip balms for cold sores. Apart from providing a cooling effect, these lip balms also renew your lips, making them soft and plumpy.
Frequently Asked Questions
Are chap sticks good for treating cold sores?
Chap sticks that are formulated with natural moisturizing ingredients with medicinal properties can help treat cold sores.
How do you treat cold sores on your lips fast?
Severe cold sores need medical attention. Cold sores that are not so severe can be treated by using medicated lip balms. You can also use a cold compress for relief from the pain and burning sensation.
Should you throw away a lip balm after treating a cold sore?
Lip balm should always be kept in your bags. It is the easiest and quickest way to moisturize dry, chapped lips. You can continue to use it even after treating your cold sore.
What lip balms are good for cold sores?
Lip balms that calm the soreness of dry lips are good for cold sores. You can opt for the Blistex Medicated Lip Ointment, a clinically proven lip balm to ease cold sores.
What's the best thing to put on a cold sore on your lip?
You can apply the following products to your lips during a cold sore.
• Aloe vera gel
• Lemon lip balm
• Sunscreen
• Icepack
• Lysine
• Petroleum jelly
What gets rid of cold sores overnight?
You can take medicines such as ibuprofen or apply lip care products such as lip balms or aloe vera gel to reduce the pain of a cold sore.
Should you keep a cold sore, moist, or dry?
You should apply creams, balms, and gels to your lips to prevent flare-ups. So, maintaining a warm, moist environment during a cold sore will treat it quickly.
Are chapsticks good for treating cold sores?
Yes, chapsticks are effective in treating cold sores as they moisturize the lips and help prevent further flare-ups.
Recommended Articles