The 10 Best Pink Hairsprays You Will Absolutely Love – 2023
Long-lasting, easy-to-use, organic hair sprays give you a bold, fresh appearance.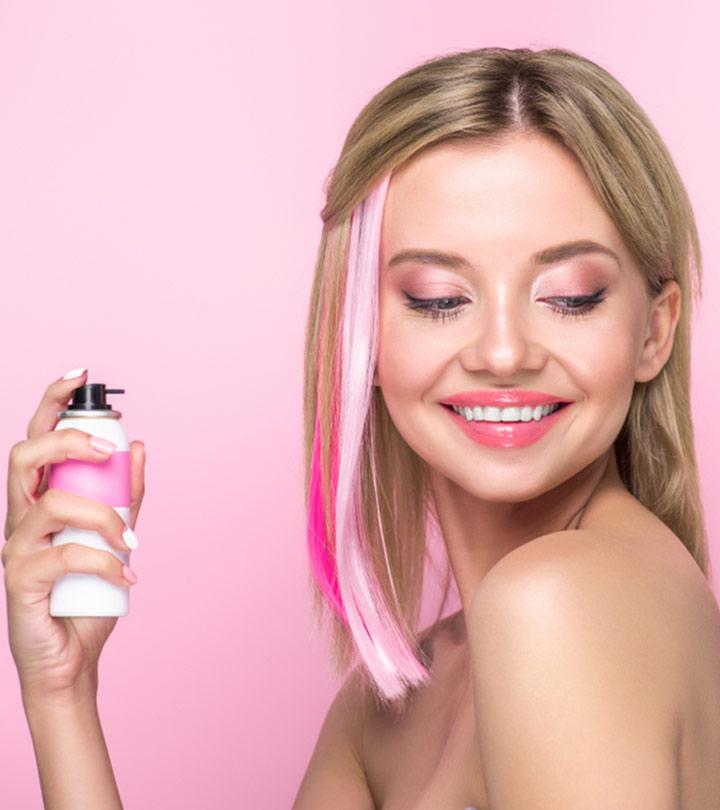 Let's get real about the fact that all of us want to get those funky pink highlights done but are too scared that we might end up damaging our hair. As much as hair color looks appealing, it also demands a lot of courage to do it. And that's why we have the best pink hair sprays right here for you.
When it's about our hair, we all tend to get overprotective. We cannot afford to color our hair and not like it and go for a recoloring session again. Plus, it is absolutely time-consuming and damaging to the hair quality. Hence, there are hair color sprays to the rescue. If you are a pink color fanatic, you have landed just at the right place. We have listed the 10 best pink hair sprays for you to get a new peppy pink on your hair every day. There's more to love about these as they are made with natural ingredients and no phthalates, adding moisture and pigmentation to your hair. Blonde, black, gray – doesn't matter which one is your original hair color, because these sprays will work for you nevertheless.
Top 10 Best Pink Hair Sprays For A Perfect Makeover
This L'Oreal Paris Colorista Hair Color Spray gives your hair a vivid and bold color that can enhance your look in no time. It's easy to apply, and you can easily remove the hair color with one wash. Try this Hot Pink color hair spray and get gorgeous-looking hair! Experiment with your hair — just spray, wash, and repeat. Not a fan of pink? Don't worry! You can experiment with a new color each day, as it comes in different colors. Check out this YouTuber's review of the product if you require more details.
Pros
Covers all gray
Gentle on the hair
No bleach required
Safe to use
Suitable for all hair types
Cons
Might make hair a bit sticky
Price at the time of publication: $8.43
Get an intense pink color with this Jerome Russell B Wild Color Spray that will enhance your bold look and make you feel more confident! The spray lasts temporarily. Hence you can keep experimenting with new colors every day. Plus, it is easy to apply and gives a fantastic look to your hair! You can also check this YouTube video for a complete idea about the product.
Pros
Easy to remove
Great color
Does not damage hair
Highly pigmented
No bleaches, peroxide, and tints required
Cons
Price at the time of publication: $8.9
Get a beautiful shade of pink with this hair color spray offered by SoftSheen-Carson, which is considered to be one of the best. The intense shade delivered by this spray allows you to pull off a bold look with ease. It does not damage your hair, nor is it challenging to apply. This hair spray provides an ultra-vibrant color that helps enhance your look!
Pros
Highly pigmented
Easy to use
Not sticky
No bleaching required
Cons
Might be a bit difficult to remove
Price at the time of publication: $8.99
All that glitters is not gold, and this holds true with this Rock The Locks Shake & Shimmer Glitter Spray that comes in pink and silver hue! All you have to do is shake the bottle and spray to add some shine and shimmer to your hair. Yes, it's that simple! This product is safe to use and requires no external care and maintenance. This spray is perfect for those with curly hair and is kid-friendly too. It adds a good texture to your hair and is lightweight, which means it does not weigh down your hair.
Pros
Quality-tested
Provides great hold
Alcohol-free
Paraben and phthalate-free
Does not have artificial fragrances
Delicious sugar cookie scent
Cons
Price at the time of publication: $11
This Luster's Pink Sheen Spray delivers a subtle pink color to your hair while also providing shine and volume. This long-wearing hair spray can be used on wigs and your natural hair too. This product consists of mink oil and wheat germ oil that provide a nourishing effect on your hair. Create tamed curls and smoothen your poofy and frizzy hair with this hair spray. If you want to know more about the results, take a look at this review on YouTube.
Pros
Smells pleasant
Lightweight
Prevents drying of hair
Does not damage hair
Quick and easy to use
Acts as a moisturizer and sunscreen
Cons
Price at the time of publication: $12
Halloween or fancy dress competition; no matter what event you have to attend, with Amscan Pink Hairspray it is super easy to pull off the funkiest look. This hair spray lasts for a long time and does not contain any harsh chemicals. This is one of the most convenient hair sprays that will give you vibrant-looking hair in minutes!
Pros
Unisex
Safe to use
Great color
Easy to remove
Cons
Might have an unpleasant odor
Price at the time of publication: $7.02
This Manic Panic Hair Color Spray will deliver vivid pink color to your hair. Get an instant makeover with this ready-to-use pink hair color spray. You no longer have to rely on tints, peroxides, and bleaches to color your hair; just shake this bottle and spray it. This spray is easy to remove and can be applied as many times as you want without worrying about the damage. But it is advised that you do not use it on wet and chemically-treated hair.
Pros
100% vegan
Cruelty-free
Gluten-free
PETA accredited
For all hair types
Phthalate and paraben-free
PPD, ammonia, and resorcinol-free
Cons
May make your hair knotted/tangled
Price at the time of publication: $15.99
This easy-to-use High Ridge High Beams hair color spray provides a beautiful pink color that helps you change up your look. Perfect for anyone who wants to try out a vivid hue on their natural hair color, this spray gives you instant results while also being incredibly easy to remove.
Pros
Comes off with one wash
Non-sticky
Doesn't smell bad
Vibrant color
Cons
Might make hair a bit rough
Price at the time of publication: $8.46
This highly recommended Rubie's Bright Color Hairspray is the best you can get if you want a pretty shade of pink on your hair. Try this user-friendly, safe-to-use hair spray and get compliments wherever you go! All you need to do is shake the bottle, spray it on your hair, and you're good to go! And when you want to remove it, just wash it off with shampoo once.
Pros
Great bright color
Simple removal
Glows in the dark
Cons
Might not be sweat-resistant
Price at the time of publication: $14.85
Get a beautiful and safe makeover with this hair color spray by Beyond The Zone. This hair spray allows you to experiment with your hair without creating a disastrous look. No matter which event you have to attend, this hair spray will not disappoint you. Plus, you will get a completely different look in just a few minutes.
Pros
Safe to use
Long-lasting
Easy to use
Highly pigmented
Multiple shades available
Does not require bleaches, tints, and peroxides
Cons
Might have an off-putting smell
Price at the time of publication: $7.19
Let's now understand the correct way of using hair color sprays in order to get the right effect of the color on your hair.
How Do You Use Pink Hair Spray
Step 1: Brush your hair properly. Remove all the tangles and make it smooth.
Step 2: Shake the spray bottle well before using it.
Step 3: Hold the spray bottle straight and spray the color by keeping it at a distance.
Step 4: Start spraying from the roots and move upwards till the point you wish to color your hair.
Why Trust StyleCraze?
Kirtana Divakar, a hair care enthusiast, is up-to-date on all hair color trends. According to her, pink highlights can transform the look of your hair and add some zest to your daily routine. Her carefully compiled list of the best pink hair sprays represents her analysis of reviews and detailed research to find the best products to recommend to her readers. With these vibrant pink hair sprays made of natural ingredients, your hair will look lush, fresh, and pigmented.
Frequently Asked Questions
Does pink hair spray wash out?
Yes, temporary hair color sprays don't last for long. It can quickly fade away after shampooing your hair. The hair color can come out after 2-3 hair washes.
Is temporary hair color spray safe?
Temporary hair color spray is used to cover the outside of your hair; it does not penetrate your hair strand and hence does not cause any damage. Thus, it doesn't permanently have an impact on your natural hair color.
Does pink hair spray work on black hair?
Yes, these hair sprays are formulated with vibrant colors that give good coverage even on dark hair.
Will pink hair spray stain blonde hair?
Yes, pink hair sprays can stain blonde hair and lighter hair colors but it comes off after a few washes.
How do you remove pink hair spray?
A good clarifying shampoo or a DIY of apple cider vinegar with a moisturizing shampoo or baking soda paste with shampoo or warm water helps remove pink hair spray.
Recommended Articles