10 Best Pink Hair Sprays You Will Absolutely Love!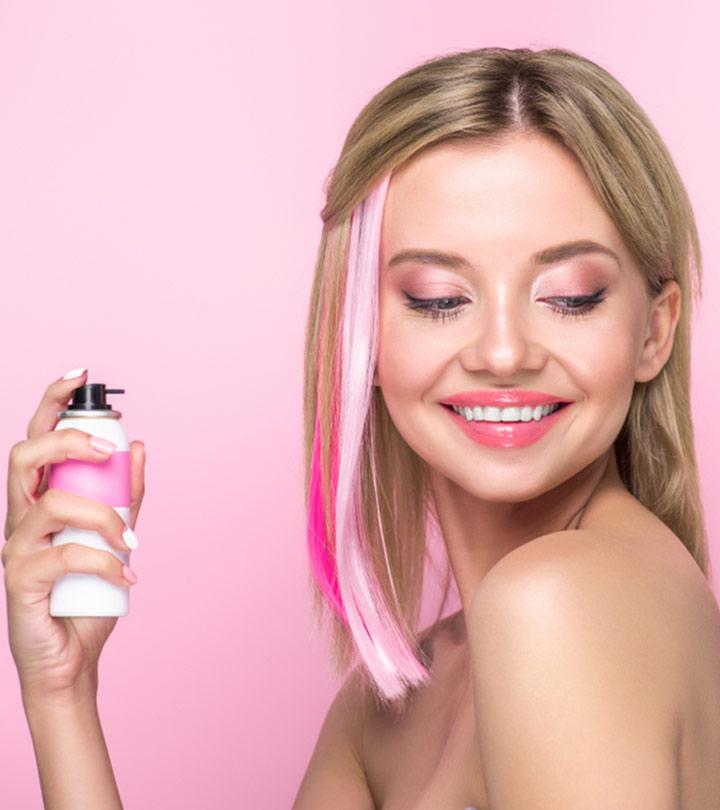 All of us like to try a new look but fail to do so due to various reasons. Some are too busy in life, while others don't want to damage their hair. Hair color looks appealing and stylish, but not everyone has the courage to give it a shot.
When it comes to hair, we all get overprotective. Not all of us can afford to try a color, not like it, and color again. That would be time-consuming too, and it might also affect your hair quality. Hence it is advisable to try hair color sprays that work well and are easy to use. You will no longer have to rely on your hairstylist to give you a makeover. So, if you're willing to give hair sprays a try and you have always wanted to try pink, you've come to the right place. Try a different pink hair color every day with these 10 best pink hair sprays made just for you! Add moisture and good pigmentation to your hair with these products that are formulated with natural ingredients and are phthalate-free. Whether you have blonde hair or black hair, these salon-quality products will work efficiently
Top 10 Best Pink Hair Sprays For A Perfect Makeover
This L'Oreal Paris Colorista Hair Color Spray gives your hair a vivid and bold color that can enhance your look in no time. It's easy to apply, and you can easily remove the hair color with one wash. Try this Hot Pink color hair spray and get gorgeous-looking hair! Experiment with your hair — just spray, wash, and repeat. Not a fan of pink? Don't worry! You can experiment with a new color each day, as it comes in different colors.
Pros:
Covers all gray
Gentle on the hair
No bleach required
Safe to use
Suitable for all hair types
Cons:
Might make hair a bit sticky
Get an intense pink color with this Jerome Russell B Wild Color Spray that will enhance your bold look and make you feel more confident! The spray lasts temporarily. Hence you can keep experimenting with new colors every day. Plus, it is easy to apply and gives a fantastic look to your hair!
Pros:
Easy to remove
Great color
Does not damage hair
Highly pigmented
No bleaches, peroxide, and tints required
Cons:
Get a beautiful shade of pink with this hair color spray offered by SoftSheen-Carson, which is considered to be one of the best. The intense shade delivered by this spray allows you to pull off a bold look with ease. It does not damage your hair, nor is it challenging to apply. This hair spray provides an ultra-vibrant color that helps enhance your look!
Pros:
Highly pigmented
Easy to use
Not sticky
No bleaching required
Cons:
Might be a bit difficult to remove
All that glitters is not gold, and this holds true with this Rock The Locks Shake & Shimmer Glitter Spray that comes in pink and silver hue! All you have to do is shake the bottle and spray to add some shine and shimmer to your hair. Yes, it's that simple! This product is safe to use and requires no external care and maintenance. This spray is perfect for those with curly hair and is kid-friendly too. It adds a good texture to your hair and is lightweight, which means it does not weigh down your hair.
Pros:
Quality-tested
Provides great hold
Alcohol-free
Paraben and phthalate-free
Does not have artificial fragrances
Delicious sugar cookie scent
Cons:
This Luster's Pink Sheen Spray delivers a subtle pink color to your hair while also providing shine and volume. This long-wearing hair spray can be used on wigs and your natural hair too. This product consists of mink oil and wheat germ oil that provide a nourishing effect on your hair. Create tamed curls and smoothen your poofy and frizzy hair with this hair spray.
Pros:
Smells pleasant
Lightweight
Prevents drying of hair
Does not damage hair
Quick and easy to use
Acts as a moisturizer and sunscreen
Cons:
Halloween or fancy dress competition; no matter what event you have to attend, with Amscan Pink Hairspray it is super easy to pull off the funkiest look. This hair spray lasts for a long time and does not contain any harsh chemicals. This is one of the most convenient hair sprays that will give you vibrant-looking hair in minutes!
Pros:
Unisex
Safe to use
Great color
Easy to remove
Cons:
Might have an unpleasant odor
This Manic Panic Hair Color Spray will deliver vivid pink color to your hair. Get an instant makeover with this ready-to-use pink hair color spray. You no longer have to rely on tints, peroxides, and bleaches to color your hair; just shake this bottle and spray it. This spray is easy to remove and can be applied as many times as you want without worrying about the damage. But it is advised that you do not use it on wet and chemically-treated hair.
Pros:
100% vegan
Cruelty-free
Gluten-free
PETA accredited
For all hair types
Phthalate and paraben-free
PPD, ammonia, and resorcinol-free
Cons:
May make your hair knotted/tangled
This easy-to-use High Ridge High Beams hair color spray provides a beautiful pink color that helps you change up your look. Perfect for anyone who wants to try out a vivid hue on their natural hair color, this spray gives you instant results while also being incredibly easy to remove.
Pros:
Comes off with one wash
Non-sticky
Doesn't smell bad
Vibrant color
Cons:
Might make hair a bit rough
This highly recommended Rubie's Bright Color Hairspray is the best you can get if you want a pretty shade of pink on your hair. Try this user-friendly, safe-to-use hair spray and get compliments wherever you go! All you need to do is shake the bottle, spray it on your hair, and you're good to go! And when you want to remove it, just wash it off with shampoo once.
Pros:
Great bright color
Simple removal
Glows in the dark
Cons:
Might not be sweat-resistant
Get a beautiful and safe makeover with this hair color spray by Beyond The Zone. This hair spray allows you to experiment with your hair without creating a disastrous look. No matter which event you have to attend, this hair spray will not disappoint you. Plus, you will get a completely different look in just a few minutes.
Pros:
Safe to use
Long-lasting
Easy to use
Highly pigmented
Multiple shades available
Does not require bleaches, tints, and peroxides
Cons:
Might have an off-putting smell
Let's now understand the correct way of using hair color sprays in order to get the right effect of the color on your hair.
How Do You Use Pink Hair Spray
Step 1: Brush your hair properly. Remove all the tangles and make it smooth.
Step 2: Shake the spray bottle well before using it.
Step 3: Hold the spray bottle straight and spray the color by keeping it at a distance.
Step 4: Start spraying from the roots and move upwards till the point you wish to color your hair.
Thanks to the top 10 pink hair sprays mentioned above, you will now be able to try on a new color and a different shade each time you want to change up your look. You can even mix different colors to make your unique hue. The application is super simple, and removal is amazingly easy and hassle-free. These hair sprays don't damage your hair as they are applied only to the outer surface of the hair. Moreover, you no longer need any assistance, as with these sprays, you can style your hair easily within no time!
Frequently Asked Questions
Does pink hair spray wash out?
Yes, temporary hair color sprays don't last for long. It can quickly fade away after shampooing your hair. The hair color can come out after 2-3 hair washes.
Is temporary hair color spray safe?
Temporary hair color spray is used to cover the outside of your hair; it does not penetrate your hair strand and hence does not cause any damage. Thus, it doesn't permanently have an impact on your natural hair color.
Recommended Articles
The following two tabs change content below.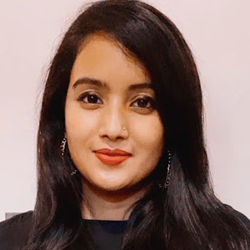 Kirtana developed a deep passion for writing ever since she was a little girl after reading the brilliant works of Enid Blyton and Roald Dahl. She completed her Master's in Mass Communication and Journalism from St. Joseph's College, Bengaluru and has chosen a career that is driven by creativity. A fashion enthusiast who believes in communicating effectively with a personal touch, she writes about beauty, skin care, fashion, and just about anything else.