11 Best Plus-Size Underwear For Women Worth Buying In 2023
These full coverage underwears are comfortable and offer a seamless look.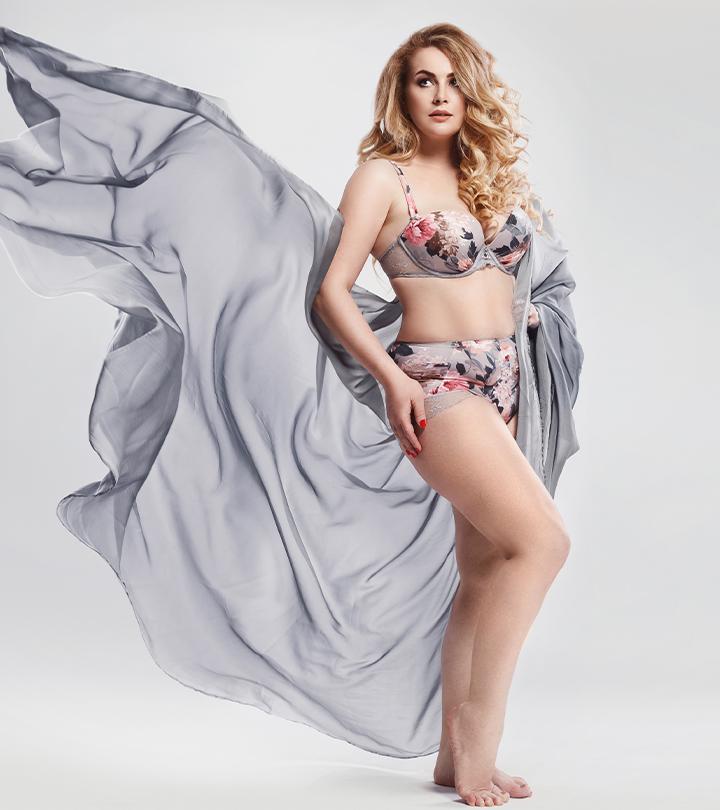 The plus-size challenge is real. From the silhouette fit skirt to the right pants, each of them is quite a struggle. However, with the best plus-size underwear, everything else sits just a bit better. Many people settle for the big granny panties or look out for brands that burn their pockets.
No worries, there are some brands that offer affordable, comfortable plus-sized underwear. From high-waisted briefs to boy shorts to solid vibrant colors to floral prints – they have got them all. To help you find the best fit, we have listed the 11 best affordable plus-size underwear that not just fit well but are also comfortable. These are the best as they go up to 5XL sizes and are available in amazing designs and colors. Keep reading to pick your fav!
11 Best Affordable Plus Size Underwear For Women
These soft and stretchy cotton briefs by Pokrala are designed to offer comfort with style. The high-waisted panties are made of cotton and spandex with a double-layered crotch for added protection. The low-cut design prevents any uncomfortable friction, and the wide leg openings have a snug elastic finishing.
The elastic double-layered band on the waist and the leg openings perfectly fit your shape without cutting into your skin. It also prevents the underwear from bunching or rolling and provides moderate abdominal support. These panties are available in various colors – from blacks to pinks, reds, blues – and in sizes from XS to 5XL. They are an ideal pick for curvy women or someone recovering from postpartum or abdominal surgery.
Pros
Full coverage
Breathable
Durable
Hides muffin top
Stays in place
Doesn't irritate your skin
Color does not fade
True to size
Value for money
Cons
None
Price at the time of publication: $24.99
This comfy plus-size underwear by Fruit Of The Loom is made with 91% cotton, 6% polyester, and 3% spandex. It has a smooth and comfortable waistband and 100% cotton linings for friction-free wear. The slip-free design features a traditional rise that gives you full coverage from the belly button to your mid-thigh. This brief pack comes in a set of six assorted colors – black, pink, fuchsia pink, blue, dark gray, and light gray. These panties are also available from XL to a super plus size of 6XL.
Pros
No pinching
Full coverage
Good fit
Breathable fabric
Cons
Price at the time of publication: $13.48
This high-waisted underwear by Annenmy is designed with a quick-drying and breathable soft fabric. It features a blend of 95% cotton and 5% elastane that keeps you cooler and dries much faster than regular cotton, making it perfect for daily wear.
The stretchy material provides full coverage, and the thick waistband ensures that the underwear stays in place and does not roll down. The double-layered crotch ensures added protection, while the absence of panty lines makes them ideal for pairing with body-fit dresses. This set of five underwear is also perfect for postpartum C-section recovery and comes up to a 5XL size. If you are not satisfied with the product, the brand offers a 100% refund or exchange.
Pros
Full coverage
Stretchy
Quick-drying
Doesn't roll down
Prevents friction
Good tummy control
Comfortable to wear
Varied color choices
Cons
Price at the time of publication: $28.99
This plus-size underwear by Wirarpa is made with a blend of 5% spandex and 95% combed cotton for a perfect fit. The stretchy material prevents sagging, binding, or piling and does not dig into your skin. The seam lines are smooth and non-irritating, while the low-cut design ensures no wedging. It also features a double-layered fabric-covered waistband that is not too tight or loose but hugs your waist for a snug fit. The breathable double-layer crotch area ensures chafe-free comfort and protection. This multicolor pack comes in a set of four.
Pros
Full coverage
Machine washable
Doesn't ride up
Soft
Form-fitting
Cons
None
Price at the time of publication: $19.99
This gorgeous set of underwear by Ouenz is super comfortable and fits you perfectly for all-day comfortable wear. The wide elastic waistband reduces the appearance of your muffin top, while the full-back coverage enhances your hips. The waistband provides optimal support without being tight, making it perfect for wear during postpartum and maternity.
The double-layered stitch ensures that these panties do not roll down or ride up. The briefs come in a pack of 5 and are available in multiple color choices, like purple, pink, gray, blue, and black. Additionally, if you are not satisfied with the product, the brand offers a free exchange, replacement, or refund within 30 days.
Pros
Breathable
Seamless
Comfortable wear
Soft fabric
No pilling
No riding up
Stretchy
Non-fading color
Cons
Price at the time of publication: $19.99
This set of four plus-size underwear by Molasus is made with premium quality fabric for a snug yet stretchy fit. It has a double-layered elastic waistband that does not roll down or bunch. The material has been preshrunk to avoid shrinkage after the first wash, resulting in a perfect fit, without digging into your skin.
The double-layered crotch ensures added protection and is sweat-wicking and breathable. The high-waisted design provides optimal tummy support and reduces the appearance of a muffin top. This underwear is made with 95% combed cotton and 5% spandex for added stretch and durability. The set available in six solid colors – black, gray, red, purple, blue, and beige.
Pros
Breathable
Quality finish at seams
Comfortable to wear
Hides muffin top
Doesn't ride up
Doesn't cause friction
Cons
None
Price at the time of publication: $24.99
These comfortable panties by Vanity Fair are made with high-quality nylon fabric. They offer complete coverage for a smooth lower belly and help hide those love handles. The material is super stretchy yet fits seamlessly. The lace trimming on the side adds a touch of delicateness to the briefs. They are available in a wide range of colors like black, white, blue, and fawn and come in a set of three.
Pros
Soft
Comfortable to wear
Perfect fit
Doesn't irritate your skin
Reasonably priced
True to size
Cons
Price at the time of publication: $23.1
This set of five boyshort briefs by B2BODY is designed with lightweight fabric that is perfect for relaxing at home, workout sessions, or wearing under shorts skirts. They are made of  96% cotton and 4% spandex for a snug and stretchy fit.
The long leg inseams prevent chafing for comfortable wear. The fabric is soft and covers the belly till the belly button, while the gusset provides extra comfort with its double-layered fabric. They come in three different colors – gray, white, and black.
Pros
Lightweight
True to size
Prevents chub rub
No wedgies
High waist support
Cons
Price at the time of publication: $27.99
If you are looking for cute and comfy plus-size underwear, this set by Hanes is the perfect choice for you. It comes in a value pack of eight and has a soft stretch waistband for a comfortable fit. The elastic openings do not dig in or irritate your skin. The fabric is a combination of 75% cotton and 25% polyester for a snug feel. The briefs are suitable for hand wash and durable.
Pros
Wide range of colors
Comfortable fit
Medium coverage
Breathable fabric
Soft
Ideal for daily wear
Cons
Runs smaller than average size
Price at the time of publication: $10.99
This vibrant 5-piece set of plus-size underwear by K – Cheony comes in light blue, blue, pink, orange, and black. They are made with 95% cotton and 5% spandex for soft and stretchy wear. The double-layer thick waistband prevents the underwear from rolling down and makes it suitable for wear during postpartum, C-section, and abdominal surgery recovery. The leg openings give you a chafe-free comfort and do not ride up. The underwear features a full-coverage design, making you look more confident without the muffin top.
Pros
Prevents chafing
Comfortable to wear
Hides muffin top
Doesn't ride up
Breathable fabric
Doesn't cause friction
Full coverage
Cons
None
Price at the time of publication: $30.99
This sexy plus-size thong by Hanky Panky features a 100% nylon body, 79% nylon, and 21% spandex trim, along with a 100% cotton lining. It provides figure-flattering coverage due to its high-waisted design.
The delicate piece of lingerie is super stretchy and fits all sizes from 14 to 24. The extra-wide lace waistband ensures a smooth lower belly. This is a perfect way for plus-size women to enjoy wearing a thong with the added benefit of having a moderate tummy tucker. It is available in a wide range of colors like – black, chai, classic leopard, purple, white, pink, red, etc.
Pros
Elegant design
Lightweight
Comfortable to wear
Soft
Good fit
Wide color range
Cons
Price at the time of publication: $22.4
Finding comfortable, durable, and flattering underwear seems complicated for plus-sized women. Unfortunately, the good ones are unavailable in your size or have a hefty price tag. But not anymore! Everyone should have access to comfortable, fashionable underwear. Therefore, here is a buying guide to finding the perfect plus-size underwear.
Tips To Select The Perfect Plus-Size Underwear For You
You must choose fabrics that feel good on the skin. Look for cotton underwear that is comfortable and stretchable. It is considered the best choice as it is easy to clean, breathable, moisture-absorbing, and ideal for daily use. Look for underwear with around 70-95% cotton fabric in it. Silk is another excellent material for underwear in plus size. It feels soft, absorbs moisture, and reduces the probability of rash on your skin.
Choose a bigger size if your panty pinches or curls up around the waist area. On the other hand, if you feel like you have to continue pulling up your pants, choose a smaller size. It is essential to understand that many brands have various underwear size quotients. One brand's XL size might be different from another brand's XL size. Hence, always check the measurements.
When purchasing plus-size underwear, you should look for brands that adjust the fit and cut. Avoid tight and compressive fitting to prevent irritation. Additionally, laser cut and Thermo-welded seams can improve the comfort of plus-size underwear. Choose panties with firm elastic in the waistband, so you don't have to pull your underwear all day. If you can, look for brands that can adjust the fit and cut when purchasing plus-size underwear.
Make sure to choose a pair of underwear based on your body type, level of modesty, and the style of dress you plan to wear. Select a panty that can complement the tone of your body. Never be scared to spend on high-quality underwear with gorgeous lace or a beautiful design. By improving your look and level of comfort, wearing such panties will make you feel confident inside and outside.
Why Trust StyleCraze?
The author, Baishali Bhattacharya, is a certified image consultant and loves to review products. With the help of thousands of user reviews and feedback collected from several online platforms, she has brought together this list of the best plus-size underwear for women. These are super comfortable, affordable, and great for everyday use.
Frequently Asked Questions
How long do you need to wear postpartum underwear?
Postpartum bleeding can last for up to 6 weeks but is typically heavy only for about a week to 10 days. However, you can wear postpartum underwear as long as your belly area takes to recover after birth.
Can you use period underwear postpartum?
Yes, you can. Period underwear is an excellent option for postpartum bleeding as it helps you stay dry and comfortable.
What is the healthiest plus-size underwear to wear?
The Annenmy Women's High Waist Cotton Panties are the healthiest plus-size underwear. It is made of 95% cotton, which contributes to its overall comfort. The crotch section consists of a double layer of fabric, making it a great option for postpartum C-sections.
What type of underwear is most flattering for plus-size women?
Underwears that provide full coverage to the front and back of the lower abdomen area are the most flattering for plus-size women. Those with wide elastic waistbands do not roll down. Also, anti-chafing fabrics with moisture-wicking qualities are your best bet.
Recommended Articles