The Top 12 Kate Somerville Products Of 2021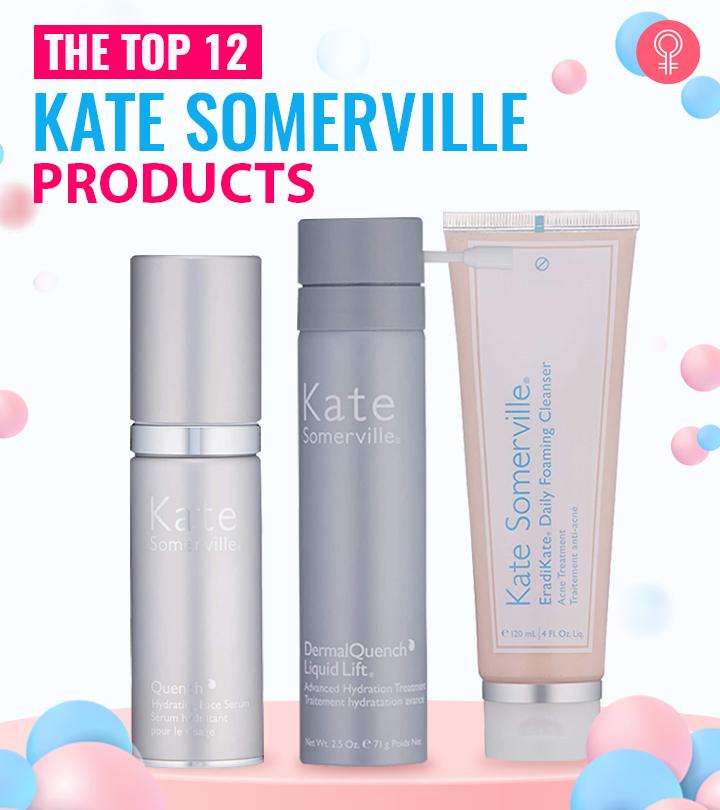 Shehas been dubbed as the "Guru of Glow,"and her revolutionary skin care products have earned her clients like Jessica Alba, Drew Barrymore, and Meghan Markle. Can you guess her name? Yes, I'm talking about Kate Somerville. Kate Somerville has been changing the definition of beauty for over 2 decades now. Her range of skin care products is focused on keeping problematic skin in check. Just because Somerville has set up her clinic in the heart of Hollywood does not mean that you can't try out her treatments. In this article, we have listed some of Kate Somerville's best products that are available online.
Let's have a closer look and see if they are worth a try!
12 Best  Kate Somerville Products
Acne is perhaps one of the worst skin care troubles that anyone can face. Whenever it flares up, we want it gone by any means possible. However, even if the acne goes away, the spots might bother you for quite a while. Annoying, right? Thisis where Kate Somerville's EradiKate Acne Treatment comes into the picture. It works fast and shows instant visible results.
This formula contains the highest level of sulfur that fights blemishes, reduces acne, and prevents breakouts. The BHAs and zinc oxide in it reduce the visibility of large pores. Take a few drops of this treatment on a cotton swab and apply it to the affected areas. Kate recommends: "Use this to spot treat existing pimples or those undergrounders that haven't surfaced yet."
Pros
Effective acne treatment
Fights blemishes
Prevents new breakouts
Reduces the visibility of large pores
Reduces redness
Cons
This exfoliating scrub by Kate Somerville is a clinically proven product. It contains rosewood and cinnamon extractsthat visibly reduce the appearance of fine lines and wrinkles. This dual-action exfoliator is also enriched with lactic acid and fruit enzymes that remove the top layer of dead skin cells and make your skin look polished and fresh.
Use this scrub once or twice a week. Take a minimal amount and apply a thin layer all over your face. Gently massage it in circular motions, then rinse it off.
Pros
Clinically proven
Reduces fine lines and wrinkles
Removes dead skin cells
Evens out the skin texture
Cons
The ExfoliKate Daily Foaming Wash by Kate Somerville is a cleanser that you can use day and night. Its formula has the goodness of glycolic and lactic acids that clear your pores and pineapple, pumpkin, and papaya enzymes that gently cleanse your skin without drying it out. It removes the extra oil, dirt, makeup, and skin impurities and reveals your skin's natural glow.
You can use this cleanser twice daily. Take a small amount and apply it on your wet face. Massage it for about 30 seconds before rinsing it off. As Kate says: "If you wear a lot of makeup, do a double cleanse before bed to fully clear skin and prep it for the rest of your PM regimen."
Pros
Suitable for daily use
Clears pores
Removes oil, dirt, and makeup
Does not dry out the skin
Conditions the skin
Cons
Not suitable for dry skin
If you have acne-prone skin, you need to be careful with the skin care products you use. The Kate Somerville EradiKate Daily Foaming Cleanser cleanses acne-prone skin, prevents blemishes, unclogs pores, minimizes their appearance, and balances out oily skin. This is an all-in-one facial cleanser. It is medicated, clinically proven, and not harsh on your skin. Its formula includes sulfur, a botanical complex mixed with honey and rice bran extracts that soothe your skin, and natural oat extracts that balance sebum.
Pros
Prevents blemishes
Regulates sebum
Clinically proven
Unclogs pores
Removes skin impurities
Suitable for oily and acne-prone skin
Cons
Not suitable for sensitive skin
Kate Somerville considersthis to be her "secret weapon to win the war on wrinkles." This lightweight, slightly fluid, and silky formula comes in metallic fuchsia packaging with a silver dispenser and works brilliantly on all skin types. It visibly smoothens crow's feet, fine lines, and wrinkles in just 30 minutes. This serum features HA3(three molecule sizes of hyaluronic acid)that hydrates your skin and increase sits firmness and elasticity.
Use this serum twice daily after cleansing, exfoliating, and moisturizing your skin. 
Pros
Lightweight texture
Reduces fine lines and wrinkles
Easy-to-use dispenser
Increases the skin's firmness and elasticity
Suitable for all skin types
Cons
Does not have enough anti-aging ingredients
Not moisturizing enough
Using a good moisturizer is necessary to nourish your skin. The ExfoliKate Glow Moisturizer is formulated with AHAs and pumpkin, papaya, and pineapple enzymes that moisturize your skin from within and reduce dullness.
This moisturizer is known to remove dead skin cells and refresh your skin with a dewy glow. Kate claims that it is the perfect moisturizer for when your skin looks dull or dry. It gently exfoliates and moisturizes your skin, leaving it smooth, soft, and luminous.
Pros
Hydrates the skin
Reduces dullness
Gently exfoliates the skin
Cons
Fragrant oils may cause irritation
After getting that full of face makeup on point, you wouldn't want sweat and humidity to wash it away, would do? This makeup setting spray by Kate Somerville is infused with SPF 50. Not only does this setting spray keep your makeup intact, but it also protects your skin from sun damage. There may be times when you feel that you've gone overboard with your makeup. With this setting spray, you get the perfect matte finish and natural look to dial it down a bit. It blends all that extra product into your skin. Its key ingredients include soft silicone powder to improve the appearance of fine lines and wrinkles, hyaluronic acid to hydrate your skin, and other plant extracts that have antioxidants and anti-stress properties.
Shake the bottle well, and apply the spray 15 minutes before stepping out in the sun.
Pros
SPF 50
Blends makeup into your skin
Reduces fine lines and wrinkles
Hydrates the skin
Mild lavender fragrance
Cons
Kate Somerville Anti Bac Acne Clearing Lotion is fragrance-free and deals with breakouts on all skin types like a pro. It contains 5% benzoyl peroxide, plant oxidants, skin-repairing ceramides, and cholesterol. It clears out all the existing acne and imperfections, reduces the excess oil on the skin, and reduces blackheads.
Use this lotion 1-3 times a day to prevent further breakouts. You can also follow this lotion with moisturizer and sunscreen.
Pros
Fragrance-free
Clears acne
Removes blackheads and excess oil
Suitable for all skin types
Cons
Excessive use might be drying
Facing problems with extremely drying skin? The Kate Somerville Goat Milk Moisturizing Cream is the right choice for you. This clinically perfected moisturizing cream soothes all your skin conditions and offers long-lasting hydration. The lactose from goat's milk has excellent moisturizing benefits. The formula also includes avocado, jojoba, aloe, grape seed oil, and vitamin E.
Use this cream twice a day, and the moisture-boosting ingredients will soothe your dry skin.
Pros
Soothes dry skin
Hydrates the skin
Long-lasting effect
Clinically tested
Cons
None
This unique skin care product is propellant-based and comes in a metal dispenser with an applicator for easy application on key areas. The formula contains hyaluronic acid and rare botanical extracts that improve your complexion and promote healthy and nourished skin. It swrinkle-smoothing technology provides instant glow, hydration, long-term skin benefits.
Apply this foam-like formula twice a day for better results. The infusion of oxygen plumps up your face and reduces imperfections. The product also promises to improve the firmness and elasticity of your skin.
Pros
Lightweight
Easy to apply
Reduces fine lines and wrinkles
Long-term benefits
Improves the complexion
Cons
Takes some time to show results
The Quench Hydrating Face Serum by Kate Somerville is one of the best-selling products of this brand and a red-carpet favorite. It has a silicone-based formula that feels smooth on your skin as you apply it. The HSC complex in it provides intense hydration.Its formula is also enriched with vitamin A and lipids that improve skin elasticity and firmness.
Apply this serum once daily. Kate recommends: "Don't neglect your neck! Bring this serum down to your neck and massage in an upward motion."
Pros
Smooth texture that spreads easily
Provides intense hydration
Improves skin elasticity and firmness
Cons
Not suitable for sensitive skin
The Kate Somerville +Retinol Firming Eye Cream contains skin-replenishing elements. It is a fragrance-free eye cream that is suitable for all skin types. This cream makes the skin around your eyes silky smooth. Its ingredients include retinol, plant oils, and plant-derived antioxidants. Hyaluronic acid makes your under-eye area feel hydrated, and retinol reduces dark spots while improving your skin's appearance.
Take a very small amount of this cream and pat it gently on your under-eye area.
Pros
Suitable for all skin types
Reduces dark spots
Hydrates the under-eye area
Fragrance-free
Cons
None
Kate Somerville's skin care products are formulated carefully to treat all your skin problems. It has been of the most trusted skin care brands for years now. Its products work as a quick-fix to reduce acne, dark spots, fine lines, wrinkles, and other imperfections. The best products that we have listed here will surely find a permanent place in your vanity to solve your skin issues. Grab them now!
Frequently Asked Questions
What are the best Kate Somerville products?
Kate Somerville's skin care range is widely known because of its effectiveness. Some of its best products include the EradiKate Acne Treatment, the ExfoliKate Intensive Exfoliating Treatment, and the UncompliKated SPF 50 Soft Focus Makeup Setting Spray.
Which celebrities use Kate Somerville?
Kate Somerville has celebrity clients like Eva Mendes, Demi Moore, Kate Hudson, and Kirsten Dunst.
Are Kate Somerville products good for sensitive skin?
Yes, Kate Somerville products are suitable for sensitive skin because they are all formulated by professionals and are scientifically proven to deliver great results.
Are Kate Somerville products tested on animals?
Kate Somerville products are cruelty-free and PETA-certified. They are never tested on animals.
The following two tabs change content below.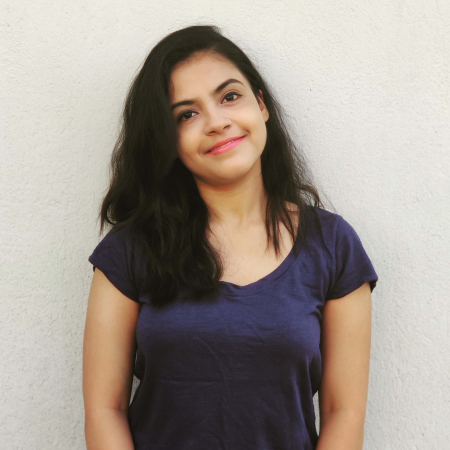 Oyendrila Kanjilal has a Master's Degree in English Literature. As a Beauty and Lifestyle writer, she writes about everything that the modern woman needs to know about grooming and self-care. She also reviews makeup, skin care, and lifestyle products to help readers make the best purchase. She is a trained classical dancer and loves binge-watching web series of different genres.