15 Best Pore Minimizers Of 2021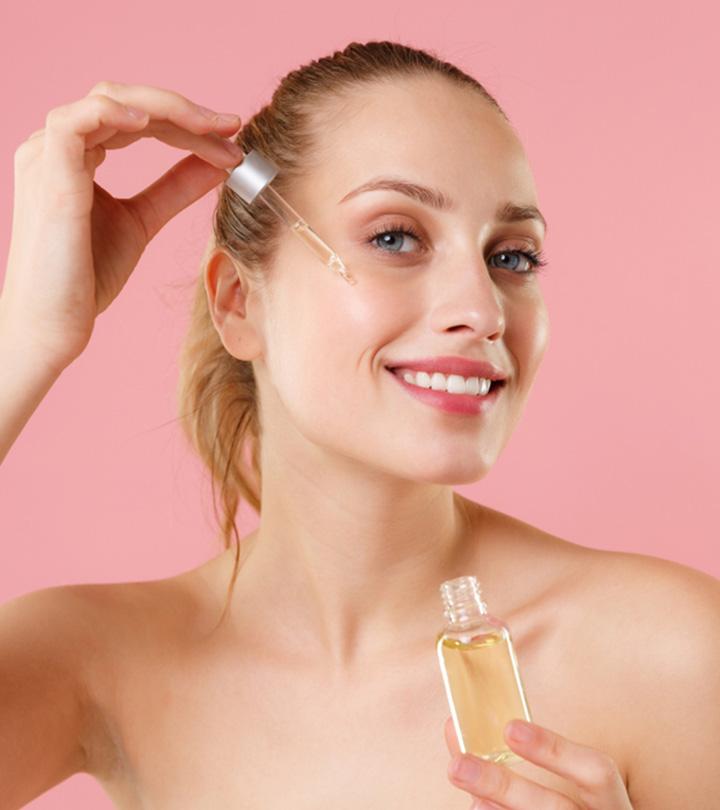 Pores are not bad. But enlarged pores with trapped sebum, dirt, UV exposure, and dead cells make the skin dull and prone to acne and pigmentation. Open, large pores are a reminder that your skin needs a little more TLC than just a regular CTM.
You cannot make the pores go away. However, some pore treatment products help deep cleanse and shrink them. If you are not sure which product to buy, we have a few recommendations. Here are the 15 best pore minimizer products to help get flawless, glowing skin. Check them out!
15 Best Pore Minimizers For All Skin Types
The Aztec Secret Indian Healing Clay is a 100% natural calcium bentonite clay sourced from Death Valley, California. It has deep pore cleansing properties. It not only soaks up dirt and excess sebum but also minimizes open pores. It helps tighten the pores and makes your skin look smooth and fresh. The healing properties of this mask make it great for facials, body wraps, clay baths, hair masks, foot soaks, chilled clay knee packs, and even insect bites.
Pros
Contains 100% natural calcium bentonite clay
100% naturally derived product
No additives
No fragrance and chemicals
No animal ingredients
Cons
May cause redness and dryness.
May not be suitable for sensitive skin.
Large open pores and signs of aging can be tackled with the help of a retinol night cream. The RoC Retinol Correxion Deep Wrinkle Anti-Aging Night Cream is powered by ROCⓇ Retinol and essential mineral complex. It is a non-greasy and non-comedogenic formula that helps reduce the appearance of deep wrinkles up to 50%. It works in the night by penetrating deep into the skin when it is most receptive. It lifts, tightens, and smoothens the skin. It is gentle and can be used daily. Using it for 12 weeks shows a visible reduction in wrinkles and pores.
Pros
Oil-free
Non-comedogenic
Reduces the appearance of deep wrinkles
Lifts and smoothens the skin
Clinically proven
Cons
Expensive
Contains parabens
May not suit sensitive skin.
The Skin food Egg White Pore Foam is a skin-friendly gentle cleanser that refines and tightens enlarged pores. The formula is enriched with egg albumin protein, vitamin B3, vitamin B2, selenium, calcium, magnesium, potassium, phosphorus, and amino acids. It cleans the clogged pores. The egg white stimulates the growth of collagen cells and improves skin elasticity and resilience. It also removes the dead skin layer, leaving your skin feeling refreshed, soft, and smooth.
Pros
Enriched with vitamins, minerals, and amino acids
Stimulates collagen production
Improves skin elasticity
Makes the skin soft and smooth
Cons
Strong smell
May cause allergic reactions.
Might be too drying for dry or combination skin.
Using a pore tightening serum can make a huge difference to the appearance of your skin. The SKINFOOD Peach Sake Pore Serum is a lightweight pore care line that is enriched with Japanese wine, sake, and peach extract. It minimizes the appearance of pores and reduces excess sebum and oil. Other ingredients like soybean, Centella asiatica, licorice root, and chamomile make the skin lively and healthy. It keeps the skin smooth, oil-free, and soft all day long.
Pros
Pleasant fragrance
Mattifying effect
Lightweight
Easy to apply
Cons
Expensive for the quantity.
The ORIGINS Clear Improvement Active Charcoal Mask is formulated with bamboo charcoal and white China clay, bentonite, kaolin, and myrtle leaf water. This activated charcoal mask helps unclog the pores, cleanse them of gunk, dirt, and pollution, and absorb environmental toxins. Lecithin flushes out the impurities and makes the skin clear and appear poreless. It rejuvenates the skin and removes all traces of dullness.
Pros
Paraben-free
Phthalate-free
SLS-free
Mineral oil-free
Petrolatum-free
Paraffin-free
Formaldehyde-free
No harmful chemicals
Cons
The Bioré Charcoal Pore Minimizing Skin Polisher contains natural charcoal and microcrystals. These ingredients deeply cleanse the pores, draw out dirt and gunk from them, absorb excess oil, and shrink open pores. This water-activated cleanser diminishes the appearance of pores in just 30 seconds. All you need to do is add water and rub it on your face. Its gentle scrubbing action exfoliates the dead skin layer and helps get rid of dull and tired skin. This scrub does not strip the skin of the natural moisture and is non-irritating.
Pros
Water-activated
Non-irritating
Pleasant fragrance
Affordable
Cons
None
The Skinceuticals Daily Moisturize Pore-minimizing Moisturizer is a luxury pore minimizing moisturizing cream. This lightweight moisturizer is formulated with Brazilian sea algae protein, amino acids, and essential skin minerals. It also contains ingredients with pure vitamin E. It hydrates and nourishes the skin without making it too greasy. Ingredients like burnet, ginger, and cinnamon help reduce pore size.
Pros
Contains pure vitamin E
Nourishes the skin
Non-greasy
Lightweight
Cons
If you want to splurge on a face serum that works wonders, try the Estee Lauder Idealist Pore Minimizing Skin Refinisher. It will last for about 4-6 months, depending on the amount used per day. It contains melanase – an enzyme that reduces melanin and decreases skin pigmentation. It also contains a high concentration of glucosamine, grapefruit extract, chestnut seed extract, green tea leaf extract, wheat germ extract, etc. It helps minimize pores and fine lines and improve skin texture and overall skin tone. It hydrates the skin and has a mattifying effect.
Pros
Reduces pigmentation
Improves skin texture
Hydrates the skin
Non-greasy
Mattifying
Paraben-free
Sulfate-free
Dermatologist-tested
Non-comedogenic
Ophthalmologist-tested
Cons
The Clinique Pore Refining Correcting Serum is another good pore minimizing serum. It is suitable for all skin types and helps reduce the appearance of fine lines, wrinkles, and large pores. Using it daily helps bring healthier cells to the surface and makes your skin look younger and firmer. It gently clears pores of pollution, dust, debris, and dead cells. This pore minimizer instantly reduces the appearance of pores by 30%. It can also be applied as a primer before applying foundation.
Pros
Lightweight
Oil-free
Makes the skin tighter and smoother
Can be used as a primer
Suitable for all skin types
Cons
The Kate Somerville ExfoliKate Intensive Exfoliating Treatment is formulated with lactic acid and fruit enzymes. It is a gentle and effective skin exfoliator that helps remove excess oil and debris, along with minimizing the appearance of pores. Lactic acid (AHA) and salicylic acid (BHA) chemically exfoliate dead skin cells. The papaya, pineapple, and pumpkin enzymes provide enzymatic exfoliation to reveal naturally glowing skin underneath. Rosewood and cinnamon extracts reduce the appearance of fine lines and wrinkles. Aloe vera, honey, and vitamin E help smoothen and soften skin. Using this treatment twice a week help improves skin texture and makes it soft and glowing.
Pros
Contains AHA and BHA
Reduces the appearance of fine lines and wrinkles
Makes the skin soft and smooth
Imparts glow
Cons
The Avene Retrinal 0.1 Intensive Cream is formulated with powerful antioxidants that protect the skin from harmful free radicals. The key ingredients are vitamin A, peptides, and vitamin E. This non-greasy skin moisturizer shrinks pores, reduces fine lines, makes the skin firmer and brighter, and improves skin texture. It helps restore the skin's youthful appearance by rehydrating dull skin. It is non-comedogenic and does not irritate the skin.
Pros
Non-greasy
Reduces fine lines
Rehydrates dull skin
Non-comedogenic
Non-irritating
Cons
The Benefit Cosmetics The POREfessional Pore Primer is a 2-in-1 primer and pore minimizer. It minimizes the appearance of pores and fine lines, giving you a smooth and youthful appearance. It contains a Vitamin E derivative that protects the skin from free radicals, keeping it healthy and young. It is a translucent, oil-free formula that helps the makeup stay put and complements all skin tones. The silk, lightweight balm can be worn alone, under, or over makeup. It is available in full and mini sizes.
Pros
Works as a primer and as a pore minimizer
Lightweight
Oil-free
Suits all skin tones
Available in full and mini sizes
Cons
The Perricone MD No:Rinse Intensive Pore Minimizing Toner refines the skin pores and makes them less visible with consistent use. It is formulated with DMAE, salicylic acid, and a copper complex. This toner visibly firms, hydrates, and energizes the skin. It gently exfoliates the dead skin layer, improves skin texture, and gives it a smoother appearance. The bilberry and turmeric extracts in this product impart a healthy glow to the skin. It also removes excess oil and shine and leaves the skin feeling fresh and looking more even-toned.
Pros
Firms the skin
Imparts a healthy glow to the skin
Lightweight
Easy to apply
Pleasant fragrance
Suitable for oily skin
Cons
The Therapeutic Sulfur Acne Treatment Mask is a maximum strength sulfur (10%) mask that clears acne, absorbs excess oil, and cleanses the pores. This medicated mask also contains kaolin clay and bentonite clay that soak excess sebum and prevent acne. Aloe vera soothes and rehydrates the skin. It removes excess dirt and gunk from the clogged pores and exfoliates the upper dead skin layer. The mask helps refresh and rejuvenate the skin, clears blemishes and scars, and makes the skin look youthful and flawless.
Pros
Medicated
Prevents acne
Soothes the skin
Rejuvenates the skin
Clears blemishes and scars
Makes the skin look youthful
Cons
Paula's Choice RESIST Daily Pore-Refining Treatment 2% BHA is a unique, non-abrasive, leave-on gentle exfoliant. Salicylic acid exfoliates dead skin cells and clears pores to make the skin even-toned. Hyaluronic acid visibly reduces fine lines and wrinkles. The antioxidants and anti-aging peptides help reduce the appearance of pores, wrinkles, and fine lines. It can be used daily and suits all skin types.
Pros
Non-abrasive
Can be used daily
Suitable for all skin types
Reduces fine lines and wrinkles
Fragrance-free
Cruelty-free
Paraben-free
Dye-free
Non-irritating
pH-balanced
Cons
Expensive
Watery
Not suitable for very dry skin.
These are the 15 best pore minimizer products that can help shrink large, open pores and make the skin appear smooth and flawless. However, before making a purchase, here are the things you should look for in a good pore minimizer.
Things To Check Before Buying Pore Minimizer
Skin Type – Choose a pore minimizing product based on your skin type. For example, if you have dry skin, any product with salicylic acid or alcohol can be too drying. If you have oily skin, steer clear of oil-based products (moisturizers and creams).
Ingredients – Check the label to look for ingredients that you are allergic to (like soybean). Also, avoid products with parabens, talc, and sulfates.
Product Type – Pore minimizing products come in different forms – masks, toners, serums, creams, cleansers, and exfoliants. Depending on the product type, you must design a skin care regimen. Use exfoliants and masks once or twice a week. You can use serums and toners twice a day. Use a cleanser and moisturizer as a part of your skin care routine twice a day.
Apart from using store-bought pore minimizing products, here are a few tips to help reduce the pore size.
Tips To Shrink Pores Effectively At Home
Wash your face at least twice a day. Use ice water or cold water.
Use a gentle cleanser to rub your face with your fingertips in a circular motion.
Dab your face with a toner.
Use a warm towel to warm up the face before applying an exfoliant.
Use products that have a lower pH of 5.5 to keep the skin bacteria away.
Use an egg white mask twice a week.
Rub ice on your face before applying a pore minimizing serum.
Go for a water-based moisturizer.
Conclusion
Large, open pores can make your skin prone to bacterial infections, acne, and scarring. Resist that itch to squeeze and clean the clogged pores. Use pore minimizing products for at least four weeks, and you will start seeing visible results.
Frequently Asked Questions
Are pore minimizers bad for your skin?
No, pore minimizers are not bad for your skin. However, you need the pores for the normal functioning of the skin. You cannot totally get rid of them. You can minimize the pore size to prevent further accumulation of dirt and gunk.
How fast will I notice results when using a pore minimizer?
When it comes to minimizing pores, you have to be patient. It will take a minimum of 4 weeks before you start seeing visible results, especially if you have large open pores.
Does a pore minimizer physically reduce the size of pores?
Some pore minimizers physically reduce the size of pores. However, some cosmetic primers contain dimethicone, which fills the pores, thereby giving the skin a poreless look.
Recommended Articles: