15 Best Pore Minimizers For Your Skin Type – 2023
Manage your enlarged pores effectively with these selected pore minimizers.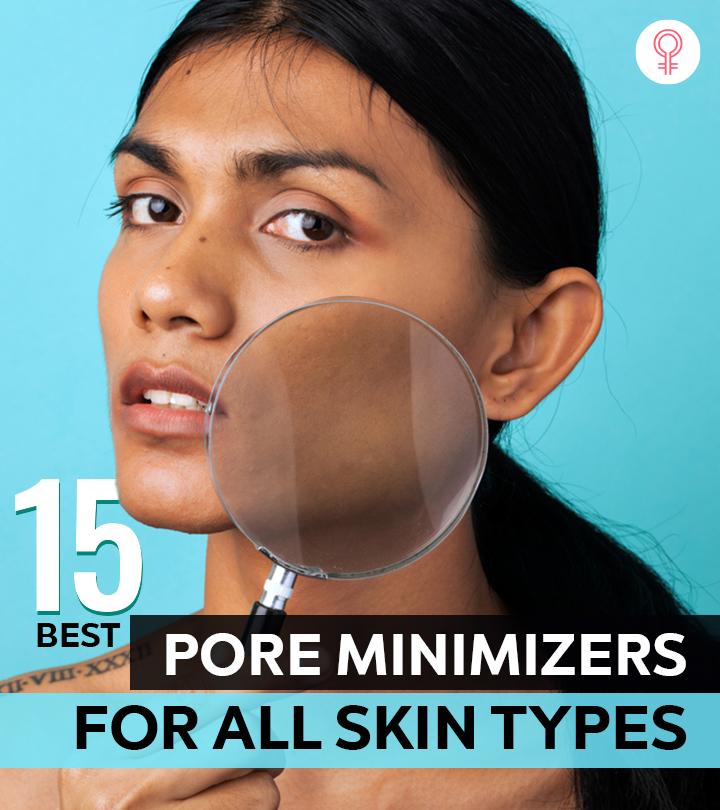 The best pore minimizers can provide you with the optimal care you need if you have been dealing with enlarged pores lately. While you can't make your pores disappear, pore minimizers can help you clean them and prevent them from becoming too visible.
Licensed esthetician Terry Absher Kochman explains, "The real reason pores can look larger is that debris, sweat, dirt, and makeup can get trapped in the pore and expand the pore itself, making it larger. We have seen buildup in pores that are enlarged where it is obvious that it has been that way for years. Pore minimizers function by exfoliating the dead skin and buildup, so your pores are no longer stretched out and noticeably larger. There are several options available from retail products to professional treatments."
Listed below are the top 15 pore minimizers on the market. Check them out!
15 Best Pore Minimizers For All Skin Types
The Aztec Secret Indian Healing Clay is a 100% natural calcium bentonite clay sourced from Death Valley, California. It soaks up dirt and excess sebum from the pores to minimize their appearance. The clay mask helps reveal a fresh and smooth complexion with smaller-looking pores, as noted by the reviewers. The healing properties of this mask make it great for facials, body wraps, clay baths, hair masks, foot soaks, chilled clay knee packs, and even insect bites.
Key Ingredients: Calcium bentonite clay
Pros
100% natural
No additives
Artificial fragrance-free
Chemical-free
No animal ingredients
Cons
May cause redness and dryness
May not suit sensitive skin
This lightweight Baby Skin Instant Pore Eraser Primer by Maybelline New York smoothens the skin and sits perfectly under makeup. It creates a blurry priming effect to improve the appearance of enlarged pores and keeps your skin moisturized all day long. This primer is suitable for all skin types. If you want to know more about the instant results after using the product, take a look at this makeup enthusiast's review on YouTube.
Also Recommended By: Experts at We Heart This also think highly of Maybelline Baby Skin Instant Pore Eraser Primer.[1]These Pore-Minimizing Gems Will Fool Everyone Into Thinking You Have Tiny Pores. Who What Wear. https://www.whowhatwear.com/best-pore-minimizers/slide8
Key Ingredients: Bitter cherry extract
Pros
Non-comedogenic
Fragrance-free
Goes on smooth
Cons
None
Retinol helps minimize signs of aging and refines the skin pores. The ROC Retinol Correxion Deep Wrinkle Night Cream has a non-greasy and clinically-proven non-comedogenic formula that helps reduce the appearance of deep wrinkles up to 50%. It penetrates deep into the skin to lift, tighten, and smoothen it. The skin-refining night cream is gentle and can be used daily. Using this dermatologist-recommended cream for 12 weeks can show a visible improvement in the appearance of wrinkles and pores.
Dr. Kaveri Karhade, MD, and a San Francisco-based dermatologist says, "Retinol-containing products, such as this one, can help clean out pores by reducing whiteheads and blackheads. In addition, retinol may help stimulate cell turnover and minimize the overall appearance of pores." You can check this brief YouTube video for more information on this pore-minimizing cream and the tester's experience.
Note: If you are using retinol for the first time, it may cause purging.
Key Ingredients: Retinol
Pros
Oil-free
Non-comedogenic
Lightweight
Clinically proven
Dermatologist-recommended
Cons
Expensive
Contains parabens
The Teami Detox Mask Green Tea Blend helps to reveal the natural glow of your skin. The formula is enriched with organic matcha green tea to combat free radicals and soothe inflammation. It also contains lemongrass to keep your skin moisturized, bentonite and kaolin clays to detoxify your skin, and aloe vera to hydrate your skin and keep it glowing. This detox pore-refining mask is tested to be suitable for all skin types and keeps your skin hydrated, soft, and refreshed with its skin-clarifying action. If you want to find out more about this mask and its usage as a pore minimizing product, make sure to check this review of a tester's experience on YouTube.
Key Ingredients: Lemongrass, Organic matcha green tea, Bentonite and Kaolin clays
Pros
Preservative-free
Cruelty-free
Vegan
Artificial color-free
Cons
None

The Bioderma Sébium Pore Refiner is developed with an exclusive Fluidactiv™ patented complex that reduces excess sebum production and deep cleanses the pores.  The complex is a blend of ingredients like silica powder and anti-reflection particles to reduce shine and mattify the face, salicylic acid to exfoliate and improve radiance, and agaric acid (an astringent) to refine the pores. It works like a mattifying primer to create a smooth, matte finish on the skin, as attested by the reviewers.
Key Ingredients: Agaric acid and Salicylic acid
Pros
Non-comedogenic
Paraben-free
Lightweight
Non-greasy
Cons
None

The Skinfood Egg White Pore Foam is a skin-friendly gentle cleanser that refines enlarged pores. Oil pores are visible and get congested easily as oil, dirt, and impurities get trapped in them. That is why you need pore minimizers to clear them. The formula is enriched with egg albumin protein, vitamin B3, vitamin B2, selenium, calcium, magnesium, potassium, phosphorus, and amino acids. The egg white stimulates the growth of collagen cells and improves skin elasticity and resilience to have a pore-blurring effect on enlarged pores. You no longer have to worry about enlarged pores and skin laxity. According to the reviews, the cleanser also removes the dead skin layer, leaving your skin feeling refreshed, soft, and smooth. It is tested to be suitable for oily and combination skin types.
Key Ingredients: Egg albumin protein, Vitamins B2, and B3, Selenium, Calcium, Magnesium, Phosphorus, and Amino acids
Pros
Non-drying
Pleasant fragrance
Foams well
Cons
May cause allergic reactions
Contains alcohol denat
The Kate Somerville ExfoliKate Intensive Exfoliating Treatment is formulated with gentle exfoliants like lactic acid and fruit enzymes (derived from papaya, pineapple, and pumpkin). It gently exfoliates the skin to remove excess oil and debris and minimize the appearance of pores. This exfoliating treatment also contains salicylic acid that decongests pores; rosewood and cinnamon extracts to minimize fine lines and wrinkles; and aloe vera, honey, and vitamin E to soften your skin. Using this treatment twice a week can help with skin texture and overall skin health improvement, as noted by several reviews.
Key Ingredients: Lactic acid and Fruit enzymes
Pros
Non-irritating
A little goes a long way
Cruelty-free
Clinically tested
Cons
The Avene Retinal 0.1 Intensive Cream is expert-recommended and formulated with powerful antioxidants that protect the skin from harmful free radicals. The key ingredients are vitamin A, peptides, and vitamin E.
Dr. Shaaira Nasir, MB BCh BAO, MRCPI, MRCPUK (Derm), and a UK-based dermatologist says, "This product contains Retinaldehyde, which is better than retinol in terms of efficacy. It reduces oil production and increases cell turnover. It's great for reducing pore appearance, reducing oily skin, preventing and treating acne and is an anti-aging treatment."
This non-greasy skin moisturizer improves the appearance of pores, skin texture, reduces fine lines, and makes the skin firm and bright. It also improves the skin barrier and the skin cell turnover. It is non-comedogenic and helps restore the skin's youthful appearance by rehydrating dull skin.
Key Ingredients: Vitamin A, Peptides, and Vitamin E
Pros
Non-greasy
Non-comedogenic
Non-irritating
Cons
The PCA Skin Pore Reducer Mattifying Face Gel helps to conceal enlarged pores. This face gel has a rare combination of ingredients that assist in keeping your skin shine-free all day. It contains linoleate and hexylresorcinol, which aids in minimizing oil production and breakouts while alleviating post-inflammatory issues. Oleanolic acid and enantia chlorantha bark extract regulate sebum production, tighten pores, and minimize shine. Lysophosphatidic acid and niacinamide work together to minimize pores and age-related skin discoloration and redness and give the skin a more youthful look.
Key Ingredients: Enantia Chlorantha and Niacinamide
Pros
Fragrance-free
Paraben-free
Sulfate-free
Lightweight
Easy to apply
Cons
Using a pore tightening serum can make a huge difference to the appearance of your skin. The Skinfood Peach Sake Pore Serum is lightweight and enriched with Japanese wine (sake) and peach extract. It minimizes the appearance of pores and reduces excess sebum. The serum also contains soybean, Centella asiatica, licorice root, and chamomile extracts and keeps the skin hydrated, smooth, oil-free, and soft all day long.
Key Ingredients: Sake and Peach extract
Pros
Pleasant fragrance
Mattifying effect
Lightweight
Easy to apply
Cons
Expensive for the quantity
The Therapeutic Sulfur Acne Treatment Mask contains maximum OTC strength sulfur (10%), a potent ingredient that clears acne, absorbs excess oil, and cleanses the pores. This medicated mask also contains kaolin and bentonite clays that soak excess sebum and prevent acne. This also takes away your worries about dark spots and acne scars. Aloe vera in the formula soothes and rehydrates the skin. The mask helps refresh and rejuvenate the skin, minimizes the appearance of blemishes and scars, and makes the skin look smooth. It is tested to be suitable for oily and combination skin types.
Key Ingredients: 10% Sulfur, Kaolin and Bentonite clays, and Aloe vera
Pros
Easy to use
Medicated
A little goes a long way
SLS/SLES-free
Cons
Expensive
Contains parabens
If you want to splurge on a face serum that works wonders, try the Estee Lauder Idealist Pore Minimizing Skin Refinisher. It contains melanase – an enzyme that reduces melanin and skin pigmentation. This serum also contains a high concentration of glucosamine, grapefruit, chestnut seed, green tea leaf, and wheat germ extracts to minimize pores and fine lines and improve uneven skin texture and overall skin tone.
Key Ingredients: Glucosamine, Grapefruit, Chestnut seed, Green tea leaf, and Wheatgerm extracts
Pros
Dermatologist-tested
Non-comedogenic
Ophthalmologist-tested
Non-greasy
Matte finish
Paraben-free
Sulfate-free
Cons
The Perricone MD No: Rinse Intensive Pore Minimizing Toner refines the skin pores and makes them less visible. It is formulated with DMAE, salicylic acid, and a copper complex and visibly firms, hydrates, and energizes the skin. The toner gently exfoliates the dead skin layer, improves skin texture, and gives it a smoother appearance. This helps improve the skin cell turnover and gives you flawless skin. The bilberry and turmeric extracts in this product impart a healthy glow and remove excess oil and reduce shine to keep the skin fresh and look even-toned. This toner is tested to be suitable for oily skin.
Key Ingredients: DMAE, Salicylic acid, Copper complex, Bilberry, and Turmeric extracts
Pros
Lightweight
Easy to apply
Pleasant fragrance
Cons
The Paula's Choice RESIST Daily Pore-Refining Treatment 2% BHA is a unique, non-abrasive, leave-on gentle exfoliant. Salicylic acid in the formula exfoliates dead skin cells and clears pores, hyaluronic acid visibly reduces fine lines and wrinkles, and the antioxidants and anti-aging peptides help reduce the appearance of pores, wrinkles, and fine lines. It improves the skin barrier and promotes clean skin with reduced age spots. It can be used daily as it balances skin pH levels and suits all skin types.
Dr. Shaaira Nasir, MB BCh BAO, MRCPI, MRCPUK,(Derm), and a UK-based dermatologist says, "Pores that are clogged up will look larger. Salicylic acid is a great acid for removing pore contents. It is oil soluble, so it gets deep into pores to remove oil and dead skin cells. As this is a leave-on product, those with dry or combination skin types may want to start slowly with one or two applications a week as it can irritate if used too frequently."
Key Ingredients: Salicylic acid, Hyaluronic acid, and Peptides
Pros
Non-abrasive
Non-irritating
pH-balanced
Fragrance-free
Cruelty-free
Paraben-free
Dye-free
Cons
The Mary Kay Timewise Pore Minimizer is a lightweight and fast-absorbing serum that works effectively to minimize the appearance of enlarged pores. The formula is infused with Persian Silk tree bark extract (Native to Asia, also called the "sleeping tree") and soybean extract that helps keep the skin taut and visibly smooth. This serum works for all skin types as it tones and improves overall skin health.
Key Ingredients: Persian Silk tree bark extract and Soybean extract
Pros
Lightweight
Gets absorbed fast
Oil-free
Cons
None
*The prices provided in this article are based on the latest available information. However, they may vary due to changes in pricing by the seller and/or promotional offers.
With the use of the right pore minimizer, you cannot reduce the actual size of your pores but it can be very effective in reducing their appearance. Every skin has its own need when it comes to pore minimizer. We are providing a buying guide for all the people who want to know how to select the best pore minimizers for their skin.
How To Select The Best Pore Minimizers For Your Skin
The two most important types of ingredients that you must look out for are exfoliating ingredients and hydrating ingredients. Pore minimizers that contain results-driven chemical exfoliants such as fruit acids and jojoba beads will reduce the dead skin cells build up in the pores while lightweight hydrating ingredients such as glycerin and hyaluronic acid will help in offering extra hydration before applying moisturizer. Other good ingredients with a proven track record in clinical settings that you can prefer are niacinamide, retinol or a retinoid and wear primer.
You must choose scientifically formulated products that are preservation-free, cruelty-free, artificial color-free, paraben free, oil-free, non-comedogenic, non-irritating, and non-greasy.
You should select the pore minimizers according to your skin type and proven efficacy. If your skin is dry and sensitive, you must go with milky or creamy cleansers and thicker moisturizers that can offer enough moisture to your dry skin. People with oily skin can select professional-grade pore minimizers that contain Niacinamide as it will help you to reduce and control oil in your skin. If you have combination skin then you can choose pore minimizers containing salicylic acid.
If you have acne-prone skin then go for exfoliating AHAs and BHAs such as glycolic acid and salicylic acid.
You must opt for results-driven exfoliating acids because of their active pore-reducing action. It would be a great idea to choose a product with a high concentration of salicylic acid or glycolic acid. If you want to blur the appearance of pores topically, choose a primer. To provide a flawless foundation for makeup, primers can function like spackle to hide pores. They create a polished canvas on the skin for smooth makeup application.
Keep reading to learn more about improving the appearance of pores.
What Are Pores?
Pores are the small openings in the skin through which oil and sweat reach the skin surface. There are two different types of pores:
Oil Pores: They are connected to the oil glands and spread over the skin surface, except the skin on the palms and the soles. They produce natural oils and sebum to keep the skin moisturized.
Sweat Pores: These are invisible pores spread all over the skin's surface and not visible to the naked eye. They produce sweat and help regulate the body temperature.

Oil pores are visible and get congested easily as the oil, dirt, and impurities get trapped. Dr. Schwarzburg, MD, Cosmetic Dermatology, shares an interesting fact with us. He says, "Pores are never naturally enlarged and only dilate due to buildup inside of them. That is why you need pore minimizers to clear and tighten them." Let's understand how they work.
How Do Pore Minimizers Work?
Pore minimizers or pore-minimizing products remove the dirt and oil from the pores and decongest them. As a result, the pores appear smaller and refined.
The list contains a mix of product types that may suit different skin types. They work in different ways and contain a mix of different ingredients. Before you pick any of them, consider the following points.
Things To Check Before Buying Pore Minimizer
Skin Type: Choose a pore minimizing product based on your skin type. For example, if you have dry skin, any product with salicylic acid or alcohol can be too drying. If you have oily skin, steer clear of oil-based products, especially creams.
Ingredients: Check the label to look for ingredients that you are allergic to. Also, avoid products with parabens, artificial dyes and fragrances, talc, and sulfates.
Product Type: Pore minimizing products come in different forms – masks, toners, serums, creams, cleansers, and exfoliants. Include them in your skin care regimen depending on the product type and your skin's needs. Use exfoliants and masks once or twice a week and serums and toners twice a day. Use a cleanser and moisturizer as a part of your skin care routine twice a day.
Following a strict skin care routine and using appropriate products will not help unless you break away from habits that may ruin your pores and skin.
Bad Habits That Can Clog Your Pores
Not washing your face every night before going off to bed
Not exfoliating your face properly to remove dead skin cells
Not showering after a workout session
Touching your face too often
Not washing your bedsheets and pillow covers frequently
Sleeping with makeup on
Not cleaning your makeup brushes
Sunbathing or tanning
Picking at blemishes
Licensed esthetician Terry Absher Kochman says, "Depending on what pore minimizer you choose, take into consideration your skin type. If your skin is sensitive, easily irritated, or has acne problems, using the correct product is super important. Use a gentle charcoal mask once a week after washing your face, or use a gentle hydrating micro exfoliant weekly. A micro exfoliant can be applied on top of a wash or as a second step. If your skin does well a few times a week and looks clearer, and the pores look more refined, you are on the right track. It's always a good idea to test products on your skin."
Apart from using store-bought pore minimizing products, here are a few skin care tips to help reduce the appearance of pores.
Tips To Minimize The Appearance Of Pores At Home
Wash your face at least twice a day with ice water or cold water.
Use a gentle cleanser and apply it with your fingertips in a circular motion.
Use a toner every day after washing your face.
Use a warm towel wrap to dislodge the dirt and sebum from the pores before applying an exfoliant.
Use products that have a pH of 5.5 to maintain the skin microbiome.
Rub ice on your face before applying a pore minimizing serum.
Use a water-based moisturizer.
Board-certified dermatologist Jennifer Haley says, "To help with enlarged skin pores, you can incorporate pore minimizes into your skincare regime gradually. You should be looking for products that reduce inflammation, gently exfoliate the pores and moisturize the skin. Pore minimizers that contain glycolic acid will help do the double job of exfoliating and moisturizing your skin, reducing the size of your pores, and giving you a healthier glow."
Large, open pores can make your skin prone to bacterial infections, acne, and scarring. Resist that itch to squeeze and clean the clogged pores and go for pore minimizers. If you are looking for an affordable product, try the Bioderma Sébium Pore Refiner. However, if you want an overnight pore minimizing, skin mattifying and anti-aging treatment, the RoC Retinol Correxion Deep Wrinkle Night Cream will be the best pick. For daily use, switch your regular cleanser with the Skinfood Egg White Pore Foam. Use the pore-minimizing products for at least four weeks, and you will start seeing visible results.
Why Trust StyleCraze?
The author Oyendrila Kanjilal is a certified skincare coach. She has conducted hours of research on different branded pore minimizers to help her readers pick the best and most effective products. The above list includes her top picks that are suitable for all skin types. These products exfoliate dead skin cells and dirt from the open pores and prevent them from becoming too visible.
Frequently Asked Questions
Are pore minimizers bad for your skin?
No, pore minimizers are not bad for your skin. However, check for allergens and chemicals in the ingredients before buying a product.
How fast will I notice results when using a pore minimizer?
It will take a minimum of 4 weeks before you notice visible results.
Does a pore minimizer physically reduce the size of pores?
No. The pore size is constant. A pore minimizer can either clear the gunk or cover the pores to make them appear smaller.
Does drinking water reduce pore size?
No. Nothing can reduce the pore size. However, drinking water plumps the skin, and as a result, the pores may temporarily appear smaller.
When should you apply a pore minimizer?
Pore minimizers can be masks, cleansers, serums, and overnight treatments. Use them depending on the type of the product.
How often should you use a pore minimizer?
Depending on the product type and your skin needs, you can use a pore minimizer daily or 2-3 times a week.
Can you get rid of blackheads and whiteheads by using pore minimizers?
Yes, you can get rid of blackheads and whiteheads using pore minimizers. Use gentle pore minimizers with salicylic acid that penetrates deep to soak up dirt, debris, and sebum.
What is the best pore minimizer for Asian skin tone?
One of the best pore minimizers for Asian skin tone is the Skinfood Egg White Pore Foam. This moisturizing Korean formula shrinks large pores and has an array of vitamins, minerals, and collagen-boosting properties.
Can you use a pore minimizer serum in place of moisturizer?
No, you cannot use a pore minimizer serum in place of moisturizer. Both pore minimizer serum and moisturizer have different parts to play in a skin care regime. While the main job of pore minimizer serums is to cater to your pores, blackheads, and whiteheads, moisturizers mainly protect your skin from friction and improve hydration.
Is it appropriate for teens to use a pore minimizer?
While it is not recommended, teens can use pore minimizers with gentle ingredients. However, teens can also minimize pores by washing their faces daily and using a salicylic acid cleanser after consulting a dermatologist.
Recommended Articles