10 Best Hiking Shoes For Plantar Fasciitis To Aid Recovery
Get the much-needed support for a fun-filled yet super comfortable hiking experience.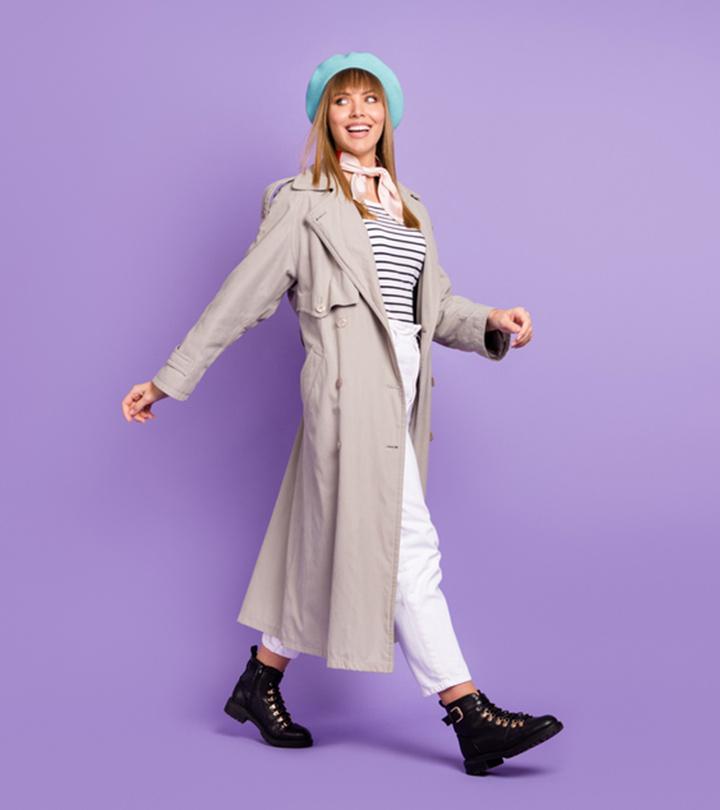 Plantar fasciitis is the sharp pain you feel on your heels. This can be a great problem if you love the outdoors. The best hiking shoes for plantar fasciitis can ease the pain and let you be one with nature. These shoes are sturdy yet well-cushioned and lightweight so that your foot stays well-cradled even on risky trails. With these shoes, you can also avoid blisters and foot cramps and enjoy your journey better.
Plantar fasciitis is painful and extremely uncomfortable. Hiking or long-distance walking on uneven path is not the best activity for people with plantar fasciitis. But, these shoes are ergonomically designed, and the foot soles are designed to maintain the natural alignment of your foot. So, if you love hiking and nature, don't let plantar fasciitis pain keep you away from it. Check out the best hiking shoes for plantar fasciitis listed in the article. They are available in multiple designs and at different prices to suit all your budgets. So, go ahead and take a look!
10 Best Hiking Shoes For Plantar Fasciitis To Reduce Strain
Columbia's plantar fasciitis hiking shoes feature a soft yet sturdy suede exterior in striking color combinations. They make use of the multi-terrain traction system along with a dual-zone tread pattern for carefully navigating snow and ice in the winter months. The outer full-grain leather is waterproof, while the mesh tongue allows your skin to breathe. The superior cushioning in the midsole provides you with a high-energy return and the outsole's slip-free movement on rough surfaces lets you enjoy the scenery.
Pros
Waterproof
Breathable
Soft cushioning
Adjustable lace-up closure
23 color combinations
Omni-grip traction sole
Cons
Some may find the shoes slightly inflexible.
Price at the time of publication: $89.99
KEEN's hiking boots for plantar fasciitis use a KEEN.DRY waterproof membrane that lets vapor out to keep you dry all day long. Made of 100% PFC-free water-repellent leather, the shoe extends protection without the use of any harmful chemicals. The KEEN ALL-TERRAIN non-marking rubber outsole is the real star here for giving you a solid grip without leaving behind any messy footprints. With the help of the torsion stability External Support Shank and mid-cut height, both balance and ankle support on uneven surfaces are guaranteed by these plantar fasciitis hiking boots. The collar and padded tongue give you a snug fit, while the metatomical footbed conforms to the natural contours of your foot and offers excellent arch support.
Pros
Available in 6 colors
Waterproof
Provides good arch support
Sturdy rubber outsole
Chemical-free materials
Stabilizes and supports ankle
Cons
Might be slightly bulky for some
Price at the time of publication: $123.12
Foxelli's hiking shoes for plantar fasciitis keep your ankle generously cushioned with a padded collar and tongue. Soft and removable insoles offer relief, shock-absorbent midsoles minimize joint impact, and the flexible upper gives you freedom of movement. A combination of suede and mesh has been used in the construction of this shoe, which aids breathability while still giving off a luxurious profile. The Kingtex waterproof membrane is responsible for keeping you dry, as the gusseted tongue promotes constant blood flow. With the wide toe box and slip-proof rubber soles, your gait will be natural and you can tread even unreliable terrains with ease. For an aligned posture and well-rounded balance, Foxelli's footwear also delivers trustworthy ankle and arch support.
Pros
4 color options available
Padded collar and tongue
Waterproof and breathable
Helps with blood circulation
Absorbs shock well
Cons
Might feel slightly stiff
Price at the time of publication: $129.97
Salomon offers the best women's hiking boots for plantar fasciitis, which feature an EnergyCell midsole made of EVA foam to effectively absorb all shock. The upper mesh is anti-debris to prevent pesky rocks and sand from making their way to the bottom of your feet. For optimal protection from medial and lateral slides on muddy trails, the mudguard on the base comes into action. Designed with the help of Descent Control Technology, you can complete your adventures even on wet surfaces with no fear.
Pros
Shock-absorbing
Anti-debris mesh
Base mudguard
Offers wet traction
Soft midsole
Flexible sole
Cons
The tongue might irritate a bit at first.
Price at the time of publication: $107.22
The best hiking shoe for plantar fasciitis is designed by Riemot and has a perforated suede upper to give you breathability and style. Waterproof with extra lining on the inside, you can hike away even in drizzly weather and still come out dry. The rubber toe cap keeps your toes guarded against shocks while the padded tongue and collar prevent friction. Phylon midsole reduces the shoe's weight and micro-suede insoles with open-cell foam backing are great bedding for your feet. The soles are both flexible and well-cushioned, taking your mind off the risk of blisters. With rubber outsoles that have a self-cleaning and open design, you can conquer all kinds of terrains with complete traction and stability.
Pros
Available in 5 colors
Breathable
Waterproof lining
Rubber toe cap
Well-cushioned
Flexible and sturdy outsole
Cons
Some may find the toe area slightly narrow.
Price at the time of publication: $62.99
These women's hiking boots for plantar fasciitis combine leather and mesh for the upper so your skin can breathe through the trail. For confident and secure footing, the Vibram TC5+ sole offers total stability and resistance against slippage. Another highlight is the targeted heel cushioning, which reduces the stress on your foot, and the M Select FIT.ECO+ blended EVA contoured footbed, which adds a zonal arch and heel support. The bellows and closed-cell foam tongue close the door against moisture and debris to give you the most comfortable movement.
Pros
2 color options available
Breathable mesh lining
Slip-resistant sole
Targeted heel cushioning
Prevents moisture and debris
Contoured footbed
Cons
Price at the time of publication: $83.99
Skechers' best hiking boot for plantar fasciitis keeps you cozy with the full-length removable Air Cooled Memory Foam insole. At both the tongue and collar, panels made of mesh fabric keep the breeze coming. What adds to the breathability is the Relaxed Fit design, which ensures roomy interiors while the midsole does its part in absorbing shock so you can focus on having fun. The chunky rubber outsole provides a strong grip on all terrains sans slipping.
Pros
Available in 6 colors
Removable cushioning
Breathable mesh panels
Spacious fitting
Chunky rubber outsole
Waterproof exterior
Cons
Might be slightly inflexible
Price at the time of publication: $106
If you've rotated through multiple shoes to ease your pain but none of them have worked, Vasque comes through with the best women's hiking shoes for plantar fasciitis that balance aesthetics and functionality The WP nubuck leather and air mesh upper panels are abrasion-resistant to reduce friction. Breathable and waterproof, a molded rubber toe cap sits in the front to safeguard your toes from collisions. There's also reflective piping that lends you a modern look while giving you visibility in the nighttime or in dimly lit areas. The Vibram Contact outsole with XSTrek Compound keeps your foot in contact with the ground for better traction, while the dual-density EVA footbed cradles it.
Pros
2 color options available
Breathable
Waterproof
Abrasion-resistant upper
Reflective piping
Superior cushioning
Cons
Might not offer enough arch support
The best waterproof hiking boots for plantar fasciitis come from Oboz's proprietary system called B-Dry, which lives up to the name by keeping moisture out and letting sweat escape. Idaho's mountain range is map-molded at the bottom of the Sawtooth outsole for added character and doubles intelligently as a grip. Featuring a unique O-FIT insole that neutralizes foot position and cradles your arches, the shoes are ideal for stability and cushioning. While the dual-density EVA midsole comes into play supported with a nylon shank underfoot, the outer nubuck leather remains resistant to abrasion and the asymmetrical collar plus molded rubber heel counter extends a snug fit that doesn't fail you.
Pros
Available in 4 colors
Breathable fabric
Waterproof body
Stabilizes gait
Soft cushioning
Abrasion-resistant textile
Cons
Price at the time of publication: $140
The Merrell hiking shoes for plantar fasciitis are all about flexible support, especially with the removable Kinetic Fit BASE insole that conforms to your foot shape. On the exterior, leather and mesh are used in harmony with a bellowed tongue to keep debris far away. In the heel, the unique air cushioning adds stability while absorbing shock. If you also want to reduce pronation and increase traction, the ultralight EVA foam midsoles combined with Vibram TC5+ outsoles patterned with deep adaptive lugs do just that.
Pros
Available in 4 colors
Removable and adaptive insoles
Breathable mesh lining
Reduced pronation
Sturdy and patterned outsoles
Soft, lightweight foam cushioning
Cons
Might not provide enough wet traction
Price at the time of publication: $82.41
Now that we've gone over some of the best hiking shoes for plantar fasciitis, let's learn how you can pick out the right pair for your specific needs.
How To Choose The Right Hiking Shoes For Plantar Fasciitis
Hiking with plantar fasciitis might not be such a good idea as you're putting more strain on the heels and muscles. But if you absolutely must do so, choosing the right footwear can help. As the intensity of every condition is different, your best bet would be a doctor's advice coupled with some trial and error. Dr. Bruce Pinker, board-certified foot and ankle surgeon, says, "Waterproof hiking boots are highly desirable as they can help prevent the feet from getting wet. This will help hikers to avoid toenail fungus (onychomycosis), athlete's foot fungus (tinea pedis), and plantar warts (verucca plantaris). Also, the added ankle support helps prevent ankle sprains. With added cushioning and proper arch support, plantar fasciitis conditions can be averted."
Look out for the following features to keep your feet supported all-around when hiking:
If your shoes lack arch support, you can face a ton of foot-related problems. You can either look for shoes that already have this built-in or use insoles in your existing pair. Shoes with removable insoles are also a good idea as you can customize this feature according to your preference.
As plantar fasciitis is a pain mainly in the heel area, you need a shoe whose heel is deep, wide, and well-cushioned. Your heel needs all the cradling it can get so as to prevent any further pressure.
Something soft for your feet to rest on is ideal because you don't want them to be in direct contact with the ground and lose feeling in the nerves. EVA memory foam midsoles that are soft, firm, and flexible are a great option as they often conform to your foot shape and lie snug.
To ensure full comfort, look for shoe exteriors that don't trap in body heat and allow the skin to breathe. Mesh panels and linings with the same fabric in the collar and tongue can do wonders for breathability.
Chunky rubber outsoles with multidirectional tread patterns allow you to keep your foot secure on any kind of terrain. As hiking trails can be unpredictable, a reliable sole lets you stay sturdy without slipping on wet and uneven surfaces.
Why Trust StyleCraze?
The author, Priyam Gupta, is a fashion and makeup enthusiast who believes in choosing nothing but the best in style and comfort. You will always find her up to date with the latest trends in the fashion industry. She believes in choosing products that are fashionable and help add to one's functionality. That's why she has done an extensive review of the best hiking shoes for plantar fasciitis to bring you nothing but the best. These are not only comfortable to put on and easy on your heels but also help you with the right grip, comfort, and durability to help cushion your feet and ease that pain.
Frequently Asked Questions
Is it OK to hike with plantar fasciitis?
Plantar fasciitis can cause strain on the heel, which is why it would be a good idea to gradually build up the duration of your hikes so as to reduce muscle stress.
Is my hiking somehow limited by plantar fasciitis?
Yes, this condition can cause aches and pains especially when there's sustained stress applied to the feet, which is often the case on hikes. To prevent this, talk to your doctor and invest in a good pair of shoes.
What shoes do doctors recommend for plantar fasciitis?
The kinds of shoes recommended for plantar fasciitis often feature deep heel cups to absorb shock and impact, a firm yet flexible midsole, and a footbed that offers optimum cushioning along with support.
Are KEEN hiking boots good for plantar fasciitis?
Yes, KEEN designs footwear targeted towards people with foot-related issues such as plantar fasciitis.
What is plantar fasciitis and what are its symptoms?
Plantar fasciitis is the result of inflammation between the heel and the toes. Its most common symptom is stabbing pain near the heels, which can worsen with heavy activity and movement.
What kind of footwear must people with plantar fasciitis opt for?
Look for shoes and sandals that come with deep heel cups, rubber toe caps, firm and flexible midsoles, amply-cushioned footbeds, and breathable uppers and linings. It's also important to use the right shoe for every activity, such as hiking shoes for hikes, running shoes for runs, and so on.
How can I lace my hiking shoes for plantar fasciitis?
You can try various lacing techniques to reduce the pain from plantar fasciitis when hiking. Loosening up the laces in such a way that the fit is still snug while giving your foot some space to breathe is ideal.
Do orthotic insoles work for plantar fasciitis?
Yes, orthotic insoles work very well toward reducing stress, pain, and irritation on the plantar fascia. It effectively minimizes any discomfort or stretching of the plantar fascia by providing the right type of support and cushioning.
Are trail shoes good for plantar fasciitis?
Yes, trail shoes provide ample comfort and cushioning to make the walk smoother and less painful. It helps in protecting the heel area and stabilize your feet.
Is it possible to permanently get rid of plantar fasciitis?
Yes. Following the correct type of treatment, plantar fasciitis can be cured completely. However, it is important to be particular and regular with the treatment to completely eliminate the issue.
Recommended Articles