10 Best Metatarsal Foot Pads To Buy In 2021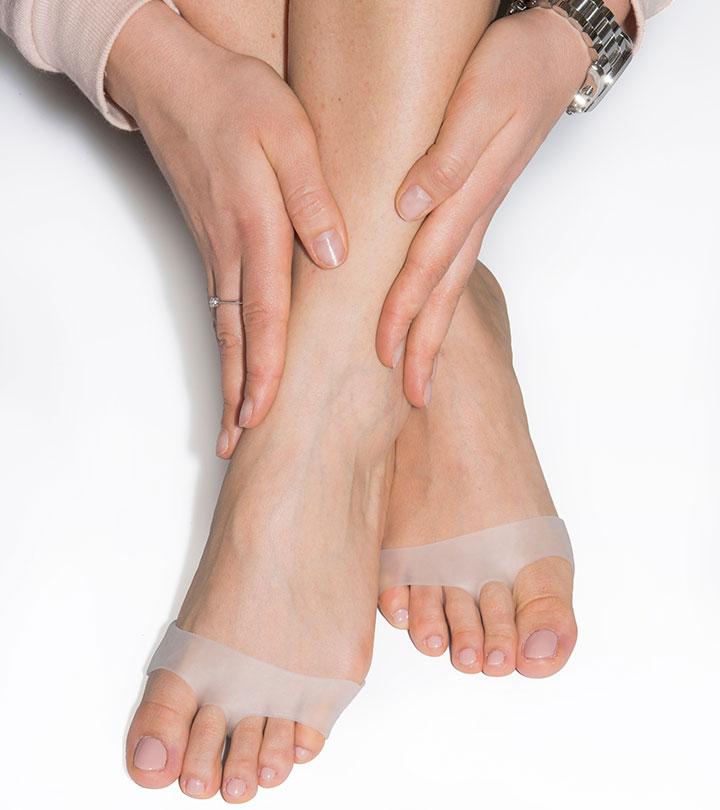 Metatarsal foot pads are designed to relieve pressure by supporting the metatarsal bones. These foot pads are ideal for anyone who is experiencing severe pain under the foot, especially in the area between the heel and toes. These help shift the pressure from your metatarsal head and the surrounding tissue to relieve the pinching pain instantly. If you have metatarsalgia (pain in the balls of your foot), these products can help you treat the condition.
We have curated a list of the top 10 metatarsal foot pads below. Have a look!
Top 10 Metatarsal Foot Pads To Buy in 2021
Dr. Frederick's Original Metatarsal Pads are made of a super stretchy gel material that provides extra cushioning. This gel evenly distributes the pressure on the bottom of your foot to ease the pain. It absorbs shock and vibrations with its padding. The kit includes two pairs of metatarsal pads.
Pros
Washable
Lightweight
Durable
Odor-resistant
Cons
None
This easy-to-use cushioning pad is perfect for people with conditions such as metatarsalgia, neuromas, calluses, and bunions. Its self-stick texture makes it easy to apply and is compatible with all foot sizes. It is made of 100% hypoallergenic material and is washable and reusable. It is the best metatarsalgia foot pads
Pros
Can be used multiple times
Self-sticking
Comfortable to wear
Lightweight
Cons
Get maximum cushioning and full metatarsal support with the Powerstep Pinnacle Plus Full Length Orthotic Inserts. This built-in metatarsal support product alleviates pain caused by neuroma and metatarsalgia. It provides perfect foot control, flexibility, and cushioning. Its ergonomic design with the firm, built-in arch and heel offer proper stability. It's plush cushioning makes it a great choice for athletic and regular activities.
Pros
Alleviates pain from all foot conditions
Reduces friction
Provides targeted cushioning
Durable
Cons
None
NatraCure Metatarsal Gel Sleeve is ideal for narrow footwear and boots. It is a flexible product that fits average to wide feet (women's shoe size 11.5+). Its fabric sits comfortably on the skin without causing friction. It distributes your weight evenly and eliminates any excess pressure on the balls of your feet. This extra-soft gel pad absorbs shock and vibration caused during walking, running, or standing.
Pros
Breathable
No discomfort
Super stretchable
Washable
Cons
No products found.
Dr. Jill's Metatarsal Pads are designed to deal with issues related to the metatarsal heads in your feet. Though these pads are not intended to treat, cure, or prevent any ill condition of the metatarsal heads, they help in alleviating the pain. Considered as saviors from bunions and neuromas, these pads are cost-effective and less expensive than custom inserts. The only drawback of these pads is that their adhesive is too strong, making them sticky and tough to remove.
Pros
Alleviate pain
Sit comfortably under the feet
Protect the balls of the feet
Cons
Too sticky and difficult to remove
These multi-functional correction pads are great for relieving foot pain, heel spurs and neuromas, tendonitis, and plantar fasciitis. The arch support sleeves are made of flexible fabric and designed for almost all types of feet. Their soft texture feels cozy and comfortable on your feet. The targeted, gentle, and hypoallergenic compression provided by these gel pad cushions reduces inflammation by enhancing the blood flow. They also don't cause any discomfort to the user while standing or walking.
Pros
One size fits most
Extra support to weak tendons
Increase blood circulation
Washable and reusable
Cons
Overstretching or exposure to sunlight may lead to discoloration.
Sumifun Metatarsal Forefoot Pads are very flexible and have good air permeability due to their superior-quality cushioning, which is made of medical-grade silicone. These pads are effective in alleviating the discomfort caused by callus, corns, blisters, and conditions such as metatarsalgia, plantar fasciitis, capsulitis, forefoot bursitis, sesamoiditis, and fat pad atrophy. Their soft gel silicone distributes the pressure on the feet uniformly and makes the user feel better when moving around or standing.
Pros
Hypoallergenic
Non-toxic and odor-free
Multifunctional design
Breathable and comfortable
Cons
These innovative forefoot cushion pads are made of spandex material that provides all-day comfort. Their cushioning not only helps in shock absorption but also prevents slipping or moving during any physical movement. They help in eliminating forefoot pain, calluses, neuromas, and metatarsalgia.
Pros
Shock absorption
Do not slip or move inside the footwear
Lightweight and comfortable
Cons
SMATIS Metatarsal Pads are made of an eco-friendly, medical-grade silicone gel. These ergonomically-designed metatarsal pads have air holes that provide adequate ventilation to your feet and are helpful in eliminating the pain, swelling, or discomfort caused by different types of foot problems. Besides being easy to clean, these pads also don't absorb too much dirt or odor.
Pros
Breathable
Relieve pain
Safe and reusable
Odor-resistant and dirt-free
Cons
These metatarsal pads are known for their adhesive padding that is made of moleskin. They reduce friction and make the user feel comfortable while walking or standing. They also protect your feet and heels from any problems that are caused by friction.
Pros
Reduce friction
Protect feet and heels
Prevent blisters
Comfortable
Cons
Might aggravate the pain if worn against broken skin
Foot conditions that make it painful to walk and go about your daily activities can make your life difficult. So, pick any of the best metatarsal pads on this list, try them out, and let us know about your experience in the comments section below.
Recommended Articles: