11 Best Pregnancy-Safe Face Moisturizers Of 2022
Pamper your skin safely with lasting hydration and nourishment during your pregnancy!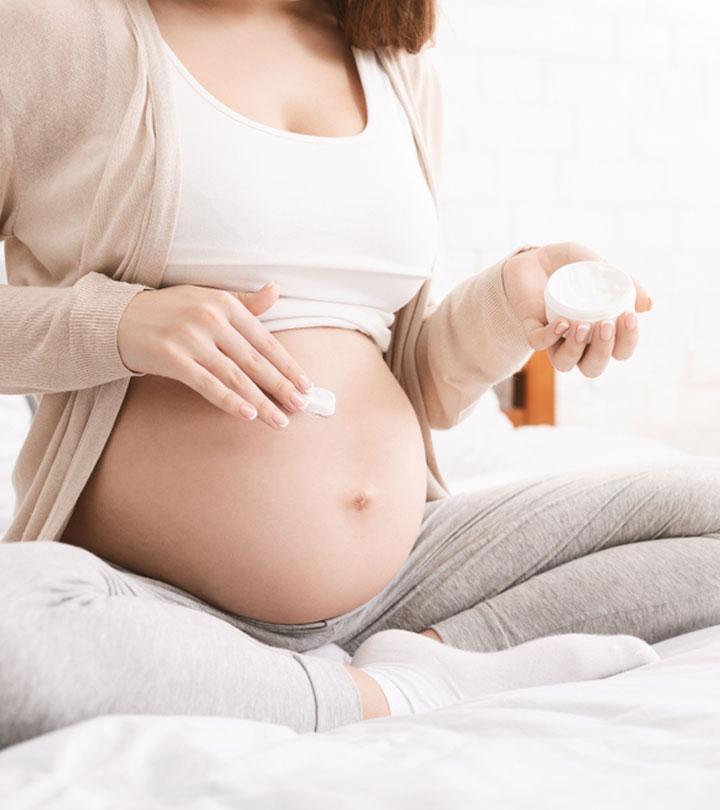 The mother's body and skin go through physical changes during pregnancy. During that period, hyperpigmentation, acne, and dry skin are all typical skin problems. However, by using the best pregnancy-safe face moisturizer with organic components, you may quickly address these bothersome skin changes. We've compiled a list of the best 11 pregnancy-safe moisturizers for the face to help with these pesky problems. Please take a look at them but keep in mind to consult your obstetrician/gynecologist or dermatologist before choosing any skincare products.
11 Best Pregnancy-Safe Moisturizers
The CeraVe Moisturizing Cream is suitable for both the face and body. It offers optimum hydration to dry, dehydrated skin. The moisture-retaining ingredients seal hydration for 24 hours and restore the protective barrier of the skin. The Multi Vesicular Emulsion (MVE) technology ensures the moisturizing ingredients penetrate the skin slowly and offer long-lasting hydration and nourishment.
The moisturizer is lightweight, safe, and gentle for pregnancy skincare. It is an oil-free, non-irritating, and non-comedogenic formula. It is dermatologically-tested and approved by The National Eczema Association. The video offers a deeper insight into the functions and effects of the Cerave Moisturizing Cream.
Key Ingredients
Ceramides & Hyaluronic Acid: The three essential ceramides (ceramides 1, 3, and 6-II), along with hyaluronic acid, help retain the skin's moisture barrier. They also help prevent dryness and itchiness that is often associated with pregnancy. This unique combination protects the skin from environmental and free radical damage.
Vitamin E or Tocopherol: A potent antioxidant that protects the skin from oxidative stress and environmental damage.
Pros
24-hour moisturizer
Non-comedogenic
Allergy-tested
Lightweight
Gentle and safe
Hypoallergenic
Fragrance-free
Oil-free
Non-irritating
Suitable for sensitive skin
Cons
None
The beeFriendly Skincare Simply Radiant Face & Eye Cream is a rejuvenating, anti-aging, and moisturizing formula. It contains all-natural and certified organic ingredients safe for pregnant skin. The invigorating blend of botanical extracts reduces fine lines and wrinkles while deeply moisturizing the face, eye, and neck areas.
The deep penetrating cream seals moisture and leaves skin looking youthful and radiant. It is gluten-free, paraben-free, and free from all other harmful chemicals.
Key Ingredients
Organic Raw Honey: It balances the bacteria in the skin and prevents acne breakouts. Honey also speeds up the healing process and reduces inflammation and irritation.
Organic Extra Virgin Olive Oil: It has anti-inflammatory, antibacterial, and anti-aging properties that nourish and protect the skin. It also hydrates the skin and restores the moisture barrier to prevent water loss.
Organic Beeswax: A potent humectant that attracts water and seals it in the skin. It is also a mild exfoliator that sloughs out dead skin cells and leaves skin squeaky clean and clear.
Bergamot Essential Oil: The antibacterial and anti-inflammatory properties of this aromatic oil are effective for spot treatment for acne. Its analgesic properties help soothe irritation and inflammation associated with hormonal acne.
Pros
Paraben-free
Sulfate-free
Cruelty-free
Non-GMO
Fragrance-free
Gluten-free
Four-in-one action
Safe for daily use
Protects against free radical damage
Cons
None
The Acure Incredibly Clear Mattifying Moisturizer gets easily absorbed into the skin and improves the appearance of skin texture and tone. The natural botanical extracts rejuvenate hydration and moisture to restore skin resilience. It is specially formulated for oily to acne-prone skin. It soothes irritation and inflammation. It is 100% vegan and chemical-free.
Key Ingredients
Lilac Extract: The natural power of this plant helps rejuvenate the skin at the molecular level. The anti-fungal property helps reduce acne breakouts. It can also help the skin flourish by acting as a tightening agent and toner.
Coenzyme Q10: It helps support the synthesis of collagen and elastin to tighten and firm the skin. This anti-aging ingredient helps blur fine lines and wrinkles.
Chlorella Extract: It is a freshwater alga that is packed with nutrient-dense chlorophyll to improve the skin tone and detoxify pores. It also helps boost natural collagen synthesis to tone and firm the skin. It fights against the signs of premature aging.
Argan Oil: It helps regulate excess sebum formation and heals different types of acne. Its emollient properties also help smoothen the skin and restore hydration.
Evening Primrose Oil: EPO helps reduce acne-related inflammation, redness, and It helps improve the overall skin health by restoring moisture and alleviating fatigue.
Pros
Paraben-free
Sulfate-free
Formaldehyde-free
Petrolatum-free
Easily absorbed
100% vegan
Safe and gentle
Fatigue-resistant
Cons
Overpowering smell
Sticky consistency
May leave a white cast
The Aveeno Ultra-Calming Daily Moisturizer helps calm and soothe dry, irritated skin. The unique formula with pregnancy-safe ultra filters helps protect the skin from UVA and UVB rays. The moisturizer is hypoallergenic, oil-free, and non-comedogenic. It leaves the skin feeling soothed and healthy-looking. This gentle moisturizer could reduce the appearance of redness in less than a week. Click here to check out a detailed personal review of this product.
Key Ingredients
UV Filters: It contains 3% avobenzone, 7.5% octinoxate, and 2% octisalate, which are safe enough to protect the skin from sun damage and sunburn.
Feverfew Flower Extract: Topical application of fewer flower extract heals visible redness and inflammation and soothes skin irritation.
Sodium Cocoyl Amino Acids: These are cosmetic ingredients loaded with concentrated nicotinamide that tightens pores, firms sagged skin, and reduces rough bumps caused by sun damage.
Pros
Protects from sun damage
Fast-absorbing
Gentle and safe
Oil-free
Non-comedogenic
Lightweight
Dermatologically-tested
Cons
Overpowering smell
Consistency could be too thin
May dry skin out
The La Roche-Posay is a daily moisturizer that reduces pore size, refines skin, and helps reduce excess oil secretion. It leaves your skin with a mattifying finish. It is formulated with Sebulyse technology that provides a dual-targeting action to tighten the pores and reduce excess sebum formation. The invigorating blend of botanical extracts hydrates the skin and leaves it soft, smooth, and plump. Check out this video to better understand the functions of this pregnancy moisturizer.
Key Ingredients
Lipo-Hydroxy Acids: Derivatives of salicylic acid that provide keratolytic effects to the skin. They offer micro-exfoliation, lift the dead cells off the skin surface, and deeply cleanse the pores and visibly tighten it. The acids are less acidic. Their topical application alleviates acne spots.
Pros
Tightens enlarged pores
Provides gentle exfoliation
Excellent base for makeup
Oil-free
Non-comedogenic
Dermatologically-tested
Paraben-free
Suitable for sensitive skin
Can be used both during the day and night
Cons
May cause a burning sensation
The Cetaphil Rich Hydrating Cream is formulated for normal to dry skin to provide intense hydration and nourishment. It is fragrance-free and rehydrates skin and boosts moisture. It protects the skin from dryness all day and night. It is a dermatologically-tested formula that will not clog pores. It soothes irritated skin.
Key Ingredients
Hyaluronic Acid: This humectant blurs the signs of fine lines and wrinkles. It easily penetrates the skin and restores moisture levels. It rejuvenates the skin too. It fortifies the skin's natural moisture barrier. It helps tighten the pores, improves skin complexion, and treats dull, dehydrated skin.
Olive Extract: The anti-inflammatory, antibacterial, and antioxidant properties of olive extract can heal acne symptoms, irritation, and inflammation. The extract protects the skin from environmental toxins for a healthier glow.
Pro-Vitamin Complex: It is a natural humectant that physically attracts moisture to the skin surface. It has a deep penetrating power that rejuvenates the skin from the deeper layers. It also stabilizes the skin barrier function to prevent water loss.
Pros
Dermatologically-tested
Fragrance-free
Non-comedogenic
Gentle on sensitive skin
Cons
None
The elta MD PM Therapy Facial Moisturizer works to moisturize, restore, and repair the skin the whole night. It is oil-free, fragrance-free, and safe for pregnant skin. The protein- and antioxidant-rich PM facial moisturizer maximizes the nighttime skin repair process for a smoother and fresher appearance.
Key Ingredients
Nicotinamide and Antioxidants: It is a water-soluble vitamin with anti-inflammatory properties that treat acne breakouts, reduce excess sebum formation, and improve the skin's natural moisture barrier. The vitamin also helps improve skin complexion by improving pigmentation. The antioxidants protect the skin from environmental aggressors.
Rice Protein Peptide: It penetrates the epidermis layer of the skin, stimulates new cell growth, promotes collagen formation, and improves skin elasticity. The hydrating properties of rice protein peptide nurture, revitalize, and oxygenate the skin for a healthier appearance.
Pros
Oil-free
Fragrance-free
Non-comedogenic
Safe for sensitive skin
Oxygenates the skin
Promotes elastin and collagen formation
Reduces the signs of aging
Cons
None
The Olay Complete Daily Moisturizer with a broad-spectrum SPF30 sunscreen provides long-lasting hydration with sun protection. This gentle, lightweight lotion is fragrance-free. It is infused with mineral UV filters along with moisturizers for healthy-looking skin. It is oil-free, non-comedogenic, and safe for use during pregnancy.
Key Ingredients
UV Filters: Homosalate 8.0%, avobenzone 3.0%, octocrylene 2.25%, ensulizole 2.0%, and zinc oxide. These active ingredients are safe for use during pregnancy. They protect the skin from UVA and UVB rays.
Aloe Leaf Extract: This soothing and calming ingredient protects the skin from sun damage. This gel extract easily absorbs into the skin seals moisture to soften the skin.
Vitamin B3: It prevents water loss from the skin surface. It also blurs the appearance of fine lines and wrinkles.
Vitamin E: A potent antioxidant that protects the skin from environmental toxins.
Pros
Oil-free
Non-greasy
Fragrance-free
Non-comedogenic
Dermatologically-tested
Safe UV filters
All-day protection
Cons
None
If you want a poreless skin with intense moisturization, try Tatcha The Water Cream. It is infused with Japanese ingredients that provide optimum hydration. The Japanese superfoods and natural botanical extracts restore youthful radiance with a matte finish look. The natural ingredients are safe for pregnancy skin.
Key Ingredients
Japanese Wild Rose: It is rich in vitamins and flavonoids that reduce the appearance of pores, tighten them, and improve skin texture.
Japanese Leopard Lily: It helps control excess oil secretion and clarifies the skin by encouraging natural skin cell turnover.
Hadasei-3 Complex: This trio antioxidant-rich complex comprises green tea, Okinawa red algae, and Akita rice. These ingredients detoxify the skin, prevent the signs of premature aging, promote cell renewal, and restore healthy-looking skin.
23-Karat Gold: It imparts a subtle, shine-free glow.
Pros
Oil-free
Control excess oil secretion
Blurs signs of aging
Paraben-free
Non-comedogenic
Dermatologist-tested
Fragrance-free
Urea-free
Phthalate-free
Non-irritating
Cons
The Paula's Choice Invisible Finish Moisture Gel provides intense hydration and helps minimize the appearance of visible pores. Its antioxidants also protect the skin from free radical damage. This lightweight gel formula improves the visibility of fine lines and wrinkles and blurs the premature signs of aging. This weightless moisturizer rejuvenates and restores skin hydration.
Key Ingredients
Hyaluronic Acid: A natural sugar that holds water to keep the skin hydrated and plump. It is a powerful humectant that helps treat dry, dehydrated, and itchy skin.
Nicotinamide: It is also known as vitamin B3. It helps build the keratin protein that firms the skin. It also helps retain skin moisture. It reduces inflammation, minimizes the appearance of pores, and keeps skin smooth and rejuvenated. It regulates oil secretion and excess sebum formation and controls facial acne.
Antioxidants: The green tea extract, grape seed extract, and vitamins C and E act as antioxidants to protect the skin from environmental aggressors
Panthenol: It helps improve skin hydration, elasticity, and soothes skin for a smoother appearance.
Oats Extract: The anti-inflammatory properties of oatmeal extract alleviate sensitivity. It contains a natural cleansing agent called saponin that offers deep cleansing. It also offers mild exfoliation that absorbs excess oil, dirt, and impurities.
Pros
Ultra-lightweight
Minimizes pores
Paraben-free
Fragrance-free
Reduces fine lines and wrinkles
Cons
None
The Honest Beauty Everyday Radiance Moisturizer levels up your skin glow skin status and restores hydration for full 8 hours. It is a cocktail blend of vitamins and antioxidant-rich ingredients that rejuvenate the skin and protect it against oxidative damage. It is an ultra-lightweight, non-greasy formula that boosts radiance every day.
Key Ingredients
Licorice Rice Root: It brightens skin tone by reducing dark spots and hyperpigmentation. Free radicals can damage the melanin-forming skin cells and prompt them to produce excess pigment. The licorice rice root combats this by halting the melanin-production process.
Acerola Cherry: It is a potent astringent that helps treat skin blemishes and promotes skin elasticity.
Barbary Fig: It nourishes, hydrates, and softens the skin. It readily absorbs into the skin and reduces the symptoms of premature aging.
Green Tea Seed Oil: It contains polyphenols that act as antioxidants to protect the skin from free radical damage.
Pros
Paraben-free
Phthalate-free
Fragrance-free
Mineral oil-free
PEG-free
Lightweight
Non-greasy
Cruelty-free
Dermatologically-tested
Toxicologist-verified
Cons
Watery consistency
May not suit sensitive skin
These are the 11 best moisturizers safe for use during pregnancy. In the following section, let us look at how your skin changes during pregnancy.
How Your Skin Changes During Pregnancy
Pregnancy is associated with complex endocrinological, immunological, metabolic, and vascular changes. These may influence your skin and other organs. Over 90% of women in this period were found to undergo complex skin changes (1). A clinical study in The Indian Journal of Dermatology showed that almost 100% of women experienced skin changes during pregnancy (2).
Alterations in the connective tissue are common during pregnancy. These alterations are called pregnancy specific dermatoses (PSDs) (3). They occur during the third trimester, with pruritus (unpleasant sensation of the skin that causes unwanted itching and scratching) being the major symptom (4).
Hence, harsh soaps, strong fragrance moisturizers, and other chemicals can make the skin itchy and dry.
The following guide will tell you how you can have healthy skin during pregnancy.
How To Have Healthy Skin While You Are Pregnant
Use a fragrance-free hydrating moisturizer. Massage it well for deeper penetration.
Select natural botanical extracts with mild exfoliating ingredients to provide nourishment and buff away dead skin cells.
Ensure the salicylic acid content in the moisturizers is less. According to the American College of Obstetricians and Gynecologists, a small concentration of the topical application of over-the-counter (OTC) products, including salicylic acid, benzoyl peroxide, azelaic acid, and glycolic acid,is safe during pregnancy.
What should you check for before buying pregnancy-safe moisturizes? The following buying guide can help you understand.
Choosing A Pregnancy-Safe Moisturizer – A Buying Guide
Dry Skin: If you have dry skin and feel more dehydrated and itchy, you need intense hydrating botanical extracts. Check for moisturizers with hyaluronic acid, cocoa butter, coconut oil, shea butter, and mango butter that improve hydration levels. The moisturizer may also help fade stretch marks.
Acne-Prone Skin: If you are prone to developing acne and frequent breakouts, avoid retinoid products. They are not safe during pregnancy. Try mild glycolic acid that provides gentle exfoliation and sloughs out the dead skin cells. A small amount of azelaic acid is also safe as it can reduce the signs of aging, fine lines, and wrinkles, and reduce skin pigmentation.
Sensitive Skin: Skin often becomes sensitive during pregnancy due to hormonal changes. If you have sensitive skin, you need the utmost care to nourish it. Check for a moisturizer with 100% organic ingredients and no chemicals.
Try mineral sunscreens with moisturizing agents to protect your skin from UVA and UVB rays. The product should include zinc oxide and titanium dioxide as they are safe to use during pregnancy. They also combat damage due to UVA and UVB rays.
Check For Anti-wrinkle Ingredients
Most moisturizers have retinoids to reduce wrinkles and fine lines. Retinoids are generally not recommended during pregnancy. Certain vitamin A derivatives like tretinoin (Retin-A) and accutane (isotretinoin) may lead to embryotoxicity. A case-control study showed that the topical application of tretinoin leads to congenital malformations (5).
The moisturizer should be free from parabens, phthalates, mineral oils, fragrances, and formaldehyde. These compounds could increase the risk of miscarriages or further dry the skin out.
Why Trust StyleCraze?
Oyendrila Kanjilal, the author of this article, is a certified skin care coach who is passionate about all things beauty. She browsed through the product specifications and read hundreds of online reviews to narrow down the best pregnancy-safe face moisturizers for her readers. Her recommendations are based on skin type and chemical-free ingredients. These products hydrate your skin, keep it non-greasy, and make it soft and plump.
Frequently Asked Questions
Is it safe to use a moisturizer during pregnancy?
Yes, but not all moisturizers are pregnancy-safe. However, certain organic moisturizers free of harsh chemicals and irritants are safe during pregnancy. These moisturizers eliminate itchy and dry skin and help reduce stretch marks.
Which skin care routine is safe for pregnant women?
A safe skin care routine for pregnant women must have the following steps:
• Wash your face with a mild cleanser and lukewarm water.
• Use a hydrating and balancing antioxidant toner.
• Use a mild moisturizer that suits your skin type.
• Apply a mineral-based sunscreen with a minimum of SPF 30.
• Use a serum at night, preferably melasma treatment serum, to protect your skin from free radicals.
Can you use vitamin c moisturizer when pregnant?
Yes. Vitamin C moisturizers protect your skin from premature aging and environmental stressors, making it effective and safe during pregnancy. Since vitamin C makes your skin very sensitive to sun damage, top it up with a good SPF.
What ingredients to avoid when looking for a pregnancy-safe moisturizer?
Avoid these 11 ingredients when looking for a pregnancy-safe moisturizer:
• Retinol
• Tazorac and accutane
• Benzoyl peroxide and salicylic acid
• Essential oils
• Hydroquinone
• Aluminum chloride
• Formaldehyde
• Oxybenzone
• Tetracycline
• Dihydroxyacetone
• Parabens
Recommended Articles