Top 10 Alcohol-Free Deodorants To Try In 2023
Avoid awkward pit stains and stay feeling refreshed all day with the right products at hand.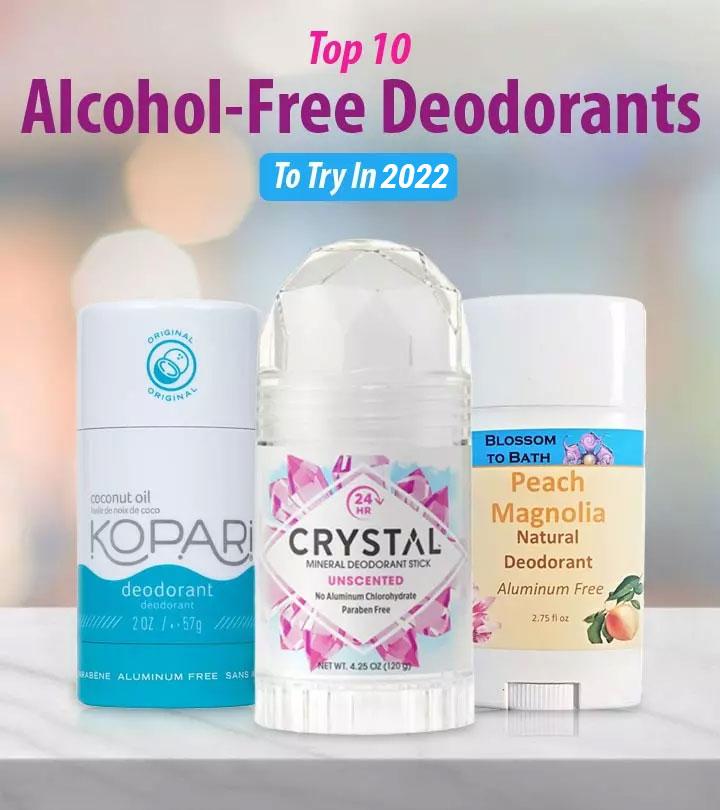 Most people do not prefer using deodorants that contain alcohol as it causes redness and skin irritations. But that does not mean not using deodorants at all. Instead, you must choose wisely as there are quite a few best alcohol-free deodorants available online. Unlike deodorants that contain parabens, alcohol, and aluminum compounds, these products do not block your sweat glands and irritate you.
Have you experienced skin pigmentation and itching after using deodorants? If so, it is time to switch to alcohol-free deodorants. Although they are a little costlier, they are gentle on the skin and do not cause dryness. They prevent irritation, itching, and skin allergies. Our list provides the top 10 alcohol-free deodorants to make your job easier. These have also got a good number of reviews on trusted online platforms, evidence of positive people experience. Scroll down to check them!
Top 10 Alcohol-Free Deodorants To Try In 2023
The heady smell of jasmine blossoms with delicate undertones of green tea can tantalize your senses. Schmidt's Natural Deodorant is a sophisticated yet subtle combination of scents. It contains native plant and mineral extracts.
This award-winning formula from Schmidt's has received more than 24,000 ratings on Amazon. This antiperspirant deodorant contains native plant and mineral extracts, and the long-lasting smell detoxifies your body and keeps your underarms dry and sweat-free for a long time. It is free of harmful aluminum, parabens, and alcohol. It is effective, naturally gentle on sensitive skin, and has a smooth and creamy texture. Natural magnesium, along with essential oils, is used in the product to neutralize body odor.
Pros
Aluminum-free
Paraben-free
Baking soda-free
Gluten-free
Easily absorbed
Non-greasy
Suitable for sensitive skin
Cons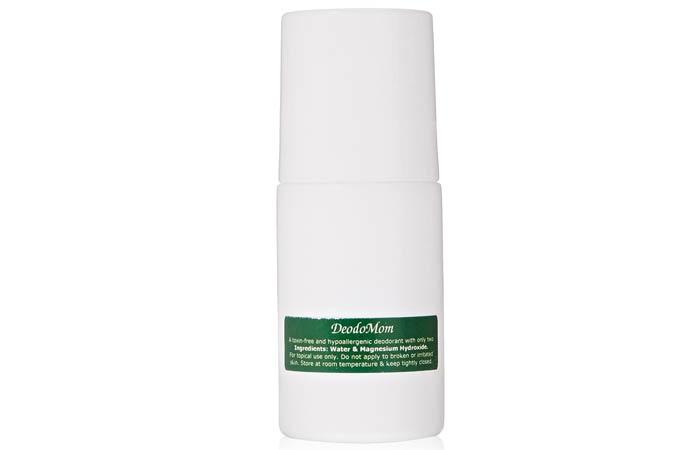 DeodoMom is one of the top roll-on deodorants. It is a vegan product, containing only two ingredients – water and magnesium hydroxide. Water is, of course, beneficial to the skin, and magnesium hydroxide is a safe and skin-friendly mineral.
This product has not been tested on animals. It is suitable for all skin types, especially sensitive skin. It does not irritate even when applied immediately after shaving.
Pros
Non-irritating formula
Suitable for all skin types, especially sensitive skin
Aluminum-free
Paraben-free
No added fragrance or colors
Cruelty-free
100% safe ingredients
Cons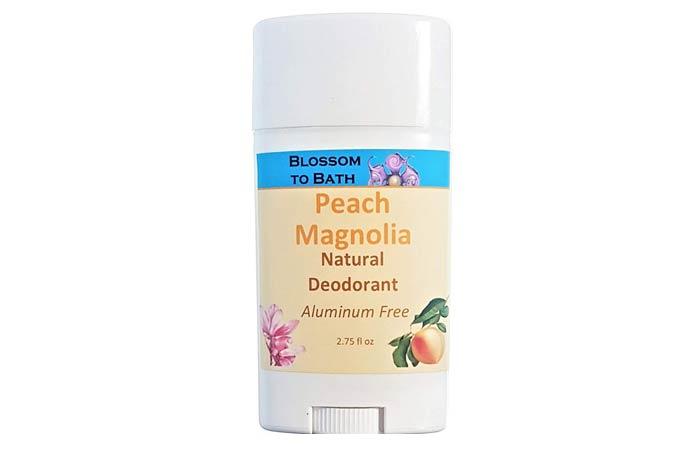 This alcohol-free deodorant uses natural and organic ingredients to give you fragrant, long-lasting protection throughout the hottest of seasons. The Blossom To Bath Natural deodorant is non-staining and has natural butters like that of mango and shea. Combined with the lusciousness of peach, magnolia, and raspberry, we get an unbeatable product that will work gently to eradicate sweat and nasty smells from your body. This alcohol-free deodorant keeps you smelling fresh all day.
Pros
Skin-safe and natural ingredients
All-day sweat protection
Long-lasting protection
Cost-effective, as you need to use only a thin layer
Baking soda-free version also available
Comes as an easy to use deodorant stick
Cons
May cause a reaction on some skin types.
Application in thick layers may lead to stickiness.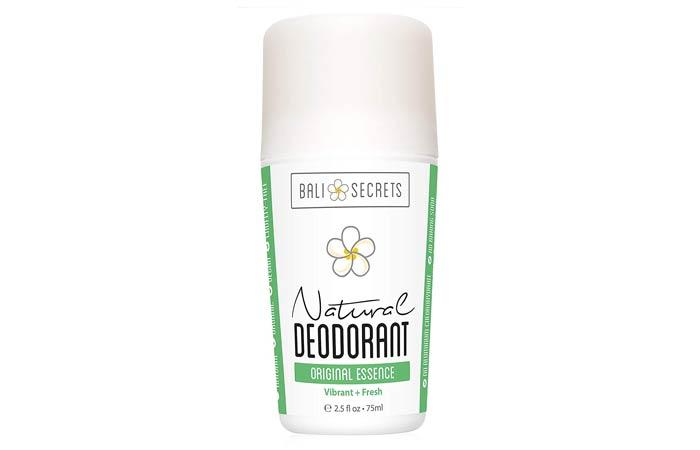 Bali Secrets Natural Deodorant is a pure, natural, and vegan deodorant. All its ingredients have been approved by the Environmental Working Group as safe. The product protects you from body odor and leaves you feeling fresh all day. Its unique balance of tropical and floral scents offers pleasure to your senses.
It contains a combination of seaweed extract, natural potassium alum, aloe vera gel, distilled water, coconut oil, and other essential oils (rose, mint, and lavender). This deodorant has received above 6,500 rave ratings on Amazon, and customers are very happy about its easy application, quick-drying, and stain-free formula.
Pros
Roll-on deodorant with ease of use
Non-staining
Long-lasting protection from body odor
Vegan and chemical-free
Certified by PETA as a cruelty-free product
EWG-approved
Cons
Expensive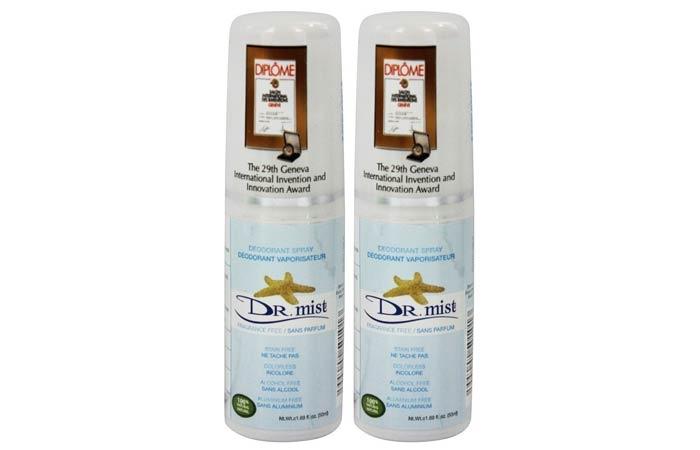 The Dr. Mist Unscented All Natural Spray Deodorant contains water, concentrated salts, and minerals from the Dead Sea. It is a fluid spray and evaporates very fast (0.4 times faster than water). On evaporation, it leaves behind a residue of a fine powder of salts and minerals on the skin. This residue forms an antibacterial shield and kills the bacteria on the body surface.
The deodorant is non-greasy, non-toxic, and does not cause skin irritation or leave stains on your clothes. It does not block the sweat glands or cause any underarm discomfort.
Pros
No cream or oils
No added fragrance or artificial colors
Hygienic
Cons
Prolonged use may lead to darkening of underarms.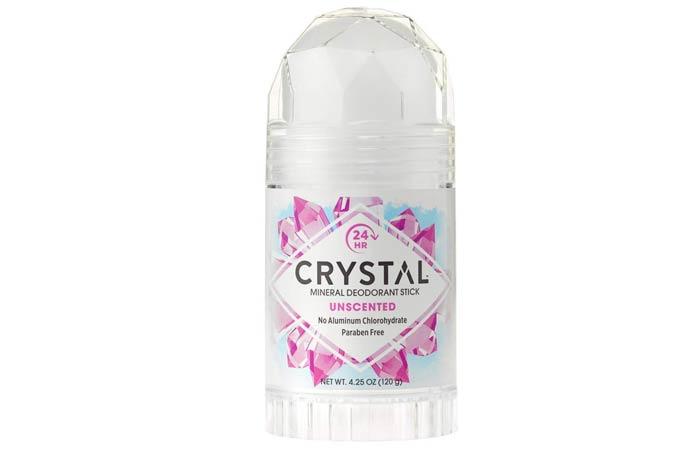 The Crystal Mineral Deodorant Stick contains only the pure mineral salts of potassium alum. It is the ideal product for those who want quality, natural, and alcohol-free deodorants. This deodorant does not contain harmful aluminum and is purely mineral-based. It is a vegan product and dermatologically tested.
Remain odor-free and smelling clean for up to 24 hours with a single application. It does not leave any ugly stains or any residue on your skin. The product creates a barrier on your skin against odor-causing bacteria. This all-crystal deodorant has received over 15,500 ratings on Amazon, and most of the reviews speak highly about the product leaving their underarms completely odorless.
Pros
Contains only one ingredient – potassium alum, a natural mineral
Vegan
Hypoallergenic and unscented
Alcohol-free
Free of harmful aluminum
Paraben-free
Synthetic fragrance-free
Long-lasting (a single stick can last for a year)
Cons
Loosens with use and prone to slip out of the holder and shatter.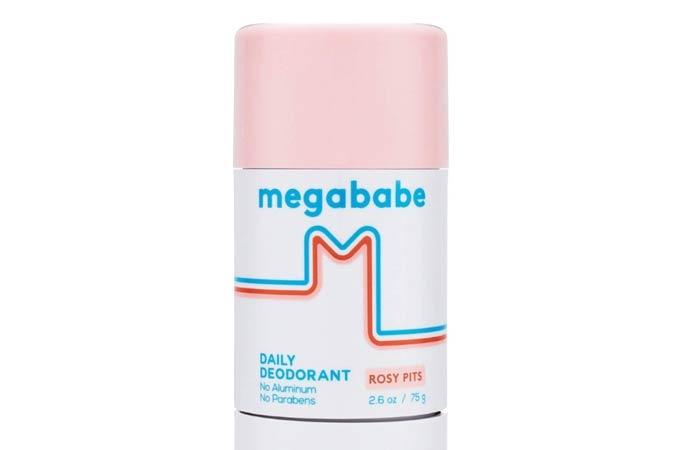 The Megababe Rosy Pits Daily Deodorant contains natural ingredients, like sage, green tea, coconut oil, vitamin E, and sandalwood extracts. The coconut oil and vitamin E moisturize and smoothen your skin, and their antifungal and anti-inflammatory properties offer protection.
The green tea is rich in antioxidants and promotes healthy skin. Sage and sandalwood are plant-based extracts with potent properties to eliminate certain bacteria. They also have unique fragrances.
Pros
Apt for all skin types, especially sensitive skin
Aluminum-free
Paraben-free
Baking soda-free
Long-lasting
Not tested on animals
Contains natural ingredients
Cons
May cause some wetness as it does not contain aluminum.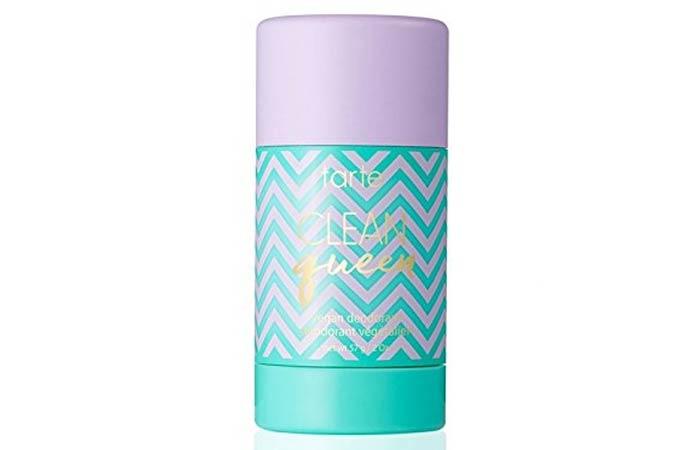 The Tarte Clean Queen Vegan Deodorant is a water-based formula combining aloe and other natural plant starches. It is a vegan product and does not cause skin irritation. It is an alcohol-free deodorant. Its hypoallergenic cream-to-powder formula leaves no streaking or wetness behind.
Its natural plant starches do not disturb your sweat glands. They fight body odor effectively. Aloe works its magic to cool, soothe, and condition your skin. It has a pleasant vanilla scent.
Pros
Dermatologically tested
Vegan
Aluminum-free
Gluten-free
Soy-free
Cons
May cause a rash in some skin types.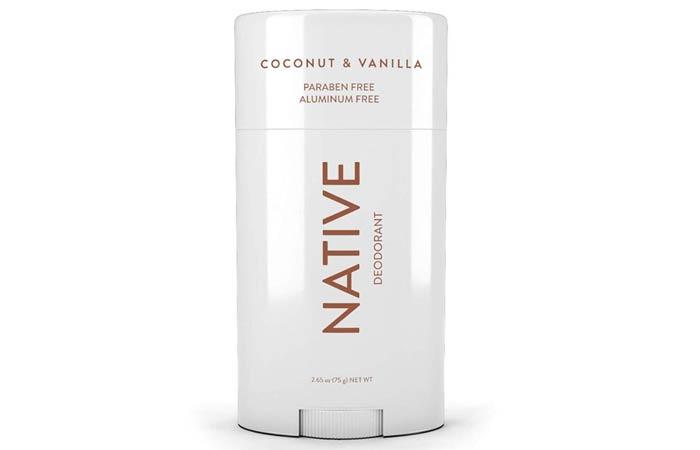 The Native Deodorant leaves you feeling light and fresh while effectively tackling body odor. It is a sophisticated combination of coconut oil, shea butter, and baking soda.
It also contains magnesium hydroxide that is used to absorb wetness. It helps eliminate odor-causing bacteria, yeast, and fungi. The sweet and tropical fragrances of coconut and vanilla linger on, long after application. In addition, this rash-free, sweet-smelling, and stain-free deodorant has received more than 69,000 rave ratings on Amazon.
Pros
Cruelty-free
Long-lasting even on a sweaty day
Non-staining
Aluminum-free
Paraben-free
Talc-free
Phthalate-free
Cons
Expensive
Does not reduce perspiration.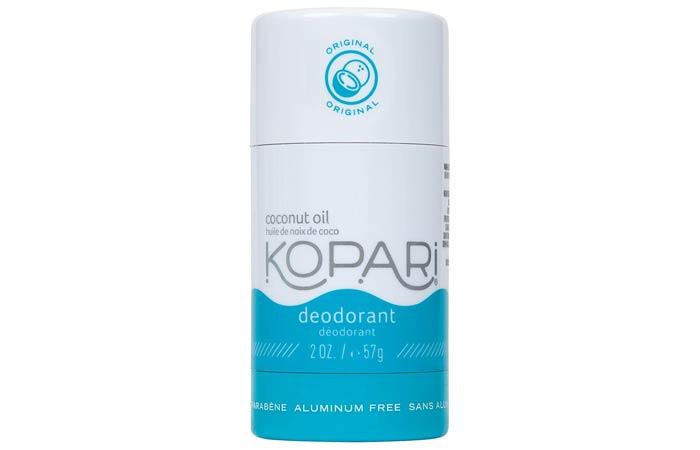 The Kopari Coconut Deodorant is made with 100% pure and organic coconut oil extracted from coconuts obtained from the coconut farms of the Philippines. Its unique blend of coconut oil, coconut water, and sage oil pampers your skin while dealing with unpleasant body odor.
It glides on your skin and is easy to apply. It is a non-toxic product and free of nasty and harmful chemicals and alcohol. The Kopari Coconut Deodorant has received over 6,000 ratings on Amazon, and many have praised its smooth formula that glides on easily without leaving any white residue.
Pros
Aluminum-free
Conditions and soothes skin
Paraben-free
Phthalate-free
Silicone-free
Talc-free
Baking soda-free
Cons
Does not reduce perspiration.
*The prices provided in this article are based on the latest available information. However, they may vary due to changes in pricing by the seller and/or promotional offers.
Why Trust StyleCraze?
Shiboli Chakraborti is a certified skin care coach who loves experimenting with skin care products. She advocates using alcohol-free deodorants as they are paraben-free and as close to nature as possible. She has researched and reviewed some of the most highly-rated alcohol-free deodorants on the market and curated a list of the best ones. These shortlisted deodorants contain natural ingredients and are apt for all skin types.
Frequently Asked Questions
Can I use an alcohol-free deodorant everyday?
Yes, use an alcohol-free deodorant everyday. The formula in the deodorant does not clog pores and helps your body perspire naturally, but without the odor.
Why do deodorants have alcohol?
Some deodorants have alcohol because the ingredient helps the formulas dry faster, once applied. Alcohol also kills bacteria that are known for giving way to bad odor. However, the formulas may clog your pores and make your skin dry. Whereas, alcohol-free deodorants eliminate body odor without clogging your pores.
How long does alcohol-free deodorant last?
Alcohol-free deodorants last up to 48 hours without fading away. They may last longer, depending on your lifestyle.
Can an alcohol-free deodorant cause rashes or eczema?
No, alcohol-free deodorants do not cause rashes or skin conditions like eczema. However, the preservatives in the formula can cause redness, bumps, or rashes on sensitive skin. Check the ingredients list to learn about the ingredients added before using an alcohol-free deodorant.
Does alcohol free deodorant prevent sweating?
No, alcohol-free deodorants or deodorants in general do not completely prevent sweating. They eliminate the body odor that often accompanies excess sweating.
Are aluminum-free deodorants alcohol-free?
No, not every aluminum-free deodorant is alcohol-free. Some contain alcohol but most aluminum-free deodorants work similar to the alcohol-free ones. They keep you odor-free and refreshed.
Recommended Articles