10 Best Foot Deodorants to Try in 2023
Get rid of smelly feet with a couple of sprays of these amazing foot fresheners.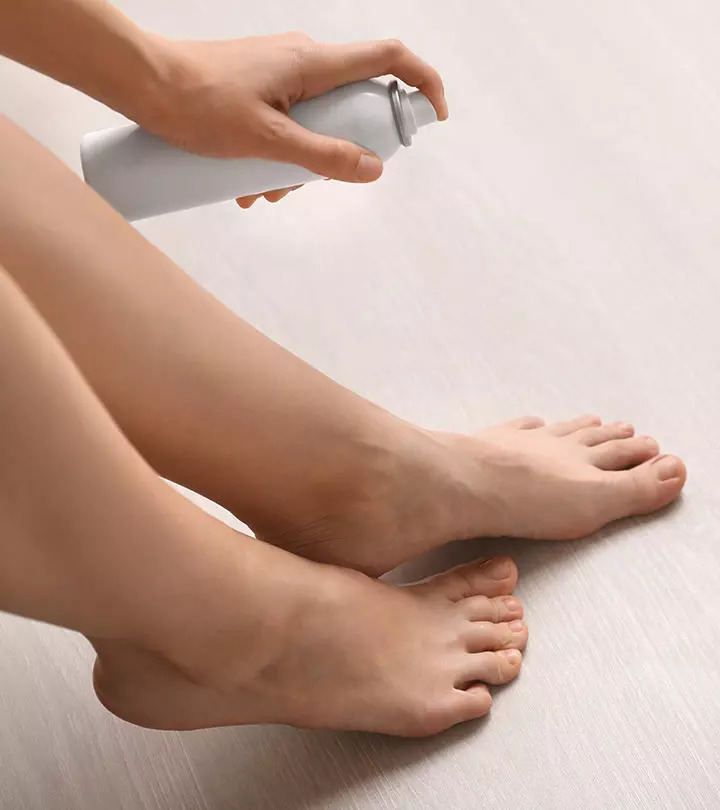 If you have ever been embarrassed because of smelly feet, this article is just for you. Here, we have compiled a list of the best foot deodorants available on the market.
The problem of smelly feet can make people feel self-conscious, and their confidence can suffer as a result. This foul odor is caused due to the breakdown of sweat by specific bacteria and sweating.
Foot deodorants comprise chemicals that help in reducing foot odor while also keeping your feet dry. But first, let us see why applying foot deodorant is important. Read on.
Why Use A Foot Deodorant?
A foot deodorant helps fight bad odor and the bacteria that cause it. It keeps your feet dry by absorbing moisture. Thus, it keeps foot odor at bay all day. Here are the top 10 foot deodorants you can try.
Top 10 Foot Deodorants to Try in 2023
Foot Sense has been popular among athletes for ages. It is a natural, extra-strong foot deodorant that keeps foot odor at bay. It is formulated with zinc oxide, which is a natural ingredient with no side effects. It is a micronized powder deodorant that kills the odor-causing bacteria. You can apply the powder in your running shoes, hockey skates, boxing gloves, or any other shoe that needs odor protection.
Pros
Contains natural ingredients
Long-lasting effects
Control bacteria and fungus
Keeps your feet dry and clean
Cons
None
Price at the time of publication: $12.98
Elite Sportz Shoe Deodorizer And Foot Deodorant is not only a foot spray but also a moisturizer. It controls foot odor and promotes healthier feet. It contains 7 pure essential oils and 11 herbal botanicals that take care of your feet. The moisturizer in the deodorant helps heal your dry and cracked heels. The icy sensation cools down your itchy and tired feet and provides them with much-needed hydration. It contains the highest quality natural ingredients and is 100% non-toxic. While your feet may be sweaty, it is still important to keep them hydrated, and using essential oils is a great way to do so.
Pros
Contains essential oil and botanicals
Long-lasting effect
Treats dry and cracked feet
Creates an icy sensation
100% non-toxic
Cons
None
Price at the time of publication: $16.99
Lumi Outdoors Natural Shoe Deodorizer Foot Spray is a natural and safe formula that eliminates the strongest shoe and foot odors. It contains potent essential oils like lemongrass, mint, and tea tree oils that keep your feet fresh and healthy for a long time. This foot spray offers long-lasting effects. Apply this deodorant on the feet directly as it is entirely natural and safe.
Pros
Long-lasting effects
Safe formula
Eliminates tough odor
Natural ingredients
Cons
None

Price at the time of publication: $12.94
Sprayzee Natural Shoe Deodorizer Spray is one of the top-rated deodorizers that works wonders on your smelly feet. It contains 12 essential oils and enzymes that take care of your feet and eliminate foot odor entirely. The spray does not cover up bad odor with a synthetic smell but transforms it at a molecular level to make your feet smell fresh. The brand offers a money-back guarantee if you are not satisfied after 60 days of use. Sprayzee is a dry sole deodorant as it absorbs moisture that causes bad odor and keeps your feet dry.
Pros
100% natural
Long-lasting effect
Does not contain synthetic fragrances
Cons
None
Price at the time of publication: $14.95
With its powerful yet gentle formula, Rocket Pure Natural Mint Shoe Deodorizer is an ideal choice for athletes. This foot deodorant fights odor-causing bacteria to refresh your feet. It is capable of resisting the most potent odor while giving a soothing effect to sensitive skin. It is an odor-repelling and antimicrobial spray that kills the bacteria on your feet and in your shoes. You can use this deodorant in shoes and boxing gloves. The mint also works to cool your feet, reducing sweat.
Pros
Gentle formula
Fights odor-causing bacteria
Fights the strongest odor
Long-lasting effect
Antimicrobial properties
Cons
None
Price at the time of publication: $14.95
Lavilin Foot Care Award-Winning Foot Deodorant Cream offers seven days of odor-protection with a single application. The deodorant uses a natural combination of herbs that attacks odor-causing bacteria and imparts a fresh smell to your feet. It is a non-toxic formula that does not have any side effects and is good for sensitive skin. This deodorant is suitable for delicate and sensitive skin. Apply it directly on your feet to get maximum benefits.
Pros
Gives 7-day odor protection
Contains natural ingredients
Suitable for sensitive skin
Non-toxic formula
Cons
None

Price at the time of publication: $17.0
DoctorCare Plus Foot And Shoe Deodorizer Spray is a 100% safe and natural formula. It contains eucalyptus, tea tree oil, thyme, and peppermint that fight odor-causing bacteria without having any side effects on your skin. It is considered to be one of the best deodorants for feet that keeps them fresh for a long time with little application. The mint used in this spray fights the strongest odor and eliminates the growth of bacteria that causes the bad smell.
Pros
Safe and natural formula
Contains natural ingredients
Inhibits the growth of bacteria
No side effects
Easy to use
Natural ingredients
Cons
None
Price at the time of publication: $14.16
Funky Feet Odor Spray is a breeze to apply. It is formulated with wholesome ingredients like tea tree, lavender, eucalyptus, and peppermint. It does not contain any harmful chemicals. It is a robust antibacterial deodorizer that helps remove unpleasant odor from your feet and shoes. It works as a foot refresher and disinfectant too.
Pros
Fights bacteria
No side effects
Easy to apply
Cons
None
Price at the time of publication: $9.97
Carpe Antiperspirant Foot Lotion is one of the best antibacterial deodorants available on the market. It is formulated to minimize sweat production and keep your feet smelling fresh for a long time. This foot lotion is a non-greasy and safe formula that absorbs moisture from your feet to keep them dry. The eucalyptus oil in this cream helps treat cracked heels and prevent sweat. It also has a quick-drying property. This clinically-proven product is considered to be the best lotion for sweat treatment.
Pros
Clinically-proven formula
Long-lasting effect
Controls sweat
Keeps your feet dry
Non-greasy formula
Cons
None
Price at the time of publication: $14.95
Dr. Scholl's Odor Destroy Deodorant Sport Foot Spray is a dual-action formula that destroys odor instantly. This is the best foot deodorant for anyone with athlete's foot. It contains tinactin, an antifungal ingredient that treats athlete's foot when it comes in contact with it. The other ingredients of this deodorant spray help fight fungus, unpleasant smells and keep your feet smelling fresh at all times.
Pros
Dual-action formula
Cures athlete's foot
Antifungal action
Cons
None
Price at the time of publication: $27.02
Before you buy a foot deodorant, here are a few things that you need to keep in mind.
What To Consider Before Buying Best Foot Deodorant
Buying a foot deodorant depends on your preferences. You can choose a natural foot deodorant or a synthetic one. However, it is advisable to buy one that is made with natural ingredients as it won't cause any side effects or allergic reactions. Some other things that you can consider are:
It should be travel-friendly so that you can carry it easily wherever you go.
The deodorant should not just mask the odor but prevent it completely by inhibiting bacterial growth.
It should keep your feet smelling fresh for a long time.
The deodorant should absorb moisture and keep your feet dry.
Your skin type.
The type of lifestyle you have, whether active or stagnant.
The amount of sweat your feet produce.
Other than using deodorants, there are plenty of natural methods that can help prevent smelly shoes and feet. Some of them are listed below.
How To Prevent Smelly Feet And Shoes
Wash your shoes often or at least twice a month.
Give a break to your shoes. Do not wear the same pair of shoes daily.
Buy shoes with washable soles.
Keep your shoes in a cool and dry environment.
Consider buying open-toed or overall breathable
Why Trust StyleCraze?
Sakshi Bahal, the author, loves using and reviewing skin care and personal care products. Her carefully curated list of best foot deodorants is perfect to fight away foot odor. She thoroughly checked the ingredients of the products, user feedback and reviews on online forums before shortlisting the best ones for the list. The author has picked products that are organic, non-toxic, and long lasting.
Frequently Asked Questions
Is a deodorant good for your feet?
Yes, a deodorant is good for your feet as it temporarily blocks sweat glands to reduce excessive sweating. It keeps your feet dry but do not forget to wash it off after some hours of use.
Can you use deodorant for stinky feet?
Yes, your feet may stink due to excessive sweating. An effective deodorant can reduce sweating and make your feet smell better.
Can you use foot powder as deodorant?
Yes, you can use foot powder as deodorant but it might not have the fragrance you are looking for. However, foot powders are great at keeping your feet dry and comfortable.
How often should I use foot deodorant?
You can use foot deodorant twice a day. But, if your feet remain sweaty and stinky after coming home from work, use a deodorant once before getting into bed.
How long does foot deodorant take to work?
A foot deodorant typically works within five to ten minutes of applying it. It lasts for 24 to 48 hours depending on your lifestyle.
Recommended Articles