13 Best Body Washes For Psoriasis In 2023 For Healthy Skin
Cleanse your skin and permanently heal your itchy and flaky skin with these body washes.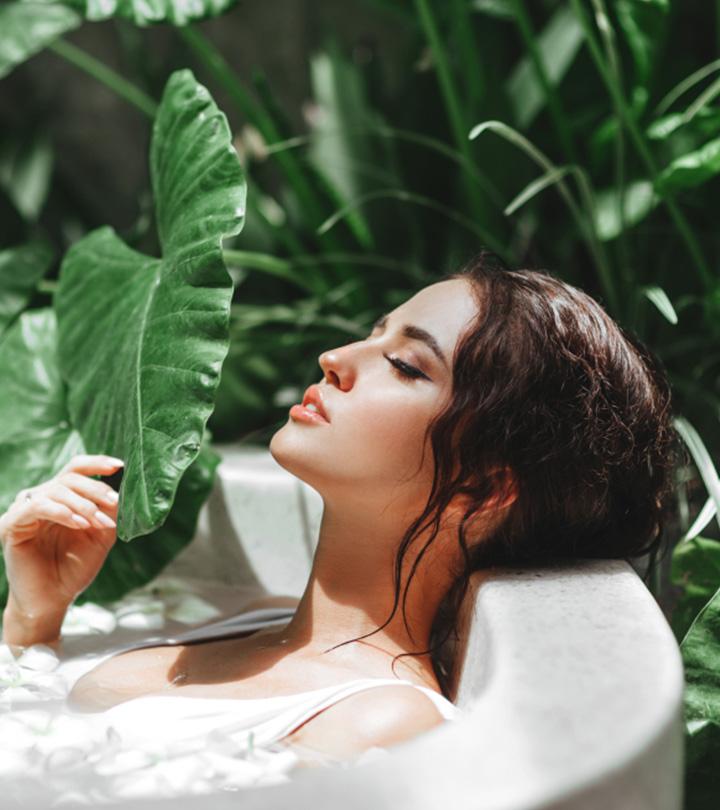 If you are suffering from itchy and flaking skin, red, white, or silvery patches, then chances are you have psoriasis. It is a chronic, autoimmune skin condition characterized by the above symptoms. So, your skin needs the best body washes for psoriasis, as an absolute and ideal cure for this skin condition is to use the right skin care products that will help relieve the symptoms.
Besides topical and oral drugs, you can use vitamin D supplements to treat this particular skin condition. In addition, when you have psoriasis, it is essential to find shampoos, cleansers, and lotions that will help to manage these symptoms. Finally, choosing a good body wash will effectively help calm your skin. It will not only hydrate and keep your skin healthy but also protect your skin's natural barrier.
However, before picking a body wash for psoriasis, you need to ensure that the product is free from artificial fragrances, harsh chemicals, and dyes. Here, we have curated a list of the best body wash for psoriasis. Keep scrolling through to take your best pick!
Top 13 Best Body Washes For Psoriasis In 2023 For Smooth And Clear Skin
The natural blend in the Purely North West Tea Tree Oil Foot And Body Wash helps you get rid of skin fungus and is great for treating skin conditions. Infused with 100% pure essential oils such as oregano, rosemary, peppermint, camphor, eucalyptus, and cajeput, this extra-strength formula is formulated to provide relief to itchy, dry, and irritated skin. With no added synthetic fragrances, this is a gentle body wash for psoriasis as well as for those with sensitive skin types. This body wash, simultaneously addresses body acne by cleansing clogged pores while helping reduce oils and bacteria buildup. This kid-safe product is a favorite of many reviewers.
Pros
Suitable for adults and children
Ideal for extremely sensitive skin types
No synthetic fragrances
Cleanses clogged pores and fights skin fungus
Contains aloe leaf juice, tea tree oil, sea kelp extracts, and other botanical ingredients
Cons
This body wash may have a slightly watery consistency.
Price at the time of publication: $19.28
With organic ingredients, the gentle and restorative Honey Skin Face & Body Cleanser is ideal for psoriasis and other dry skin conditions. The deep-cleansing body wash is non-irritating, hypoallergenic, and safe for sensitive skin types. This anti-inflammatory body wash is enriched with manuka honey, cassava root, aloe vera, coconut oil, Australian cehami, and hyaluronic acid. Its pH-balanced formula will protect your skin's acid mantle to retain moisture. Formulated with safe and effective ingredients, it gently washes away dirt without drying out your skin, using a natural formula that also helps prevent signs of aging and reduces the appearance of dark spots and acne marks.
Pros
Suitable for men and women
Fragrance-free
Gluten-free
Paraben-free
Sulfate-free
pH-balanced formula
For daily use
Cons
It may have an overpowering scent.
Not Vegan.
Price at the time of publication: $29.99
This sunkissed-citrus Tree To Tub body wash is a natural soap made from wild soapberries for all skin types. The gentle, paraben-free body wash will leave your skin clean and fresh without irritating it. Nourished with the power of coconut cleansers, shea moisture, aloe vera, cucumber, and chamomile, these organic healing botanicals combine forces to hydrate and heal even the most sensitive skin. Not only does this dermatologically-tested wash maintain your skin's pH balance, but it also dials down irritation using a gluten-free, vegan formula that is ideal for both men and women. You can bet on the gentle citrus scent that is free from harsh chemicals and instead uses the refreshing fragrance of orange essential oil.
Pros
Free from toxins and SLS
Paraben-free and silicone-free
No artificial fragrance
Dermatologist-recommended
Vegan and cruelty-free
Sustainably-harvested ingredients
Cons
This body wash may not lather well.
Price at the time of publication: $19.99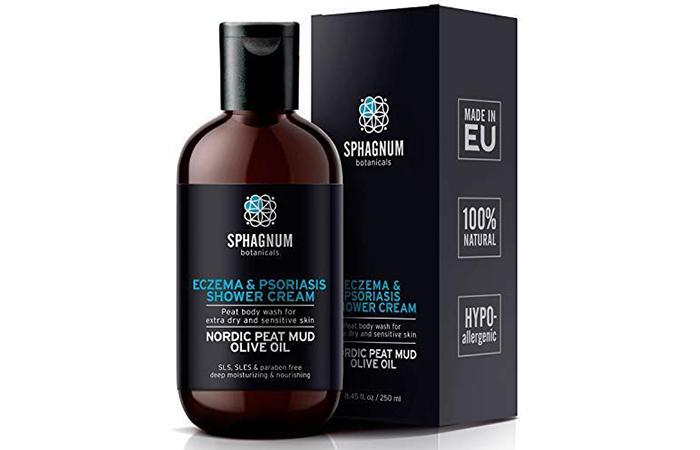 Backed by scientific research, the Sphagnum Botanicals Eczema And Psoriasis Shower Cream contains the positive effects of balneological peat in alleviating skin conditions like psoriasis.
Using 100% organic peat that is tested in laboratories along with olive oil that has the power to reduce skin inflammations, itchy and flaky skin, this wash is ideal for daily use. Additionally, peat works as a great anti-aging treatment, helps to cure acne, and even reduces cellulite making this purely organic shower cream an effective skin treatment.
Pros
100% natural
For men and women
Loaded with bioactive substances
Suitable for children and pregnant women
No artificial ingredients, parabens, silicone, sulfates, toxins, or fillers
No added synthetic fragrances or dyes
Cons
Some may find the heavily fragranced
Price at the time of publication: $17.9
With tea tree and mint, the derma-nu Antifungal Therapeutic Soap helps you smell fresh and feel invigorated as you wash away bacteria that causes body and skin irritations. Ideal for people with an active or sporty lifestyle, this wash will help you combat sweat, unwanted body odor, and skin germs. Formulated with a rich and cooling blend of soothing essential oils including tea tree, peppermint, menthol, wintergreen, eucalyptus, and spearmint, this organic product is safe for all skin types.
Pros
Soothes and prevents itchy, scaly, dry, or inflamed skin
Organic and natural ingredients
No synthetic fragrances or dyes
Paraben-free
Cruelty-free
Safe for all skin types
Contains antibacterial properties
Cons
It may not have a concentrated consistency.
Price at the time of publication: $17.67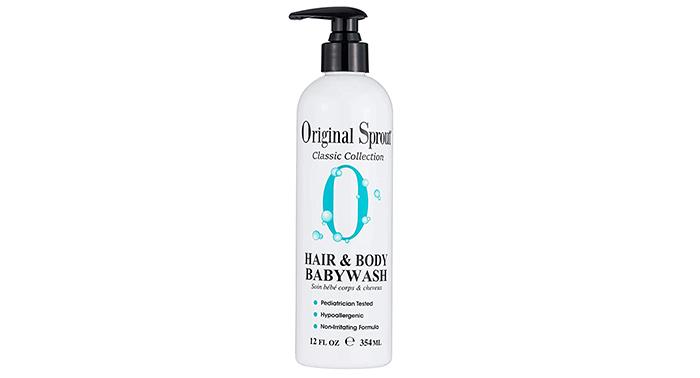 The Original Sprout Hair And Body Baby Wash is an extra-moisturizing cleanser that gently washes away dryness, psoriasis, baby acne, heat rashes, and other skin irritations for dry, acne-prone skin. With vitamin C and essential oils, along with a pH level of 6-7, this non-irritating body wash leaves your skin feeling smooth, soft, and healthy. Since this product uses clean, non-toxic, vegan, and gluten-free ingredients it is not only safe to use for your baby, but also everyone in your family.
Pros
Hypoallergenic
Vegan
Gluten-free
Dermatologist tested
Cons
Some may find the scent to be slightly overpowering.
Price at the time of publication: $19.25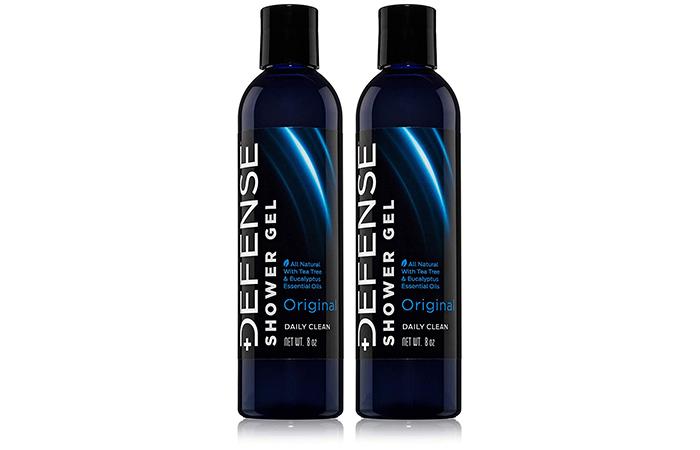 The all-natural Defense Shower Gel contains tea tree and eucalyptus oils that provide various effective benefits to help you fight against bacteria and fungus. With vegan ingredients and no harmful chemicals, this soothing shower gel provides a smooth, rich, and creamy lather that penetrates the skin's pores more efficiently. Infused with coconut, jojoba, and olive oils, this wash provides healing and moisturizing properties to revitalize your skin. Formulated for quality, consistency, and longevity, this hypoallergenic body wash is safe for all skin types. The brand does not conduct animal testing to determine the product's efficacy.
Pros
Controls sebum production
Restores the skin's natural barrier
Hypoallergenic
No synthetic fragrances, preservatives, or chemical detergents
Cruelty-free
Specially formulated for sensitive skin
Contains vegan ingredients
Non-GMO
Cons
It has a natural, but strong tea tree oil scent.
Price at the time of publication: $20.99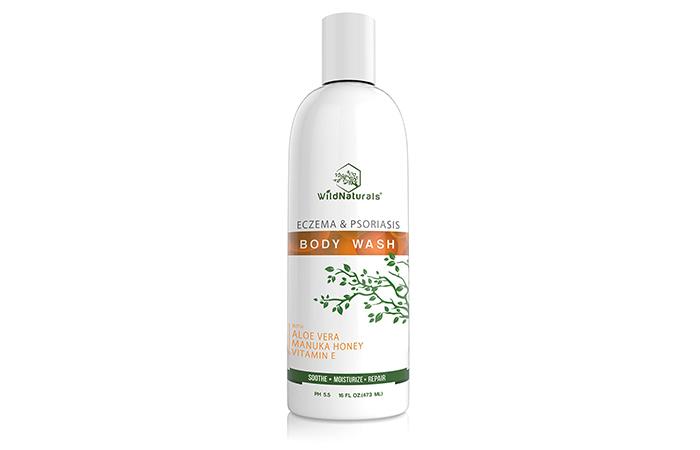 Soothe, moisturize, and repair your skin with the Wild Naturals Eczema & Psoriasis Body Wash. Organic aloe vera provides deep hydration and helps calm redness, irritation, inflamed, and itchy skin. While paying attention to sensitive skin, this body wash does not strip your skin of vital oils or disturb its natural barrier. Instead, you can maintain your skin's moisture levels with this manuka honey and vitamin E-rich formula. Made without harsh chemicals, sulfates, dyes, or parabens, this product will give your skin the soothing relief that it needs.
Pros
Contains rare Manuka honey
pH 5.5
For sensitive skin
Fragrance-free
Non-medicated
Cruelty-free
Cons
The product may have a thin, watery consistency.
Price at the time of publication: $19.95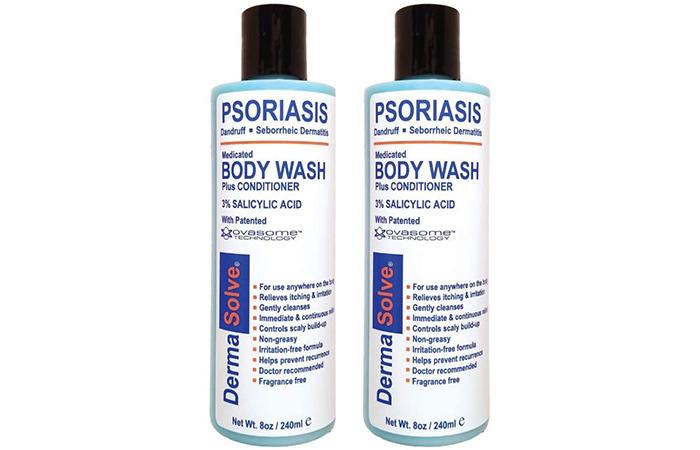 The Derma Solve medicated psoriasis body wash is doctor recommended and restores your skin's health with proven FDA-recognized ingredients for the treatment of psoriasis. Using Ovasome Technology, this medicated body wash for psoriasis contains 3% salicylic acid and helps relieve red, itchy, and flaky skin. Control flare-ups with this steroid-free solution to effectively and safely treat and prevent psoriasis flares, eczema, and seborrheic dermatitis, among other skin conditions. Safe to use anywhere on your body, this body wash and conditioner gently cleanses and provides immediate and continuous relief.
Pros
Non-greasy
Irritation-free formula
Doctor-recommended
Fragrance-free
Cons
Some may find the cooling sensation uncomfortable.
Price at the time of publication: $22.99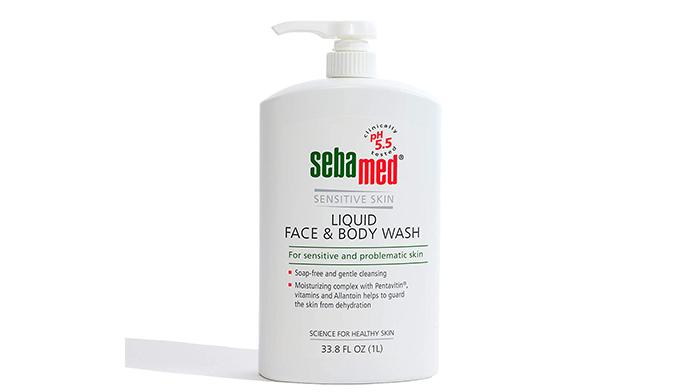 For sensitive and problematic skin, the Sebamed Liquid Face & Body Wash is clinically formulated for men and women. The mild and hydrating cleanser is recommended by dermatologists to gently remove pore-clogging lipids, leaving your skin soft and supple. Formulated with unique moisturizers such as allantoin and pentavitin, you can gently wash away dirt and support your skin's healing process. Free from parabens, this dermatologist-recommended body wash has a hypoallergenic formula that is suitable for all skin types and skin problems including acne, eczema, psoriasis, and other atypical skin conditions.
Pros
Clinically formulated for men and women
Fortified with a blend of vitamins B3, B5, B6, and biotin
Lightly-scented
Supports healthy pH levels
Dermatologist-recommended
Cruelty-free
Non-toxic ingredients
Cons
Some may find the medicinal scent overpowering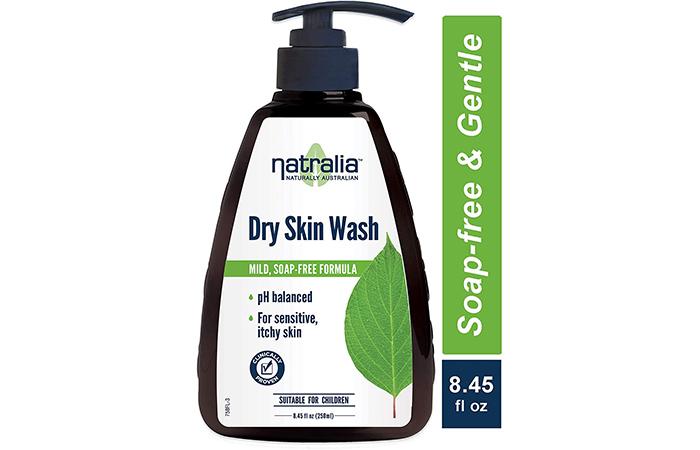 With a mild, soap-free formula, the Natralia Dry Skin Wash uses coconut oil and glycerin instead of sulfate-based cleansers and is ideal for mild, sensitive, itchy skin. Without stripping natural oil from the skin, this fragrance-free body cleanser helps you prevent and treat dry skin. Suitable for those with sensitive skin including children, this wash contains plant-derived ingredients that are clinically proven to provide relief to various skin conditions. The body wash is also free of sulfates, petrochemicals, parabens, steroids, cortisone, and artificial fragrance.
Pros
Adds to skin restorative treatments
Plant-based skin care
Plant-based skincare
Provides fast-acting relief
For dry and sensitive skin types
Cons
Some may not be agreeable to the coconut scent
Price at the time of publication: $10.59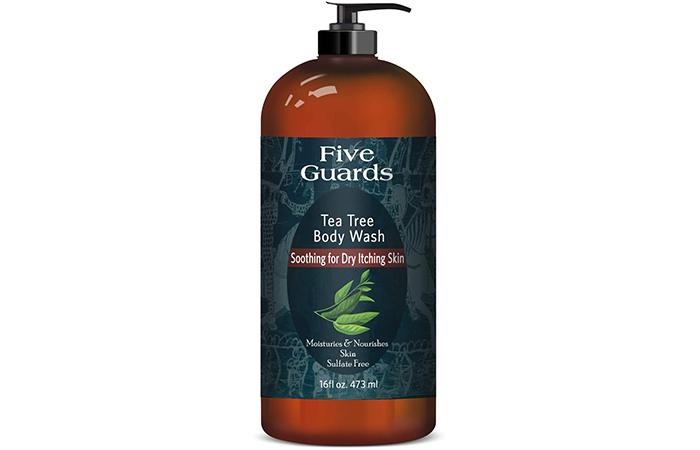 The Five Guards Tea Tree Body Wash enriched with a potent blend of tea tree, coconut, rosemary, olive, oregano, peppermint, aloe, cinnamon, and curry plant help fix various skin conditions. Formulated with pure essential oils, this body wash is gentle on sensitive skin, damaged skin, psoriasis, and eczema, while it helps reduce body acne and inflamed red bumps. Gently cleanse clogged pores and wash away harmful agents from your skin's surface while soothing dry and irritated skin.
Pros
No artificial colors
Paraben-free
Treats dry, burning, itchy, and flaky scalp
Contains anti-fungal properties
Formulated with pure essential oils
Cons
Some may find the scent to be overbearing.
Price at the time of publication: $14.5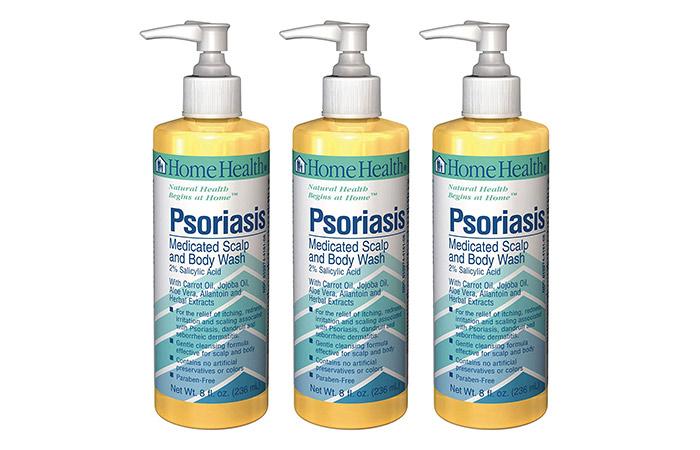 This salicylic acid body wash by Home Health Psoriasis Medicated Scalp And Body Wash provides effective relief of itching, redness, and scaling associated with psoriasis, dandruff, and seborrheic dermatitis. Clinically effective, this soothing and moisturizing base includes allantoin, aloe vera gel, carrot oil, echinacea extract, and jojoba oil, that blend to gently cleanse your entire body and regularly control and prevent symptoms to reveal healthier-looking skin. The product is not tested on animals.
Pros
Cruelty-free product
No parabens, gluten, or mineral oil
Contains botanical benefits
Contains salicylic acid as the active ingredient
Cons
It may have a slightly watery consistency.
Price at the time of publication: $35.05
When shopping for body cleansers, look for clinically-proven products that are made specifically for sensitive and dry skin. People with psoriasis can develop worsening psoriasis or more inflammation if the skin gets too irritated by harsh chemicals. Take a look at our buying guide so that you can buy the body wash that's best suited for you.
How To Choose A Body Wash For Psoriasis
While choosing the right type of product is important, it isn't the only thing you need to be worried about. It is crucial to keep in mind that sensitive skin is prone to irritations when frequently exposed to moist environments. Make sure to use a dermatologically tested cleanser only once a day and to steer clear from loofahs, sponges, and rough cloth.
Select products with ultra-hydrating ingredients that are free from irritating dyes, perfumes, chemicals, or added fragrances. Focus on products that will help protect the skin barrier, hydrate, and potentially reduce the possibility of flare-ups and allow the skin to heal. Oil-based cleansers are an excellent choice for the body as they leave the skin very soft and hydrated. The most effective cleansers are not harsh, and will not strip the skin of the natural oils that it needs. Since psoriasis causes new skin cells to double, often leaving a chronic buildup of dry, itchy, and painful skin. Prescription medications may help you treat the condition, but home remedies to manage the irritations can also make a difference.
Important Ingredients:
Gentle cleansing agents like SLS, soybean oil, and sunflower seed oil.
Dermatologist-tested natural and organic ingredients are always a bonus.
What To Avoid
Invest in products that are free from parabens, sulfates, and phosphates
Alcohols and retinoids are some of the ingredients that can inflame the skin
Avoid products that contain fragrances and dyes
Few Tips To Naturally Reduce Psoriasis
Exposure to sunlight for up to 30 minutes a day can promote your skin's healing process.
Massaging a few drops of apple cider vinegar reduces inflammation and provides a soothing effect.
Wear clothing that is loose and doesn't stick to your skin. Breathable materials are less likely to cause any skin irritation.
Why Trust StyleCraze?
Medha Deb, the author, is a skin and hair care enthusiast. She enjoys reviewing skin care, wellness and beauty products and is specialized in these roles. She knows how psoriasis can wreak havoc on the skin when it flares up. She, therefore, researched hundreds of body washes and read online reviews to pick the best options for her readers. The recommendations include chemical-free, vegan, and dermatologically tested formulas that are safe and effective.
Frequently Asked Questions
Should you shower every day if you have psoriasis?
Yes, showering once a day helps get rid of the collected impurities on your skin. However, do not use hot water or spend more than 15 minutes in the shower. This is because overexposure to water can cause excessive dryness.
What should you not put on psoriasis-tainted skin?
Avoid cosmetic products containing sulfates, alcohol, or artificial fragrances, as these can worsen the condition.
What is the root cause of psoriasis?
Psoriasis is a condition in which the skin cells are replaced quicker than usual. It is a chronic autoimmune condition.
Does drinking lots of water help psoriasis?
Yes, drinking water can keep psoriasis flare-ups under control and also help smoothen skin.
Is soaking in epsom salt good for psoriasis?
Yes, it reduces the scaly flare-ups and itchiness of the skin. It also helps soothe the skin.
Does psoriasis mean a weak immune system?
No, but if you are on immunosuppressant medicines due to your psoriasis, it can make you more susceptible to certain common infections.
Recommended Articles
Skin Care Products That Help Treat Psoriasis