Top 10 Feminine Hygiene Deodorant Sprays Of 2022
Say bye to body odor by adding these feminine hygiene deodorant sprays to your regimen.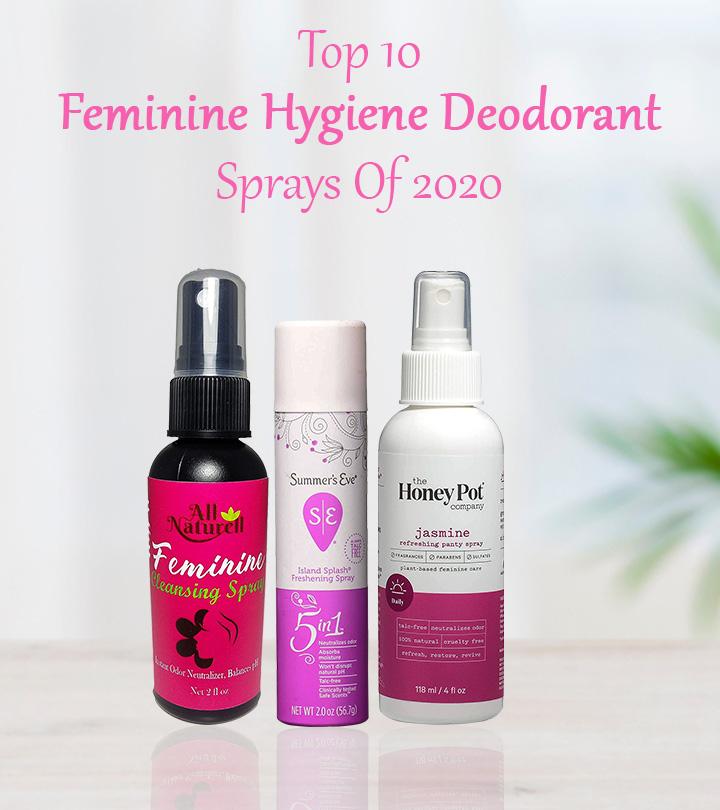 If you are looking for the best feminine deodorant sprays, you are definitely in the right place. In this article, we are going to discuss just them. These sprays are personal care hygiene products. These sprays are used by women around the vulva and the vaginal area and control their body scent. Women's body scent changes due to puberty, hormonal changes, and menstruation. Therefore, it is evident that women wish to smell alluring, especially when they are out on a date or involved in other intimate moments with a partner. So now, check out our list of the 10 most effective sprays available in the market.
Are Feminine Hygiene Deodorant Sprays Safe?
A visit to the drugstore will reveal many feminine hygiene products, including feminine deodorant sprays. These products are meant to balance the pH of your vagina and keep your genitals clean.
Doctors advise it is best to wear cotton underwear and keep changing your undergarments at least twice a day. The genital region is sensitive and prone to irritation. The presence of hair follicles trap sweat and encourage bacterial growth. This can lead to body odor.
Feminine deodorant sprays may contain certain harmful chemicals, like parabens, fragrance chemicals, and benzethonium chloride. These toxic chemicals may irritate the skin. They also get easily absorbed into the body through the mucous membrane of the vagina and present a long-term risk.
However, the best way to avoid these problems is selecting high-quality products from reputed companies. Always check the product labels and reviews before buying. We have compiled a list of the top 10 feminine hygiene deodorant sprays of 2022 to help you out.
Top 10 Feminine Hygiene Deodorant Sprays Of 2022
The Vagi-Pal Orchid Vagina Fresh Feminine Deodorant Spray contains only natural and organic ingredients. This unique product eliminates foul and fishy vaginal odor. It rebalances and restores vaginal pH. This product fights against yeast, fungus, and harmful bacteria in the vagina. It is a quick fix for those moments when you want to cozy up and get intimate with your partner.
Pros
Can freshen tampons, pads, and undergarments
Eliminates odor-causing bacteria, yeast, and fungus
Restores and rebalances vaginal pH
Natural and organic product
Does not just mask odor, but eliminates it
Ideal for use in sudden intimacy
Cons
Has a slightly vinegary scent.
The NutraBlast IntiMist Intimate Oil Blend is specially formulated to keep your intimate area hydrated, deodorized, and nourished with a blend of power-rich essential oils. The organic ingredients such as olive oil, aloe vera oil, orange peel oil, etc., balance the pH level, soothe dryness and itchiness, and reduce discomfort and vaginal odor. Additionally, the product is developed in collaboration with gynecologists, making it safe to be used without any worry.
Pros
 Organic ingredients
 Eliminates strong vaginal odor
 Easy to use
 Restores pH
Cons
Queen V is a refreshing and hydrating rosewater spritzer/spray. It uses only natural and known ingredients, like rose water, purified water, and citric acid, among others. It works exceptionally well in controlling vaginal odor and maintains a healthy pH balance in the vagina. It eradicates any foul smell from your private parts and induces a clean and fresh rose fragrance. This product is recommended by gynecologists. To find out more about this product, check out this YouTube video.
Pros
Slim and easy to carry
Natural and vegan
Skin-friendly
Paraben-free
Alcohol-free
Gluten-free
Gynecologist-recommended
Safe for daily use
Cons
Sensitive skin types may develop rashes.
FDS is one of the oldest women's spray deodorants. The products are safe and gentle on the skin. They can be used right after waxing or shaving, with no skin irritation whatsoever. The deodorant spray is available in five beautiful fragrances and keeps you feeling fresh throughout the day. The vitamin E and chamomile in the spray soothe and refresh your intimate areas. Spray it onto your vaginal area and undergarments for maximum comfort and freshness.
Pros
Available in 5 beautiful fragrances
Provides all-day freshness
Gynecologist-tested
Hypoallergenic
Does not contain talcum powder
Vitamin E and chamomile soothe and relax the intimate areas
Easy to carry 
Cons
May not treat fungal infections. 
The Summer's Eve Freshening Spray should be used on the external vaginal area. You can also spray it on your panties and undergarments for added freshness. This spray contains ingredients to control body odor. Use it daily, after your shower, or at any time throughout the day. You may also use it any time before, after, or during your periods.
Pros
Compact and easy to carry
Neutralizes bad odor
Maintains natural vaginal pH
Tested and recommended by gynecologists
Hypoallergenic
Does not contain talc
Uses clinically tested safe scents
5 different fragrances to choose from 
Cons
Contains traces of alcohol.
The Vagisil Scentsitive Scents Dry Wash Deodorant Spray has only three ingredients. It is safe and skin-friendly. You do not have to water wash prior to using this product. Spray it around your privates, on the go, and experience freshness. Clinical and gynecological tests have pronounced this as a safe product for every day use. It is available in two intoxicating fragrances – White Jasmine and Peach Blossom.
Pros
Easy to fit into your handbag
Available in 2 heady fragrances
Hypoallergenic
Skin-friendly
Paraben-free
No MIT preservatives
Does not require water
Clinically tested
Gynecologist-tested
Safe for daily use
Cons
The Kushae Natural Feminine Deodorant Spray has natural ingredients, like arrowroot powder, aloe leaf juice, radish root ferment, and baking soda. The product gives you gentle and all-day protection against sweat odors from your intimate area. It works well around the vagina, where hair follicles tend to trap sweat and breed bacteria. It stops lousy odor from decomposing bacteria. This product has been created for women, by a woman.
Pros
No chemicals
Paraben-free
Aluminum-free
Phthalate-free
Talc-free
No synthetic fragrances
Suitable for sensitive skin
Cons
Does not tackle yeast infections.
The Elevated Balanced Muffin Mist can be used during your periods, after waxing or shaving, and after delivery pain or soreness. The product contains non-alcohol witch hazel, extra virgin olive oil, calendula, chamomile, and other plant-based essential oils. These ingredients are safe for pregnant and nursing ladies as well. The Mfiveuffin Mist comes in 5 fragrances and can be used to freshen up your vaginal region along with your undergarments.
Pros
Natural ingredients
Safe for pregnant women and new mothers
Can be used comfortably after shaving or waxing
Moisturizes and keeps away dryness and irritation
Cons
Glass bottle – needs to be handled with care.
Not an aerosol spray.
As the name indicates, this is a natural product and 100% safe to use on your intimate area. It contains skin-friendly ingredients, like rose water, aloe, apple cider vinegar, coconut oil, and tea tree oil. This potent female deodorant spray is especially convenient for women with busy lives. It can be used at any time of the day, after urination, during menstruation, before intimacy, after workouts, and on days of heavy perspiration. You can use the spray 3-4 times a day. Spray it on, wait for 3-5 minutes, and then wipe with a tissue.
Pros
Daily feminine hygiene spray
Eliminates strong vaginal odor
Fights yeast infections
Easy to carry
All-natural ingredients
Naturally balances pH 
Cons
Dries out with frequent use.
The Honey Pot Refreshing Panty Spray has been designed and tested by women. It is infused with herbs and mineral salts to soothe your tender skin. It does not irritate your skin or dry it out. This herbal mist keeps you calm and confident through your daily routine. It is gynecologist-approved and clinically tested. To learn more about the benefits of the product, check out this YouTubers video.
Pros
Prevents dryness and irritation
Herbal
Paraben-free
Talc-free
Fragrance-free
Can also be used on the underarms.
Cons
Only for surface use.
Does not prevent or eliminate any infection. 
Why Trust StyleCraze?
The author of this article, Shiboli Chakraborti, is a certified skin care coach. She knows what works for the skin and recommends products accordingly. Here, she has reviewed and curated a list of feminine hygiene products for her readers. She conducted in-depth research on several products, checked user reviews, product details and their safety concerns to compile this list. These personal care products are safe and gentle on the skin and keep the intimate area refreshed.
Frequently Asked Questions
Does feminine deodorant spray work really?
Yes. Feminine deodorant spray helps you maintain your personal care hygiene efficiently. Follow the instructions on the product packaging carefully to achieve the best results.
How do you use feminine hygiene deodorant spray?
Clean the area with water and pat dry before using a feminine hygiene deodorant spray. Once you are through with the cleaning, spray the product on the freshly cleaned area.
Can we use feminine hygiene deodorant spray every day?
Yes. You can use feminine hygiene deodorant spray once a day or more depending on your personal requirement. Using the spray on a daily basis will help you feel and stay hygienic and clean.
Recommended Articles: