12 Best Cuticle Pushers – 2022 Update
Groom your nails and keep them tidy to make your fingers look attractive and stylish.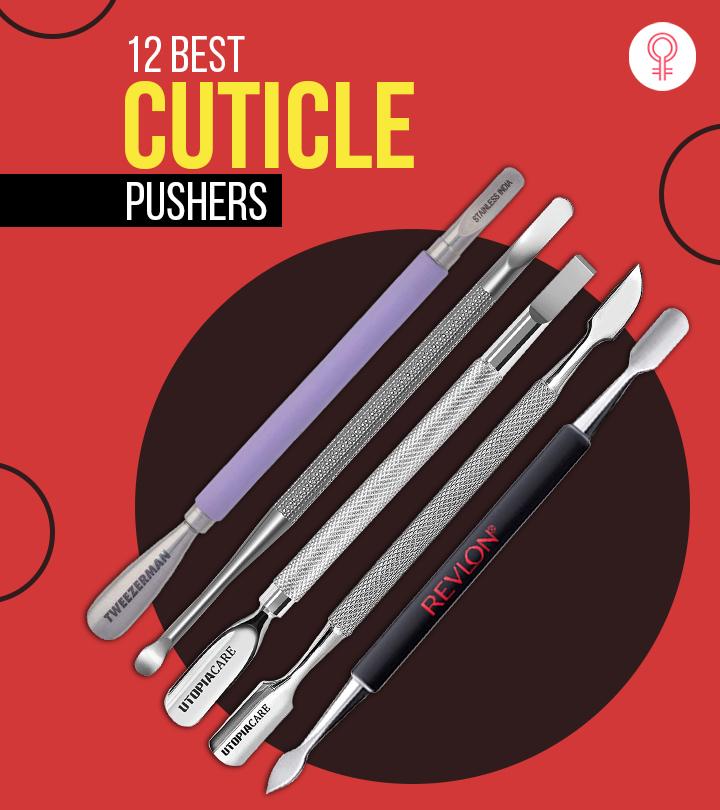 Manicures are not just about the polish or filling. They are also about neatening and cleaning the cuticles and making sure they look prim and proper. The best cuticle pusher will help in this regard and ensure that your nails look their very best. Cuticles are thin layers of skin that are around the nail area, and they serve the purpose of keeping your nails looking healthy. They are there to protect your new nails, and hence you must look after them and keep them healthy. This can be achieved through different tools and products that soften one's cuticles and keep them in the best shape. Nails with cuticles that are pushed back can look healthier and feel much better. Read on to know which of the cuticle pushers will work best for your nails.
12 Best Cuticle Pushers – 2022 Update
The two-sided, corrosion-resistant, and tarnish-proof Utopia Care Cuticle Pusher is made from premium quality surgical grade stainless steel. It features a curved end on one side and a knife-like sharp end on the other. This durable manicure-pedicure tool offers scratch-free cuticle pushing and nail cleaning. Its textured center area offers a firm grip for comfortable use. It is ideal for removing skin residues and other cleaning requirements as it has a good reach. It can be easily cleaned by washing with soap and then boiling for 20 minutes.
Pros
 Corrosion-resistant
 Non-slip grip
 Durable
 Easy to use
 Tarnish-proof
Cons
 Not suitable for small fingers
The professional-grade Utopia Care Cuticle Pusher & Spoon Nail Cleaner is a dual-sided tool featuring a curved end on one side and a straight end on the other. It is made of corrosion-resistant and durable steel. Its non-slip grip makes it easy to use. This tool is ideal for scraping away tough skin residues and cleaning dirt buildup from under the nails. The dual-action of this cuticle pusher can be used on natural and artificial nails. It is tarnish-proof and can be easily cleaned with soap and boiling for 20 minutes.
Pros
 Easy-grip handle
 Dual-use
 Corrosion-resistant
 Tarnish-proof
 Durable
Cons
The high-quality Revlon Dual-Ended Nail Groomer keeps the nails healthy and neat with its unique design. It comes with a scooped edge to easily push the cuticles back and a flat pointed end that gently cleans under the nails. Its ergonomic design offers a comfortable and secure grip for easy handling. This expertly designed stainless steel tool delivers salon-quality results by conveniently managing cuticles and tough skin buildup.
Pros
 Dual-ended design
 Easy to use
 Ergonomic
 Durable
 Lifetime guarantee
Cons
None
The Sterling Beauty Professional Cuticle Pusher & Spoon Nail Cleaner is made of high-quality 410 Japanese stainless steel with a Rockwell hardness of 44-45 degrees. It is hand-inspected to ensure durability and functionality. This multi-tasking tool has dual-sided precise edges that push back the cuticles neatly and clean the nails' undersides to give them a neat and healthy appearance. It features an ergonomically designed round handle with a textured finish for a non-slip grip.
Pros
 Ergonomic design
 Multipurpose
 Precise edges
 Durable
 Sturdy
 Easy to use
Cons
The durable Tweezerman Dual-Sided Pushy features a scoop end contoured to follow the shape of your nails perfectly. It helps to gently push back your cuticles with its flat thin end that effectively cleans up the corners. It features buffed edges for a gentle touch and prevents scratching during the process. This cuticle pusher is made of premium-grade, durable, and easy-to-clean stainless steel. Its soft-touch handle offers a comfortable and secure grip to minimize the risk of accidents due to slippage.
Pros
 Buffed edges
 Contoured design
 Easy to clean
 Durable
 Sturdy
Cons
None
The Soft 'N Style Professional Plastic Cuticle Pusher has a soft rubber tip that gently pushes your cuticles back without damaging the delicate skin around the nails. Its other end has a pointed tip for cleaning under the nails and scraping around the cuticle edge for a neat finish. The handle has an indented grip that offers good control and makes it easy to use. It measures 5 inches in length, making it comfortable to hold.
Pros
 Gentle
 Easy to use
 Non-scratching
 Indented grip
 Soft tip
Cons
The easy-to-use Blazco Cuticle Pusher measures 5.5 inches in length and is made of 100% superior grade, easy-to-clean, and rust-resistant stainless steel. This two-in-one tool has a double-ended design with a flat cuticle pusher tip at one end and a curved end that conforms to your nails' natural shape to scrape away nail polish residue and dead skin. This cuticle pusher features an ergonomic handle with a textured center that provides a secure grip for cleaning and pushing with ease.
Pros
 Non-slip handle
 Durable
 Double-ended design
 Easy to use
 Lightweight
Cons
The smooth and natural cuticle line created by the Germanikure Cuticle Remover & Pusher makes it safe to use without any risk of cuts and scrapes. This manicurist-favorite has a crystal glass tapered pointed tip on one end that is super fine to ensure it reaches the smallest of spaces and crevices. It features a slanted tip on the other end to safely scrape away dead cuticles and file hardened skin without damage to the soft living skin. This handcrafted tool is made of authentic tempered Bohemian glass sandblasted onto the surface, making it wear-resistant. It comes with a protective leather case.
Pros
 Multifunctional
 Easy to use
 Easy to clean
 Leather case included
Cons
The premium-grade Orly Cuticle Pusher & Remover is a one-sided tool that gently pushes back your cuticles and cleans your nails to provide an excellent foundation for long-lasting color. It removes gel polish without the risk of scratching or damaging your nails. This cuticle pusher features a ridged handle that offers a non-slip, comfortable grip. It measures 5.1 inches, and its tip does not wear down even with repeated use.
Pros
 Easy to use
 Durable
 Non-slip grip
 Sturdy
Cons
None
The dual-headed Hofason Cuticle Pusher And Cutter is made of surgical grade 410 stainless steel that is rust- and corrosion-resistant. It is designed to push the cuticles back and scrape away leftover nail polish with the square pusher end that conforms to the nail contours. The blunt triangle end gently removes dirt from the underside of the nails and is also useful for removing nail art glue and crystals. It measures 5.5 inches and features a textured non-slip grip, making it easy to use. This tool is compatible with both natural and artificial nails.
Pros
 Non-slip handle
 Multi-tasking
 Corrosion-resistant
 Easy to clean
Cons
None
The high-performance Rui Smiths Cuticles Pusher is made of surgical-grade premium quality stainless steel. It is safe for use in autoclaves, UV sterilizers, and dipping in barbicide to maintain hygiene. This tool features flat square ends on both sides that effectively reaches all nooks and crevices to push and lift cuticles, leaving the nails clean and healthy. It can also be used to remove nail art glue and clean beneath the nails. The textured handle of this cuticle pusher offers a firm and secure grip.
Pros
 Non-slip grip
 Ergonomic design
 Easy to clean
 Corrosion-resistant
 Easy to use
Cons
The convenient Tweezerman Pushy & Nail Cleaner is a dual-sided tool that offers gentle and effective at-home cleaning of your cuticles. It features super-thin edges that are buffed to prevent nail scratching or any injury to the nail bed. The fine end of this tool is used to clean under and around the nail, while the curved side gently pushes back and loosens the cuticle to create a smooth even shape. The textured body provides a firm grip to prevent slipping during use. This tool is made of high-quality stainless steel that is easy to clean and rust-resistant.
Pros
 Non-slip grip
 Easy to clean
 Durable
 Smooth edges
 Dual-ended design
Cons
None
It is important to know the right way to use and get the maximum benefits from your cuticle pusher. Follow the method below to ensure the safety of your nails and skin.
How To Use Cuticle Pushers
 Soak your nails in water or apply cuticle oil to soften them.
 Hold the pusher at a 45-degree angle with a firm grip and gently push the cuticle back using the side of the tool that the manufacturer recommends.
 These tools are usually dual-sided. Therefore, you need to take care to use the correct side.
 Once the cuticles are pushed back you can clean the underside of your nails.
 Use a cotton pad or tissue to clean away the dead skin and cuticle oil.
 You may begin polishing once your nails are neat and clean.
While choosing a cuticle pusher, pay attention to certain features that will help you achieve the best look for your nails while keeping health and safety issues in mind.
How To Choose The Best Cuticle Pusher
Opt for cuticle pushers made of strong and durable materials like stainless steel. These are rust-resistant and will last longer than plastic or wooden pushers. They are also easier to clean.
Cuticle pushers with textured handles offer a secure grip. This reduces the risk of slippage during use to keep the nails and surrounding skin area safe.
Usually, cuticle pushers are dual-sided and offer other features like cleaning underneath the nail, removing gel polish and nail art, and callus removal. Choose one depending on your requirements.
Higher-priced pushers will offer you effective cuticle care and other beneficial features along with being long-lasting. But depending on your budget and requirement you can even choose a basic pusher, especially if you are not likely to use all the features or not use the tool frequently.
Why Trust StyleCraze?
The author, Shiboli Chakraborti, is a certified skin care coach and writes well-researched products reviews for her readers. For this article, she extensively researched a wide range of cuticle pushers and scrolled through many reviews posted on trusted online forums to narrow down on the products listed above. These tools, which soften the cuticles and keep them pushed back, are easy to use, durable, and tarnish-proof. Moreover, they come with an ergonomic design and non-slip grip.
Frequently Asked Questions
Why should you push your cuticles back?
Pushing the cuticles back is important to keep them healthy and soft. Unhealthy cuticles can be the cause of fungal growth and other infections.
Are there any side effects of using cuticle pushers?
No, there are no side effects of using a cuticle pusher. It will not cause any harm to the nails as long as you follow the right method and instructions provided. It will help the nail polish stay on longer and ensure the skin around your nails is soft and healthy.
What is the purpose of a cuticle pusher?
A cuticle pusher is a tool that pushes the cuticle back. Cuticle pushers can be plastic, metal, or wood. Wooden cuticle sticks are easier to use.
How often should you push your cuticles back?
Push your cuticles back every 4 to 5 days. Make it a part of your nail care, and not just for applying nail polishes neatly.
Why do salons push back cuticles?
Most nail salons push or cut cuticles so that they can apply nail polish better and make sure it stays on longer.
What can you use instead of a cuticle pusher?
Instead of a cuticle pusher, you can put either cuticle oil or avocado oil on your cuticles and leave it on for 3-5 minutes. Rub the cuticles on in a circular motion and then soak your hands in lukewarm soapy water. This will help smoothen the cuticles and allows smooth application of nail polish.
Recommended Articles