13 Best Expert-Recommended Cuticle Care Products For 2023
Protect your pretty nails at all costs by applying the correct nail care products. Nail care is not always about trimming your nails and applying glossy nail polishes. You will also need cuticle care products to maintain the health of your nails. Cuticle care is an essential but commonly ignored aspect of nail care. The cuticles are the thin piece of skin that overlaps the nail. They protect the nail root from bacterial infection, keep your nails healthy. Since your nails are constantly growing, the cuticles protect the new soft keratin that later hardens and forms the nail. That is why it is not recommended to remove the cuticles during manicure sessions.
You do not have to run to the salon and spend hundreds of bucks to care for your cuticles. With the right products in place, you can do it yourself at home. Here, we have compiled a list of the 13 best cuticle care products that you can purchase online. Scroll down and take a look.
13 Best Cuticle Care Products For Beautiful Nails – 2023 Update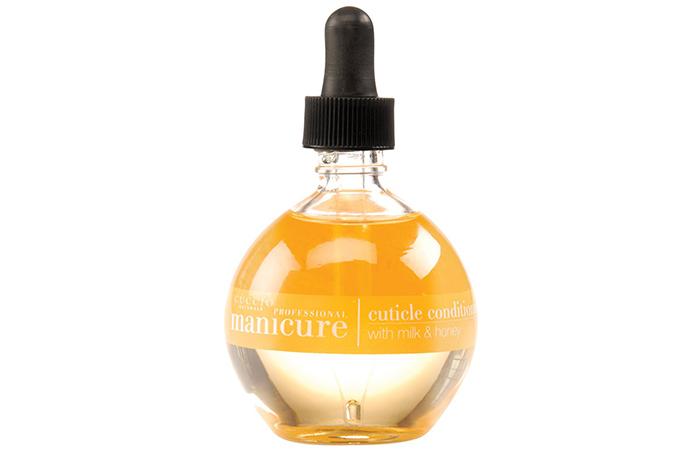 Prep your nails for a salon-style manicure at home with the help of this cuticle remover oil that is made with nourishing oil blends and vitamins. The cuticle revival oil sets to work immediately to protect your nails and cuticles. It contains honey, which soothes the cuticles and keeps them moisturized, while lactic acid present in milk stimulates the skin to keep it refreshed. It also contains sunflower seed oil, which is useful in keeping your nails and cuticles hydrated. A small drop of this cuticle softening treatment on each cuticle will go a long way, helping your nails grow faster. Check out this video to know more about this product.
Pros
Infused with vitamin E
Moisturizing and hydrating cuticle care product
Cruelty-free
Mild and pleasant fragrance
Non-greasy
Cons
As it comes with a dropper applicator, it doesn't seal the lid properly and may cause a leak.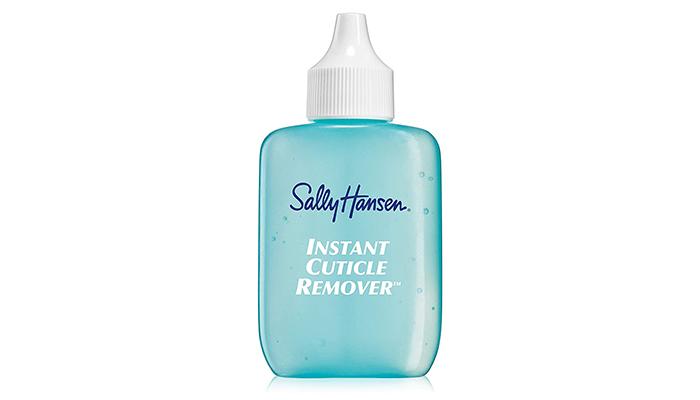 Your search for the best cuticle repair product can end right here! If you are also looking for a cuticle removal solution that works instantly, this is the one for you. After applying a thin film, you simply have to push back the cuticles with a soft manicure stick. It contains aloe vera, which keeps your cuticles and nails moisturized, while the chamomile helps in conditioning and soothing. It is also useful for getting rid of calluses. To do that, leave the product on for 1 minute. Before buying, have a look at this video for more details.
Pros
Ultra-fast action
Contains aloe vera and chamomile
Fragrance-free
Ideal for removing calluses
One of the best products for dry cuticles
Softens and hydrates the cuticles
Cons
Contains parabens
Should not be left on for more than a minute.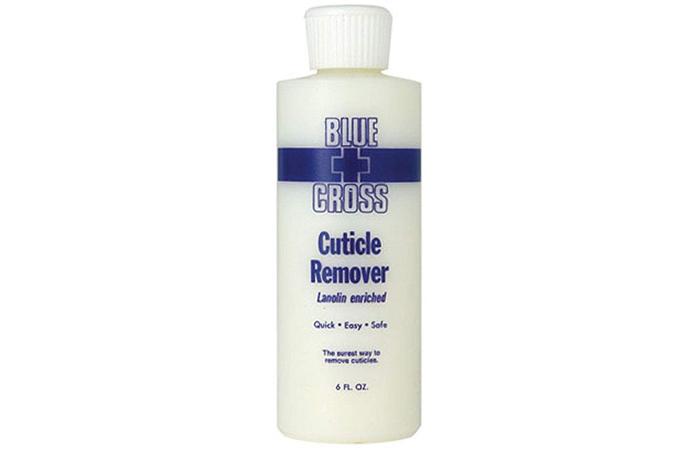 If your online search history includes "how to remove cuticles quickly", or "how to remove cuticles without cutting it", this product might be the one for you. Let its thin consistency not deceive you! Leave this product on for about a minute and watch the magic unfold. This lanolin-rich formula leaves the cuticles soft and pliant while removing dead tissues. The most impressive feature of this cuticle remover is that you can remove your cuticles safely, without having to cut them off. Watch this video to know more about the product.
Pros
Makes the cuticles soft and eliminates dry cuticles
Removes dead tissues
Prevents nails from drying
Doesn't sting
Cons
Some may find the smell overwhelming.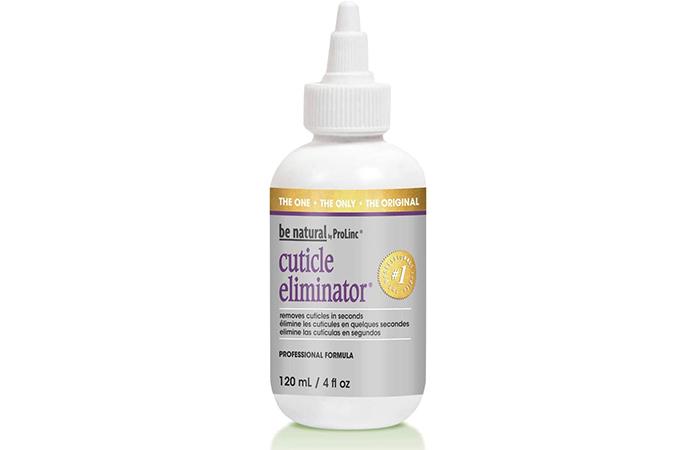 Let your beautifully trimmed and well-groomed nails be the center of attention wherever you go with a little help from this cuticle remover gel. This professional-grade instant cuticle repair product comes with a fast-acting formula and is easy to use. It removes the most stubborn dead skins and cuticles around your nails, without the help of cutting tools. Apply a thin film of this nail bed care product on your nails for 45 seconds and push it back to reveal smooth cuticles. It also eliminates hangnails without making them burn or sting.
Pros
Works instantly
Softens cuticles
Dissolves hangnails and cuticles
Safe on acrylics and gel polish
Cons
To be used by licensed professionals only.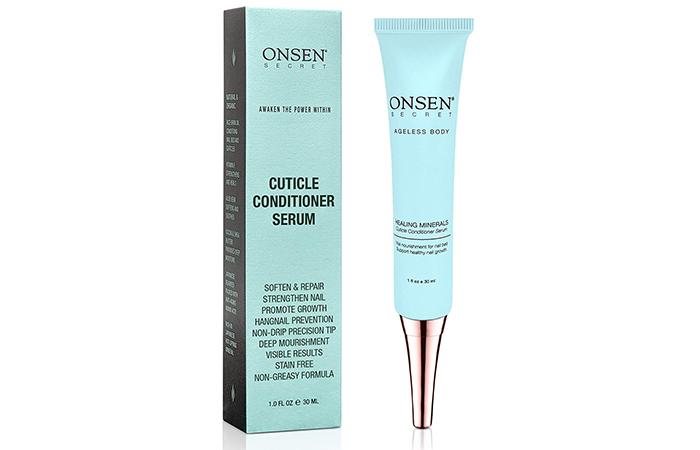 Arguably the best cuticle care product, this wonder product is a dynamic formula containing cuticle oil, cream, and butter, all in one product. Infused with Japanese hot spring minerals, it promotes inner healing and provides cuticle hydration. It is also loaded with natural and organic ingredients such as Japanese seaweed, bran oil, shea butter, vitamin E, and aloe vera, which deeply nourishes and works instantly towards producing visible results. This cuticle nourishment product is packed with anti-aging amino acids that protect and make your nails shine from the first use.
Pros
3-in-1 cuticle serum
Nutrient-rich formula
Absorbs quickly
Paraben-free
Vegan-friendly
Certified organic
Proven to deliver visible results
Cons
The scent may be too strong for some.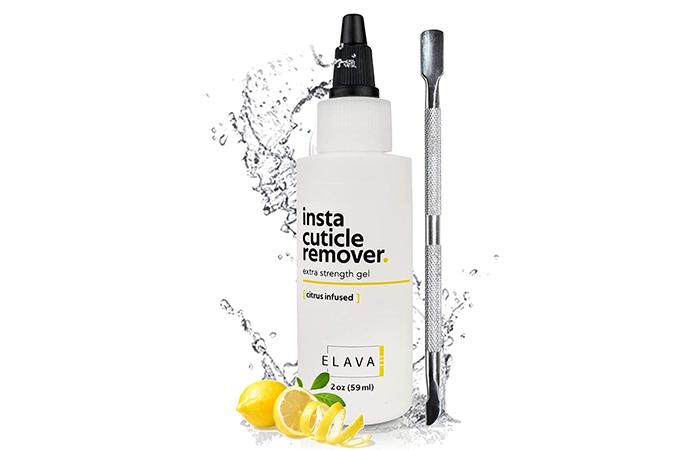 If you haven't already done this, now is an excellent time to include this cuticle care set in your home manicure arsenal. It is effective in removing the thickest and toughest dry cuticles within a matter of seconds. Yes, this revitalizing treatment works in under 30 seconds and is safe for use in both your hands and feet. It is a thick gel formula that is infused with citrus and stays on the cuticles. You can apply the gel directly to your nails and remove the cuticles with the high-quality stainless steel cuticle pusher tool that comes with the gel. If you periodically suffer from callus problems, this gel can get rid of them too.
Pros
30+ uses per bottle
Dual-ended stainless steel cuticle remover tool
Hypoallergenic
Cruelty-free
Cons
The cuticle remover tool may not be up to the mark.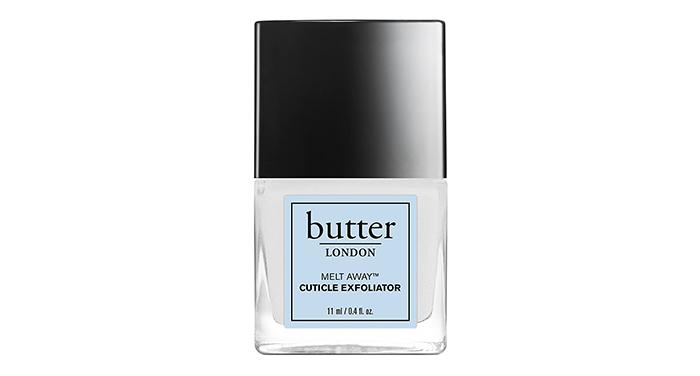 You may often be wondering how to remove cuticles in a stress-free way. The answer to that thought lies in investing in a cuticle care product that will do the hard work for you. This cuticle exfoliator melts away dead and dry cuticles magically. It softens the cuticles significantly, making it easy for you to remove them. It is a pain-free process to use this cuticle removal, and you don't even require a clipping tool. The product has not been tested on animals.
Pros
Vegan
Cruelty-free
Gluten-free
Softens cuticles
Cons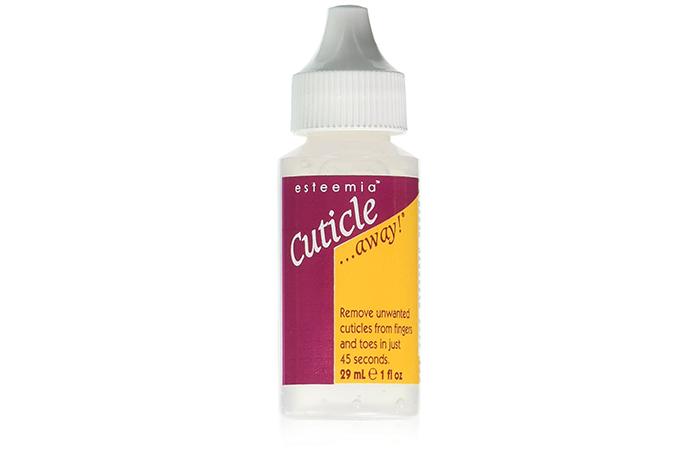 Whether you want to indulge in some fingernail cuticle care or for your toes, this amazing product will help you do that in less than a minute. Apply a film of this cuticle care set, but don't rub it in and let it sit for 45 seconds. Use the cuticle pusher included in the kit to push back the cuticle growth and remove it gently. If the cuticle is extra thick, you can leave the product on for a longer time. For the best visible results, soak your fingers and toes in lukewarm water or shower before applying this product.
Pros
Fast-action
Affordable
A cuticle pusher is included.
No cutters required
Cons
The smell may be too intense for some.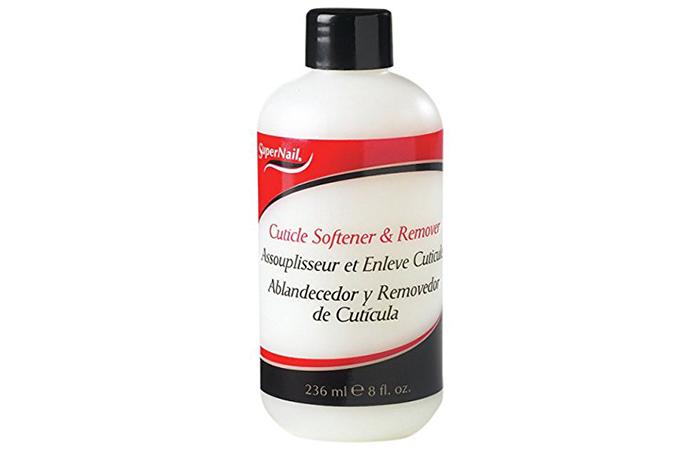 If you are stuck at home and can't find a way to venture out to the nearest beauty salon for a manicure, this DIY cuticle remover can come to your rescue. Ideal for both professional and home use, this cuticle removal cream softens and stimulates the cuticles, prepping them for an easy and painless removal experience. It penetrates deep into even the thickest cuticles while leaving your nails strong and nourished. Make sure that you don't leave it on for too long and thoroughly wash your hands with soap after using it.
Pros
Softens cuticles
Affordable
Removes dirt and other residues from the cuticles
Cons
It contains carcinogenic chemicals.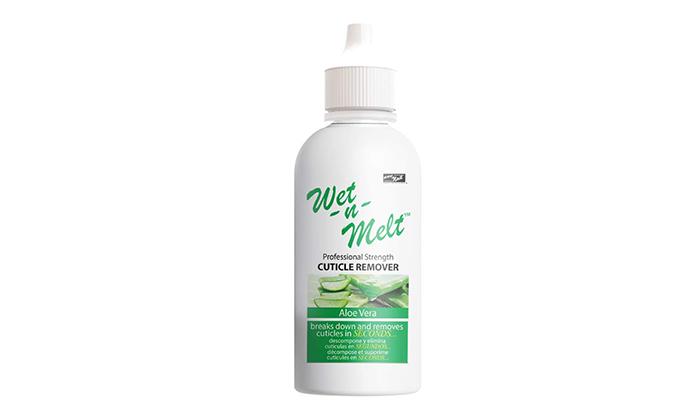 If you are looking for effective ways to get rid of cuticles with artificial nails, this cuticle dissolver might be just the thing for you. Made especially for artificial nails, it removes cuticles from the nail plates on your fingers and toes in less than a minute. Allow the product to sit for 30 seconds on the cuticles before removing it, or if the cuticle is extra dry, let it penetrate for 45 seconds. Always make sure that you are wearing protective gloves while applying this product. The product has not undergone testing on animals.
Pros
Ideal for artificial nails
Quick-action
Suitable for professional and home use.
Cons
It contains potassium hydroxide.
May cause skin burns and scarring if not used as directed.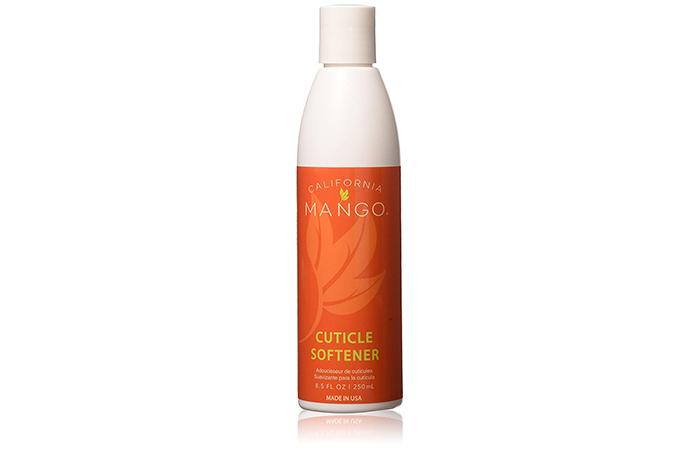 This natural cuticle care product is infused with nourishing and hydrating qualities of aloe leaf juice, acai, and mango extracts and instantly soothes the cuticles while conditioning them. It dissolves rough and dry cuticles along with thick patches on the skin. The rich and creamy formula is safe for any skin type and leaves the cuticles soft and pliable. You can simply push back the softened cuticles with a cuticle pusher to remove them while eliminating the use of cutting and clipping tools. The product has not been tested on animals.
Pros
Ideal for all skin types
Thick creme formula
Softens cuticles instantly
Cons
The mango scent may be overwhelming for some.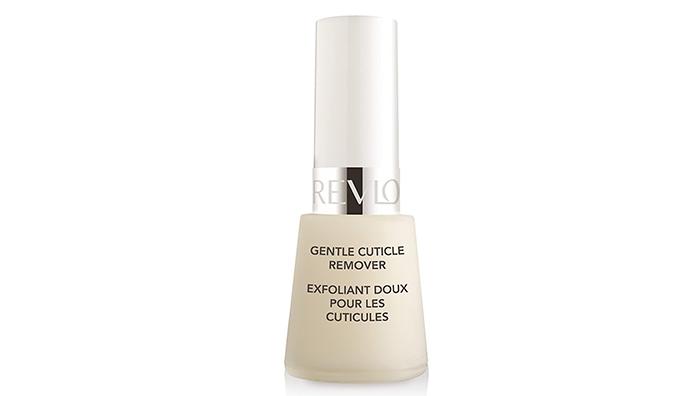 Removing unwanted cuticles doesn't have to be a tedious or tiresome task. You can try it at home, and it will only take you a few minutes. This cuticle remover is infused with arctic berry oils and vitamins C and E. The product not only helps in cutting the nails but has also proven efficacy in moisturizing and softening them, making it one of the best products for dry cuticles. It also keeps your nails hydrated and strong. The eucalyptus and peppermint fragrance makes it a refreshing cuticle remover.
Pros
Gentle formula
Pleasant fragrance
Contains vitamins C and E
Removes thick, ragged cuticles
Cons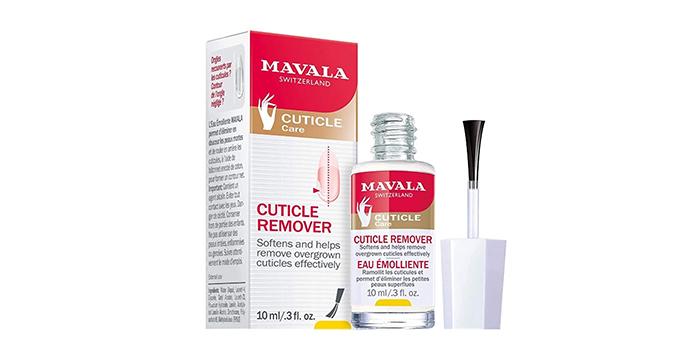 This cuticle remover is a thixotropic formula that glides on your cuticles smoothly and settles in. It may be of thick viscosity but becomes thin and more fluid upon application. After you have applied a single coat of this cuticle maintenance product, let it sit for 1 minute. Use a manicure stick wrapped in cotton or a soft cloth to push back the cuticles and remove it. This way, you never have to use a painful cuticle scissor ever again.
Pros
Thick formula that glides well
Softens cuticles
No cutters required
Cons
*The prices provided in this article are based on the latest available information. However, they may vary due to changes in pricing by the seller and/or promotional offers.
Now, we will look at a few tips that may come in handy when buying a cuticle remover. 
How To Choose The Best Cuticle Remover – A Helpful Buying Guide
What Is a Cuticle Remover And How Does It Work?
A cuticle remover is a substance, typically in a gel or oil form, used in removing the cuticles from around the base of a person's nails. It works by softening the cuticles for easy removal. After applying the remover to the cuticles, it breaks down non-living tissues on the surface of the nail.
How To Choose The Best Cuticle Remover
Here are a few things you should keep in mind before buying a cuticle remover:
When buying cuticle care products like cuticle protector or remover, make sure that it contains ingredients that are ideal for all skin types. Opt for brands that provide professional-grade products. Look for natural ingredients like plant extracts and seed oils that work towards softening the cuticles, protecting the moisture barrier to keep your nails nourished and hydrated.
It isn't necessarily true that money can buy the best things. Some of the best cuticle removers are quite affordable and get the job done effectively. So, if you absolutely must invest in an expensive product, make sure you do your research thoroughly.
If you want to make the cuticle removal process one step easier, look for one with an easy applicator nozzle. This way, you can directly apply the product on the cuticle without using a cotton swab or applicator.
As the product needs to sit on the cuticle for at least a minute, make sure that it is gentle. Don't let it sit for long periods. Look for products that offer intensive care and nourishment along with cuticle removal.
So, this is how you can choose the best cuticle remover for your needs. Now, let us see how to use this nail care essential for cuticle wellness and maintenance.
How To Use A Cuticle Remover
Step 1: Make sure that your hands are clean. Remove any polish you may have on.
Step 2: Soak your hands in lukewarm water for at least 10 minutes.
Step 3: Wipe your hands dry.
Step 4: Apply the cuticle remover on the cuticles and let it sit for a minute.
Step 5: Use a cuticle pusher wrapped in soft cotton to push the cuticles back.
Step 6: Scrape off the dead cuticles.
Step 7: Wash your hands thoroughly with soap and water.
Why Trust StyleCraze?
Makeup aficionado and author of this article, Srijita De, finds great joy in experimenting with different makeup items that are available on the market. She understands the significance of cuticle care and has researched and read several product reviews to prepare a comprehensive list of the best cuticle care products. The listed products are easy to use and give impressive results. They are a must-buy if you like a home manicure.
Frequently Asked Questions
Is it bad to use cuticle care products?
Cuticle removers contain ingredients that are meant to dissolve the cuticle quickly. This could weaken your nails and cause skin infections. That is why one should practice caution while using a cuticle remover.
How often should you use cuticle repair products/cuticle remover?
Once a week is more than enough.
Can I use cuticle care products while pregnant and breastfeeding?
Yes. Use toxin-free cuticle care products during pregnancy and when you are breastfeeding. The topical application of these products does not harm your baby's health.
How long does it take for a cuticle to heal?
Cuticle healing and regrowth can take around four to six weeks. In rare cases when the cuticles are severely damaged, you might have to seek professional help for cuticle recovery.
Do you put cuticle cream on before or after nail polish?
You can apply the cuticle cream after your nail polish has dried completely. Or, use it before and let it dry completely, then add a coat of nail strengthener and polish.
How often should you apply cuticle oil?
Apply cuticle oil twice or thrice daily to hydrate and nourish your nails. But if you have dry and brittle nails, use the oil every time you wash your hands.
Do you wash your hands after applying cuticle oil?
No. Nail treatments like cuticle oils take around two to three hours to absorb into your nails completely. Therefore, do not wash your hands immediately to prevent washing off the oil.
Recommended Articles: