10 Best Neem Face Washes to Try in 2023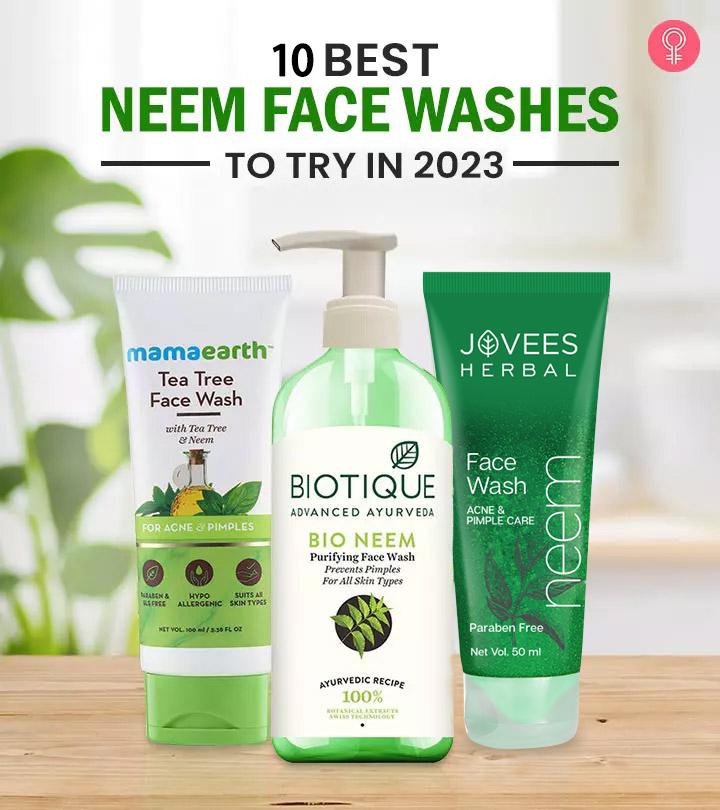 Neem has special significance in skin care. This medicinal plant is rich in antioxidants and is a very common ingredient in Ayurvedic, ancient Chinese, and Unani medicine. It has antifungal, antimicrobial, anti-inflammatory, and antibacterial properties (1). This is why neem is the most common ingredient in skin care products, especially face washes.
Compared to any other face wash, neem-based face washes are superior skin care choices as they work much better in keeping your skin healthy. Scroll down to find the list of the must-have neem face washes.
Best Neem Face Washes Available In India
Product Claims
If you have oily and acne-prone skin and are looking for a natural face wash, you can trust this face wash to clean and refresh your skin. Khadi Naturals is a brand known for its natural and handmade formulas. This product has a non-drying formula that will not make your skin feel tight after cleansing.
Pros
Paraben-free
Checked for purity
Tested against harmful reactants
Chemical-free
No animal testing
ISO, GMP, WHO certified
Cons
None
Product Claims
This is a double-action face wash that regulates excess sebum production and controls acne. It kills acne-causing bacteria and keeps your skin clean. The neem extracts have an astringent effect on your skin that prevents further breakouts. The tea tree oil in this face wash helps in proper healing.
Pros
Not tested on animals
100% chemical-free
Paraben-free
ISO certified
100% organic product (certified) GMP certified
Contains environment-friendly ingredients
Cons
None
Product Claims
The Jovees Herbal Neem Face Wash is infused with antibacterial and anti-inflammatory neem extracts to treat acne and reduce pimples. It reduces skin redness, treats existing breakouts, and prevents scarring. The formula is also enriched with tea tree extracts that deep clean and disinfect the pores, while the lemon extracts promote skin cell regeneration. This potent formula also reduces fine lines and promotes healthy, glowing skin.
Pros
Suitable for all skin types
Dermatologist-tested
Cruelty-free
Paraben-free
Alcohol-free
Cons
None
Price at the time of publication: ₹152
Product Claims
This face wash contains tea tree and neem extracts that cleanse your face thoroughly and prevent acne. It fights bacteria and regulates excess sebum production without stripping the natural oils of your skin. It also contains aloe vera that soothes inflammation.
Pros
Paraben-free
Sulfate-free
pH-balanced
Dermatologically tested
No artificial fragrance
Cons
None
Price at the time of publication: ₹9.98
Product Claims
This face wash has a gel-based and foaming formula. The Ayurvedic formula combines neem, reetha, and kulanjan extracts that prevent pimples, brighten your skin, and keep it soft.
Pros
Contains natural extracts
No harmful chemicals
Non-irritating
Cons
None
Product Claims
Apart from neem and aloe vera, this face wash contains turmeric extracts. It claims to keep dirt, impurities, and pimples at bay by keeping your skin pores clean. It has a moisturizing effect on your skin (because of aloe vera) and keeps it clear and soft.
Pros
100% soap-free
Mild (suitable for sensitive skin)
Affordable
Light herbal fragrance
Cons
Full ingredients list not available.
Product Claims
This face wash by Himalaya Herbals is specially formulated to give you clear and smooth skin. It removes excess oil without overdrying your skin. It contains neem and turmeric extracts that kill pimple and acne-causing bacteria and keep your skin pores clean and problem-free.
Pros
Suitable for oily skin
Mild fragrance
Cons
Tends to dry out the skin
[ Read – Top Rated Himalaya Beauty Products Reviews ]
Product Claims
This face wash is enriched with the goodness of neem and tea tree oil. It helps to prevent pimples and breakouts, reduce inflammation, and fight bacterial action. It removes excess oil from your skin and helps to keep the pores clean.
Pros
Soap-free
Affordable
Mild herbal fragrance
Suitable for oily to normal skin
Cons
Packaging could have been better.
Product Claims
This face wash contains active neem slices and a high concentration of neem that keep your skin clear and free of impurities and bacteria. It also contains clove extracts. This face wash has a soothing effect on your skin and claims to be suitable for eczema-prone skin.
Pros
Clinically verified for mildness
Contains neem leaves
Cons
Full ingredients list not available.
Not suitable for all skin types
10. Shahnaz Husain Tulsi-Neem Face Wash
Product Claims
This is an Ayurvedic face wash that contains tulsi, aloe vera, and lemon extracts along with neem. It cleans your skin gently and removes dead skin cells and other impurities that clog the skin pores.
Pros
Soap-free
Mild
Pleasant fragrance
Cons
Contains SLS
Contains DMDM
Neem face washes are especially beneficial for problematic skin and those who are struggling with excess oil and pimples. We hope that the list will help you determine the right pick for you. Do let us know which neem face wash you picked and how it worked for your skin. Post your feedback in the comments section below.
References
"Therapeutics Role of Azadirachta indica (Neem) and Their Active Constituents in Diseases Prevention and Treatment" Evidence-based Complementary and Alternative Medicine, US National Library of Medicine, National Institutes of Health.
Recommended Articles