7 Best Face Scrubs For Whiteheads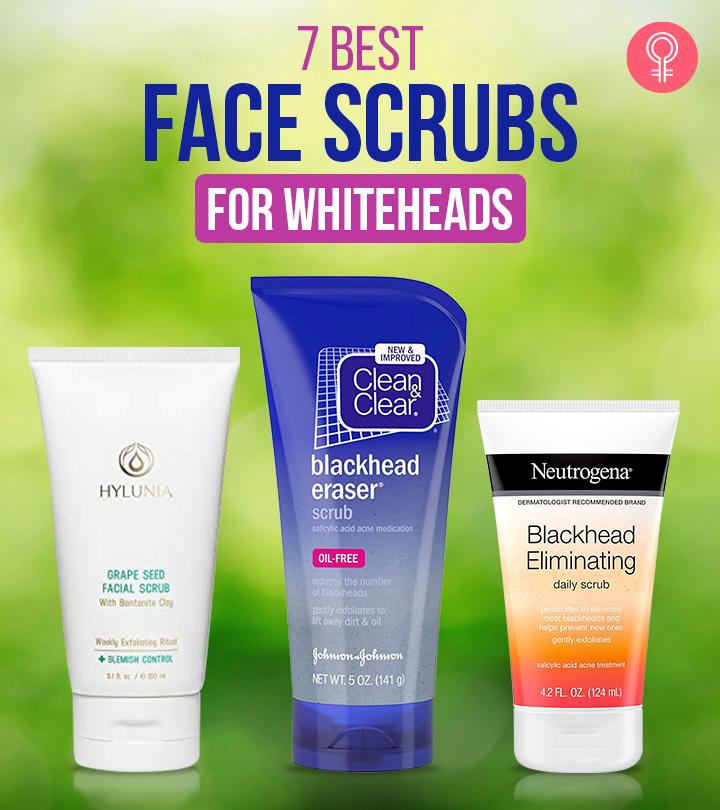 A good skincare routine helps your facial skin stay young, healthy, and spot-free for a long time. Although a cleanser helps the skin surface remain soft and radiant by washing away dirt, it may not help you unclog pores, remove dead skin cells, and reduce sebum, which eventually leads to the development of whiteheads. But facial scrubs can solve this problem!
They penetrate the pores and exfoliate impurities from within, ensuring truly clear skin. That's why we have compiled a list of the 7 best facial scrubs that help remove whiteheads and improve overall skin health. Scroll down to know more!
7 Best Face Scrubs For Whiteheads
The Clean & Clear Blackhead Eraser Scrub is an effective product for clearing pesky whiteheads and blackheads, with visible results in just two days. It is formulated with multi-action beads that gently eliminate dirt, excess dead skin cells, and oil from your pores. These multi-action beads are designed in three different sizes to effectively exfoliate the skin's surface and deeper layers alike. This scrub is formulated using 2% salicylic acid that naturally fights acne, controls sebum production, reduces whiteheads, and clears blackheads while preventing their reappearance.
Key Ingredients: Salicylic acid
Pros
Softens the skin
Gentle
Brightens the skin
Oil-free
Safe for sensitive skin
Value for money
Cons
The Lavo Microdermabrasion Cream is a luxurious 2-in-1 exfoliating cream designed for mechanical and chemical exfoliation. It promises to deliver spa-like results with its aluminum oxide crystals that provide exfoliation at the microscopic level. These crystals work in tandem with the pineapple and papaya fruit enzymes to wash away the dead skin cells and dry flakes, revealing brighter, softer, and younger-looking skin. This cream contains a blend of aloe vera, chamomile extract, and vitamin E that protects, lubricates and heals the skin from the effects of over-exfoliation.
Key Ingredients: Aloe vera, Chamomile extract, and Vitamin E
Pros
Softens the skin
Lightens scars
Minimizes fine lines
Evens out skin texture
Paraben-free
Fragrance-free
Cruelty-free
Cons
The Calily Life Charcoal Body Scrub is a head-to-toe scrub that provides a deep cleanse, exfoliation, anti-aging benefits, and acne removal. It is infused with activated charcoal that removes impurities and toxins from the pores for achieving a flawless complexion.
The Dead Sea salt and natural exfoliating minerals present in the formula help wash away dead skin cells and detoxify your skin to reveal a softer, supple, refreshed, and youthful texture. It also contains vitamin E, vitamin C, copper, and minerals that minimize the appearance of stretch marks, age spots, varicose veins, eczema, and cellulite to give you firm and plumped up skin. The almond oil and grape seed oil penetrate deep into the skin to effectively nourish it, boost elasticity, and melt away blackheads and whiteheads.
Key Ingredients: Activated charcoal powder, Almond oil, Grape seed oil
Pros
Hydrating
Pleasant fragrance
Softens the skin
Reduces ingrown hair
Phthalate-free
Sulfate-free
Paraben-free
Hypoallergenic
Safe for sensitive skin
Organic
Cons
Can be greasy.
Contains mineral oil.
The Mizon Honey Black Sugar Scrub is designed to pump dull and congested skin with its reinvigorating formula crafted with gentle ingredients that suit all skin types. It contains antibacterial honey and 35% black sugar to clear impurities, heal blemishes, eliminate dead skin cells, and prevent breakouts for a clear, bright, and even complexion. The blend of glycerin, vitamin E, mango seed butter, and cacao extract works to replenish moisture and provide antioxidant benefits. The mix of green tea, angelica leaf, and lemon extracts calms irritated skin, while the combination of grape, meadow foam, olive, and sunflower seed oils helps strengthen the skin.
Key Ingredients: Black sugar, Honey, Glycerin, Vitamin E, Cacao extract, Mango seed butter, Angelica leaf extract, Green tea extract, Lemon extract, and Olive, Grape, Meadow foam, and Sunflower seed oils
Pros
Hydrating
Natural ingredients
Smoothens skin
Gentle
Non-greasy
Cons
None
The Diva Stuff Face Scrubbie India's Secret is developed specifically for people with acne-prone skin and is infused with natural ingredients. It contains turmeric that acts as a natural antioxidant to soothe irritation, reduce acne scars, clear clogged pores, and prevent whiteheads and blackheads. This formula also stimulates blood circulation, diminishes the appearance of blemishes, and controls excess sebum production.
Key Ingredients: Turmeric
Pros
Value for money
Softens the skin
Imparts glow
Minimizes fine lines
Gentle
Cruelty-free
Vegan
Paraben-free
Aluminum-free
Cons
The Hylunia Grape Seed Facial Scrub is a natural formula designed for all skin types. It is empowered by a triple-function exfoliator that clears impurities to reveal soft and radiant skin. This formula buffs away dryness, refines skin texture, reduces excess sebum, and protects the skin against environmental aggressors. It is infused with ground grape seeds that mechanically exfoliate whiteheads and blackheads and multi-fruit acids that remove oil and debris on the surface. This face scrub also contains alpha-hydroxy acids with sugar maple, bilberry, orange, sugar cane, and lemon, which remove dead skin cells.
Key Ingredients: Ground grape seeds, Bentonite clay, and Fruit acids
Pros
Lightweight
Moisturizing
Cruelty-free
Vegan
Non-toxic
Paraben-free
Preservative-free
GMO-free
Formaldehyde-free
No endocrine disruptors
Pesticide-free
Sulfate-free
Fragrance-free
Dye-free
Lanolin-free
Cons
None
This scrub from Neutrogena helps target blackheads and whiteheads, leaving you with clear and smooth skin. It contains salicylic acid that deeply penetrates the pores to remove dirt, grime, bacteria, and oil to ultimately reduce blackheads and whiteheads. The microbeads exfoliate the skin, while the skin smoothing exfoliators and conditioners prevent over-drying the skin. This helps avoid the future occurrence of blackheads and whiteheads.
Key Ingredients: Salicylic acid
Pros
Gentle
No plastic microbeads
Safe for sensitive skin
Cons
None
That concludes our list of the best face scrubs for whiteheads. These scrubs will help exfoliate and unclog your pores by keeping the dirt, residue, and impurities at bay. Whiteheads are a pesky problem, and if not controlled, they may lead to acne and pimples. Pick a product from the above list and get rid of those annoying whiteheads instantly!
Frequently Asked Questions
Do whiteheads go away naturally?
Though the process is slow, whiteheads eventually go away on their own. The best way to prevent whiteheads is by using skin care formulas that help unclog the pores.
Why do I have so many whiteheads?
The most common reason for whiteheads is clogged pores. This can be due to hormonal changes and increased sebum or oil production.
Recommended Articles