7 Best Face Scrubs For Whiteheads
Say goodbye to pesky bumps and enjoy flawlessly smooth skin using suitable skincare essentials.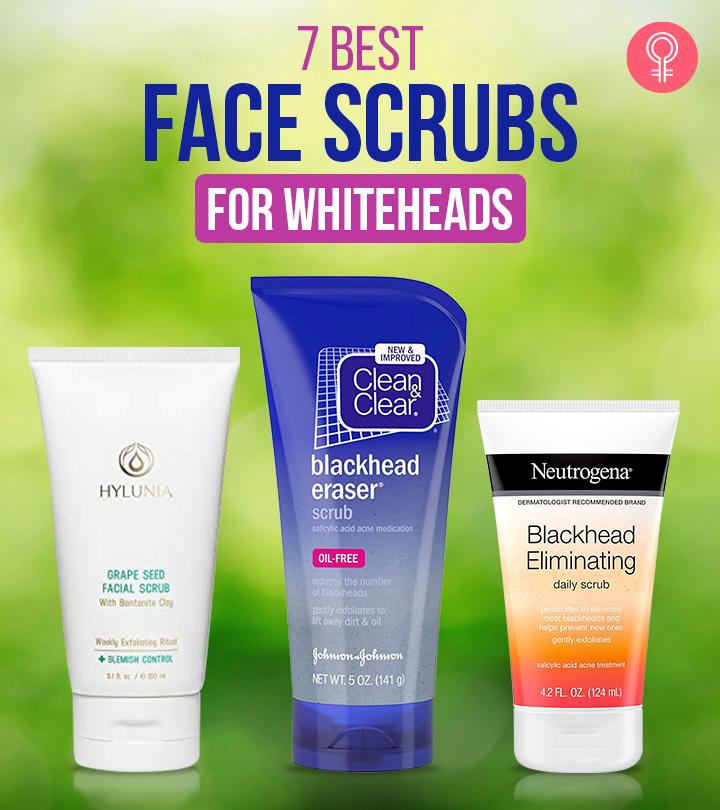 Whiteheads can be very bothersome when you are trying to keep your skin smooth and want it to stay bright and youthful. Instead of struggling with whitehead removal strips, invest in the best face scrub for whiteheads. Facial scrubs are not too harsh on your skin and weed out the whiteheads smoothly. Our daily cleanser does help remove the pesky blackheads and whiteheads as they need stronger formulas.
Facial scrubs for whiteheads work on the surface level and dig deep into your skin, penetrating the pores and cleansing from within. Scroll down to check out our list of the 7 best face scrubs for whiteheads.
7 Best Face Scrubs For Whiteheads
The Clean & Clear Blackhead Eraser Scrub is an effective product for clearing pesky whiteheads and blackheads, with visible results in just two days. It is formulated with multi-action beads that gently eliminate dirt, excess dead skin cells, and oil from your pores. These multi-action beads are designed in three different sizes to effectively exfoliate the skin's surface and deeper layers alike. This scrub is formulated using 2% salicylic acid that naturally fights acne, controls sebum production, reduces whiteheads, and clears blackheads while preventing their reappearance. Check this video for a demo and detailed review of the Clean & Clear Blackhead Eraser Scrub.
Key Ingredients: Salicylic acid
Pros
Softens the skin
Gentle
Brightens the skin
Oil-free
Safe for sensitive skin
Value for money
Cons
Price at the time of publication: $9.88
The Lavo Microdermabrasion Cream is a luxurious 2-in-1 exfoliating cream designed for mechanical and chemical exfoliation. It promises to deliver spa-like results with its aluminum oxide crystals that provide exfoliation at the microscopic level. These crystals work in tandem with the pineapple and papaya fruit enzymes to wash away the dead skin cells and dry flakes, revealing brighter, softer, and younger-looking skin. This cream contains a blend of aloe vera, chamomile extract, and vitamin E that protects, lubricates and heals the skin from the effects of over-exfoliation. Take a look at this video for an honest review of the Lavo Microdermabrasion Cream.
Key Ingredients: Aloe vera, Chamomile extract, and Vitamin E
Pros
Softens the skin
Lightens scars
Minimizes fine lines
Evens out skin texture
Paraben-free
Fragrance-free
Cruelty-free
Cons
Price at the time of publication: $17.97
The Calily Life Charcoal Body Scrub is a head-to-toe scrub that provides a deep cleanse, exfoliation, anti-aging benefits, and acne removal. It is infused with activated charcoal that removes impurities and toxins from the pores for achieving a flawless complexion.
The Dead Sea salt and natural exfoliating minerals present in the formula help wash away dead skin cells and detoxify your skin to reveal a softer, supple, refreshed, and youthful texture. It also contains vitamin E, vitamin C, copper, and minerals that minimize the appearance of stretch marks, age spots, varicose veins, eczema, and cellulite to give you firm and plumped up skin. The almond oil and grape seed oil penetrate deep into the skin to effectively nourish it, boost elasticity, and melt away blackheads and whiteheads.
Key Ingredients: Activated charcoal powder, Almond oil, Grape seed oil
Pros
Hydrating
Pleasant fragrance
Softens the skin
Reduces ingrown hair
Phthalate-free
Sulfate-free
Paraben-free
Hypoallergenic
Safe for sensitive skin
Organic
Cons
Can be greasy.
Contains mineral oil.
Price at the time of publication: $14.99
The Mizon Honey Black Sugar Scrub is designed to pump dull and congested skin with its reinvigorating formula crafted with gentle ingredients that suit all skin types. It contains antibacterial honey and 35% black sugar to clear impurities, heal blemishes, eliminate dead skin cells, and prevent breakouts for a clear, bright, and even complexion. The blend of glycerin, vitamin E, mango seed butter, and cacao extract works to replenish moisture and provide antioxidant benefits. The mix of green tea, angelica leaf, and lemon extracts calms irritated skin, while the combination of grape, meadow foam, olive, and sunflower seed oils helps strengthen the skin. Go through this video to learn more about the Mizon Honey Black Sugar Scrub.
Key Ingredients: Black sugar, Honey, Glycerin, Vitamin E, Cacao extract, Mango seed butter, Angelica leaf extract, Green tea extract, Lemon extract, and Olive, Grape, Meadow foam, and Sunflower seed oils
Pros
Hydrating
Natural ingredients
Smoothens skin
Gentle
Non-greasy
Cons
None
Price at the time of publication: $16.3
The Diva Stuff Face Scrubbie India's Secret is developed specifically for people with acne-prone skin and is infused with natural ingredients. It contains turmeric that acts as a natural antioxidant to soothe irritation, reduce acne scars, clear clogged pores, and prevent whiteheads and blackheads. This formula also stimulates blood circulation, diminishes the appearance of blemishes, and controls excess sebum production.
Key Ingredients: Turmeric
Pros
Value for money
Softens the skin
Imparts glow
Minimizes fine lines
Gentle
Cruelty-free
Vegan
Paraben-free
Aluminum-free
Cons
Price at the time of publication: $12.99
The Diva Stuff Face Scrubbie India's Secret is a dissolving scrubbie specially designed for acne-prone skin. It is formulated with turmeric, lemongrass, cinnamon, baking soda, and lemon oil that exfoliate the skin, remove excess sebum and blackheads, and deeply clean the pores. It also eliminates acne, whiteheads, and blemishes, preventing further breakouts. The powerful formula tightens the skin and tones it, revealing a healthy and youthful appearance.
Key Ingredients: Turmeric, Lemongrass, Cinnamon Oil, Baking Soda, Lemon Oil
Pros
Dissolving formula
Cruelty-free
Aluminum-free
Paraben-free
Pleasant smell
Leaves skin soft
Deeply cleansing formula
Cons
None
Price at the time of publication: $12.99
This scrub from Neutrogena helps target blackheads and whiteheads, leaving you with clear and smooth skin. It contains salicylic acid that deeply penetrates the pores to remove dirt, grime, bacteria, and oil to ultimately reduce blackheads and whiteheads. The microbeads exfoliate the skin, while the skin smoothing exfoliators and conditioners prevent over-drying the skin. This helps avoid the future occurrence of blackheads and whiteheads.
Key Ingredients: Salicylic acid
Pros
Gentle
No plastic microbeads
Safe for sensitive skin
Cons
None
Price at the time of publication: $53.94
There are a variety of face scrubs available on the market today, each with its own benefits and drawbacks. It can be difficult to decide which one is right for you, so we've put together a buyer's guide to help you choose the best scrub for your skin type.
Points To Remember Before Purchasing Face Scrubs For Whiteheads
Skin Type: If you have oily or acne-prone skin, your best bet is likely a scrub that contains salicylic acid. This agent helps exfoliate the skin and remove dirt, oil, and dead skin cells. Scrubs that don't contain salicylic acid may be more gentle on the skin, but they won't be as effective at removing dirt and oil.
If you have dry or sensitive skin, choose a scrub that contains glycolic acid instead. This agent helps improve the appearance of pores and improves your skin texture by breaking down the build-up of dead cells and sebum. Again, not all scrubs containing glycolic acid are equally effective; make sure to read product reviews before making a purchase.
If you have normal or combination skin, avoid scrubs that contain abrasives like walnut shells or sea salt. These ingredients can cause irritation and redness around the eyes and nose. Instead, look for scrubs that are made with plant extracts like coconut oil or jojoba oil. These agents help soothe and protect the skin while exfoliating it.
Scrub Type: If you just want to remove dead skin cells and debris, you can go for something milder. However, if you're looking to treat blemishes, blackheads, whiteheads, or improve overall skin texture, you'll need something with more intense scrubbing action.
There are three main types of scrubs, namely grainy, granular, and gel. Grainy scrubs are made up of small pieces of exfoliating granules, while granular scrubs have larger beads or grains that work to exfoliate the skin. Gel scrubs are made up of a water-based solution that can be melted and applied to the skin like a cream.
Ingredients: Some common ingredients used in face scrubs for whiteheads include lactic acid, citric acid, and salicylic acid, glycolic acid, and mandelic acid. Baking soda is also common in many scrubs as it helps adjust pH levels in the skin which can help reduce acne. Many organic ingredients including aloe vera, turmeric, coconut oil, yogurt, and raw honey are also used in scrubs that treat whiteheads.
Usage: Keep in mind that the frequency of use will also depend on the type of scrub you choose. Some scrubs are more aggressive than others, and should be used with care if you have sensitive skin. Try out different scrubs and find one that works best for your skin type before committing to using it every single day.
Why Trust StyleCraze?
The author of this article, Shiboli Chakraborti, is a certified skin care coach who loves trying out different beauty products. She curated this list of the best face scrubs after carefully researching various products, checking reviews online, and going through multiple forums for user feedback. The oil-free products dig deep into your skin to cleanse it from within. Not only do these gentle face scrubs soften the skin, but they are also safe for sensitive skin.
Frequently Asked Questions
Do whiteheads go away naturally?
Though the process is slow, whiteheads eventually go away on their own. The best way to prevent whiteheads is by using skin care formulas that help unclog the pores.
Why do I have so many whiteheads?
The most common reason for whiteheads is clogged pores. This can be due to hormonal changes and increased sebum or oil production.
Is scrubbing suitable for whiteheads?
Yes. Scrubbing can help cleanse clogged pores and exfoliate your skin, reducing whiteheads.
What is suitable for whiteheads on the face?
Face scrubs containing salicylic acid, such as the Clean & Clear Blackhead Eraser Scrub, work effectively on your skin to cleanse whiteheads.
How do you get rid of whiteheads fast?
Follow these steps to get rid of whiteheads quickly.
• Wash your face with warm water.
• Exfoliate your skin with a face scrub.
• Use an antimicrobial cream.
• Apply a moisturizer.
Why won't my whiteheads go away?
Recurring whiteheads are caused by over-exfoliation, popping them regularly, and not keeping your face oil-free.
How long do whiteheads last?
Whiteheads do not last longer than a week in most cases.
Recommended Articles