11 Best Aloe Vera Sprays For Hair Reviews Of 2023
Just a few spritzes of these sprays can enliven your hair and also enhance its health.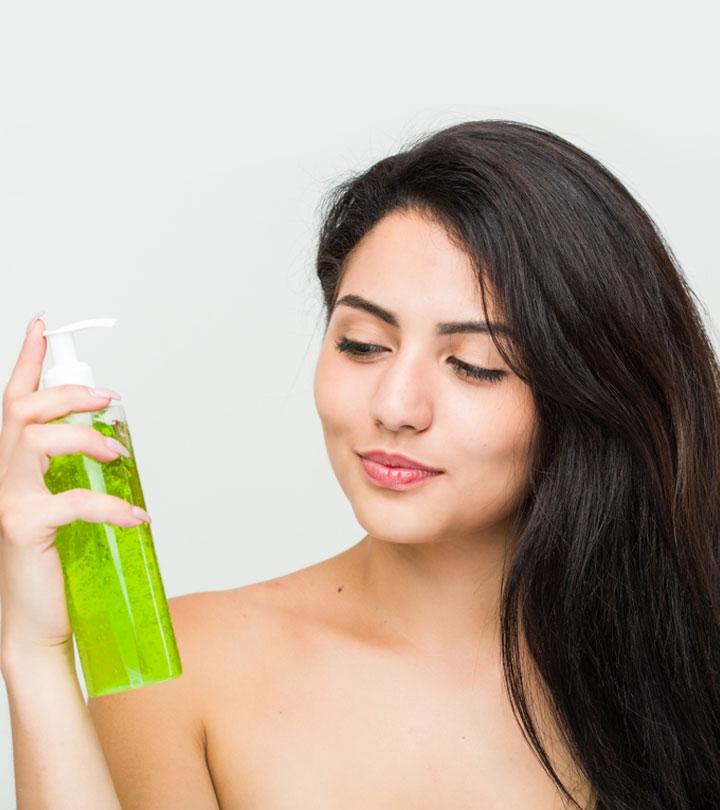 Aloe vera is a super versatile plant that has many uses and benefits and is widely used in the beauty and cosmetics industry in many forms. Using aloe vera as hair spray is slowly becoming a trend in the hair care industry. Some of the best aloe vera sprays for hair are available in the market, but you must be careful to know which one to choose. Formulated differently for the different types of hair that are out there, you need to pick the right one for your hair type. Easy and quick to use, these hair sprays give you all the benefits of aloe vera-based hair care products. These sprays are gender-neutral and can be used by both sexes to style their hair and look their sexy best. If you aren't sure which is the best aloe vera spray, we've got your back. Head on over to our list of the top aloe vera hair sprays you can buy.
Top 11 Best Aloe Vera Sprays For Hair To Buy In 2023
George's Aloe Spray Mister moistures the hair. It can also be used on the skin to nourish the skin and keep it refreshing under makeup. This spray mister provides relief from sunburn. People with dry scalp can use this spray mister on the scalp for a hydrating effect.
Pros
Easy-to-use
No preservatives
No mess
Cons
Price at the time of publication: $8.87
Ecla aloe vera spray is made out of pure aloe vera juice. It is completely organic and works really well for itchy, dry skin. The product stands out as one of the most renowned aloe vera sprays for face and hair. Due to the ideal consistency, it can even be used after waxing, tweezing, or laser removal. Girls can even use this aloe vera spray for removing makeup and nourishing their skin. This pure aloe content can also be used on the scalp to keep hair issues at bay.
Pros
Nourishing formula
Easy-to-apply
Good for sensitive skin types
Cruelty-free
Cons
Price at the time of publication: $11.93
Are you someone who wishes to pluck aloe vera leaves and use aloe vera gel all by yourself because you like it simple and organic? Then this is the brand for you. The aloe vera spray from Seven Minerals is organic and is derived from freshly cut aloe leaves. The brand focuses on quality and delivers the best aloe vera gel in spray form. The quality is genuine and thus benefits your skin and hair like no other gel. You can tackle your cuts, wounds, hair issues and even nourish your skin with this aloe vera spray. You can also check this YouTube video for a complete idea about the product.
Pros
High quality
No sticky residue
Alcohol-free
No added water
Cons
Can show irritation on sensitive skin
Price at the time of publication: $9.99
As the name suggests, this is aloe vera spray made of organic green aloe vera leaves. This natural formula packed in a spray bottle relaxes the body and moisturizes hair. The Green Leaf Naturals aloe vera spray is good for sunburns and can also be used as after shaving gel by men. When used for hair care, it works as a natural hair conditioner and keeps your look refreshing.
Pros
Cold-pressed
Pure & potent formula
Multi-faceted product
Paraben-free
Cons
Might not suit all types of skin
Price at the time of publication: $27.99
Looking for a styling spray to give your beautiful tresses the volume, texture, and fresh look that you desire? Well here is the ultimate solution to make your hair look beach-ready. Formulated with organic aloe vera, green tea, raspberry, and algae, this hair spray makes styling super easy and quick. It needs to be applied on slightly damp or dry hair and spread evenly. It works really quick and you can have thicker and fuller hair instantly. If you want to know more about the results, take a look at this review on YouTube.
Pros
Light-weight formula
For all hair types
Travel-friendly
Great for styling hair
Cons
Might tangle hair when overused
Price at the time of publication: $19.99
The product is induced with natural hair modifiers that nourish hair and keep your hairstyle firm. It contains organic aloe vera, vitamin B5, and wheat protein to moisturize and protect your scalp. It leaves your hair looking shiny and healthy. People who prefer products without any aroma will surely love this organic styling spray with aloe vera as the primary ingredient.
Pros
Fragrance-free formula
No alcohol
Hydrates scalp
Works for all hair types
Cons
Might dry out if left for too long on skin
Price at the time of publication: $8.79
Imagine the soothing touch of aloe vera gel along with green tea and peppermint tingling. This is the ultimate feel especially when your skin is dry and your hair needs hydration. The natural composition comes in a spray bottle which makes application simple and covers a wide area. Other than directly spraying to your body, you can actually add it to your massage oils, creams, and other products to enjoy the benefits of pure organic aloe vera.
Pros
Non-sticky formula
No artificial thickeners
Natural and vegan formula
Free of parabens and sulfates
Cons
Might not suit people with sensitive skin
Price at the time of publication: $14.62
If you want to invest in a natural aloe vera mist that doesn't take a toll on your pocket, you can choose this one from From Nature. It is suitable for dry skin as this aloe vera mist gets easily absorbed in the skin and nourishes it well. With a unique composition of 9 natural ingredients like rosemary, lavender, this is one of the best aloe vera sprays for hair. Unlike other aloe vera gels, it has the goodness of herbs like rosemary which are great rejuvenators for skin and hair. You can derive many benefits from this aloe vera gel such as refreshing and moisturising the body and hair.
Pros
Cruelty-free formula
Natural formula
Refreshing quality
Multi-faceted product
Cons
Packaging isn't environment-friendly
Price at the time of publication: $8.89
This aloe vera gel in the mist form is the much-needed herbal dose of nourishment nowadays. It is natural and has the goodness of pure organic aloe vera. When used on the scalp, this natural herbal gel conditions hair and might help with hair loss issues. There are no risks associated with this aloe vera gel as it is free from chemicals.
Pros
Easy-to-spread
Easy-to-spray bottle
Organic aloe vera
Odorless formula
Cons
Price at the time of publication: $9.99
This aloe vera gel from the store of SWLKG makes it to the list of the best organic aloe vera sprays. It comes in a handy spray form that is of premium quality and works well for sensitive scalp and skin. It is suitable for hair care as the formula is non-greasy in nature. For people with an itchy scalp, this is a natural hair care option. You can take an adequate quantity of the product in your palm and spread it all over the scalp to get a soothing feel.
Pros
Cold pressed formula
Fragrance-free
Good absorption
Gluten-free
Cons
Contains propylene glycol
Price at the time of publication: $9.99
RealAloe Spray is infused with the goodness of organic aloe leaf juice that soothes your scalp and moisturizes your hair. You can also spray this on towel-dried hair as a natural detangler. It helps to tame frizz and flyways to give you sleek hair. It is also effective on your skin and relieves you from burns, skin irritation, rashes, and sunburns. Moreover, the spray comes handy for minor cuts, insect bites, chafing, itching, and scrapes.
Pros
Easy to use
Multipurpose
Cooling effect
Gluten-free
Cruelty-free
Non-GMO certified
Cons
None
Price at the time of publication: $7.12
How To Use Aloe Vera Hair Spray?
Aloe vera hair spray is quite simple to use. You need to spray the product on your palm and then apply the product directly to your scalp. Massage it like an oil and let it sit on the scalp. Rinse after some time. You can also use this spray in your hair oil to nourish your roots better. In case you want to use it for styling purposes, apply it after styling your hair to hold your hair firm for a longer period of time.
Aloe vera is nature's gift for human-kind and we must all use it for our benefit. When brought to you in the form of gel sprays, you should always check the ingredients, the formula consistency, and certifications to make a better choice. The best part about using aloe vera gel sprays is that such products are usually great for skin and hair care. You can use them for hydration even when you are not going through any major skin or hair issues. The formula is generally healthy and for all skin types. Still, people with sensitive skin must do a patch test before using any natural ingredients on the body. So, this was all about the top-rated aloe vera gel sprays of 2023. Hope this article provides you the relevant information you were in search of. Keep taking care of your body with natural ingredients like aloe vera gel.
Why Trust StyleCraze?
Vaishnavi Kothuri, who authored this article, is a haircare aficionado and loves to stay updated when it comes to various haircare solutions. Intending to help her readers find the best aloe vera spray for hair, she read many customer reviews and product details and made a comprehensive list of the best-rated products. The listed ones are gender-neutral and will provide you with all the amazing aloe vera benefits.
Frequently Asked Questions
Is Aloe Vera Spray Good For Hair?
Yes, aloe vera spray is good for hair.
Can Aloe Vera Regrow Lost Hair?
Since aloe vera is rich in enzymes that heal the damaged cells in the scalp, it can help regrow lost hair.
Can I Spray Aloe Vera Juice On My Hair Every day?
Yes, you can spray aloe vera juice on your hair every day.
What Is Aloe Vera Spray Good For?
Aloe vera spray is good for hair, skin, and healing. Any skin issue like rashes, sunburns, itching, dryness, insect bites, etc, can be healed with the regular application of aloe vera. It is also very nourishing for hair. You can reduce dandruff, loss of hair and improve scalp health with the use of aloe vera spray.
How Do You Use Aloe Vera Spray On Hair?
Aloe vera spray can be used on damp or dry hair. It can directly be applied to the scalp just the way you oil your hair. In case you want to make your hair soft and smooth, mix it with coconut oil and then apply. It can even be applied as a pre-shampoo treatment to reduce dandruff and dead skin cells from the scalp.
Does Aloe Vera Thicken Hair?
Aloe Vera is great for scalp and hair growth stimulation. It also thickens hair.
Do I Need To Wash My Hair After Applying Aloe Vera?
Yes, you need to wash your hair after applying aloe vera.
Which is better for hair – aloe vera gel or spray?
Aloe vera spray has a lighter consistency than gel. Unlike gels, sprays are easy to apply and spread evenly on the scalp and hair.
Recommended Articles