10 Best Hair Brush Cleaners To Shop For In 2023 + Buying Guide
Clean every corner of your brush with these ergonomically designed brush cleaners.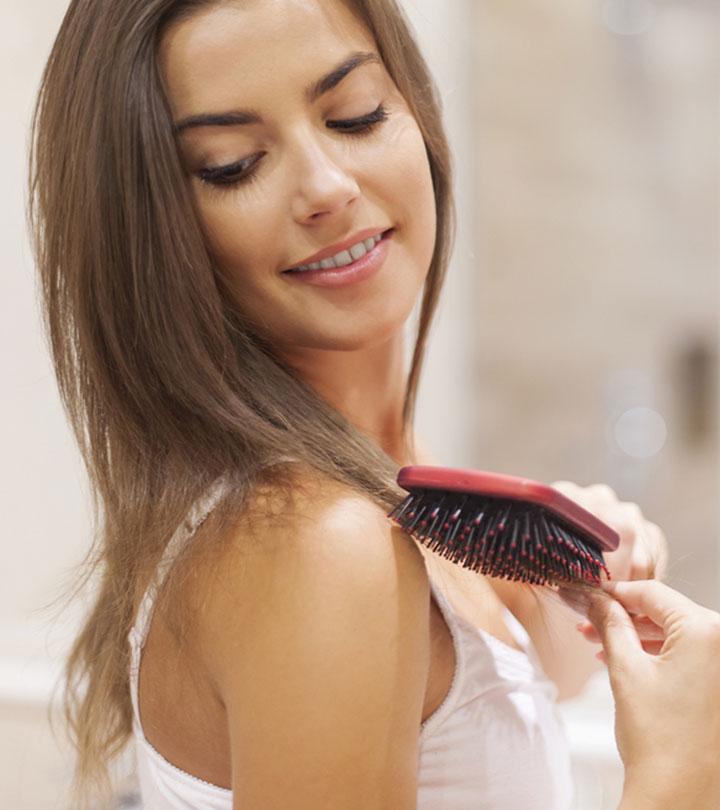 Cleaning your hairbrush frequently is an essential beauty chore that everyone should do, as using an unclean hairbrush can lead to multiple scalp problems. The best way to clean your hairbrush is to use a hairbrush cleaner. Using a hairbrush cleaner to clean your hairbrush will help eliminate product residue, dirt, and oils from the brushes and scalp that keep building on the bristles over time. After all, getting all the gunk and grime back on your freshly washed hair is probably the last thing you would want to do.
Regularly cleaning your brush will also ensure that your hairbrush functions properly. Make sure you clean your brush at least once a week. So, what are you waiting for? Go ahead, and check out our list of the 10 best hair brush cleaners that will keep your brush looking new. Keep scrolling!
Top 10 Hair Brush Cleaners of 2023 With Buying Guide
Designed to provide three deep cleaning benefits— this hair brush cleaner is made of high-quality plastic to withstand pressure while cleaning a hairbrush. With the pointed tip ideal for cleaning detangling brushes, the stiff bristles on the head can help in removing hair from brushes of all types. Besides this, the cleaning bristles on the brush's end can remove hair as well as eliminate the dirt and residue from the cushion efficiently. A multi-purpose brush for all your cleaning needs, give it a try this season! If you want to know more about the results, take a look at a tester's experience with the product in this review on YouTube.
Pros
Ergonomic design
Portable and lightweight
Durable and firm bristles
Ideal to use in the salon or at home
Cons
May not be very easy to clean
Price at the time of publication: $10.95
The Kitsch Double-Sided Hair Brush Cleaner Tool is made with a recyclable body and a stainless steel blade. It helps maintain clean and well-kept hair brushes by removing debris, knots, tiny hair, and product buildup from the brush base and bristles. The bristles are great for swiftly brushing hairs and scrubbing dirt hidden in hard-to-reach places. The metal comb is ideal for detaching tangled strands of fur, nylon, or metal bristles. This hairbrush cleaner is simple to use, and as it is made of high quality plastic and metal, there will be no breakage or deformation. It ensures that your hairbrushes remain clean and organized easily. The product has not been tested on animals, which makes it an ideal for those looking for cruelty-free options.
Pros
Cruelty-free
Sustainable packaging
Durable
Sturdy nylon bristles
Lightweight and portable
Ideal to use at home or salon
Soft and waterproof bristles
Cons
Price at the time of publication: $11.98
Don't mind spending on a premium-quality hair brush cleaner? Then the Olivia Garden Brush Cleaner is a great pick for prolonging brush lifespan. Double-headed to clean all hard-to-reach areas, this premium hair brush cleaner claims to extend the durability of your hair brush with its thorough cleansing. The long rakes pull out the tangled hair and build-up and the small rakes, on the other hand, are ideal for cleaning specific areas effortlessly. Yep, just the 2-in-1 bliss your hair brush needs to stay hair and filth free always. Give it a go!
Pros
Made of high-quality material
Comfortable and ergonomic design
Portable, lightweight, and travel-friendly
Suitable to clean all types of hair brushes
Cons
Expensive
The rakes may not be sturdy enough.
Price at the time of publication: $15.95
This portable hair brush cleaner claims to make on-the-go cleaning super easy for you! Designed to provide multiple cleaning benefits, you can use it to remove tangles, lint, and build-up from your hair brush and comb efficiently. Easy-to-use, it promises to be a one-stop option for all your comb and hair brush cleaning needs.
Pros
Removes hair and fluff easily
Versatile and easy-to-clean
Lightweight and made of plastic
Suitable to use on all types of hair brushes
Cons
Small size
May not be sturdy
Price at the time of publication: $4.24
With the wooden base and handle taking you a step closer to nature, this hair brush cleaner claims to be super versatile when it comes to its functionality too. From removing lint and tangled hair from comb and hair brushes to cleaning even vacuum roller brushes and wool carders, Catin Hair Brush Cleaner helps in restoring brush performance and guarantees satisfying results only! Now, who's ready to watch their hair brush go from looking like a jungle to a desert within minutes? Yes, do not skip this cleaner!
Pros
Easy-grip handle made of birch wood
Durable wire rakes made of metal
Portable, lightweight, and travel-friendly
Quick, easy-to-use, and easy-to-clean
Cons
The metal rakes may damage the cushion if not used gently.
Price at the time of publication: $6.59
This hair brush cleaner may be lightweight and sleek, but its cleaning power will surprise you. Considering how the most problematic areas are near the base of the brush, this hair brush cleaner is specifically designed to tackle both base and bristles areas. And did you notice the long bristles? From removing dirt and debris and all the tangled hair to sweeping out the residue, this cleaner, with its unique 5-pik design, is a great option for all and even for cleaning brush handles.
Pros
Made of plastic
Cleans hard-to-reach areas easily
Lightweight, portable, and easy-to-use
Safe to use on all types of hair brushes
Cons
The bristles may not be sturdy enough.
Price at the time of publication: $8.99
Be it wet or dry hair residue, it stands no chance against this Wet Brush Pro Cleaner! Tough on tangled hair, dust, and residue from styling products, it claims to give your hair brush a brand-new spark within minutes. With the longer bristles designed to clean hair brushes, the smaller ones can be used for thin hair and to clean hair dryer vents, clippers, and comb too. Online reviews mention that this tangle-free hair brush is small enough to fit easily in your pockets or wallets as well!
Pros
Easy to use and maintain wet brush cleaner
Cleans without damaging the hair brush
Removes hair without tugging or pulling
Suitable to use on all types of hair brushes
The bristles are ultra-flexible to clean hard-to-reach areas.
Cons
Not ideal to remove curly or 4c hair
The bristles may not be sturdy.
Price at the time of publication: $10.99
Are small hair brush cleaners uncomfortable for you? Switch to Kent Hair Brush Cleaner for its long and sleek handle ensures a comfortable grip and easy cleaning. Also, the long bristles made of nylon guarantee to clean the hair and residue thoroughly from round brushes too. Making your cleaning session quicker and mess-free, add this high-quality hair brush cleaner to your collection today.
Pros
Made of high-quality plastic
Sturdy and durable product
Removes tangles, dead hair, lint, and residue
Safe to use on all types of hair brushes
Cons
The bristles are dense and may not remove fine hair.
Price at the time of publication: $28.0
With this cleaner, you can claw out those tough, tangled hair literally! Whether you have a natural boar bristle hair brush or plastic hair brush, this uniquely designed cleaner guarantees one thing— hair-free and mess-free results. And though the hair brush is lightweight, it claims to pull out the toughest knots without causing any damage or tearing to the hair brush. A fancy tool to add to your collection, you can also gift this convenient brush cleaning solution to your loved ones who enjoy hairstyling products and grooming.
Pros
Easy-to-clean and portable
Convenient to carry and sturdy product
Made of durable and flexible plastic (ABS & PC)
Removes all kinds of hair and dirt efficiently
Cons
Price at the time of publication: $5.95
Keep your hair brushes in top shape with the professional-grade Sam Villa 2-In-1 Professional Hair Brush Cleaner Tool. This brush cleaning for professional use has angled teeth for efficient hair removal and long bristles to help clean the base of the brush. The strong, angled teeth quickly eliminates any tangled hair knots around the brush's base and bristles. Long bristles reach the brush's base to remove any dirt, scalp buildup, or product residue. It works on all brush types and is ideal for rapidly cleaning your brushes at the end of the day or in between clients.
Pros
Lightweight
Hard-angled teeth
Long bristles
Works on all brush types
Cons
[multi_buy_now_btnasin="B01CDC2ALY"amz_affilate="tsr-haircarepro-20″walmart_affilate=""]
There you go! Those are the 10 best hair brush cleaners that you must check out this season. Do you need more assistance with buying the right one, or are you wondering how to use it? Then read our buying guide below.
Buying Guide – Best Hair Brush Cleaner
How To Choose The Best Hair Brush Cleaner?
You must check out for the following features before buying:
Hair Brush Type: Pick a hair brush cleaner that suits your hair brush. Many users end up with disappointing results because they choose the wrong hair brush cleaner. So, if you have a boar bristle hair brush, select a cleaning boar bristle brush designed for it, rather than settling for any.
Bristles: Hair brush cleaners are available with different types of bristles or rakes that range from long, short, stiff to flexible. A hair brush cleaner with long rakes ensures thorough cleaning, whereas a cleaner with flexible bristles can clean all hard-to-reach areas easily. So, according to your cleaning needs, choose the appropriate one.
Ergonomic design: Choose a hair brush cleaner with an ergonomic design, so you don't end up with cramps or discomfort while cleaning your hairbrush.
Intense cleaning: The cleaner must not only remove the dead strands but the lint, fluff, and residue that has settled at the base of the brush too.
Time-efficient: Lastly, pick the one that ensures minimal post-cleaning maintenance, or else, it is a lost cause.
Types of Hair Brush Cleaner Ends:
There are four types of cleaner ends, and here's how they function:
Pointed tip: It removes tangled hair as well as product build-up stuck at the base effortlessly.
Bristles: Do you have a hair brush with soft bristles? Then you must pick a hair brush cleaner with flexible or nylon bristles to clean without damaging the cushion. These bristles ensure easy removal of tangled hair but may not efficiently remove product build-up or dirt.
Teeth: A hair brush cleaner with long and short teeth can be used for both— removing tough hair as well as residue or dirt at the base. These types of hair brush cleaners are mostly sturdier and are ideal for tough cleaning.
Tines: They are made of metal or plastic and have a unique claw or rake design. These hair brush cleaners are great for gripping and pulling out tangled hair easily and quickly. However, these metal tines are not ideal for brushes with soft bristles.
How to clean the hair brush thoroughly?
It's simple, and you must follow this routine at least once a week:
First, with a hair brush cleaner, remove all the tangled hair and dust out the residue or dirt, if any.
Next, gently clean the cushion and bristles of the hair brush using a few drops of gentle shampoo or baking soda.
Later, rinse it under lukewarm water and let it air dry (bristles facing downwards) overnight.
Why Trust StyleCraze?
A devotee of all things hair, author Medha Deb keeps a keen eye on the latest hair trends. She believes that investing in a good hairbrush cleaner is sustainable and worthwhile in the long run. The products she chose were carefully researched and reviewed online so that her readers could easily find the best ones. Regularly using a hairbrush cleaner will help keep your brushes looking good for longer by removing residue, dirt, and oils accumulated over time.
Frequently Asked Questions
Should I wet the hair brush cleaner before using it on a hair brush?
No, try to keep it as dry as possible to have a mess-free cleaning session. Also, a hair brush cleaner with dense bristles might get difficult to clean if they are damp.
What do salons use to clean hair brushes?
Mostly all salons use hair brush cleaners to get rid of tangles, dirt, and residue in the hair brushes. These cleaners are quick, easy, and ensure intense cleaning, thus making the job effortless for them.
How often should you clean hair brushes?
No matter how often you use your hair brush, cleaning it at least once a week is ideal. This is not only for maintaining clean hair tools and brush hygiene but also to reduce the cleaning time. Basically, the more often you clean it, the less time you'll have to spend cleaning it every time.
How do you disinfect lice from brushes?
Soak the brushes in rubbing alcohol or lice-killing shampoo and then rinse it off properly under running water for disinfecting hair brushes and sanitizing brush tools.
Can head lice live on hair brushes?
Yes, head lice can live on hair brushes for up to 48 hours.
Recommended Articles