10 Best Electric Makeup Brush Cleaners – 2023
A clean set of makeup tools surely makes a big difference to complete your looks perfectly.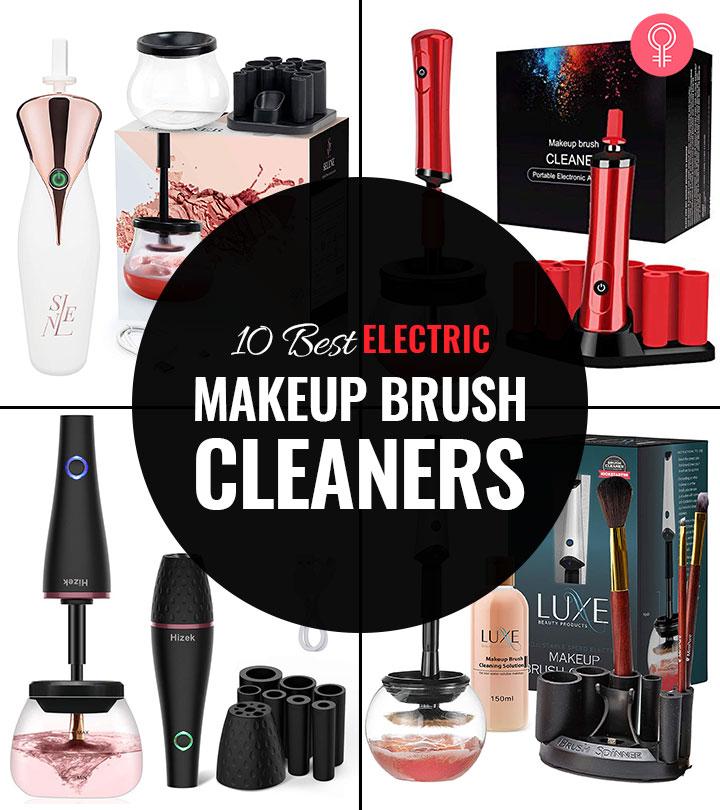 You can have the most expensive foundations and celebrated makeup products, but they may turn out futile if you do not own makeup brushes. Moreover, makeup brushes need to be cleaned regularly. That's when the best makeup brush cleaners come in. A brush set is the most valuable accessory in every girl's vanity. It helps you blend your foundations and concealers to perfection and ensure a flawless look.
However, dirty makeup brushes are of little use and also harmful to your skin. These tools collect dust, grime, dead skin cells, makeup residue, and sebum throughout the day. If you use them without cleaning them properly, they may cause breakouts and rashes on your skin. Therefore, cleaning makeup brushes should be the most crucial part of your regular makeup regimen. But we can agree that this process is an ordeal. It is time-consuming and requires a lot of effort to pull out all the accumulated gunk from the bristles. Also, drying them is a whole different annoying story! Therefore, repeating it everyday can be a nightmare.
But fret not because we are here to inform you that we have an easy and effective solution for all your makeup brush care-related woes. The makeup brush cleaners can make your job a lot easier than you can imagine. It will save a lot of time and help you get rid of makeup residue in a matter of minutes. Want to know how to get your hands on some of these devices? Our list features 10 makeup brush cleaners that users love. So, swipe up for more information.
Top 10 Electric Makeup Brush Cleaners Of 2023
The Luxe Makeup Brush Cleaner is just what you need to keep your expensive makeup brushes neat and clean. Its most significant advantage is that it cleans and dries your brushes in a matter of seconds, where other products take much longer. The package includes eight collars to accommodate brushes of different sizes and a Luxe makeup cleaning solution to help remove non-soluble makeup.
It is vital to invest in cleaning your brushes regularly. When used daily, our brushes end up accumulating dirt, dead skin cells, oil, bacteria, and pollution. Using the brush repeatedly without cleaning can put you at risk of clogged pores, breakouts, or skin infections. With the Luxe cleaner, you can use your brushes as frequently as you like without fear of harming your skin. This video review will help you understand more about the product.
Pros
Cleans and dries quickly
Gentle enough for all brushes
Indicator light for charging status
Break-resistant bowl
8 rubber holders for different brush sizes
3 spin speeds
USB-rechargeable
Charging dock
Complimentary makeup brush cleaning solution
Value for money
Cons
None

Price at the time of publication: $16.99
The Selene Makeup Brush Cleaner & Dryer Machine is a complete kit that you can carry anywhere with ease and keep your brushes spotless and free of grime. The brush cleaning spinner is designed to spin rapidly to wash and dry brushes perfectly and quickly. The kit has 13 brush collars to fit all brush sizes, where most kits offer only 8, so you can find the best fit for every brush that you own.
Dermatologists recommend that makeup brushes be cleaned thoroughly every two weeks to get rid of the acne-causing bacteria that accumulate with regular use. The Selene brush cleaner is a time-saving solution that protects your skin against any damage or infection caused by using dirty brushes. If you are still unsure, check out this honest review.
Pros
USB-rechargeable
3 cleaning speeds
Cleans and dries quickly
Fits most brush sizes
Easy to use
Sturdy design
2-year warranty
13 brush collars
Travel-friendly packaging
Affordable
Cons
None
Price at the time of publication: $39.99
The Senbowe Upgraded Makeup Brush Cleaner takes only 10 seconds to thoroughly clean and dry your makeup brushes. It features eight collars ranging from 3mm-30mm to fit any brush size. This device helps remove cosmetic dirt, sebum, oil, and other impurities from your brushes. It is equipped with an ergonomic switch and dual-mode settings to get 99% fresh and clean makeup brushes. Click this video to learn more about the product.
Pros
Low vibration device
Cleans within 10 seconds
Easy to use
Value for money
Cons
Price at the time of publication: $17.99
The Dotsog Pro Makeup Brush Cleaner is one of the most affordable brush cleaning kits on the market. It offers the standard eight rubber holders and a durable design that cleans your brushes perfectly and dries them out within seconds.
The spindle holding the brush collars is sturdy and permanently fixed, so you won't need to worry about the brush flying off the attachment while the device is in use. It adds stability and cleans your brushes more efficiently. The cleaner is battery powered, so you can take it along conveniently while traveling.
Pros
Cleans and dries brushes quickly
Ergonomic design
8 brush holders
Gentle operation for delicate brushes
Battery operated
Easy to use
Travel-friendly packaging
Affordable
Cons
Price at the time of publication: $18.99
The NICARE Makeup Brush Cleaner helps you to keep your makeup brushes hygienic. The 2-in-1 device helps to clean and dry your brush effortlessly. It features eight collar stands that help clean different-sized makeup brushes. Furthermore, you need only five to ten seconds to clean and dry the makeup brush.
This makeup brush cleaner comes with low and high rotation speed settings that you can adjust according to your needs. Moreover, the cleaner can effectively remove stains, makeup, and other residues to keep your brushes clean, and hence, your skin healthy.
Pros
Long-lasting
Thorough cleaning
Easy to use
LED indicator
Cons
The Kleem Organics Makeup Brush Cleaner & Dryer Machine helps clean your cosmetic brushes regularly, so you can use them on your skin without worrying about breakouts or infections. This simple brush cleaning machine gets rid of makeup particles, oil, dead skin cells, and dust to keep your precious brushes good as new.
The package also contains a complimentary bottle of makeup brush cleaning solution that saves you time and money by deep cleansing your machines quickly and thoroughly. The Kleem provides professional cleaning with its high sonic frequency.
Pros
Cleans and dries quickly
Splash-free
Complimentary cleansing solution
High sonic frequency for better cleaning
Easy-to-use
Money-back guarantee
Affordable
Cons
Price at the time of publication: $24.97
Keep your makeup brushes hygienic with the Ricris Makeup Brush Cleaner. The kit includes a brush spinner that works on a battery, 8 different-sized rubber holders to fit various brushes, and a detachable bowl. The device may take 5 to 8 seconds to clean your brush and 5 to 10 seconds to dry your makeup brush, depending on the brush quality and dirt on it.
A thoroughly cleaned makeup brush is safe to use as it prevents irritation caused by accumulated makeup on the brush. This makeup brush cleaner and dryer is of premium quality that is designed to deal with all such common issues and keep your makeup brushes clean and usable.
Pros
 8 collars to hold different brush sizes
 Leak-proof
 Easy to use
 Unbreakable bowl
Cons
None
Price at the time of publication: $17.99
Keep your makeup brush clean daily in minimal time with the Mevolic Makeup Brush Cleaner & Dryer. It takes 10 seconds to clean and 10 seconds to dry, ensuring a quick cleaning session for the woman on the go. The pack includes a brush spinner bowl, battery-operated device to hold the brush, brush spindle, collar stand, brush collars, and instruction manual.
The device needs 2 AA batteries to operate. It is made of non-toxic material, making it an environmentally-friendly product. It gives your brushes a clean, fresh, and brand new look
Pros
 8 collars to hold different brush sizes
 Cleans under 10 seconds
 Long-lasting
 Non-toxic
 Easy to use
 30 days money-back guarantee
Cons
 Not effective for deep cleaning
Price at the time of publication: $12.99
The StylPro Makeup Brush Cleaner and Dryer includes a device, 8 collars, and a bowl. The device works with non-rechargeable 2 AA batteries. The recyclable plastic bowl is scratch-resistant, stain-resistant, and it can fit a large size brush. This cleaner and dryer take 30 seconds to clean and dry.
This makeup brush cleaner can remove stubborn makeup, accumulated dirt, and oil residue from the makeup brushes. The kit is made of premium quality and needs cleaning regularly.
Pros
 Compact storage
 Easy to use
 Break-resistant bowl
 8 collars to hold different-sized brushes
Cons
 Bowl is not dishwasher safe
Price at the time of publication: $22.99
The Tao Clean Sonic Makeup Brush Cleaner uses sonic vibrations to give your favorite brushes a powerful cleaning and rids them of dirt, oil, grime, and makeup within 2 minutes. It is gentle enough not to damage the bristles or leave them coarse. All you get are clean, sanitized brushes, good as new.
The device is reasonably easy to use: just fill the base with warm water, drop in a soap pod (included), load your brushes, and power on the machine. The only drawback is that the drying mode is not strong enough. You have to wait a good amount of time for the bristles to air-dry before the brush is ready for use.
Pros
2-minute operation
Cleans 6 brushes at once
6 multi-use cleaner soap pods
Does not damage bristles
Cruelty-free soap
Easy to use
Cons
Expensive
Does not dry brushes completely.
Loud operation
Price at the time of publication: $18.1
We are sure you can't wait to get your hands on an electric makeup brush cleaner. But before you zero in on one, here's a buying guide to help you make the right purchase. Read and find out some factors to keep in mind when buying an electric makeup brush cleaner.
Things To Consider Before Buying An Electric Makeup Brush Cleaner
1. Max Speed
The speed of the brush cleaner determines how thoroughly it will wash your brush and how long it will take to dry it thoroughly. Depending on the model, you can choose between two and three-speed settings, although a few cleaning devices do not offer adjustable speeds.
2. Mounting Options
As any bonafide makeup lover will know, makeup brushes do not come in a single standard size. Makeup brush cleaners come with differently sized holders that can fit a wide range of brushes. While most models have eight mounting collars, some may offer even more.
3. Charging And Power Options
The charging and power options will decide whether your electric brush cleaner is travel-friendly or not. Some are USB rechargeable, while others are battery-powered. Keep in mind what you prefer when making a decision.
4. Warranty
Although this is not a very significant factor, it does help to know that in case of a manufacturing defect, you are covered. It is especially useful when you have purchased a more expensive model.
Why Trust Stylecraze?
Sakshi Bahal is a makeup enthusiast who loves writing detailed product reviews for her readers. In this article, she talks about electric makeup brush cleaners that effectively remove dust, grime, dead skin cells, makeup residue, and sebum from the brushes. She has conducted thorough and in-depth research of user reviews and product specifications before curating the list. She suggests using these brush cleaners because it draws out all the accumulated gunk from the bristles effortlessly.
Frequently Asked Questions
What do makeup artists use to clean brushes?
Makeup artists use a makeup brush cleanser or gentle shampoo to clean their brushes.
How do you professionally disinfect makeup brushes?
• Dip the bristles in lukewarm water.
• Swirl the bristles inside a solid soap pot.
• Rub the bristles on a textured silicon mat until a lather is formed.
• Rinse the soap and squeeze out the excess with gentle hands.
• Soak the cotton ball with a few drops of alcohol and rub it around the ferrule and handle.
• Spray the alcohol that is concentrated with 70% isopropyl over the bristles.
• Pat it dry with a towel.
Can I machine wash my makeup brushes?
No. Washing your makeup brushes in a washing machine can weaken the glue in the brush and destroy the soft bristles. The fast circling motion of the machines can break a few bristles as well.
What is the fastest way to disinfect makeup brushes?
• Turn your brush upside down and spray the cleaner onto the bristles.
• Wipe the bristles on a cotton towel or a clean paper sheet.
• Air dry it on an open surface.
How often should I wash my makeup brushes?
Clean your brushes at least once a week to keep off the dirt and bacteria from the bristles.
Can I run my makeup brushes through the dishwasher?
Yes. Place your makeup brushes on the top rack of the silverware dishwasher once a month. This is an effective method of deep cleaning and disinfecting your makeup brushes. Let it dry completely before using them on your face.
Recommended Articles