13 Best Algenist Products That Actually Work – 2021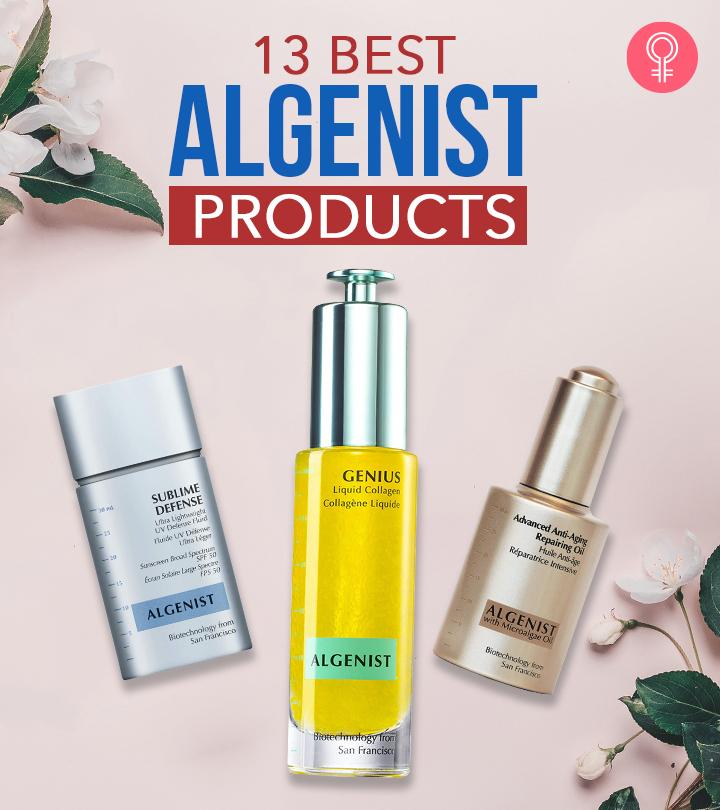 Did you know that algae can work wonders for your skin? Marine ingredients, especially algae, are rich in antioxidants and other nutrients that boost collagen development and improve the signs of aging triggered by environmental aggressors. You cannot always scoop algae from the ocean and apply it to your skin. This is where Algenist comes in. This brand has harnessed the power of this miracle ingredient and made it available for you.
Algenist products are powered by algae. All its products are a biotechnology innovation and contain the patented alguronic acid to deliver an effective anti-aging solution. Algenist is a clean, vegan, cruelty-free, and safe brand that promises to transform your skin in 10 days. If you want to pamper your skin with the goodness of algae, scroll down and check out the top 13 Algenist products.
The Top 13 Algenist Products For 2021
The Algenist Complete Eye Renewal Balm is a multitasking eye balm that primes your eye contour, reduces fine lines, and hydrates and soothes the under-eye area.  This special formula is infused with the patented alguronic acid that minimizes fine lines and boosts the benefits of other ingredients and Multi-Peptide Complex that improves the skin renewal process. It also contains vitamin C, cucumber, and caffeine to prevent free radical damage and nourish sore and tired eyes.
Key ingredients: Alguronic acid, Multi-Peptide Complex, and Vitamin C
Pros
Non-comedogenic
Hypoallergenic
Improves skin texture
Hydrates the skin
Reduces puffiness
Lightweight
Non-irritating
Cons
Takes time to show results
The Algenist GENIUS Liquid Collagen is a plant-based collagen serum that helps restore the natural health, resilience, and bounce of the skin. It contains alguronic acid to reduce wrinkles and fine lines, beads of microalgae oil for hydration, omega 3, 6, and 9 to smoothen the skin, and vitamin E to prevent free radical damage. This product delivers Active Vegan Collagen (a blend of corn, soy, and wheat protein fibers) that mimics animal collagen to restore the skin's suppleness.
Key Ingredients: Alguronic acid, Active vegan collagen, and Microalgae oil
Pros
Improves skin texture
Hypoallergenic
Non-comedogenic
Gets absorbed easily
Plumps the skin
Reduces discoloration
Cons
The Algenist GENIUS Ultimate Anti-Aging Melting Cleanser dissolves all impurities, dust, dirt, sebum, and makeup to cleanse and detoxify the skin and pores. The formula contains alguronic acid for anti-aging benefits and microalgae oil to nourish your skin. It has a unique water-activated formula that turns into a milky emulsion upon contact with water.  This cleanser reaches deep into the skin pores to clean residue and dry skin buildup.
Key ingredients: Alguronic acid and Microalgae oil
Pros
Hydrates the skin
Lathers well
Gentle
Hypoallergenic
Removes waterproof makeup
Cons
Less quantity compared to the price
The Algenist Advanced Anti-Aging Repairing Oil has a formula harnessed from a particular strain of microalgae. This skin-repairing face oil contains microalgae oil that instantly replenishes the skin with vital nutrients to improve fine lines and wrinkles. It gets absorbed easily, minus any greasy or oily feeling, and improves skin texture. This oil should be applied before applying moisturizer.
Key ingredients: Microalgae oil and Ceramide 3
Pros
Lightweight
Non-greasy
Softens the skin
Reduces wrinkles
Improves firmness
Cons
The Algenist GENIUS Ultimate Anti-Aging Cream is infused with vegan collagen that improves the appearance of fine lines and wrinkles to firm, hydrate, brighten, and smooth the skin. The creamy formula also contains a blend of alguronic acid and microalgae oil to make your skin appear toned and tight. It strengthens even the most fragile skin and softens the facial contours to give your skin a youthful glow.
Key ingredients: Alguronic acid, Microalgae oil, and Vegan collagen
Pros
Restores elasticity
Reduces fine lines and wrinkles
Creamy formula
Gets absorbed quickly
Cons
May leave residue
Contains phenoxyethanol
The Algenis GENIUS Sleeping is a buttery sleeping mask that delivers vital nutrients to the skin while you sleep. The formula is a blend of alguronic acid that reduces signs of aging, vegan collagen that improves texture and firmness, ceramides, and mary thistle extract that support the natural barrier, enhance hydration, and provide antioxidant protection to the skin.
Key ingredients: Vegan collagen, Alguronic acid, Ceramides, and Mary thistle extract
Pros
Vegan
Minimizes wrinkles and fine lines
Hydrating
Plumps the skin
Pleasant fragrance
Cons
The Algenist Regenerative Anti-Aging Moisturizer nourishes and moisturizes your skin while reducing fine lines and wrinkles. The formula contains alguronic acid, vitamin C, and apple stem cell extract that hydrate the skin, improve its texture and tone, and restore its radiance. Apply this moisturizer on the face and neck in the morning and evening for maximum results.
Key ingredients: Alguronic acid, Vitamin C, and Apple stem cell
Pros
Restores hydration
Repairs skin
Imparts glow
Cons
Unpleasant fragrance
Contains phenoxyethanol
The Algenist SUBLIME DEFENSE Ultra Lightweight UV Defense Fluid SPF 50 has a sheer and oil-free formula that provides broad-spectrum protection from UV rays. This fast-absorbing sunscreen contains alguronic acid to minimize fine lines and wrinkles, vitamin E to prevent free radical damage, and echinacea and Japanese green tea extracts to protect it from environmental damage. It has a matte finish and blends well under makeup.
Key ingredients: Alguronic acid, Japanese green tea extracts, Echinacea, and Vitamin E
Pros
Broad-spectrum
Oil-free
Non-greasy
Sheer silky formula
Sits well under makeup
Thin consistency
Cons
May cause a burning sensation
Contains phenoxyethanol and PEG
The Algenist Splash Hydrating Setting Mist is a hydrating facial mist with the benefits of a serum. This lightweight, alcohol-free mist instantly refreshes your skin, delivers hydration, and also sets your makeup. It is loaded with mineral-rich seawater, sea fruit extract, and an Algalyte Complex that locks in moisture for radiant skin. The mist also contains a polysaccharide blend that forms a protective layer on the skin, keeping it replenished throughout the day.
Key Ingredients: Algalyte Complex, Seawater, and Sea fruit extract
Pros
Hydrates the skin
Sets makeup
Repairs skin tissue
Increases luminosity
Cons
The Algenist POWER Recharging Night Pressed Serum is a highly concentrated anti-aging serum. It is loaded with alguronic acid – a powerful anti-aging agent – and algaprotein and coconut water that target the first signs of aging, recharge the skin, and improve its texture to brighten it. The serum has a lightweight texture that melts into your skin and enhances radiance in just 10 days.
Key ingredients: Alguronic acid, Coconut water, and Algaprotein
Pros
Improves skin texture
Plumps the skin
Visible results
Reduces fine lines
Cons
Expensive
Overpowering fragrance
The Algenist Alive Prebiotic Balancing Mask is a color-morphing mask that balances, detoxifies, hydrates, and refreshes your skin. It contains alguronic acid for its anti-aging effects and algae prebiotic to balance the skin's microbiome. The mask also has kaolin and bentonite clays that refine the pores and brighten the skin. It changes color as you apply it. The mask has a holistic skin improving formula that balances your skin and boosts its natural cell renewal process.
Key ingredients: Alguronic acid, Algae prebiotic, Kaolin and Bentonite clays
Pros
Minimizes pores
Easy to apply
Reduces skin inflammation
Minimizes fine lines and wrinkles
Instant brightening
Smoothens the skin
Cons
Contains mica
Contains phenoxyethanol
The Algenist Overnight Restorative Cream is a night treatment combined with alguronic acid and rock samphire, watermelon, and apple extract. It reduces the appearance of wrinkles, fine lines, restoring the skin's natural and youthful appearance. The powerful anti-aging benefits repair the skin for a firm appearance. This is an effective, safe, and vegan formula to get a bright, rejuvenated, original skin tone.
Key Ingredients: Alguronic Acid, Rock Samphire, Watermelon Extract, Apple Extract
Pros
Vegan
Patented technology
Clinically shown
Cons
Expensive
Unpleasant fragrance
The Algenist POWER Advanced Wrinkle Fighter Moisturizer helps fight the signs of aging and brightens your skin. This advanced anti-aging moisturizer contains alguronic acid to fight wrinkles and fine lines and algaprotein that targets the initial aging signs. This product claims to improve elasticity, skin firmness, and texture to give it a youthful appearance.
Key ingredients: Alguronic acid and Algaprotein
Pros
Revitalizes damaged skin
Ideal for everyday use
Visible results
Cons
If you are looking for products that contain naturally sourced ingredients, you can pick any of the above. All Algenist products are dermatologist-tested and suitable for all skin types. Go ahead and stock up now!
Expert's Answers For Readers' Questions
What are the key ingredients in Algenist products?
Alguronic acid is the star ingredient present in all Algenist products.
What is the best Algenist product?
The bestselling products of Algenist include the GENIUS Liquid Collagen, Regenerative Anti-Aging Moisturizer, Advanced Anti-Aging Repairing Oil, and ALIVE Prebiotic Balancing Mask.
Is Algenist a good skin care line?
Yes, Algenist products are dermatologist-tested, hypoallergenic, non-comedogenic, suitable for all skin types, and do not contain any synthetic preservatives and harmful chemicals. They use naturally sourced ingredients in their products.
Recommended Articles