13 Best Algenist Products Of 2023, As Per An Esthetician
Treat yourself to algae skin care benefits made possible by products from Algenist.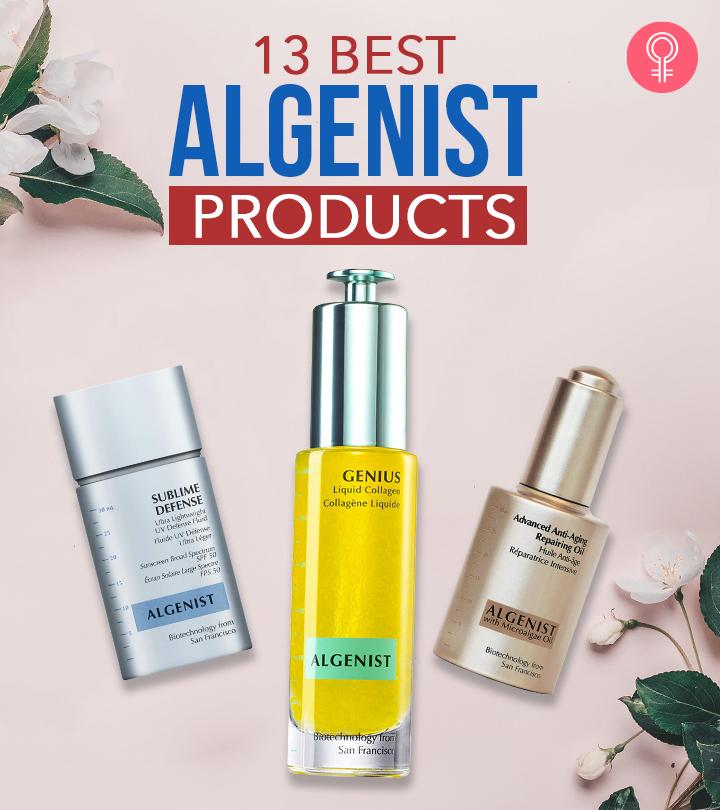 Algenist is a skincare brand that brings nutrient-rich algae to work wonders on your skin. If you are unaware of the skincare effects of algae, try getting your hands on some of the best Algenist products out there to see the difference for yourself! Algae are rich in antioxidants and other vital nutrients that help boost collagen production and decrease the subtle signs of aging like wrinkles, fine lines, laugh lines, and pigmentation. Algenist products use these antioxidants to deliver their patented alguronic acid with anti-aging benefits. A vegan, cruelty-free brand, Algenist products claim to transform your skin in just 10 days. To try it for yourself, you can pick any of the 13 best Algenist products listed below.
The Top 13 Algenist Products For 2023 That Actually Work
The Algenist Complete Eye Renewal Balm is a multitasking eye balm that primes your eye contour, reduces fine lines, and hydrates and soothes the under-eye area. This special formula is infused with the patented alguronic acid that minimizes fine lines and boosts the benefits of other skincare ingredients and Multi-Peptide Complex that improves the skin renewal process. It also contains vitamin C, cucumber, and caffeine to prevent free radical damage and nourish dry and tired eyes.
Key ingredients: Alguronic acid, Multi-Peptide Complex, and Vitamin C
Pros
Non-comedogenic
Hypoallergenic
Improves skin texture
Hydrates the skin
Reduces puffiness
Lightweight
Non-irritating
Cons
Takes time to show results
The Algenist GENIUS Liquid Collagen is a plant-based collagen serum for wrinkle reduction that helps restore natural health, resilience, and bounce off the skin. It contains alguronic acid to reduce fine lines, beads of microalgae oil for hydration, omega 3, 6, and 9 to smoothen the skin, and vitamin E to prevent free radical damage. This product delivers Active Vegan Collagen (a blend of corn, soy, and wheat protein fibers) that mimics collagen to restore the skin's suppleness. If you are still unsure about purchasing, you can check out a review and this tester's experience of using this product on YouTube.
Key Ingredients: Alguronic acid, Active vegan collagen, and Microalgae oil
Pros
Improves skin texture
Hypoallergenic
Non-comedogenic
Gets absorbed easily
Plumps the skin
Reduces discoloration
Cons
The Algenist GENIUS Ultimate Anti-Aging Melting Cleanser dissolves all impurities, dust, dirt, sebum, and makeup to cleanse and detoxify the skin and pores. The formula contains the active ingredient alguronic acid for anti-aging benefits and microalgae oil to nourish your skin. It has a unique water-activated formula that turns into a milky emulsion upon contact with water. This anti-aging cleanser reaches deep into the skin pores to clean residue and dry skin buildup and is a perfect fit for your daily skin care routine.
Key ingredients: Alguronic acid and Microalgae oil
Pros
Hydrates the skin
Lathers well
Gentle
Hypoallergenic
Removes waterproof makeup
Cons
Less quantity compared to the price
The Algenist Advanced Anti-Aging Repairing Oil has a formula harnessed from a particular strain of microalgae. This skin-repairing face oil contains microalgae oil that instantly replenishes the skin with vital nutrients to improve fine lines and wrinkles. It gets absorbed easily, minus any greasy or oily feeling, and improves skin texture. According to reviewers, this anti-aging solution should be applied before applying moisturizer.
Key ingredients: Microalgae oil and Ceramide 3
Pros
Lightweight
Non-greasy
Softens the skin
Reduces wrinkles
Improves firmness
Cons
The Algenist GENIUS Ultimate Anti-Aging Cream is infused with vegan collagen that improves the appearance of fine lines and wrinkles to firm, hydrate, brighten, and smooth the skin. The creamy, clean formula also contains a blend of alguronic acid and microalgae oil to make your skin appear toned and tight. The firming cream strengthens even the most fragile skin and softens the facial contours to give your skin a youthful glow.
Key ingredients: Alguronic acid, Microalgae oil, and Vegan collagen
Pros
Restores elasticity
Offers radiant skin
Reduces fine lines and wrinkles
Creamy formula
Gets absorbed quickly
Cons
May leave residue
Contains phenoxyethanol
The Algenis GENIUS Sleeping is a buttery sleeping mask that delivers vital nutrients to the skin while you sleep. The formula is a blend of alguronic acid that reduces signs of aging, vegan collagen that improves texture and firmness, ceramides, and mary thistle extract that support the natural barrier, enhance hydration, and provide antioxidant protection to the skin. If you want to find out more about this product, the tester's experience, and its usage, make sure to check out this review on YouTube.
Key ingredients: Vegan collagen, Alguronic acid, Ceramides, and Mary thistle extract
Pros
Vegan
Minimizes wrinkles and fine lines
Hydrating
Plumps the skin
Pleasant fragrance
Cons
Color correct your skin instantly with the Algenist REVEAL Concentrated Color Correcting Drops and make it appear youthful and attractive. This dark spot corrector's formula covers imperfections on your skin. In addition, it balances the skin's texture and makes it smoother. These drops are specially formulated with powerful ingredients like green microalgae, microalgae oil, alguronic acid, etc. that assist in neutralizing the appearance of redness. The alguronic acid also helps in reducing the signs of aging. You can combine these drops with makeup or any skincare product or use them alone. You can check out this YouTuber's review that captures this tester's experience of using the product if you require more convincing.
Key Ingredients: Green microalgae, Dunaliella Salina
Pros
Non-comedogenic
Hypoallergenic
Long-wearing
Vegan
Cons
None

The Algenist SUBLIME DEFENSE Ultra Lightweight UV Defense Fluid SPF 50 has a sheer and oil-free formula that provides broad-spectrum protection from UV rays. This fast-absorbing sunscreen contains alguronic acid to minimize fine lines and wrinkles, vitamin E to prevent free radical damage, and echinacea and Japanese green tea extracts to protect it from environmental damage. It has a matte finish and blends well under makeup, as attested by the reviewers.
Key ingredients: Alguronic acid, Japanese green tea extracts, Echinacea, and Vitamin E
Pros
Broad-spectrum
Oil-free
Non-greasy
Sheer silky formula
Sits well under makeup
Thin consistency
Cons
May cause a burning sensation
Contains phenoxyethanol and PEG
The Algenist ELEVATE Advanced Retinol Serum offers radiance, smoothness, and firmness to your skin. It reduces the appearance of visible wrinkles and fine lines to make you look young. The serum is made of pure vegan retinol, known as green algae encapsulated retinol, skin-firming peptides, and the patented alguronic acid to fight against the signs of aging efficiently. According to the reviews, you can use it in the daytime or night-time skincare routine daily to achieve a smoothing effect on your skin.
Pros
Vegan
Reduces wrinkles and fine lines
Ideal for everyday use
Gets absorbed easily
Easy to apply
Cons
Can cause some redness and irritation
The Algenist POWER Recharging Night Pressed Serum is a highly concentrated anti-aging serum. It is loaded with alguronic acid – a powerful anti-aging agent – and algaprotein and coconut water that target the first signs of aging, recharge the skin, and improve its texture to brighten it. The serum has a lightweight texture that melts into your skin and enhances radiance in just 10 days.
Key ingredients: Alguronic acid, Coconut water, and Algaprotein
Pros
Improves skin texture
Plumps the skin
Visible results
Reduces fine lines
Cons
Expensive
Overpowering fragrance
The Algenist Alive Prebiotic Balancing Mask is a color-morphing mask that balances, detoxifies, hydrates, and refreshes your skin. It contains alguronic acid for its anti-aging effects and algae prebiotic to balance the skin's microbiome. The mask also has kaolin and bentonite clays that refine and shrink the pores and brighten the skin with visible results. It changes color as you apply it. The dermatologist-tested mask has a holistic skin-improving formula that balances your skin and boosts its natural cell renewal process.
Key ingredients: Alguronic acid, Algae prebiotic, Kaolin and Bentonite clays
Pros
Minimizes pores
Easy to apply
Reduces skin inflammation
Minimizes fine lines and wrinkles
Instant brightening
Smoothens the skin
Evens skin tone
Cons
Contains mica
Contains phenoxyethanol
The Algenist Overnight Restorative Cream is a luxurious overnight treatment for your skin that helps to visibly repair and restore the natural and healthy complexion of your skin. The formula is packed with ingredients like Alguronic acid, Rock Samphire, watermelon, and apple extract that delivers powerful anti-aging benefits. The potent formula minimizes the appearance of wrinkles and your skin becomes firmer and rejuvenated.
Key ingredients: Alguronic acid with Rock Samphire, Watermelon, and Apple Extract
Pros
Clinically proven
Provides anti-aging benefits
Vegan
Cons
None
The Algenist POWER Advanced Wrinkle Fighter Moisturizer helps fight the signs of aging and brightens your skin. This advanced anti-aging moisturizer contains alguronic acid to fight wrinkles and fine lines and algaprotein that targets the initial aging signs. This dermatologist-tested product claims to improve elasticity, skin firmness, and texture to give it a youthful appearance.
Key ingredients: Alguronic acid and Algaprotein
Pros
Revitalizes damaged skin
Ideal for everyday use
Visible results
Cons
*The prices provided in this article are based on the latest available information. However, they may vary due to changes in pricing by the seller and/or promotional offers.
Algenist brings forward unique formulations with its proprietary alguronic acid to address multiple skin concerns. That being said, there are a plethora of potent clinically proven formulas that may entice you and make the purchase decision a bit overwhelming. To help you out, we have curated a list of factors to consider before selecting the product.
How To Choose The Best Algenist Products
Algenist products have clean and vegan formulas that rely on naturally-sourced ingredients like mineral-rich seawater, sea fruit extracts, microalgae oil, and vegan collagen. For dry, dehydrated, and mature skin, look for ingredients like ceramides, hyaluronic acid, green tea extract, and Mary thistle extract to strengthen your skin's natural moisture barrier. If your skin is on the oilier side or is prone to acne, choose a skin-balancing mask with kaolin or bentonite clay to unclog pores.
Skin Type And Formulation
The good news is that with Algenist, there is something for every skin type. For instance, for mature skin types, choose oil-based, scientifically formulated products that nourish the skin and reverse the signs of aging on skin.
Regardless of whether you are searching for skincare for oily skin or not, aim for a lightweight, non-greasy, and non-sticky formula with proven efficacy. This will ensure that your skin does not feel congested or clogged and ends up with an unwanted satin feel.
Algenist has a multitude of products that help target a varying array of skin concerns. So, the first step is to figure out the major issues that you are dealing with. Ensure that the clinically verified product you choose helps with any existing skin concerns that you may have. For instance, for uneven skin tones and texture or redness, look for a skin-perfecting and pigment-correcting formula to incorporate in your daily makeup routine.
Why Trust StyleCraze?
The author, Shiboli Chakraborti, is a certified skin care coach and is constantly searching for new innovations and formulations in skin care. She has compiled this list of the best Algenist products. This brand harnesses the power of algae to provide the best skin care solutions. She checked the forumulations and user feedback before shortlisting the products. The author recommends these nutrient rich, algae-based products for their anti-aging benefits.
Frequently Asked Questions
What are the key ingredients in Algenist products?
Alguronic acid is the star ingredient present in all Algenist products.
What is the best Algenist product?
The bestselling products of Algenist include the GENIUS Liquid Collagen, Regenerative Anti-Aging Moisturizer, Advanced Anti-Aging Repairing Oil, and ALIVE Prebiotic Balancing Mask.
Is Algenist a good skin care line?
Yes, Algenist products are dermatologist-tested, hypoallergenic, non-comedogenic, suitable for all skin types, and do not contain any synthetic preservatives and harmful chemicals. They use naturally sourced ingredients in their products.
Is Algenist medical grade?
No, Algenist is not medical grade.
Is Algenist good for sensitive skin?
Yes. Algenist products are hypoallergenic and safe skincare for sensitive skin. However, consult a dermatologist if you have severe skin issues, such as eczema, psoriasis, seborrheic dermatitis, or rosacea, before using any product.
Is Algenist a clean brand?
Yes. Algenist uses naturally-sourced ingredients. It is a vegan and clean brand.
Recommended Articles